Securing American Elections From Foreign Interference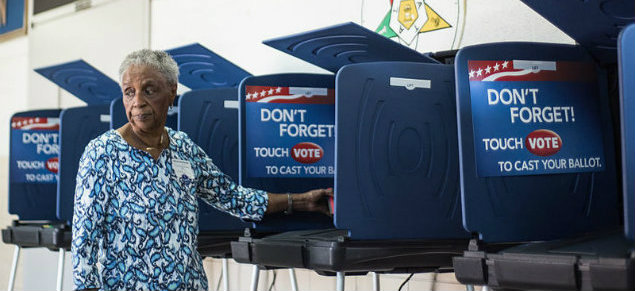 When the history of the 2016 election is written, one of the leading narratives is likely to be how foreign powers tried to influence its outcome.
This foreign interference in the presidential election exposed cracks in the security of America's electoral system, the most fundamental part of our democracy. News reports revealed that hackers working on behalf of the Russian government targeted state and local voter registration databases and managed to access elections systems in as many as 39 states. The attack shows that our current election systems are susceptible to foreign interference, and will only become more vulnerable as hacking methods are refined.
The 2016 election revealed another new threat: foreign interference through secret, targeted and misleading advertisements on social media platforms. Russia's use of social media in an effort to influence the 2016 election raises questions on what happens to American democracy when we don't know who is behind political ads. Here our campaign finance rules are long overdue for an upgrade to the social media era. Today, 52 percent of the adult U.S. population visits Facebook every day. And the $1.4 billion spent on political ads online in 2016 was almost eight times higher than in 2012. Fortunately, there are concrete ways to bolster the security of our systems, and protect the integrity of our elections.
While localities have already taken steps to tackle such problems, national solutions are needed to ensure the integrity of upcoming elections in 2018, 2020, and beyond. There are clear-cut steps that all levels of government can take to protect our elections.
---
To a greater degree than many realize, America's election systems remain vulnerable. This is a product of old technology, inadequate systems, and a patchwork election administration model with varying levels of resources and skill at protecting against twenty-first century threats. But we are far from helpless. This report outlines urgent steps we can take to protect the security of the most critical elements of the U.S. infrastructure. Lawrence Norden, Deputy Director of the Brennan Center's Democracy Program, has also testified before Congress with recommendations for securing our elections.

Updating Election Infrastructure

A recent Brennan Center study found that most states use electronic voting and tabulation systems that are at least a decade old, and many elections administrators have called for upgrades to such systems. Our report details tangible steps to making our systems more secure and ensuring the integrity of our elections, including replacing antiquated voting machines, conducting thorough audits of paper ballots, regularly assessing risks and potential holes in security, and upgrading voter registration databases.

The Need for Auditable Voting Systems and Audits

The Virginia Department of Elections has taken proactive steps in discontinuing its touch-screen voting machines, which do not have a voter-verifiable paper audit trail. Auditable election results are essential to maintaining voter confidence in the integrity of the process. Both Colorado and Rhode Island recently added requirements for risk-limiting post-election audits, which will provide officials and the public with high statistical confidence in election results.

Bringing Campaign Finance Law to the Internet Age

The revelations about Russian ads online have fueled calls for Congress to revisit campaign finance law as it applies to the internet and make sure we find a way to prevent Russia, or any other foreign power, from spending on political ads in the United States again. The bipartisan Honest Ads Act, introduced by Sens. Klobuchar (D-Minn), McCain (R-AZ), and Warner (D-VA), is Congress' first response to calls to prevent hostile foreign powers or their operatives from purchasing political ads on the internet in future American elections. Responding to foreign interference will take a multipronged effort, but this is an important first step towards protecting our democracy and closing the loophole that enabled Russia to buy these online ads in the first place.

A Problem Congress Can Help Fix

In efforts to improve our election systems, two bipartisan companion proposals in the House and Senate would grant states federal funding for improved cybersecurity measures and provide federal assistance in developing risk assessments to confirm that elections have not been tampered with. Secretaries of State, former national security officials with both Republican and Democratic backgrounds, election experts and data scientists, and the National Association of Counties have written letters supporting the amendment introduced by Senators Amy Klobuchar (D-MN) and Lindsey Graham (R-SC).Several other congressional proposals that address election security systems can be found here.

And as we learn more about how online ads were used to impact the last election, the bipartisan Honest Ads Act will become even more pressing for Congress to pass and protect our upcoming elections.
Recent Research
Recent Commentary
Recent Litigation