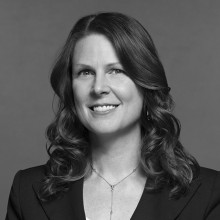 Elizabeth Howard
Liz Howard serves as deputy director for the Brennan Center's Democracy Program. Her work focuses on election security. Howard regularly comments for television, radio, and print media on issues relating to election security and election administration and has testified before U.S. House Committee on Homeland Security and in a variety of state legislatures. She has also co-authored multiple Brennan Center reports and white papers:  Better Safe Than Sorry (2018),  Defending Elections: Federal Funding Needs for State Election Security  (2019), Trump-Russia Investigations: A Guide Preparing for Cyberattacks and Technical Failures: A Guide for Election Officials  (2019).
Prior to joining the Brennan Center, Howard served as deputy commissioner for the Virginia Department of Elections. During her tenure, she coordinated many election administration modernization projects, including the decertification of all paperless voting systems, implementation of the e-Motor Voter program, and adoption of online, paperless absentee ballot applications, for which the department received a 2017 Innovations in American Government Bright Ideas Award from the Ash Center for Democratic Governance and Innovation at the Harvard Kennedy School.
She previously worked as general counsel at Rock the Vote, a nonprofit organization dedicated to engaging young people in politics and as a senior associate at Sandler Reiff in Washington, DC, where she specialized in election law with a focus on voting rights, campaign finance, and postelection disputes. Howard earned her JD from the William & Mary Law School and received the Alumnus of the Year award from the William & Mary Election Law Society.
Informed citizens are democracy's best defense