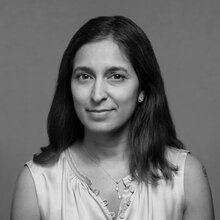 Gowri Ramachandran
Deputy Director of the Elections & Government Program,
Democracy
Gowri Ramachandran serves as deputy director in the Brennan Center's Democracy program. Her work focuses on election security, election administration, and combatting election disinformation.
Before joining the Brennan Center, she was professor of law at Southwestern Law School, in Los Angeles, California, where she taught courses in constitutional law, employment discrimination, critical race theory, and the Ninth Circuit Appellate Litigation Clinic. Her work was published in Election Law Journal, North Carolina Law Review, and Yale Law Journal online, among others. She served on the Ninth Circuit's Fairness Committee, which considers racial, religious, gender, and other disparities in the administration of justice.
Ramachandran received her undergraduate degree in mathematics from Yale College and a master's degree in statistics from Harvard University. While in law school, she served as editor-in-chief of the Yale Law Journal. After graduating from law school in 2003, Ramachandran served as law clerk to Judge Sidney R. Thomas of the U.S. Court of Appeals for the Ninth Circuit in Billings, Montana.
Informed citizens are democracy's best defense