After play­ing a prom­in­ent role in last month's primary in Geor­gia, elec­tion denial is facing another test in Nevada, which holds its primary next week. Geor­gi­a's primar­ies for governor and secret­ary of state elim­in­ated top candid­ates who staked their candid­acy almost entirely on the Big Lie, making the prospect of an elec­tion denier running or certi­fy­ing the statewide 2024 elec­tions there look far less likely.
But the possib­il­ity is still very real in other battle­ground states. In Michigan, for instance, last week's disqual­i­fic­a­tion of multiple candid­ates for governor over forged peti­tion signa­tures increases the like­li­hood that one of the elec­tion deniers remain­ing in the race advances to the general elec­tion. And in Nevada, several statewide and local campaigns facing primary voters next week have made elec­tion denial a key issue.
In a sign of the prom­in­ence of elec­tion admin­is­tra­tion this year, campaign cash in the race for Nevada's secret­ary of state, who will over­see the next elec­tions, has reached $1.8 million, almost four times the amount at an analog­ous point in any of the last three elec­tion cycles, back to 2010. And gubernat­orial candid­ates have alto­gether raised $21.4 million, more than double the amount at an analog­ous point in the 2018 elec­tion and five times that of 2014.
Gubernat­orial candid­ates lead­ing the polls in the GOP primary have made many false claims about the 2020 elec­tion. Joey Gilbert, endorsed by the Nevada Repub­lican Party, defen­ded his claims the elec­tion was stolen in a May inter­view, arguing there were "six states that shut our count­ing down for the first time in our nation's history for weeks," and, "it's common sense, [Joe Biden] didn't get 80 million votes." John Lee sent support­ers an email this month that included "the elec­tion wasn't stolen" on a list of contenders for the "most prepos­ter­ous lie." Joe Lombardo, lead­ing in the polls, has acknow­ledged Biden won, although he ques­­­tioned whether it was "fair and square" and said he does­n't know whether there was wide­spread voter fraud because the state didn't conduct an audit.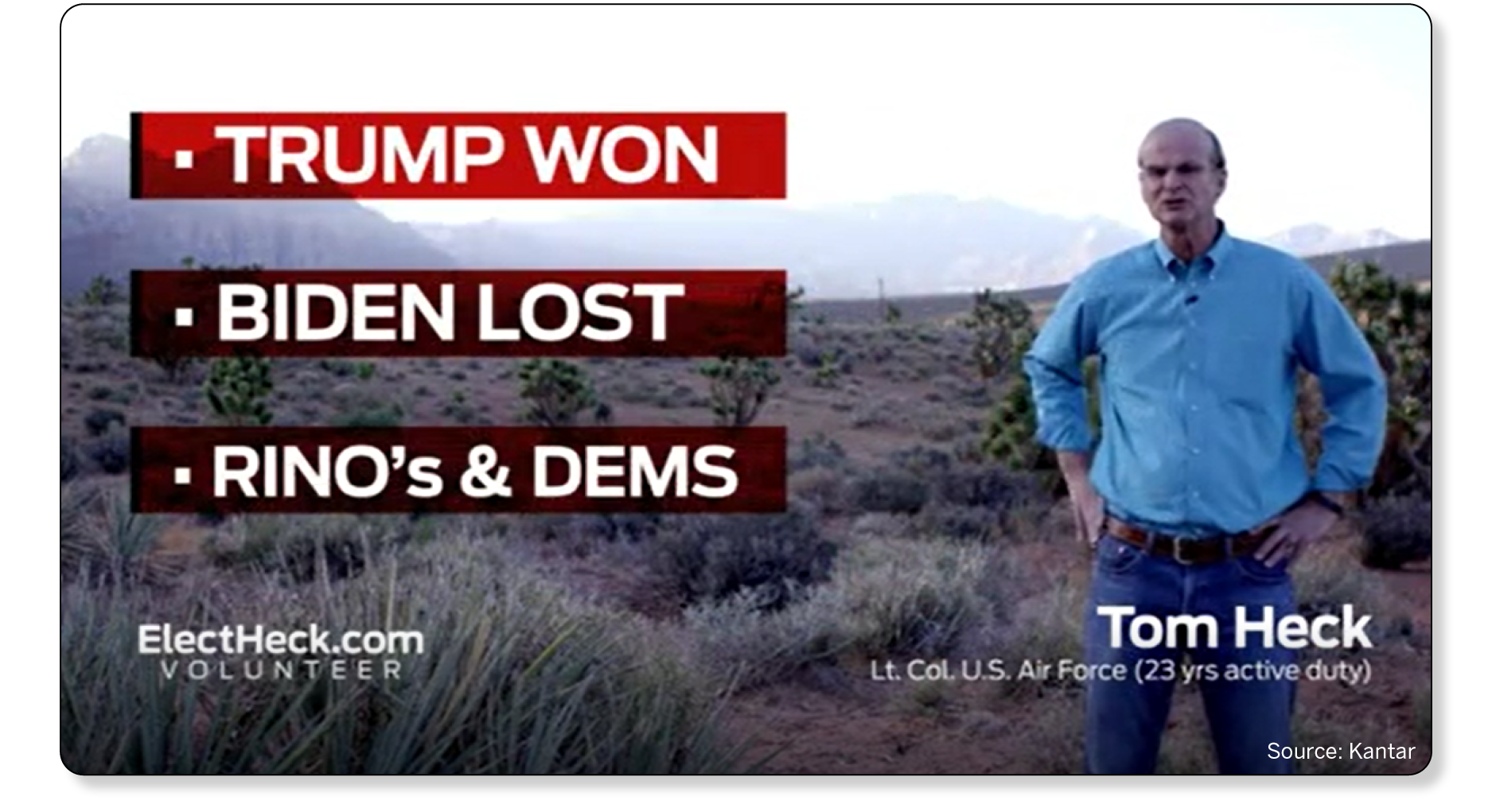 A group called Better Nevada PAC has spent at least $1 million on pro-Lombardo ads that claim Gov. Steve Sisolak (D) "made elec­tions less secure" and that Demo­crats are "manip­u­lat­ing our elec­tions to keep them­selves in power." Better Nevada PAC received $1 million from the Amer­ican Excep­tion­al­ism Insti­tute, a Virginia dark money group that also spent in support of the Geor­gia gubernat­orial campaign of David Perdue, who insisted "the elec­tion in 2020 was rigged and stolen."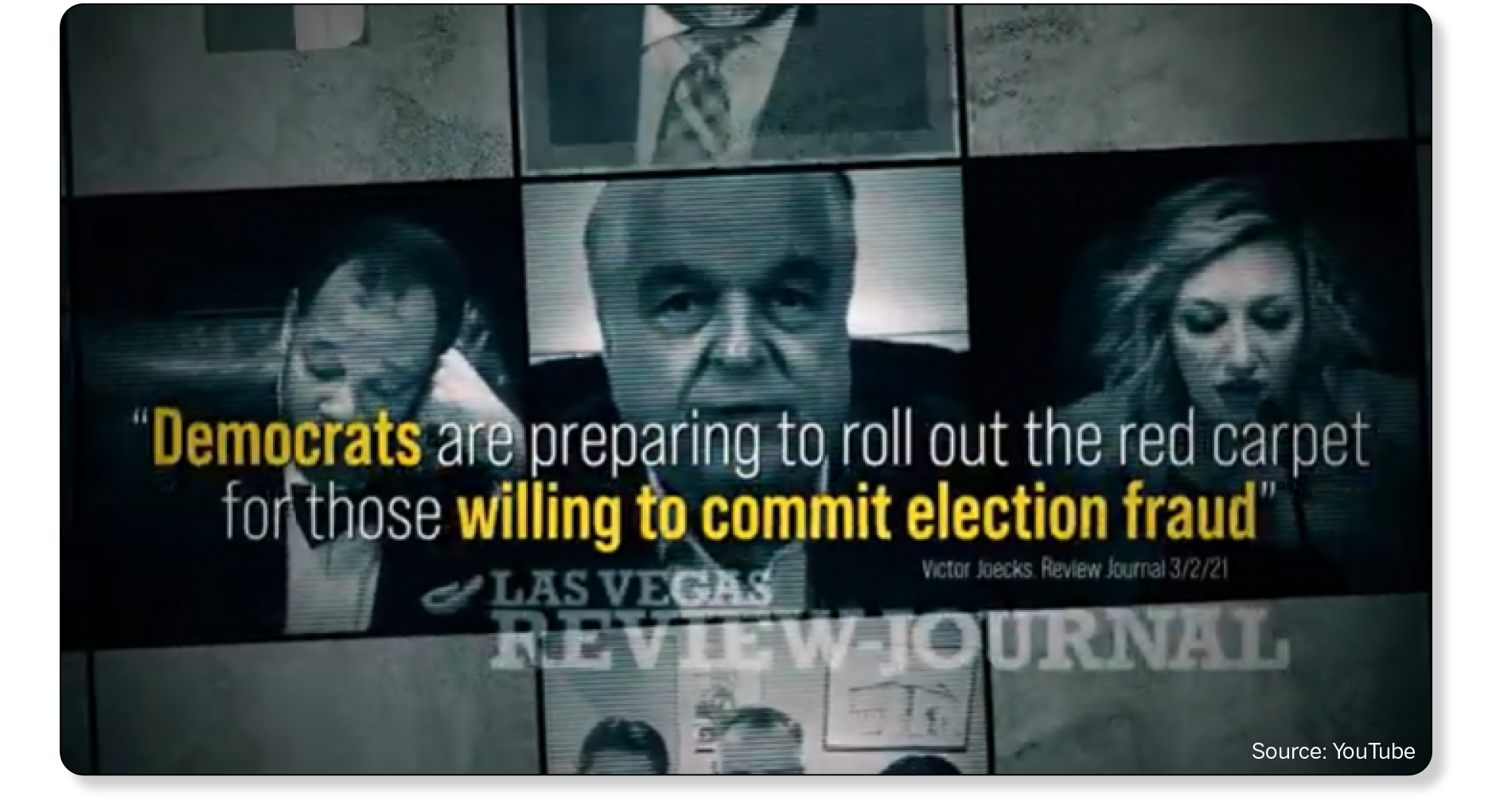 In the contest for secret­ary of state, the four lead­ing fundraisers have all taken a stance on elec­tion denial, increas­ing the like­li­hood that it will be a cent­ral issue in the general elec­tion for that office. Cisco Aguilar (D) has criti­cized "false claims of fraud." Jesse Haw (R) said Demo­crats changed voting rules to "manip­u­late the system." Jim Marchant (R) claims his own 2020 campaign was a "victim of fraud" and has pushed local elec­tion offi­cials to move to hand-coun­ted paper ballots. Richard Scotti (R) has claimed Domin­ion voting machines change results and supports moving to paper ballots and conduct­ing partisan reviews like the discred­ited one conduc­ted in Mari­copa County, Arizona.
A Virginia super PAC is also active in the secret­ary of state race. The group, Amer­ic­ans for Secure Elec­tions PAC, was formed in March and funded by $1.2 million from three dark money groups. It has aired ads support­ing Haw, using foot­age from his campaign website, that say he will "end voter fraud." This week, it began airing ads attack­ing Marchant. At the same time, a group called Conser­vat­ives for Elec­tion Integ­rity, affil­i­ated with an "Amer­ica First" slate of secret­ary of state candid­ates organ­ized by Marchant, aired ads saying he is "the only candid­ate with a plan to stop elec­tion fraud."
In races for county clerk, the local offi­cial in charge of running elec­tions, candid­ates have simil­arly used elec­tion denial as a basis for criti­ciz­ing voting machines and push­ing for hand-coun­ted paper ballots. In addi­tion, public anger and threats have contrib­uted to at least 5 of Nevada's 15 elec­ted clerks leav­ing office since 2020.
In a Repub­lican primary debate for clerk in Nye County, all three candid­ates "emphat­ic­ally agreed that Donald Trump won the 2020 elec­tion." And the campaign website for Storey County candid­ate for clerk-treas­urer Jim Hindle declares his role as one of the false elect­ors who tried to assign Nevada's Elect­oral College votes to Trump as one of his qual­i­fic­a­tions.
Early voting is already under­way in Nevada. Voters and candid­ates for elec­tion admin­is­tra­tion posi­tions are aware of the state's status as a likely 2024 pres­id­en­tial battle­ground. The results of the primary next week will shed new light on how voters respond to elec­tion denial by campaigns.