View the entire Tracking Races for Election Administration Positions series
Tuesday's local elections in and around Green Bay, Wisconsin, were the focus of big spending by outside groups pushing narratives around election denial — claims that the 2020 presidential election was so marred by fraud that it came to the wrong result. Some of the messages being peddled accused local officials of misconduct in the election, while others implied that their preferred candidate must be elected to preserve democracy. Of the six candidates supported by messaging casting doubt on the last election, five won office, and three of those unseated incumbents.
This year, races for positions with a role in election administration have been a focus of unprecedented national attention amid a disinformation campaign attempting to cast doubt on the result in the 2020 presidential election. Much of the focus has been at the state level, where the Brennan Center has found that fundraising for secretary of state candidates has skyrocketed. But local officials also play crucial roles running our elections, and large expenditures in Green Bay are a sign that local elections everywhere could be at risk from attacks harmful to voters' trust in our democracy.
Green Bay has been a target of election denial, mostly focused on the city's acceptance of charitable donations from the Center for Tech and Civic Life, which is funded largely by Facebook CEO Mark Zuckerberg. CTCL provided funds to thousands of election agencies across 49 states, awarding funds on a nonpartisan basis. Green Bay used the money to pay poll workers and for other administration expenses. Debunked conspiracy theories claim that the funds amounted to a bribe to swing the election for Joe Biden.
Restoration PAC, based in Illinois, reportedly spent more than $78,000 on brochures and ad buys supporting candidates for Green Bay City Council and its county, Brown County. The TV spot begins: "Free and fair elections are the Wisconsin way, but Green Bay leaders changed all that. They let partisan outsiders take control of the 2020 election operations."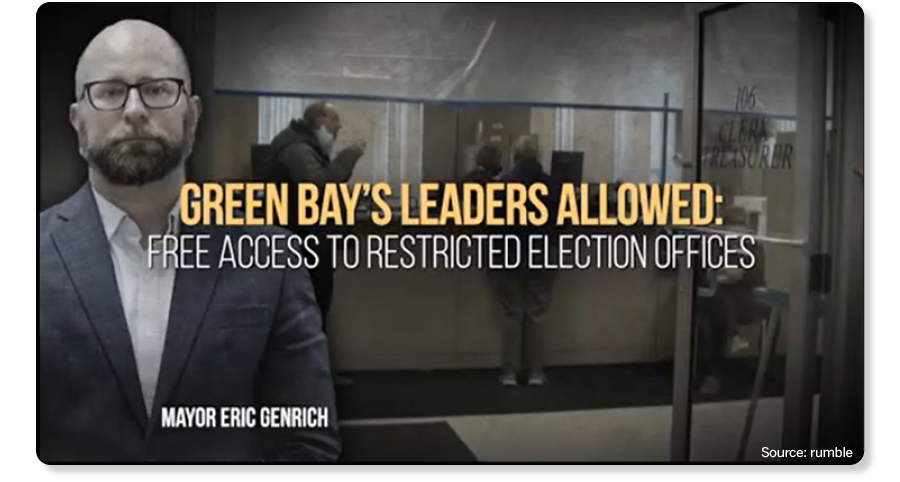 Restoration PAC gets the lion's share of its funding from Richard Uihlein, a shipping supplies magnate who gave the group $7.5 million in 2021. Uihlein has supported groups involved in challenging the election result, in addition to making maximum legal donations to election denialist candidates in secretary of state races in Georgia and Nevada.
On the opposite side of the issue, a Washington, DC, group called Open Democracy PAC spent more than $224,000 on digital ads supporting candidates in Green Bay and nearby communities. All five of the candidates Open Democracy PAC boosted were opposed by Restoration PAC. Open Democracy's campaign included Facebook ads with a video claiming that "our democracy is as stake" and asked the viewer to "do your part to keep Wisconsin elections fair, secure, and accessible" by voting for the candidate. Open Democracy was formed in 2021 and seeded with $150,000 from the Sixteen Thirty Fund, a liberal dark money group.
Although it's unclear how much either group's spending influenced voters, Restoration PAC had the better record on election night. Only one of Open Democracy's favored candidates won, while five of the candidates Restoration PAC supported won — of those, two unseated incumbents on the Green Bay City Council and one beat a Brown County Board incumbent.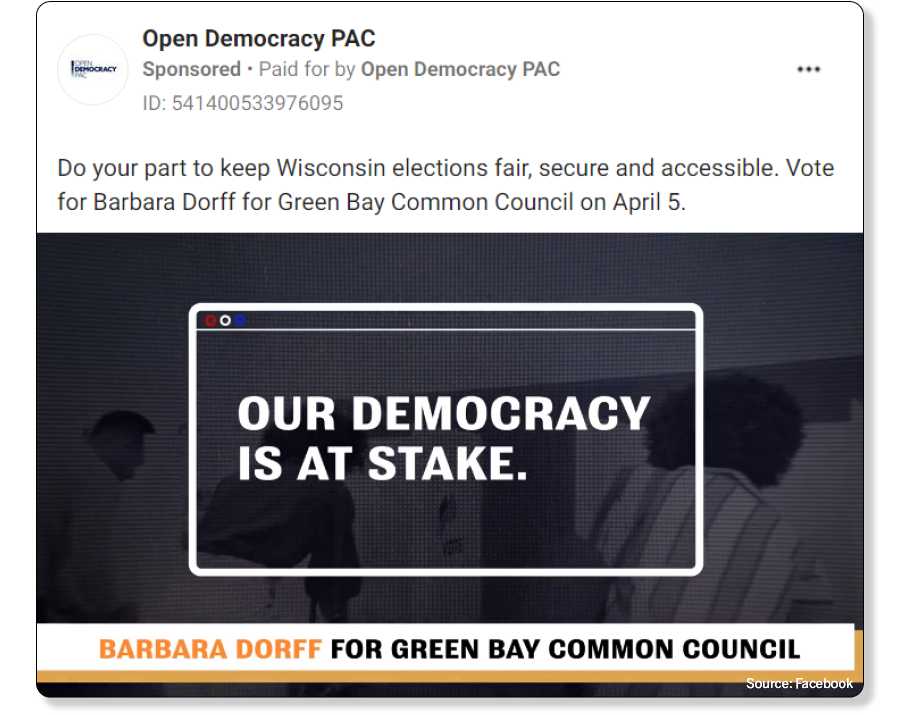 The Democratic Party of Wisconsin also weighed in with messaging focused on election denial claims. It bought Facebook ads opposing one of the Green Bay City Council candidates. The ads said, "She organized the Green Bay January 6 Stop the Steal rally to undermine confidence in our elections. She's continued to push election conspiracy theories." The image labels the candidate "a threat to our democracy." She went on to win the race.
Green Bay candidates — even some who were supported by these expenditures — opposed outside groups' activity in their elections, which are nonpartisan. Seven of twenty-one city council candidates signed a pledge to not accept outside money in their campaigns. The sense that candidates lost messaging control to national groups is highlighted by the fact that some candidates were overwhelmingly outspent by outside interests. For example, Open Democracy reportedly spent $30,000 in support of Aron Obrecht, whose campaign spent just $1,055 as of March 25 according to a campaign finance filing. Obrecht said he didn't know why the group boosted him, speculating, "If I were to guess, they're trying to interfere with elections."
Big spending by out-of-state groups warning of existential threats to our democracy is a new phenomenon in Green Bay. But it's consistent with the trend of candidates centering their campaigns around election denial for state-level election official positions across the country, as well as in local races in Georgia and Texas.
Even with only early data for this election cycle, it is clear there is an explosion in out-of-state donations to secretary of state candidates in battlegrounds. And outside spending from super PACs and dark money groups is sure to play a big role this year. How much this barrage of messages about election denial affects the public's trust in our democracy remains to be seen.