Nancy Brennan, a member of the Brennan Center Board of Directors since 1998, died earlier this month. She was a committed leader and passionate supporter of the Brennan Center over so many years — a key part of building the organization into the national force it has become.
Nancy played a central role in strategic planning and fundraising for the organization. She traveled for the Center, helped us to organize the alumni and clerks of Justice Brennan, and helped to build the Brennan Legacy Fund that now sustains the Center's long-term strength. She connected the Center's staff with others working on criminal justice reform, as she was.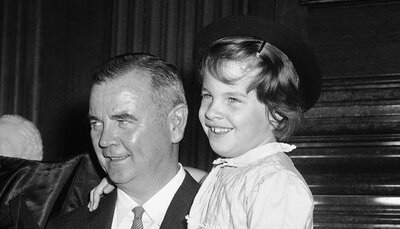 To this work Nancy brought a wealth of experience in nonprofit management. She was director of the Rose Kennedy Greenway in Boston, worked at Common Cause and the Asian Art Museum in San Francisco, raised funds for criminal justice work in Baltimore, and more. Her wise guidance and enthusiasm meant so much to the staff and leadership of the Center.
And, of course, her continued service with us was a direct link to the life and work of her father — her chance to pay tribute to him through all she did for us. We continue to draw so much inspiration from the Justice's idea that "human dignity" is at the heart of the law and of our mission. Nancy conveyed that — and decency as well.
Michael Waldman, the Center's president, recalled: "When I was first hired to lead the Brennan Center in 2005, Nancy looked at me intently and made clear that this organization carries not just her father's name but his legacy. She pledged to do all she could to carry on that legacy."
Today the Brennan Center is proud to carry on Justice Brennan's legacy — and now to carry on Nancy Brennan's legacy as well.