View the entire Tracking Races for Election Administration Positions series
As statewide elections in Michigan enter the home stretch, election denying candidates are being massively outraised by incumbents, none of whom are supporters of false claims that the 2020 election was "stolen." Incumbents in the contests for governor, secretary of state, and attorney general have together amassed $40 million — 10 times what their election denying challengers have raised. Prominent national financial supporters of election denial are spending in the governor and secretary of state races races, but spending by outside groups heavily favors incumbents.
Governor
In the gubernatorial race, Gov. Gretchen Whitmer (D) has raised an eye-popping $32 million. At this point in 2018, she had raised $7 million in contributions. Whitmer has not made election denial a key issue in her campaign, although in her speech at the Democrats' nominating convention, she did say, "Our democracy itself is on the ballot."
Challenger Tudor Dixon (R) has raised far less: $2.4 million. Dixon has said Donald Trump won and that evidence was destroyed, but recently, she has avoided taking an explicit stance on election denial. Among the donors who gave Dixon the maximum legal contribution of $7,150 is key election denial supporter Richard Uihlein, who has donated millions to support election result challenges and election denial candidates. The Presidential Coalition — headed by David Bossie, who was tapped by the Trump campaign to run election challenges — gave the maximum to Dixon and has donated to election denying secretary of state candidates in Georgia, Michigan, and Nevada.
Both nominees have been supported by outside groups, but Whitmer again has a large advantage so far. Federal Communications Commission records show that a group called Put Michigan First has already spent more than $8 million in pro-Whitmer TV ads, and the group has reportedly reserved more than $20 million in ad spots. Put Michigan First is funded in part by large donations from labor unions and the Democratic Governors Association, which has also reportedly reserved over $23 million in its own ad buys in the race.
Dixon's primary campaign was supported by two super PACs, Michigan Families United and Michigan Strong. The bigger spender by far was Michigan Families United, which outspent Dixon in the primary with over $2 million in expenditures. The group is funded by $1 million from members of the DeVos family, who are perennial Michigan megadonors, as well as $500,000 from Richard Uihlein and a group he funds, the American Principles Project, which funded election denial ads supporting Republican David Perdue's Georgia gubernatorial bid.
Secretary of State
Election denial has been a more central issue in the contest for Michigan's secretary of state. The secretary is the state's chief elections officer, and the office regulates local officials' conduct and investigates election law violations.
In the secretary of state race, donors have given $4.2 million to incumbent Jocelyn Benson (D), who has said "election-deniers . . . want to take over statewide offices so they can potentially be in a position to block or undo or fail to certify election results." That's more than three times her $1.2 million haul by this point in 2018, which was itself more than any secretary of state nominee had collected by an analogous point since at least the 2010 cycle. Her largest contributors are labor unions and Democratic Party groups, as well as some individuals who have supported candidates opposing election denial in multiple states, such as philanthropists Lynn and Stacy Schusterman, Hollywood couple Steven Spielberg and Kate Capshaw, and Illinois Gov. J.B. Pritzker (D).
Challenger Kristina Karamo (R) has raised about $900,000. Ads from her campaign accuse Benson of several misdeeds in the 2020 election, including erasing data to prevent audits, even though the step was routine procedure. One two-minute spot says Benson is part of a plan funded by George Soros to "place politicians where the races are close." The ad says Benson has "influenced" Michigan elections and warns that as secretary of state in 2024, "she could alter the course of presidential history." The second minute of this campaign video has also appeared as a putatively independent ad "paid for by Zero Media." Zero Media is a Florida company that the Karamo campaign paid for advertising services. It is unclear how much money, if any, the company has spent on placing the ad; it has not reported any independent expenditures in Michigan.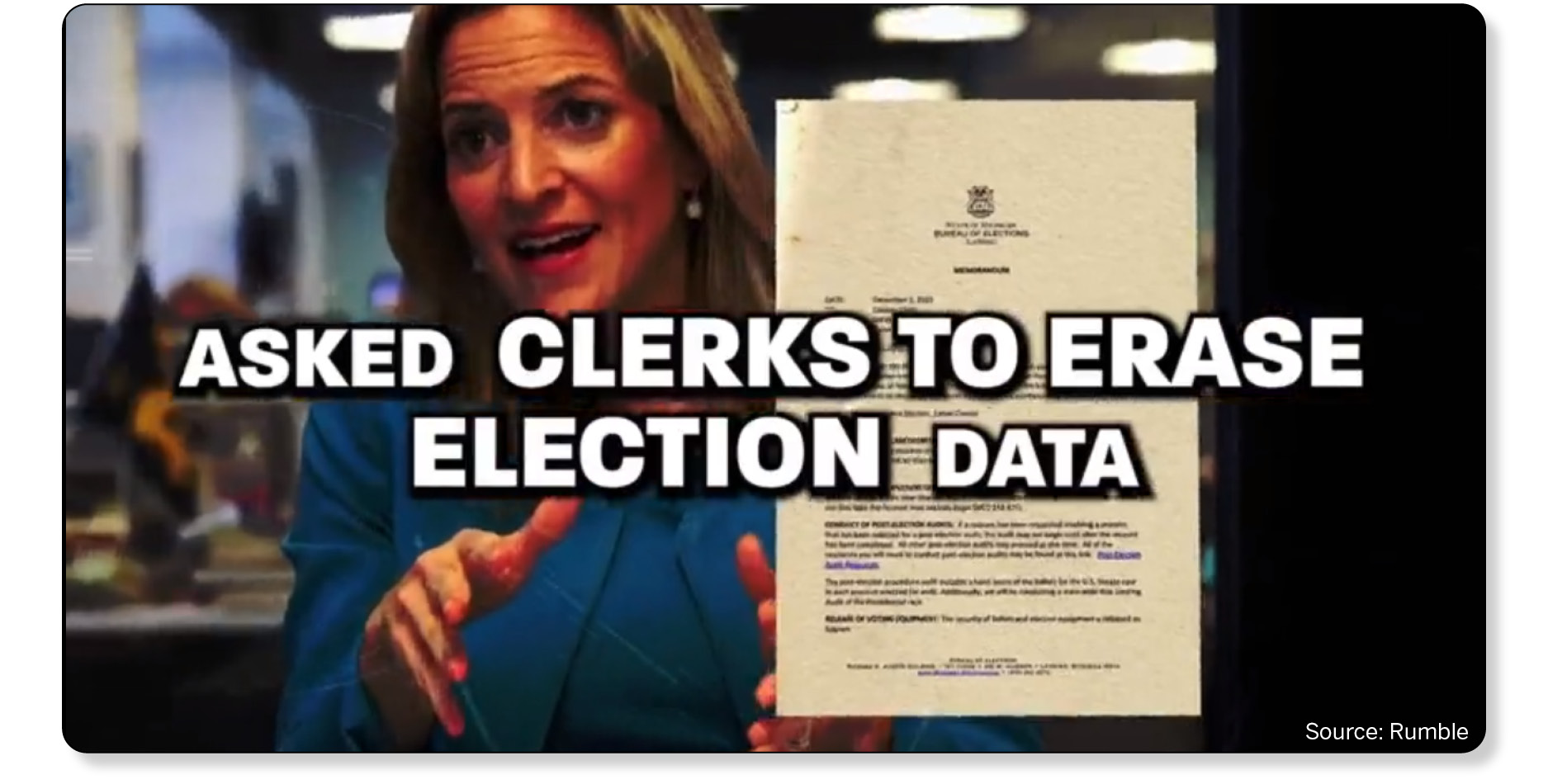 National interest in the race is high. Both Benson and Karamo have virtually the exact same portion of their donations — 41 percent — coming from out of state. By way of comparison, only 2 percent of the money given to the Republican nominee by this point in the 2018 cycle was from outside Michigan.
Karamo has attracted donations from national supporters of election denial, including Donald Trump's Save America PAC, former Overstock CEO Patrick Byrne, and the Presidential Coalition. All three have supported election denial candidates in multiple states. Save America and Patrick Byrne, through a group Byrne funds called the America Project, also gave six-figure donations to a ballot initiative committee, Secure MI Vote, that is pushing a ballot measure that would make voting laws stricter, including requiring voters to show photo ID. The America Project is "sponsoring" a lawsuit by the Macomb County Republican Party to "decertify" and "re-run" Michigan's 2020 election because of alleged problems with voting machines. The group also funded a mass challenge of over 37,000 voters on the rolls in Georgia and was one of the primary funders of the partisan review of the vote in Maricopa County, Arizona.
Outside group spending from national interests is high as well, and like candidate fundraising, it heavily favors Benson.
A voting rights group, iVote, has announced plans to spend $2 million in the Michigan secretary of state race. TV ads attack Karamo on culture war issues. Its website criticizes election denial candidates for secretary of state in Arizona, Minnesota, and Nevada as well. Two groups, End Citizens United and Safe Accessible Fair Elections Michigan (SAFE Michigan), are running identical TV ads attacking Karamo. End Citizens United is a national group focused on electing Democrats working on election reform. SAFE Michigan was formed in May and has not reported any contributions yet. Its website praises Benson and attacks Karamo as an election denier. Sister groups have run ads boosting secretary of state candidates opposed to election denial in Minnesota and Nevada. The SAFE groups are reportedly arms of the Democratic Association of Secretaries of State, and their ad buys are part of a plan to spend $25 million across five states.
Reviews of state campaign finance data, FCC records of TV advertising, and online ad libraries have not revealed outside group spending in favor of Karamo, with the possible exception of Zero Media's republication of her campaign ad.
• • •
The pattern we see in the gubernatorial and secretary of state contests is the same in the race for attorney general, where Dana Nessel (D) has raised $4.2 million, more than four times the $1 million haul of Matthew DePerno (R), who has questioned the 2020 results and is accused of involvement in improper access to voting machines to gather evidence of fraud.
In other battleground states where statewide elections are for open seats, election deniers have fared better in the money race. This includes the Arizona secretary of state contest, where Mark Finchem (R) has significantly outraised Adrian Fontes (D). But the 10-to-1 financial advantage of Michigan's incumbents over their election denying challengers is remarkable. And although national supporters of election denial have supported candidates in the state, spending by super PACs and dark money groups opposed to election denial has dwarfed that support. With about a month until Election Day, it's all but impossible that the financial imbalance will significantly change.