This article is adap­ted from When the Stars Begin to Fall: Over­com­ing Racism and Renew­ing the Prom­ise of Amer­ica, a book that outlines a path toward a multiracial national solid­ar­ity. It integ­rates personal narrat­ive, rigor­ous histor­ical and polit­ical analysis, and theor­ies from soci­ology and polit­ical philo­sophy to make a compel­ling and aspir­a­tional case for a better Amer­ica. By way of two personal vign­ettes, the excerpt below briefly intro­duces the tension between Amer­ican ideals and the Black Amer­ican exper­i­ence. When the Stars Begins to Fall will be published on June 8 by Atlantic Monthly Press, an imprint of Grove Atlantic.
I was 12 years old the first time someone called me a nigger.
It happened one autumn morn­ing as I and my friends — four white boys and Marcus, a Black kid who had just moved to an adjoin­ing neigh­bor­hood — trekked through our predom­in­antly white suburban community nestled in the Pied­mont plains of North Caro­lina. A small, nasally voice hurled the slur from behind a hedge of ever­green bushes as we crossed the trod­den-grass clear­ing adja­cent to our school. I imme­di­ately knew it was Cameron.
The air around 11-year-old Cameron was spoiled and self-obsessed, a char­ac­ter­istic that felt uncom­mon among the chil­dren in our subdi­vi­sion. His signa­ture tic was flip­ping his blond-fros­ted skater bangs over his head of brown hair — a peacock gesture that added some heft to his slight build. Some­times his hotheaded ways caused him to spit fire that would even­tu­ally consume him in the back­draft. This was such a moment. The songs of the morn­ing birds were inter­rup­ted as the n-word landed like a gren­ade in the middle of our unit. It had barely settled into the dirt beneath us when its heat singed the air between us. "All Black people are niggers!" The last syllable bounced around the trees behind us until it was rushed away by the breeze.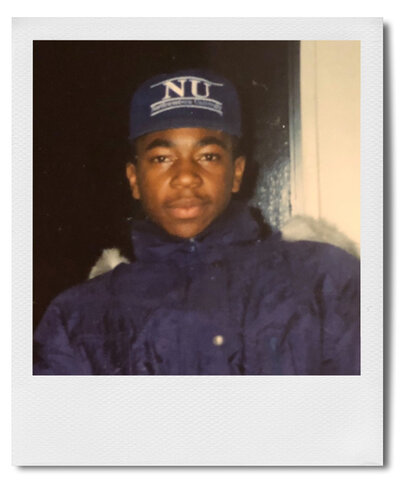 The unblink­ing eyes of my white friends all fell on me, their mouths agape. These were guys with whom I'd camped out, played basket­ball, traded base­ball cards, and talked with endlessly about girls and profes­sional wrest­ling. But they were not angry. They were not offen­ded. They did not rush to my defense or to reas­sure me, as friends often do as a display of solid­ar­ity in moments like this. The only thing they had for me were slack-jawed expres­sions dotted with dart­ing eyes that seemed to ask, "What's our Black friend Teddy gonna do?" Stand­ing there in my frail, prepu­bes­cent body, attempt­ing to shoulder this new burden, I felt isol­ated and smothered, as if no one around could hear my muffled strug­gling. It was the first time I saddled the silent weight of being Black in Amer­ica.
Then, in a flash of relief and with an oddly timed sense of joy, I remembered that I was not alone. The new kid! Marcus! In a single heart­beat, I turned to find him already moving toward Camer­on's hiding place in the hedges with choppy strides that quickly exten­ded into a sprint. My instincts took over, and I launched with him. For some reason, it suddenly felt import­ant to me that the two Black people within earshot acted together, in solid­ar­ity. Even though Marcus and I were only newly acquain­ted, in the face of racial hatred we found common cause and unified action. Running with him — my heart racing and my breath short and shal­low between long strides — I still remem­ber feel­ing strong . . . vibrant . . . affirmed.
Thirty years later, on a crisp Octo­ber morn­ing in 2017, I was tucked into a beige-and-burnt-orange subway seat, rattling along the blue path of Wash­ing­ton, D.C.'s color-coded Metro line, deep in thought. If 12-year-old Teddy stepped into that train and eyed this older version of himself, he would have sneaked a steady stream of glances in search of some­thing that felt famil­iar, trying to decide if he liked the man he had become.

He would have recog­nized the puffs of skin around the eyes that his mother's family passed down like recipes and old wives' tales; the prom­in­ent nose from his father's lineage, born in a place where haints lurk in the cross­ings of darkened coun­try fields; and his pigeon-toed mien that made his feet look as if they were continu­ously lean­ing in to whis­per to each other, whether seated or in motion.
He would have noted the gold on the left hand and smiled to know that he would one day have a girl and find love. He never would have predicted the titles commander and doctor now preced­ing his last name, the reced­ing hair­line where there were once waves he brushed into unco­oper­at­ive hair laden with pink lotion and pomade, or that he had traveled the world in suits and uniforms, from Johan­nes­burg to Japan, war zones to the White House.
He defin­itely would have sensed the same melan­cholic insec­ur­ity that often grasps his adult pinky finger and tags along on all his life's pursuits, little and large. And he would have noted that the burden he felt that one morn­ing with Marcus and Cameron had doubled and trans­formed — the weight of race had evolved into a respons­ib­il­ity to Amer­ica and to the dignity of its Black citizens. Had I caught his glance, perhaps I would have smiled, or simply just looked away. I was distrac­ted. I had a speech to give.
There on the subway, I closed my eyes and mouthed the words of an address about the fate of our coun­try. Five decades of alumni from the pres­ti­gi­ous White House Fellow­ship program had gathered for the annual lead­er­ship confer­ence in the U.S. Cham­ber of Commer­ce's august Hall of Flags, and I was one of the many speak­ers lined up to offer some thoughts on the state of our Union. Ben Carson, previ­ously a Repub­lican pres­id­en­tial candid­ate and secret­ary of the U.S. Depart­ment of Hous­ing and Urban Devel­op­ment, began the morn­ing by assur­ing us that the nation was on the right track. Later, H.R. McMas­ter, then Pres­id­ent Donald Trump's national secur­ity advisor and a three-star Army general, took to the podium and sought to give us all confid­ence that the nation was safe. And then, when it was my turn, I looked the audi­ence in the eye and told them Amer­ica was in danger.
I began with the well-traveled story of Benjamin Frank­lin in 1787 emer­ging from the summer-long conven­ing in Phil­adelphia, where our Consti­tu­tion was put to paper. As Frank­lin stepped outside and took in a breath of fresh air, a woman approached and asked what sort of govern­ment the state deleg­ates had created. Frank­lin respon­ded wryly with a chal­lenge: "A repub­lic, if you can keep it." Can we keep it? Racism, I told the room, was the only thing that has ever proved strong enough to break up the nation. If we fail to keep our repub­lic, it will be because we allowed racism to swipe it from us once more.
I struggled through list­ing a sampling of racial incid­ents point­ing to the fissures in our repub­lic: protests and riots in Black communit­ies after lethal confront­a­tions between unarmed Black people and police officers; white nation­al­ists march­ing with Nazi Germany and Confed­er­ate battle flags declar­ing Amer­ica belongs to them alone; Black athletes and white politi­cians at war over appro­pri­ate displays of patri­ot­ism and free speech during the national anthem; and increased vitriol between polit­ical parties accom­pan­ied by the racial sort­ing of party member­ship.
But I also needed my audi­ence to under­stand what racism felt like — how it shaped a differ­ent real­ity for one of their Black peers. So I told them: Amer­ica is where I have achieved dreams that would have been impossible else­where, but it is also a haven for my deep­est disap­point­ments. It is where the color of my skin enters the room before I do, crash­ing the party and cast­ing a shadow over conver­sa­tions. It is where milit­ary men who are supposed to be my broth­ers in arms tell me that my promo­tions are affirm­at­ive-action handouts. It is where I have been yanked from my car, hand­cuffed, searched, and tossed in jail because two cops thought a Black guy with a blown head­light was suspi­cious. It is where I raise sons who cannot escape airings of shaky smart­phone videos show­ing Black people's deadly encoun­ters with law enforce­ment: George Floyd. Phil­ando Castile. Eric Garner. Walter Scott. And so many others. And it is where I have had to explain to them why their brown skin and dread­locks make them prime candid­ates to be excluded from the full rights and protec­tions of citizen­ship.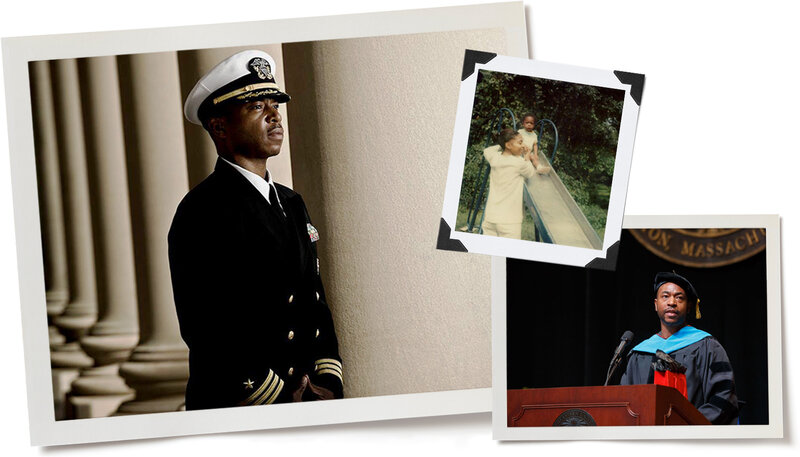 Despite madden­ing contra­dic­tions, I love Amer­ica. I simply cannot help it. I told the room that there is an undeni­able and admir­able strength in a nation that slowly but stead­ily groans toward the incor­por­a­tion of those it used to exclude. It is a coun­try foun­ded on high-minded ideals with an aspir­a­tional, hope­ful orient­a­tion propelled by a people who believe it will be better tomor­row than it is today. For two decades, I wore a milit­ary uniform, proudly pulling the cloth of the nation over my shoulders each morn­ing with the full under­stand­ing that many people suffered and died for me to have the honor. An appre­ci­ation of how far the United States has come, coupled with the vision of what it can become, should inspire us to do our part so that future gener­a­tions can exper­i­ence a more perfect union than we have. It is imper­fect, but it is ours.
I should not have been startled when a sudden and famil­iar force tugged at the corners of my face after I asked the room if our repub­lic was one that we could keep. My throat tightened, chok­ing off the words trying to push through. My eyes warmed. My vision blurred. Draw­ing from my last ounce of compos­ure, I told the mostly white, mostly conser­vat­ive, and mostly middle-aged audi­ence that racism was an exist­en­tial threat to Amer­ica. If we could not muster the bravery to figure out and confront our racial issues, there would be no United States worth saving to leave to our chil­dren.
Then a tear fell. And then another. I bowed my head, ashamed of the public surrender to emotion. After a couple of seconds and some deep breaths while pinch­ing at the bridge of my nose, I lifted my head to find, much to my surprise, that many in the cham­ber were in tears, too.
My tears were the product of a lapse of optim­ism and faith in the Amer­ican idea. A naive revel­a­tion, perhaps, for a grown Black man. But for the first time in my life, it dawned on me that the nation might be more wedded to racial hier­archy than to the found­ing prin­ciples I had sworn to support and defend as an officer in the U.S. Navy. And I real­ized that the feel­ing sweep­ing through me was the polar oppos­ite of the strength and purpose that had flooded my 12-year-old body after an 11-year-old called me the n-word. Race is at the root of both the empower­ing connec­tions and the debil­it­at­ing discon­nec­tions that char­ac­ter­ize our Amer­ican exper­i­ence. Sitting with these two feel­ings in the same moment on a stage one block from the White House, I worried that we may not be capable of over­com­ing the effects of racism or the animus it pollin­ates. I worried that we may not be truly commit­ted to keep­ing the repub­lic.
The weep­ing faces that Octo­ber morn­ing in the nation's capital were proof that I was not alone. Amer­ic­ans of all races, ages, and polit­ical lean­ings share the deep concern that an inab­il­ity to resolve our racial issues may be our undo­ing. All of our tears carried a ques­tion: What is to be done? My tears, however, also contained an answer — an answer that has been passed down through gener­a­tions of Black exper­i­ences in Amer­ica and that has slowly but relent­lessly pushed the nation closer to its professed ideals: solid­ar­ity.
Back on that autumn morn­ing of my youth when the n-word knocked the wind out of me, Marcus and I chased Cameron, but we did not catch him before he reached the school grounds. That after­noon, however, saw a differ­ent result. Cameron and Marcus crossed paths on the way home and imme­di­ately engaged in a profane war of words, call­ing each other everything but a child of God until the kind­ling caught fire in a series of blows. The two fought their way through the subdi­vi­sion: throw­ing punches in a neigh­bor's yard and tramp­ling her tulips, swinging wildly at each other in the street and up into drive­ways like a cara­van of chaos, and even knock­ing an Amer­ican flag to the ground—the stars fall­ing and settling in the dirt to be trampled by an adoles­cent inter­ra­cial conflict.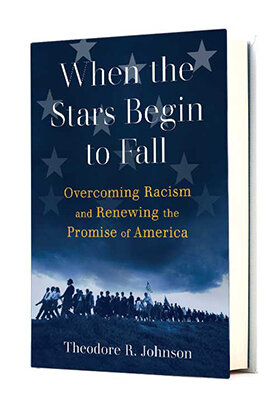 Decades later in the Cham­ber of Commer­ce's Hall of Flags, I tear­fully concluded my address to a room of White House Fellows by recall­ing the gold sun etched into the back of the chair that seated George Wash­ing­ton during the 1787 Consti­tu­tional Conven­tion. The sun was bisec­ted by an imagined hori­zon, giving the illu­sion that it was either on its way up into the sky or descend­ing to give way to the stars. As the deleg­ates made their way to sign what would become our Consti­tu­tion, Benjamin Frank­lin remarked, "I have often looked at that behind the Pres­id­ent without being able to tell whether it was rising or setting: But now at length I have the happi­ness to know that it is a rising and not a setting Sun."
Under the swel­ter­ing suns of an Amer­ica unreal­ized, many Black people toiled under the lash to help build a nation. Forbid­den to sing of the free­dom their souls deman­ded, they turned to Chris­tian themes to cloak their hearts' desire. Substi­tut­ing visions of a heav­enly rapture for their dreams of eman­cip­a­tion, they devised spir­ituals that famed soci­olo­gist and histor­ian W.E.B DuBois called the nation's first original music — the "sorrow songs." One such song chron­icled the rising sun, symbol­iz­ing the end of one day and the begin­ning of another:
My Lord, what a morn­ing
My Lord what a morn­ing
My Lord, what a morn­ing
When the stars begin to fall.
When I descen­ded the stage, I stumbled a bit. After awkwardly taking a few steps to regain my balance, David, a white retired Air Force pilot with silver hair, caught me in a bear hug next to the Amer­ican flag that bordered the stage. I could not help think­ing of what the gener­a­tions before us would have thought of this fleet­ing moment of connec­tion and unity, espe­cially the gener­a­tions of my family filled with sturdy men and women from the red clay of Geor­gia and the tobacco fields of South Caro­lina who had endured the nation's worst impulses just so I would have a fight­ing chance at the Prom­ise. If my name is any indic­a­tion, they would have seen a rising sun — a reason to continue hoping that racial equal­ity lies ahead. Whether it is indeed setting or rising, however, will depend on our abil­ity to find the solid­ar­ity charted in the pages ahead.