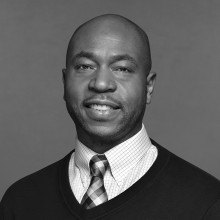 Theodore R. Johnson
Theodore (Ted) R. Johnson is a senior fellow at the Brennan Center for Justice. His work explores the role that race plays in electoral politics, issue framing, and disparities in policy outcomes. Previously, he was a national fellow at New America and a research manager at Deloitte. He is also a retired commander in the U.S. Navy following a two-decade career that included service as a White House fellow, military professor at the U.S. Naval War College, and speechwriter to the chairman of the Joint Chiefs of Staff.

His work has appeared in the Washington Post, Atlantic, New York Times Magazine, Wall Street Journal, National Review, and Politico, among other publications. He teaches law and public policy to master's and doctoral students and is currently working on a book about national solidarity and race relations.

Johnson holds a BS in mathematics from Hampton University, an ALM with a concentration in international relations from Harvard University, and a doctorate of law and policy from Northeastern University.
Stay up to date
Informed citizens are our democracy's best defense