Records obtained by the Bren­nan Center in a lawsuit filed under the federal Free­dom of Inform­a­tion Act reveal that the Trump admin­is­tra­tion made multiple attempts to inter­fere with the 2020 Census, push­ing further than previ­ously known but meet­ing stiff resist­ance from career Census Bureau offi­cials on many fronts.
At stake was the accur­acy and legit­im­acy of the popu­la­tion counts used to divvy up seats in the House of Repres­ent­at­ives, draw elect­oral districts, and distrib­ute $1.5 tril­lion annu­ally in federal fund­ing. The 2020 Census ulti­mately escaped disaster, but these docu­ments emphas­ize just how vulner­able the count is in the wrong hands.
The FOIA records are the result of victory in a one-and-a-half-year legal fight that led to a court order requir­ing the federal govern­ment to produce a substan­tial number of docu­ments, the last of which were produced in Septem­ber 2021.
One crucial email chain shows that senior offi­cials at the Census Bureau were concerned about the Commerce Depart­ment's "unpre­ced­en­ted" and "unusu­ally, high degree of engage­ment" in the 2020 Census. The chain shows that the offi­cials planned to discuss the depart­ment's undue involve­ment in five areas the bureau considers its own, inde­pend­ent respons­ib­il­it­ies, includ­ing count­ing meth­od­o­lo­gies. Dated Septem­ber 14, 2020, the chain was created during the time the Trump admin­is­tra­tion was trying to speed up the bureau's count­ing oper­a­tions so that Pres­id­ent Trump could attempt to illeg­ally remove undoc­u­mented persons from the appor­tion­ment data.

The FOIA records also show that the Census Bureau offi­cials tasked with carry­ing out the admin­is­tra­tion's direct­ive to calcu­late undoc­u­mented popu­la­tions did not think doing so was feas­ible or stat­ist­ic­ally sound — and they stated so repeatedly, only to be over­rid­den by polit­ical appointees.
An August 2020 email addressed to Census Bureau Director Steven Dilling­ham and a late-in-the-game bureau polit­ical appointee, Nath­aniel Cogley, warns that the bureau "has been consist­ently pess­im­istic" about the feas­ib­il­ity of determ­in­ing the undoc­u­mented popu­la­tions of the states. Another email from the same day cautions that "under the best, most legally defens­ible meth­od­o­logy, we are at great risk of not being able to carry out the policy outlined in the Pres­id­en­tial Memor­andum by Decem­ber 31, 2020." Despite these warn­ings, Trump appointees at the bureau nonethe­less pushed for faulty stat­ist­ics, with Dilling­ham reportedly order­ing bureau staff to hast­ily produce a report on undoc­u­mented popu­la­tions in early Janu­ary 2021.
Other records suggest that more states shared much more data to aid the Census Bureau's efforts to collect citizen­ship data than was previ­ously repor­ted. A bureau Power­Point from June 2020 indic­ates that a major­ity of the states had entered into agree­ments with the bureau to share admin­is­trat­ive records about resid­ents enrolled in public assist­ance programs. The bureau was collect­ing this data despite the fact that, as one record indic­ates, it had not yet chosen a viable meth­od­o­logy for produ­cing citizen­ship data and had determ­ined that the same sources of admin­is­trat­ive records they were collect­ing from the states provided "very limited addi­tional return" on accur­ately calcu­lat­ing citizen­ship stat­ist­ics.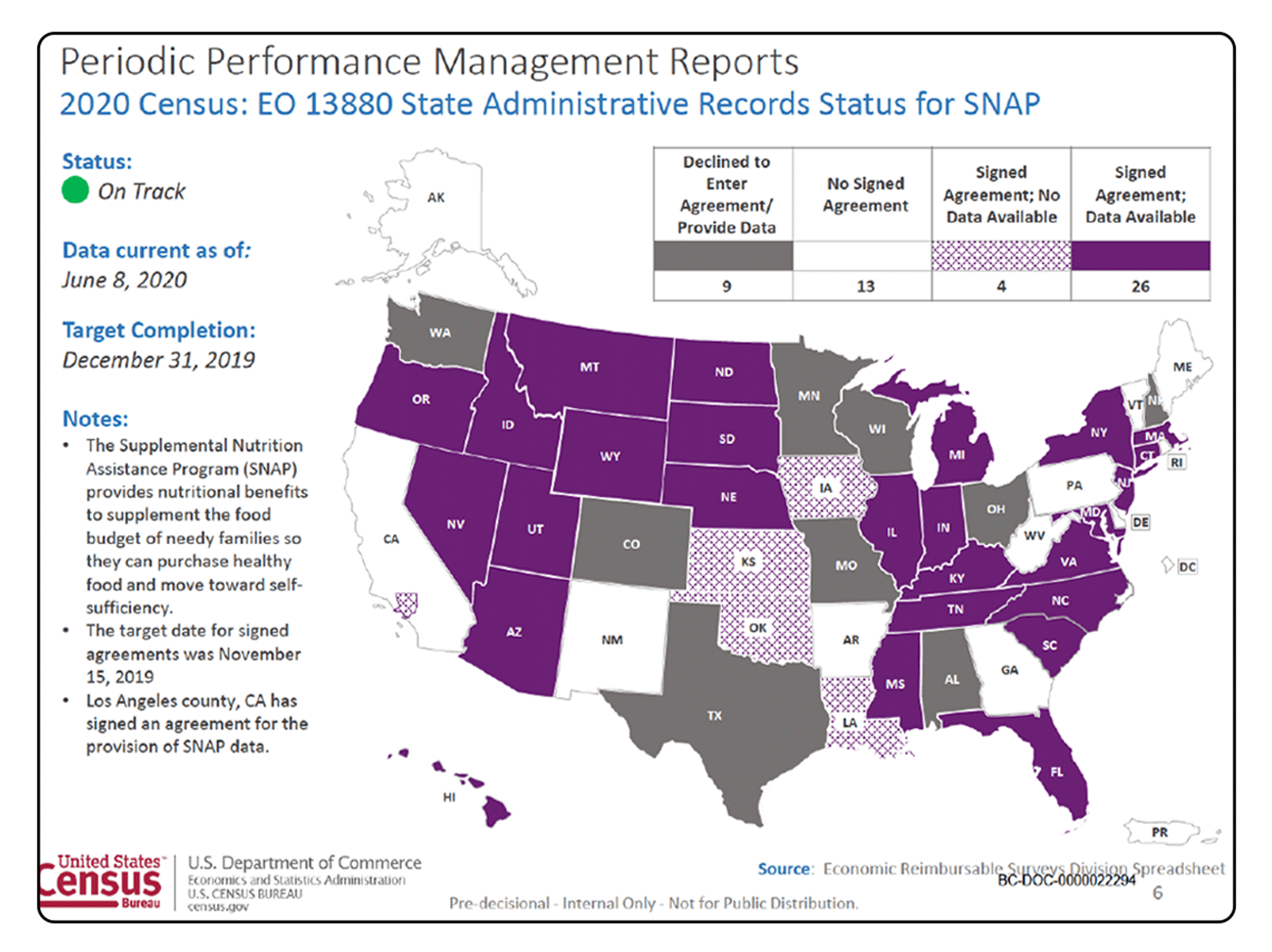 These FOIA results show just how fragile the census process is. It took timely litig­a­tion, advocacy, and career Census Bureau offi­cials push­ing back at polit­ical inter­fer­ence to ensure that the 2020 Census did not fail. While 2020 appor­tion­ment data fell within the predicted ranges, and redis­trict­ing advoc­ates were able to move forward with the data they received to push for fairer maps, there may still well be under­counts, espe­cially racially differ­en­tial under­counts.
We will be watch­ing the upcom­ing results of the bureau's Post-Enumer­a­tion Survey to assess the qual­ity of the final count. In the mean­time, it's time to start think­ing about what guard­rails should be put in place to protect future censuses from reach­ing the brink of disaster.
For a full break­down of the records obtained through the Bren­nan Center's 2020 Census FOIA requests, click here.