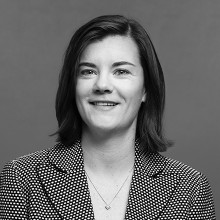 Kelly Percival was Senior Counsel with the Brennan Center's Democracy Program where she is a member of the Center's Census Project. Percival guides the organization's census litigation task force and advises civil rights groups and state and local governments on legal strategy and policy. She led a Freedom of Information Act lawsuit that revealed unprecedented attempts by the Trump administration to interfere with the 2020 Census and contributed to litigation that successfully stopped the administration from shutting down the census early. She also coordinated amicus briefing in challenges to the administration's attempt to add a citizenship question to the census in federal district and appellate courts, as well as in the U.S. Supreme Court.
Prior to joining the Brennan Center, Percival worked at Americans United for Separation of Church and State where she represented clients seeking to vindicate their First Amendment rights. She began her legal career as an environmental and land use associate at Nossaman LLP.
Percival received her JD from Georgetown University Law Center where she was a public interest fellow and dean's merit scholar. She holds a BA in cultural and social anthropology from Stanford University.
Informed citizens are democracy's best defense