The Los Angeles Police Depart­ment piloted social media monit­or­ing soft­ware that vacu­umed up millions of tweets in Octo­ber and Novem­ber 2020 from users through­out the United States, accord­ing to internal docu­ments released Wednes­day by the Bren­nan Center. The monit­or­ing tool, ABTShield, was developed by Polish soft­ware company EDGE NPD. A large portion of the posts collec­ted were about police reform protests, rais­ing seri­ous concerns about the impact on First Amend­ment rights.
Over the last several months, the Bren­nan Center has released numer­ous docu­ments obtained through a free­dom of inform­a­tion lawsuit. They reveal the LAPD's use of third-party monit­or­ing tools and other social media collec­tion mech­an­isms to amass data on inno­cent people and track racial justice activ­ists, often in viol­a­tion of social media plat­forms' policies. The LAPD's trial of ABTShield is yet another example of the depart­ment's misguided efforts to carry out its public safety mandate through broad­scale social media surveil­lance.
ABTShield's service for the LAPD focused solely on Twit­ter, assem­bling daily reports on how many people tweeted about vari­ous topics selec­ted by the police depart­ment. In its sales pitches, EDGE NPD claimed that ABTShield was uniquely posi­tioned to help govern­ment agen­cies combat the disin­form­a­tion and foreign malign influ­ences that under­mine public trust in insti­tu­tions.
However, the LAPD used the service largely to collect inform­a­tion far afield from disin­form­a­tion, track­ing commu­nic­a­tions in six categor­ies: civil unrest, Amer­ican poli­cing, white nation­al­ism and domestic extrem­ism, poten­tial danger, and the conflict between Armenia and Azerbaijan (due to the large Armenian popu­la­tion in Los Angeles), in addi­tion to elec­tion secur­ity and disin­form­a­tion.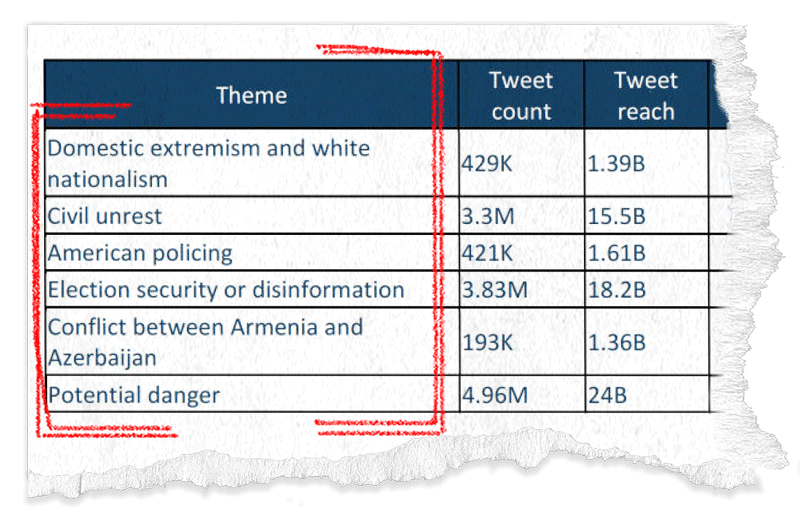 The LAPD and EDGE NPD jointly came up with the terms under­pin­ning ABTShield's daily searches. (The Bren­nan Center received the list of keywords that the LAPD reques­ted, but EDGE NPD subsequently added addi­tional terms, which the LAPD evid­ently agreed to; the LAPD did not produce — and appar­ently never received — the final list of keywords.) Using these terms, ABTShield pulled in vast quant­it­ies of mostly irrel­ev­ant inform­a­tion, much of which implic­ated Angel­en­os' First Amend­ment rights. Indeed, on the first day of the pilot, ABTShield collec­ted so many tweets that its system could not handle the volume of data, prompt­ing EDGE NPD to cut off its trans­mis­sions at 10,000 tweets per topic per day. A huge volume contin­ued to pour in through­out the trial period, total­ing nearly 2 million tweets, an aver­age of almost 70,000 per day. And this was a small frac­tion of the data haul that ABTShield brought in; accord­ing to EDGE NPD, it collec­ted some 200 million tweets over the life of the pilot, send­ing only a selec­tion of those to the LAPD.
The Bren­nan Center's assess­ment of the data using the list produced by the LAPD, augmen­ted by the terms EDGE NPD stated it was adding, shows that the 20 most mentioned keywords accoun­ted for slightly over 75 percent of all keyword "hits" in the tweets that ABTShield delivered to the LAPD. These terms were all extremely vague, high­light­ing ques­tions about the value of this effort, if any.
Notwith­stand­ing this flood of data, the depart­ment commen­ded ABTShield as a "power­ful tool" that helped "parse out the prover­bial 'sig­nal from the noise,' and assess the vera­city and reli­ab­il­ity of online content . . . ." None of the commu­nic­a­tions or docu­ments produced by the LAPD indic­ate how ABTShield assisted in analyz­ing the "vera­city and reli­ab­il­ity" of the enorm­ous volume of online data it sent to the depart­ment.
ABTShield also collec­ted the user­name asso­ci­ated with each flagged tweet and provided it to the LAPD. ABTShield's collec­tion of this data for law enforce­ment purposes raises signi­fic­ant privacy concerns and seem­ingly viol­ates Twit­ter's prohib­i­tion against scrap­ing and use of its data for surveil­lance purposes by developers. Indeed, ABTShield's searches recall those that Geofee­dia used at the LAPD's direc­tion in 2016; Geofee­di­a's rela­tion­ship with law enforce­ment was what origin­ally promp­ted Twit­ter to forbid the use of its data for surveil­lance purposes.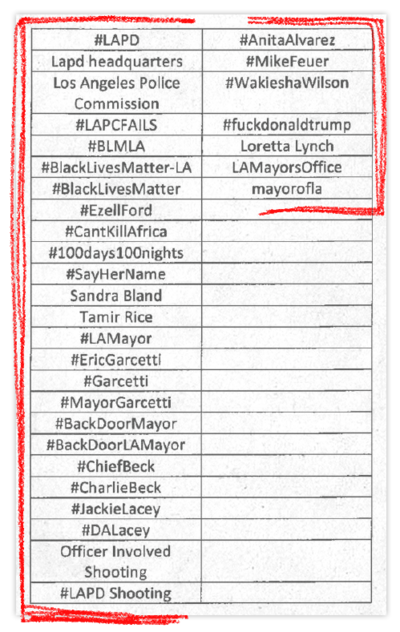 The LAPD's reten­tion of the data is like­wise troub­ling and raises concerns about future use of the tweets — stripped of their original context — for other purposes.
The docu­ments also shed light on how the LAPD views activ­ist move­ments — in partic­u­lar, that activ­ists and move­ments are likely being treated as threats or sources of disin­form­a­tion without any evid­ence to support that categor­iz­a­tion. The LAPD's "civil unrest" category, for example, included terms focused on nonvi­ol­ent protests, like "protest," "solid­ar­ity," and "lives matter," which would have pulled in online activ­ity related to Black Lives Matter (BLM). It would have retrieved activ­ity related to Blue Lives Matter as well, but since that term was separ­ately included in the Amer­ican poli­cing category, "lives matter" appears to have been primar­ily direc­ted at elicit­ing BLM-related tweets. Yet the depart­ment made no attempt to show that the discus­sions of the BLM move­ment posed a risk to public safety — nor could it cred­ibly have done so, in light of the evid­ence indic­at­ing that BLM-inspired protests across the United States were over­whelm­ingly nonvi­ol­ent.
In addi­tion, LAPD officers repres­en­ted in emails that "defund the police" and some BLM narrat­ives were conspir­acy theor­ies peddled by foreign actors, prof­fer­ing that "conspir­acy theor­ies" and "state-backed media outlets" had eroded public trust in the LAPD and led to "defund­ing the police." Another officer, while acknow­ledging that "MANY legit­im­ate voices" use the phrase BLM, sugges­ted it was "wise" to include the term in the keyword list based on a 2017 article report­ing that some Face­book ads target­ing Black communit­ies were bought by Russi­ans in the runup to the 2016 elec­tion.

EDGE NPD echoed this senti­ment, saying "the LAPD itself is being targeted by organ­ized attacks of auto­mated bots and trolls (e.g., police brutal­ity misin­form­a­tion and 'defund the police' narrat­ives)." Need­less to say, BLM and "defund the police" are homegrown campaigns, them­selves targets of disin­form­a­tion by foreign and domestic actors. Even if foreign actors were occa­sion­ally masquer­ad­ing as domestic activ­ists, there is no evid­ence that either ABTShield or LAPD officers could discern which tweets were legit­im­ate and which were "disin­form­a­tion" based solely on keyword searches.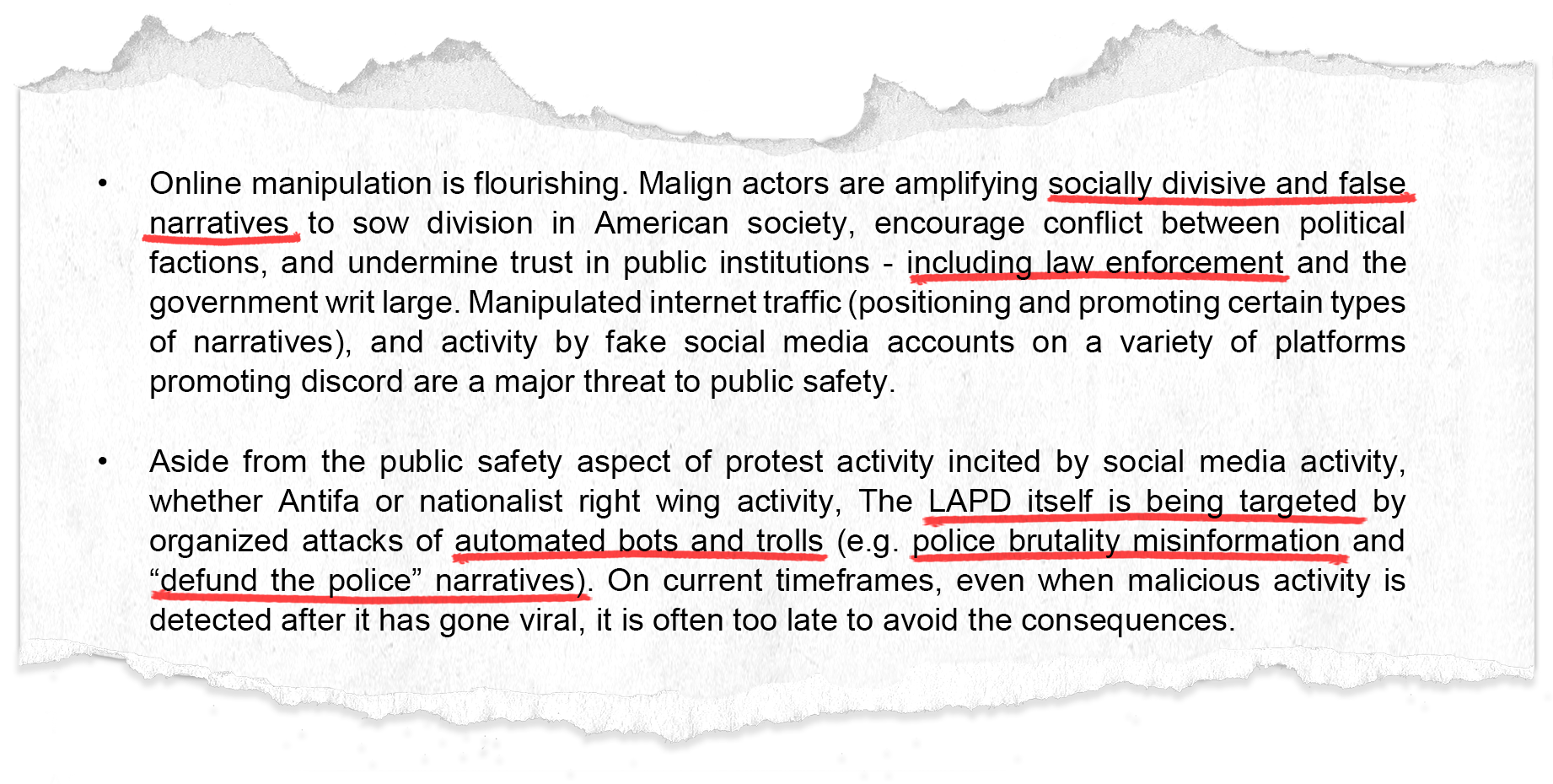 This unfoun­ded suspi­cion of activ­ist groups puts protest­ers, espe­cially people of color, at risk of harm and contrib­utes to the erosion of public trust in the police. It can also spill into offline viol­ence: the Los Angeles City Coun­cil published a report in March 2021 indic­at­ing that the LAPD mishandled its response to the George Floyd protests in 2020. Similar conduct by the law enforce­ment community nation­wide, which has respon­ded to protests with viol­ence, illus­trates the urgency of police reforms.
Addi­tion­ally, the LAPD asked EDGE NPD to monitor the Twit­ter activ­ity of at least three specific social media handles, from which ABTShield compiled 1,467 tweets that predom­in­antly discuss protests. One is an account that shares inform­a­tion about protests collec­ted from police scan­ners and civil­ian reports. The other two are anti-fascist groups. The LAPD's choice to track anti-fascist accounts is another example of suspi­cion of activ­ists and also reflects a trend within the depart­ment to fixate on ficti­tious rather than actual threats to civil­ians and officers.
The LAPD's reck­less use of bulk collec­tion tools under­scores the urgent need for reform of social media surveil­lance by police to prevent further infringe­ments on the public's civil liber­ties.