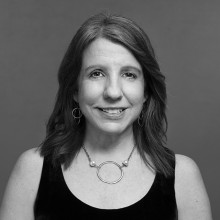 Former
Jennifer Weiss-Wolf
Fellow
Jennifer Weiss-Wolf was the inaugural Women and Democracy Fellow at the Brennan Center for Justice. A frequent writer and advocate on issues of gender and politics in America, her work has been published in the New York Times, Los Angeles Times, TIME, Newsweek, Cosmopolitan, Teen Vogue, Marie Claire, Glamour, and Harper's Bazaar, among others.
She is the author of the book Periods Gone Public: Taking a Stand for Menstrual Equity (Arcade 2017), praised by Gloria Steinem as "the beginning of liberation for us all." Periods Gone Public earned starred reviews by Publishers Weekly and Library Journal, and The Washington Post called it "a riveting read…a promising call to smart activism." In 2021, she organized the Brennan Center series, "Abortion is Essential to Democracy." Her forthcoming book, Period. Full Stop. The Politics of Menopause, will be published by NYU Press in 2024.
Weiss-Wolf simultaneously serves as executive director for partnerships and strategy at Ms. magazine, the historic feminist publication. She sits on the board of the Feminist Press and on the editorial board of the Fund for Women's Equality 'Equal Voice, Equal Future" initiative.
She previously served for more than a decade as the Brennan Center's chief fundraiser and vice president, directing the Center's exponential growth in revenue across all portfolios. In that role, she conceptualized and coedited the 2015 volume Legal Change: Lessons from America's Social Movements.
Weiss-Wolf earned a JD from the Benjamin N. Cardozo School of Law, where she was editor in chief of the Cardozo Women's Law Journal.
Additional Media Appearances
"Periods Don't Stop for Pandemics – and Neither Have Our Nation's Moms." (with Christy Turlington Burns), Marie Claire(Sept. 16, 2021)
"What is the Legacy of the 'Gender-Equal' Tokyo 2020 Games?", Ms. (Aug. 9, 2021) 
"The Filibuster Continues to Undermine Democracy, ERA, and other Advances for Women's and Civil Rights.", Ms.(June 15, 2021) 
"It's Time for a Whole of Government Approach to Address Period Poverty in the U.S." (with U.S. Congresswoman Grace Meng), Ms. (June 6, 2021) 
"'Period. End of Sentence.' Invites us to Reimagine the Menstrual Equity Movement.", Marie Claire (May 25, 2021)
"The Fight for Menstrual Equity Continues in 2021." Marie Claire (Jan. 27, 2021)
"Cori Bush's Thrift Shopping is a Moving Reminder of Political Barriers." Newsweek (Nov. 17, 2020)
"Amy Coney Barrett's Much-Touted Cloak of Decency." Ms. (Oct. 12, 2021)
"How Dare Republicans Tout Amy Coney Barrett's Motherhood While Letting Working Moms Drown?" Newsweek (Oct. 10, 2020)
"RBG Created the Playbook for Feminist Barrier-Breaking." Ms. (Sept. 20, 2020)
"Miami-Dade Voters Should Turn Up the Heat." Miami Herald (Sept. 11, 2020)
"Let the Private Sector Help Save the Election." Newsweek (Sept. 2, 2020)
"Women's Representation at the Ballot Box—and in the Halls of Power—Has a Long Way to Go." Ms. (August 26, 2020)
"See You in Court, Michigan." Newsweek (Aug. 14, 2020)
"Education, Discrimination and Menstruation." Ms. (Aug. 3, 2020)
"Raising the Bar for Menstrual Equity. Period." Ms.(July 23, 2020)
"Periods are a Source of Abuse for Protesters in Police Custody." Newsweek (June 23, 2020)
"COVID-19 Exacerbates Gender Inequality. Let's Ensure PPE Doesn't Neglect Women's Bodies." Ms.(May 11, 2020)
"COVID-19 Policy Takes Steps to Advance Gender Equity." Ms.(April 15, 2020)
"No Soap. No Sinks. Coronavirus is Ravaging Prisons." Newsweek (March 26, 2020)
"Periods Don't Stop for Pandemics." Newsweek (Feb. 17, 2020)
"End the Discriminatory Tax in Washington State." Seattle Times (Feb. 13, 2020)
"It's 2020 and Periods are Still Holding Women Back." Glamour(Jan. 16, 2020)
"Tampon Tax Ends in Utah. Other States Should Follow Suit." Salt Lake Tribune (Dec. 14, 2019)
"Even Utah is Ending the Discriminatory Tampon Tax. Who's Next?" Newsweek(Dec. 13, 2019)
"Your Taxes Shouldn't Be Higher Because of Your Period." NBC Think (Nov. 4, 2019)
"To All Men Enraged by AOC's Haircut: Yes, This is How the U.S. Economy Bleeds Women Dry", Newsweek, October 11, 2019
"Fighting the Degrading and Dangerous Treatment of Menstruating Migrant Girls", Newsweek, August 30, 2019
"Taxing Tampons isn't Just Unfair, it's Unconstitutional", L.A. Times (July 11, 2019) 
"How We Can Eliminate the Tampon Tax Nationwide — Once and For All", Pop Sugar (June 17, 2019) 
"Periods Went Public — Now What?", Ms. (May 28, 2019) 
"Tampon Tax: California's Budget Tweak is Not Enough - The Practice Should Be Banned Nationwide", Newsweek (May 9, 2019) 
"Republican or Democrat—We Can All Agree on Axing the Tampon Tax", Newsweek (April 15, 2019) 
"Congress Must Seize This Menstrual Equity Moment", Ms. (March 26, 2019) 
"Marching On for (Constitutional) Menstrual Equity", Ms. (January 16, 2019)  
"Tampon Tax Struck Down in Nevada Vote", Teen Vogue (November 7, 2018) 
"Abolish the Pink Tax: There Will be No Equality Without Menstrual Equity", Rewire News (August 31, 2018)
"Rep. Sean Patrick Maloney Says a House Panel Wouldn't Fund Tampons for his Office", Marie Claire (June 29, 2018)
"Meghan Markle Has Championed Menstrual Equity: Here's Why You Should Too", Refinery29 (May 21, 2018) 
"On International Women's Day and Every Day, Fight for Menstrual Equity", New York Daily News (March 8, 2018)
"It's Time for Menstrual Equity", City and State (February 27, 2018)
"Women Are Finally Winning the Period Rights Fight", Newsweek" (January 25, 2018) 
"How I Became a Tampon Tax Crusader", Salon (November 12, 2017)
"Could Your Period Get You Fired?" Marie Claire (October 12, 2017)
"For Women in Prison, Tampons Should be Free", The New York Times (July 13, 2017)
"Ensuring Dignity: The Intersection of Incarceration and Menstruation" Ms. (June 19, 2017)
"A President's Day Tribute to Period Policy"  Ms. (February 21, 2017)
"A Step Backward in the Fight Against the Tampon Tax", Cosmopolitan (September 22, 2016)
"Philadelphia Freedom: Redefining Motherhood at the DNC" Ms. (July 27, 2016)
"The Tampon Ticket", Ms. (July 20, 2016)
"New York Makes History with Tampons and Pads", The New York Times (June 21, 2016)
"What's Next for Menstrual Activism in the United States", Bustle (May 27, 2016)
"Feminine Hygiene Products Should Be Free in School", Newsweek (April 20, 2016)
"The Year Period Policy Prevails", Bloomberg (April 8, 2016)
"Could This Be the Beginning of the End of the Tampon Tax?" Cosmopolitan (March 3, 2016)
"Menstrual Products Taxed in 40 States: Here's What's Tax-Free", Ms. (February 19, 2016)
"Why Are We Paying Sales Tax on Tampons?" The Nation (January 26, 2016)
"Blood in the Streets", HuffPo (January 19, 2016)
"Periods Went Public in 2015: Here's What's Next", Ms. (January 5, 2016)
"Stop Taxing Menstruation", Ms. (December 2, 2015)
"For Equity Give Out Tampons in Schools", New York Daily News (October 9, 2015)
"Period Positivity: New York Leads the Way", Ms. (September 16, 2015)
"Menstruation Innovation: Lessons from India", The New York Times (September 1, 2015)
"America's Very Real Menstrual Crisis", TIME (Aug. 11, 2015)
"Time to Shelve the Tampon Tax", New York Daily News (June 1, 2015)
"Helping Women and Girls. Period. Part Two", The New York Times  (April 22, 2015)
"Helping Women and Girls. Period", The New York Times (January 28, 2015)
Period: Twelve Voices Tell the Bloody Truth (Macmillan, May 2018)
Periods Gone Public: Taking a Stand for Menstrual Equity (Arcade, October 2017)
---
Ms. (September 21, 2017)
Publishers Weekly starred review, (October 8, 2017)
Harper's Bazaar (October 9, 2017)
BUST (October 12, 2017)
Washington Post (October 20, 2017)
New York Journal of Books (November 5, 2017)
Bitch Media (November 6, 2017)
Salon (November 12, 2017)
Bustle (November 16, 2017)
Library Journal starred review, (December 1, 1017)
Rewire News (December 20, 2017)
Johns Hopkins University – Best Global Health Books of 2017 (December 21, 2017)
Publishers Weekly (April 2018)
Book Riot (June 18, 2019)
Scholarship and Expert Resources
Informed citizens are democracy's best defense