In late July, the Senate Select Commit­tee on Intel­li­gence released its report on the Russian govern­ment's attacks on Amer­ica's elec­tion infra­struc­ture.[1] While the report offered dozens of recom­mend­a­tions related to vast and varied elec­tion systems in the United States (from voter regis­tra­tion data­bases to elec­tion night report­ing), it poin­tedly noted that there was an urgent need to secure the nation's voting systems in partic­u­lar.[2] Among the two most import­ant recom­mend­a­tions made were that states should (1) replace outdated and vulner­able voting systems with "at minim­um… a voter-veri­fied paper trail," and (2) adopt stat­ist­ic­ally sound audits. These recom­mend­a­tions are not new and have been consist­ently made by experts since long before the 2016 elec­tion.[3]
Last year, Congress provided $380 million to states to help with upgrades, but it wasn't enough. This analysis, six months ahead of the first primary for 2020, exam­ines the signi­fic­ant progress we've made in these two areas since 2016, and it cata­logs the import­ant and neces­sary work that is left to be done.
I. Repla­cing Anti­quated Voting Equip­ment
The lifespan of elec­tronic voting machines can vary, but experts agree that systems over a decade old are more likely to need to be replaced for secur­ity and reli­ab­il­ity reas­ons.[4] We estim­ate that in Novem­ber 2018, 34 percent of all local elec­tion juris­dic­tions were using voting machines that were at least 10 years old as their primary polling place equip­ment (or as their primary tabu­la­tion equip­ment in all vote-by-mail juris­dic­tions).[5] This number includes counties and towns in 41 states.[6]
States, however, have made signi­fic­ant progress in repla­cing such machines since 2016. In 2017, Michigan began repla­cing its aging voting equip­ment statewide while Virginia decer­ti­fied and replaced all paper­less voting machines.[7] In 2018, Arkan­sas completed the replace­ment of its remain­ing anti­quated paper­less voting equip­ment.[8] In several other states, such as Color­ado, Flor­ida, and Nevada, signi­fic­ant replace­ment has happened at the local level since 2016.
These efforts are ongo­ing and expand­ing across the coun­try in 2019, and several states are in route to having new voting machines in time for the 2020 elec­tions. For instance, Ohio approved $114.5 million to replace aging voting machines ahead of the 2020 pres­id­en­tial elec­tion; Cali­for­nia issued a require­ment for counties to replace old voting machines by March of 2020; and North Dakota recently spent $11 million on new voting machines, which the secret­ary of state expects to be in place by the end of the year.[9]
Nearly Half of the States with Paper­less Voting Machines in 2016 Will Have Replaced These Machines by the 2020 Elec­tions
Action is also being taken to replace elec­tronic voting machines that don't produce a voter veri­fi­able paper record in many of the states that still use them. Experts have long warned that these machines are a secur­ity risk because they do not allow elec­tion offi­cials or the public to confirm elec­tronic vote totals.[10] The Bren­nan Center estim­ates that compared to 2016, when approx­im­ately 27.5 million voters cast their ballots on paper­less machines, a little over half, or as many as 16 million, will do so in 2020—­though that number could go even lower with addi­tional fund­ing from Congress.[11] As the Bren­nan Center has previ­ously found, many elec­tion offi­cials would like to replace their equip­ment before 2020 but do not currently have the funds to do so.[12] A recent survey of elec­tion offi­cials by Politico produced similar find­ings, noting that "many elec­tion offi­cials have been slow to buy paper-based machines," in part due "to a lack of money".[13]
In 2016, 14 states used paper­less voting machines as the primary polling place equip­ment in at least some of their counties and towns (Arkan­sas, Delaware, Geor­gia, Indi­ana, Kansas, Kentucky, Louisi­ana, New Jersey, Missis­sippi, South Caro­lina, Pennsylvania, Texas, Tennessee, and Virginia).[14]
Today, just 11 states use paper­less machines as their primary polling place equip­ment in at least some counties and towns, as Virginia, Arkan­sas, and Delaware transitioned to paper-based voting equip­ment in 2017, 2018, and 2019, respect­ively.[15] In addi­tion to these states, three more (Geor­gia, South Caro­lina, and Pennsylvania) have commit­ted to repla­cing equip­ment by 2020. Consequently, we expect the number of states using paper­less equip­ment as primary systems in at least some counties and towns will drop to no more than eight.[16]
Even so, a signi­fic­ant number of voters may not have a paper record of their vote in 2020. Using voter regis­tra­tion and turnout data from the 2016 and 2018 Elec­tion Admin­is­tra­tion and Voting Survey and 2018 voting equip­ment data from Veri­fied Voting, we estim­ate that as many as 12 percent of voters (approx­im­ately 16 million voters) will vote on paper­less equip­ment in Novem­ber 2020. This compares to 20 percent of voters (27.5 million) in 2016.[17]
In its July report, the Senate intel­li­gence commit­tee noted that "paper ballots and optical scan­ners are the least vulner­able to cyber-attack."[18] The vast major­ity of juris­dic­tions with voter veri­fi­able paper records use such systems. But a minor­ity of juris­dic­tions in 2020 will use Direct-Record­ing Elec­tronic (DRE) machines with voter veri­fi­able paper trails (VVPTs) or Ballot-Mark­ing Devices (BMDs) as their primary polling place voting equip­ment. Approx­im­ately 6 percent of registered voters live in juris­dic­tions where the primary polling place equip­ment will be DREs with VVPTs and around 7.5 percent live in juris­dic­tions where the primary polling place equip­ment will be BMDs.[19]
These devices collect the voter's choices and either produce a ballot that is then scanned by the voter in a separ­ate scan­ner (BMDs) or create a "paper trail" that is preserved for poten­tial review later. Experts have warned that some of these paper trails or ballots can be diffi­cult to review.[20] Before purchas­ing such systems, elec­tion offi­cials should consider how easy it will be for voters to review and under­stand the machine marked ballots. In juris­dic­tions where either system is used, elec­tion offi­cials should put in place proced­ures that make it more likely voters will review and catch errors on the paper record, as well as consider addi­tional secur­ity meas­ures recom­men­ded by experts.[21]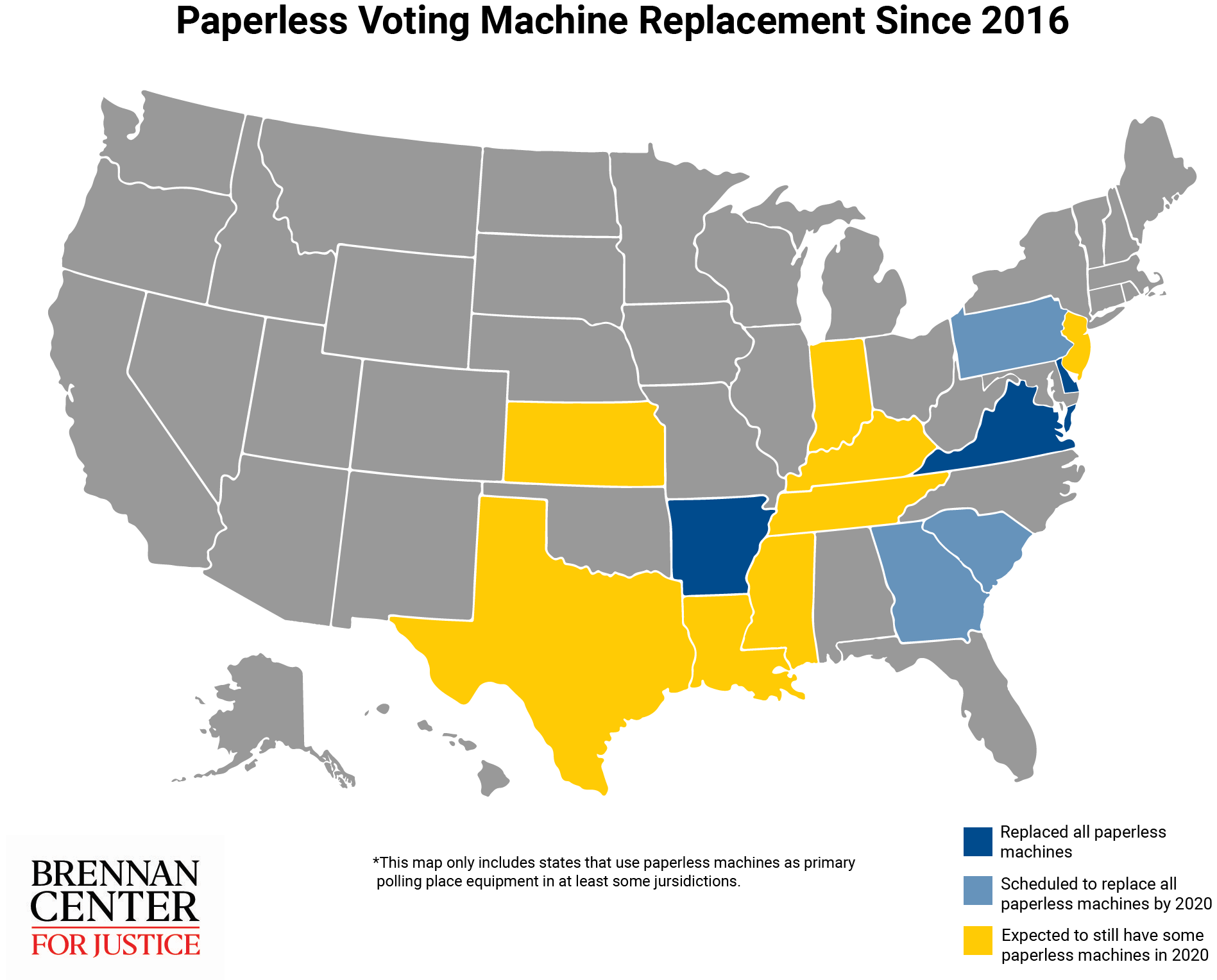 II. Progress on Post-Elec­tion Audits
Paper-based systems provide better secur­ity because they create a paper record that voters can review before cast­ing their ballot. Elec­tion offi­cials can review these records during an audit after the elec­tion. However, these paper records will be of little secur­ity value unless they are used to check and confirm elec­tronic tallies.
Tradi­tional post-elec­tion audits, which gener­ally require manual inspec­tion of paper ballots cast in randomly selec­ted precincts or on randomly selec­ted voting machines, can provide assur­ance that indi­vidual voting machines accur­ately tabu­lated votes. Multiple states have employed these audits for over a decade. Currently, 22 states and the District of Columbia have voter veri­fi­able paper records for all votes cast and require post-elec­tion audits of those paper records before certi­fy­ing elec­tion results.[22]
This number should go up to at least 24 states by the Novem­ber 2020 elec­tions, after Pennsylvania and Geor­gia fully trans­ition to paper-based equip­ment.[23] In total, these 24 states and the District of Columbia make up 295 elect­oral votes. The remain­ing 26 states, total­ing 243 elect­oral votes, do not currently require post-elec­tion audits of all votes prior to certi­fic­a­tion. However, there is noth­ing stop­ping most of these remain­ing states from conduct­ing such audits if they have the resources and will to do so.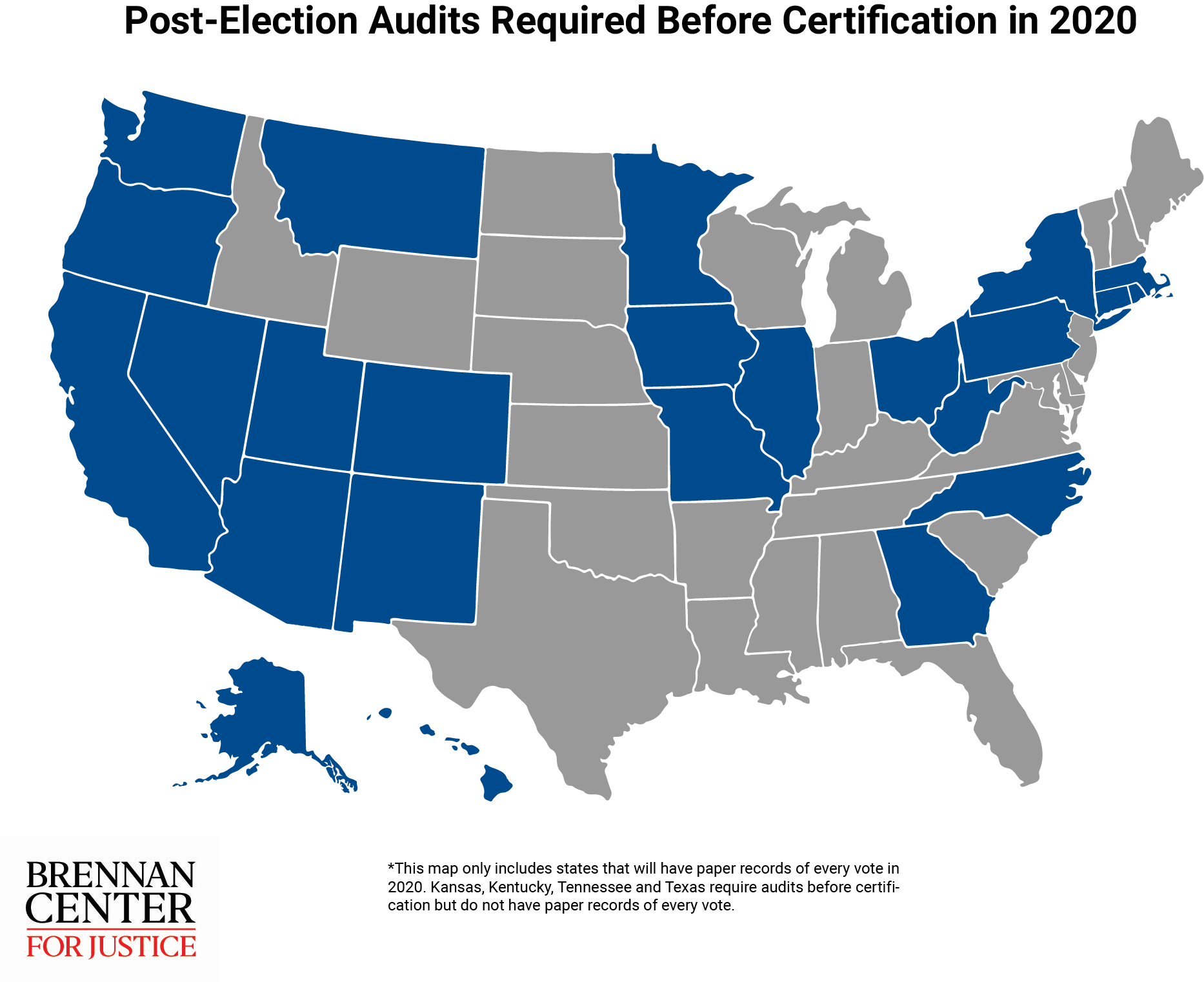 A New "Gold Stand­ard": Risk-Limit­ing Audits
Risk-limit­ing audits are a compar­at­ively new proced­ure and offer two import­ant improve­ments to tradi­tional audits. They are gener­ally more effi­cient, requir­ing a review of a smal­ler number of ballots during the audit process. And the stat­ist­ical model­ing used is designed to detect poten­tial inac­curacies in elec­tion outcomes, whether they are the result of acci­dental or inten­tional inter­fer­ence. RLAs can provide assur­ance that the repor­ted winner did, in fact, win the elec­tion, instead of a tradi­tional audit, which only assures offi­cials that machines are work­ing correctly. [24] Because of these features, the Bren­nan Center and many other experts have urged broad adop­tion of RLAs.
States have embraced RLAs at a rapid rate: Color­ado was the first state to imple­ment RLAs in 2017.[25] Not even two years later, more than 12 states are exper­i­ment­ing with the proced­ure in some fash­ion.
Currently, Color­ado and Rhode Island require RLAs imme­di­ately after an elec­tion before results are legally certi­fied; Nevada will do the same start­ing in 2022, thanks to recently passed legis­la­tion.[26] (Local elec­tion offi­cials in Virginia are also required to use the proced­ure, but only once every five years and only after certi­fic­a­tion.)[27] Wash­ing­ton and Ohio allow elec­tion offi­cials to select RLAs from a set of post-elec­tion audit options; Cali­for­nia enacted a similar law last year that will apply for most of 2020.[28]
Elec­tion offi­cials in a slew of these and other states — such as Alabama, Geor­gia, Indi­ana, Michigan, Missouri, New Jersey, Pennsylvania, and Virginia — have either already launched RLA pilots or plan to do so moving forward.[29] Michigan plans to conduct its first state-wide RLA pilot during the March 10 pres­id­en­tial primary, mark­ing the first time that RLAs will be used in conjunc­tion with the pres­id­en­tial elec­tion process in Michigan.[30]
Mean­while, state legis­latures continue to explore the proposal: a bill author­iz­ing RLAs recently passed the Oregon state legis­lature, and lawmakers are consid­er­ing RLA-related legis­la­tion in New Jersey, Ohio, and South Caro­lina.[31] Although some states were able to use the $380 million from 2018 to pilot RLAs, many states had other urgent needs, such as repla­cing aging voting machines and regis­tra­tion data­bases, and have not yet been able to.[32]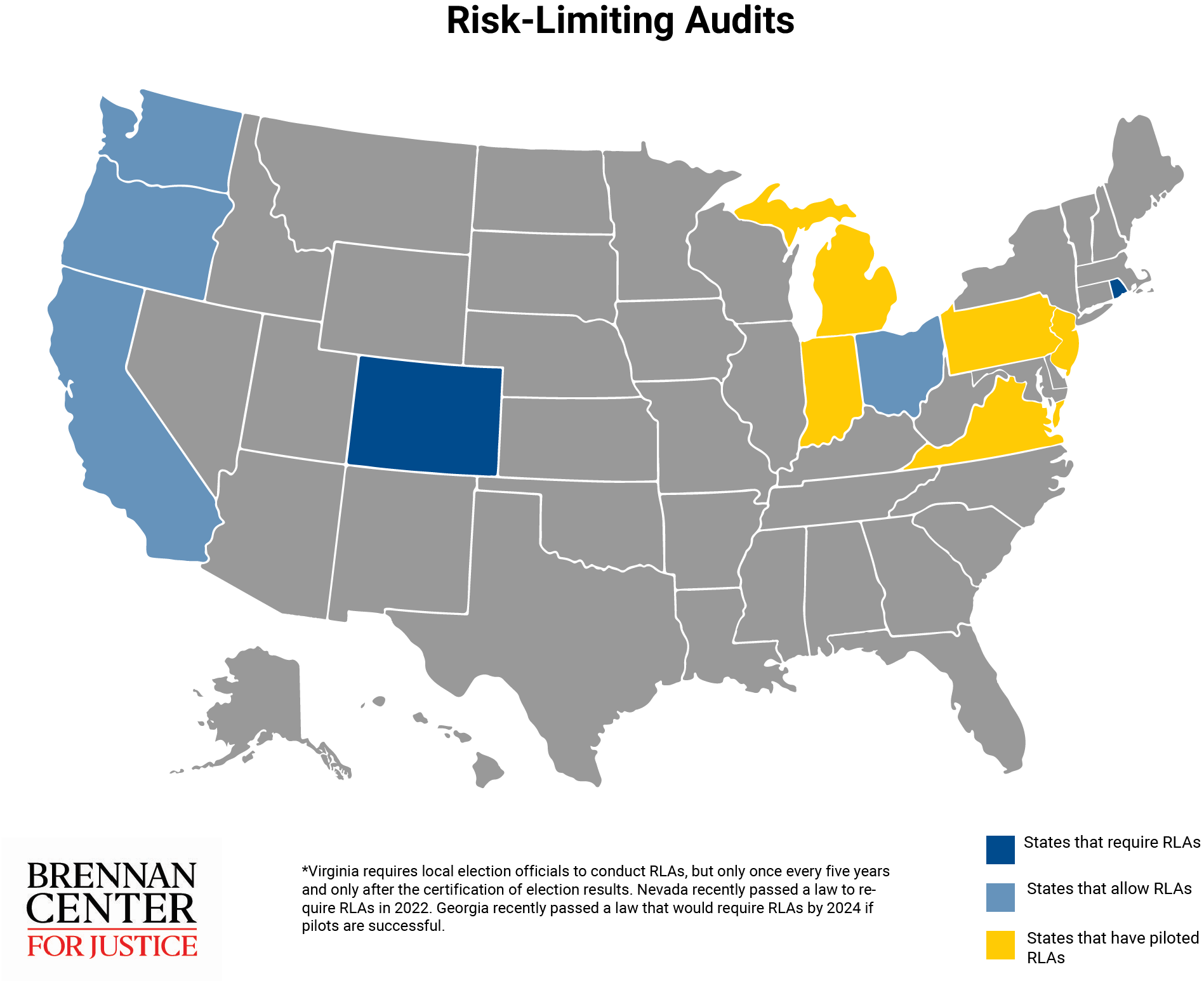 Conclu­sion
While there has been substan­tial progress in secur­ing voting machines since 2016, there is still more to do ahead of 2020. As both the Senate Select Commit­tee on Intel­li­gence and National Academy of Sciences have noted, we should replace anti­quated equip­ment, and paper­less equip­ment in partic­u­lar, as soon as possible.[33] Moreover, of the 42 states that should have paper records of every vote by 2020, 17 are not currently required to conduct post-elec­tion audits pre-certi­fic­a­tion.[34] And as the Bren­nan Center and other organ­iz­a­tions have noted in Defend­ing Elec­tions, elec­tion secur­ity goes far beyond secur­ing voting machines. In addi­tion to the items discussed in this analysis, states and counties need more resources for items like cyber­se­cur­ity support for local elec­tion juris­dic­tions, and upgrades to voter regis­tra­tion data­bases and other crit­ical elec­tion systems.[35]
With research and writ­ing support from William Dobbs-Allsopp.
Credit:Getty/Shut­ter­stock/BCJ
---