Now that the 2020 census data has been offi­cially released, states will soon unveil new congres­sional and legis­lat­ive maps. In many states, a lack of mean­ing­ful safe­guards and single-party control of the process once again threaten to produce districts shaped by gerry­man­der­ing, which carves up communit­ies based only on the partisan inclin­a­tions of each house­hold.
The public has an import­ant role to play in push­ing back against the prac­tice, but it's import­ant to under­stand that recog­niz­ing unfair maps means consid­er­ing more than just the shapes of their districts.
It would certainly seem reas­on­able to be suspi­cious of oddly shaped districts — after all, the word "gerry­mander" was inspired by a Massachu­setts district that looked like a sala­man­der created when Found­ing Father Elbridge Gerry was governor. But some­times bound­ar­ies that look odd at first glance just follow a natural geographic feature, like a river or a moun­tain range. Or they could be neces­sary to unite communit­ies that live in differ­ent areas but share similar repres­ent­a­tional needs, like communit­ies of color that have been subject to resid­en­tial discrim­in­a­tion. Other times, odd bound­ar­ies are very much the product of gerry­man­der­ing.
But just because a district has neat and regu­lar look­ing district lines does­n't mean it isn't a gerry­mander. In fact, some of the most aggress­ively gerry­mandered maps don't have any odd-look­ing districts at all.
The real­ity is that visual inspec­tion can be a help­ful, but ulti­mately very incom­plete, analysis. It is a good first test that can help identify where a deeper dive is needed. In other words, don't judge a book by its cover.
The follow­ing examples demon­strate why a district's shape does­n't tell the whole story.
Illinois's Fourth Congres­sional District
Illinois's Fourth Congres­sional District (IL-04) is often called out for its unusual shape, which extends across the north­w­est and south­w­est sides of Chicago. However, it unites two Latino communit­ies that share broadly similar socio-economic condi­tions and common char­ac­ter­ist­ics in terms of their language, culture, and repres­ent­a­tional needs. The legacy of resid­en­tial segreg­a­tion policies, which split apart communit­ies of color and pushed them to the outskirts of cities, contin­ues to affect how Latino groups are distrib­uted in Chicago.

Combin­ing these communit­ies within one district enables them to elect candid­ates who prior­it­ize their interests. After it was first drawn during the 1990 redis­trict­ing cycle, constitu­ents in IL-04 became the first in the Midw­est to send a Latino repres­ent­at­ive to Congress.
Separ­at­ing the district's two Latino communit­ies to create a neater-look­ing map could weaken their voting power and possibly viol­ate the Voting Rights Act of 1965. A closer look reveals that this district's odd shape helps protect a community of interest, a key goal of fair redis­trict­ing.
Pennsylvani­a's Seventh Congres­sional District
Pennsylvani­a's Seventh Congres­sional District (PA-07) is an example of how oddly shaped districts can some­times be gerry­manders.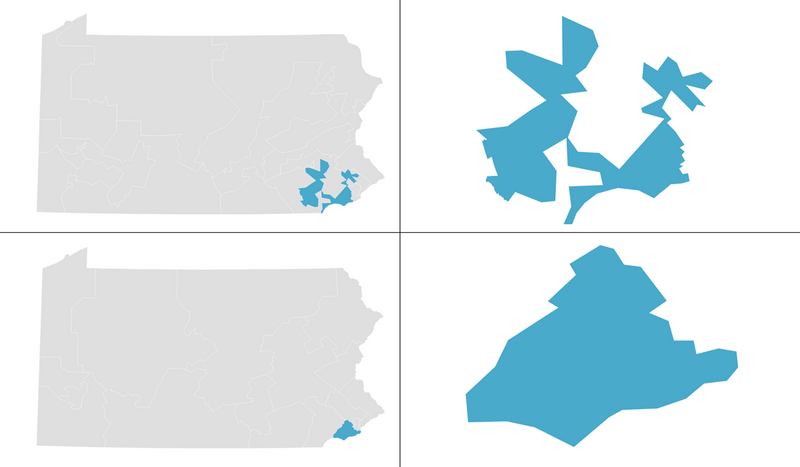 As drawn by Repub­lican lawmakers in 2011, it stretched across 50 miles of Phil­adelphia suburbs and Amish farm­land without follow­ing natural geographic bound­ar­ies or community lines, in some places narrow­ing to the width of a single park­ing lot or build­ing. Community members struggled to join together to influ­ence elec­ted lead­ers because they could­n't tell which of their neigh­bors lived in the district. Repub­lic­ans drew this district with the specific goal of exclud­ing left-lean­ing areas that would dilute their right-wing base.
However, in 2018, the Pennsylvania Supreme Court ruled that the state's congres­sional map was an excess­ive partisan gerry­mander that favored Repub­lic­ans. The court then adop­ted a replace­ment congres­sional map that has produced more compet­it­ive elec­tions and fairer outcomes.
Most of the old PA-07 ended up in the new Fifth Congres­sional District, which follows exist­ing polit­ical bound­ar­ies and contains a unified community of the Phil­adelphia suburbs. The strange shape of districts like PA-07 invited ques­tions about the original map, and further analysis showed that it was drawn for unfair partisan reas­ons.
North Caro­lin­a's Thir­teenth and Sixth Congres­sional Districts
North Caro­lin­a's congres­sional maps from the last decade demon­strate how unre­mark­able district shapes can conceal attempts at partisan gerry­man­der­ing. The Greens­boro area around North Caro­lina A&T State Univer­sity, the nation's largest histor­ic­ally Black univer­sity, is a clear example.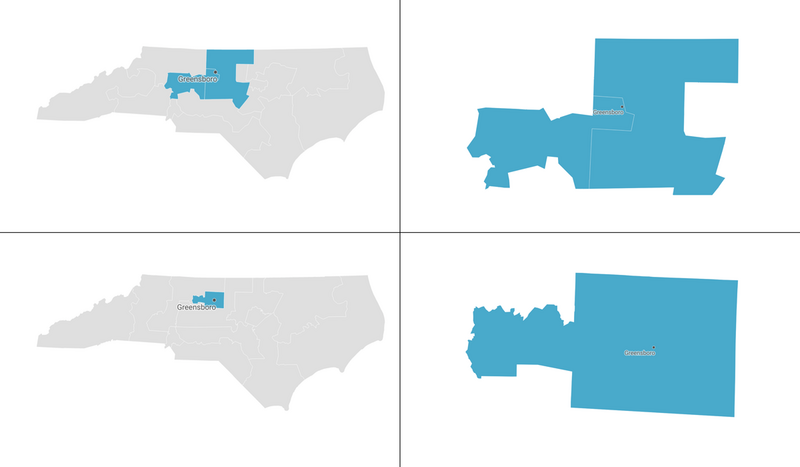 During the 2010 redis­trict­ing cycle, Repub­lican lawmakers drew a map that concen­trated A&T students and Black voters in the surround­ing areas into the Twelfth Congres­sional District, redu­cing their statewide polit­ical influ­ence through "pack­ing."
When a court struck down this district as a racial gerry­mander in 2016, lawmakers redrew the map to divide A&T's campus across the Thir­teenth and Sixth Congres­sional Districts (NC-13 and NC-06), weak­en­ing students' voting power through "crack­ing." By refus­ing to recog­nize the school's campus as a community of interest, North Caro­lina lawmakers were able to draw two relat­ively compact districts that would be comfort­ably won by Repub­lic­ans.
When a state court ruled this map was also a partisan gerry­mander in 2019, it was redrawn to place A&T's full campus within NC-06. Many students at the univer­sity said they were motiv­ated to parti­cip­ate polit­ic­ally after learn­ing how their community had been targeted by partisan gerry­man­der­ing. The seat shif­ted from Repub­lican to Demo­cratic control in the redrawn map, suggest­ing that students and community members were deprived of adequate polit­ical repres­ent­a­tion when divided across two districts.
The univer­sity community's exper­i­ence over the past decade high­lights the import­ance of look­ing beyond visual appear­ance to determ­ine whether a map has been drawn fairly, because regu­lar-seem­ing shapes can be deceiv­ing.
Cali­for­ni­a's Forty-Fifth Congres­sional District
Cali­for­ni­a's Forty-Fifth Congres­sional District (CA-45) was drawn by an inde­pend­ent redis­trict­ing commis­sion instead of a state legis­lature. The commis­sion gained control of the redis­trict­ing process start­ing with the 2010 cycle, when it drew districts includ­ing CA-45.

Follow­ing instruc­tions to keep communit­ies of interest together, the Cali­for­nia commis­sion drew CA-45 with a fairly regu­lar shape. Bounded by major high­ways, it encom­passes parts of communit­ies in cent­ral and south­ern Orange County. Although the region was once a conser­vat­ive strong­hold, Latino and Asian communit­ies have been driv­ing recent popu­la­tion growth in recent years, result­ing in shifts in resid­ents' polit­ical pref­er­ences. Whereas the prior legis­lat­ively drawn map ruth­lessly divided communit­ies to protect incum­bents and prevent seats from chan­ging hands, in 2018 CA-45 was among four seats in Orange County that flipped from Repub­lican to Demo­cratic control.
This marked the first time that CA-45 had sent a Demo­crat to Congress. The 2020 elec­tion then saw two Orange County districts switch back to Repub­lic­ans, although CA-45 reelec­ted its Demo­cratic incum­bent. Creat­ing more compet­i­tion was not a goal of the redis­trict­ing commis­sion, but by keep­ing communit­ies together, the map ensures that as the polit­ical lean­ings of a state's popu­la­tion shift, resid­ents will elect lead­ers in line with those changes.
This district is, in short, an example of a neatly shaped district that does repres­ent people well.
A district's shape is just one factor to consider when judging the repres­ent­a­tional effects of a proposed map. Strangely shaped districts are not neces­sar­ily a prob­lem if they enable every­one to mean­ing­fully parti­cip­ate in our demo­cracy. As the redis­trict­ing cycle picks up steam, public comments on proposed maps must look beyond visual appear­ance to assess whether the plans promote fair repres­ent­a­tion for communit­ies.