At The Week Monday, Ryan Cooper summar­ized some dramatic stat­ist­ical work about mass incar­cer­a­tion under­taken by Keith Humphreys, the Stan­ford Univer­sity professor and former Obama admin­is­tra­tion senior advisor for drug policy. The head­line of the piece, "The plum­met­ing U.S. prison admis­sion rate, in one stun­ning chart," was accom­pan­ied by Cooper's pronounce­ment that "whatever the reason" for the drop it "is certainly great news." Some of the same optim­ism was expressed over the week­end, in The New York Times Book Review section, by David Cole, the esteemed Geor­getown law professor who has writ­ten so eloquently recently about many of the greatest injustices in Amer­ican law. Review­ing Columbia Univer­sity professor Robert Ferguson's excel­lent book, "Inferno," Cole proclaimed that "we may be on our way out of the inferno" and that "it is just possible that we have reached a tipping point" in the fight against mass incar­cer­a­tion.
Would that it were so. It is far too early, as a matter of law, of policy, and of fact, to be talk­ing about a "plum­met­ing" prison rate in the United States or to be declar­ing that the end is in sight in the war to change the nation's disastrous incar­cer­a­tion policies. There is still far too much to do, far too many oner­ous laws and policies to change, too many hearts and minds to reform, too many famil­ies that would have to be reunited, before anyone could say that any sort of "tipping point" has been spot­ted, let alone reached. So, to respond to Humphreys' work, we asked Oliver Roeder, a resid­ent econom­ist at the Bren­nan Center for Justice, to crunch the numbers with a little bit more context and perspect­ive. What follows below ought to shat­ter the myth that Amer­ica has turned a corner on mass incar­cer­a­tion. The truth is that many states continue to exper­i­ence more incar­cer­a­tion than before, the drop in national incar­cer­a­tion rates is far more modest than Humphreys suggests, and the trend toward reform could easily stop or turn back around on itself. Check out Roeder's work:
Here's the graph from the The Week post: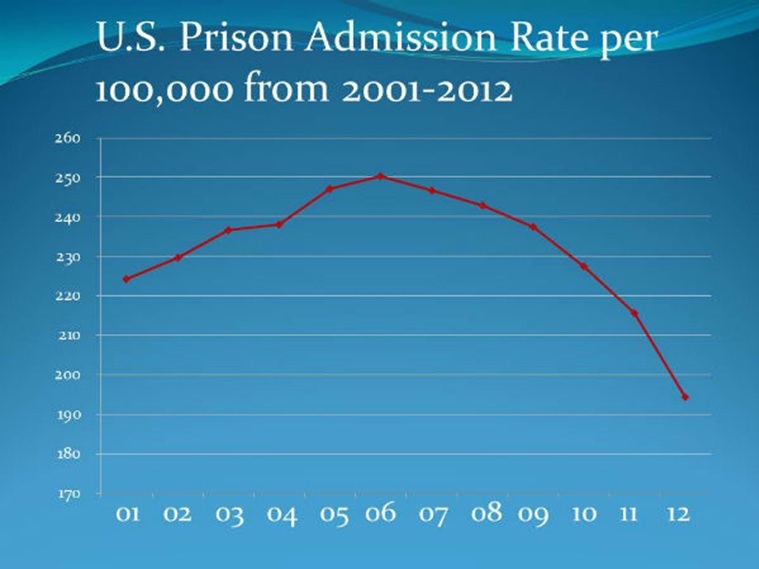 The piece, citing Keith Humphreys/Same­Facts.com, describes the admis­sion rate as "plum­met­ing." While the admis­sion rate has been going down since 2006 (this is all accord­ing to BJS data from here), "plum­met­ing" may be over­stat­ing the case, and the graph itself is some­what skewed.
Here is the exact same inform­a­tion, presen­ted with a more sens­ible vertical axis: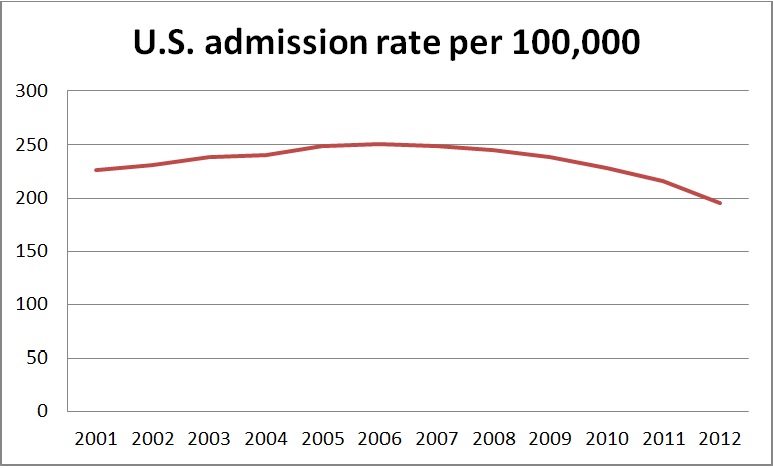 One would­n't describe that as "plum­met­ing" I would­n't think. The admis­sion rate is down 22 percent since its peak in 2006.
Here it is again, just this time with more years: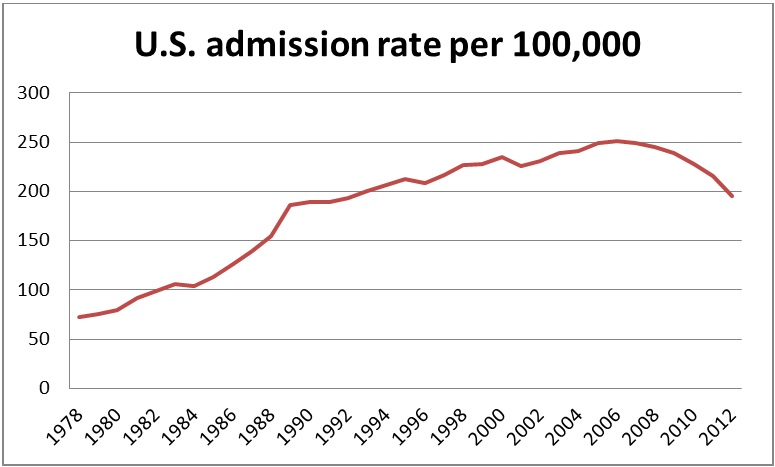 Again, yes it's going down, but 2012's admis­sion rate still looks pretty high, histor­ic­ally speak­ing.
Another consid­er­a­tion is the release rate. It's also going down: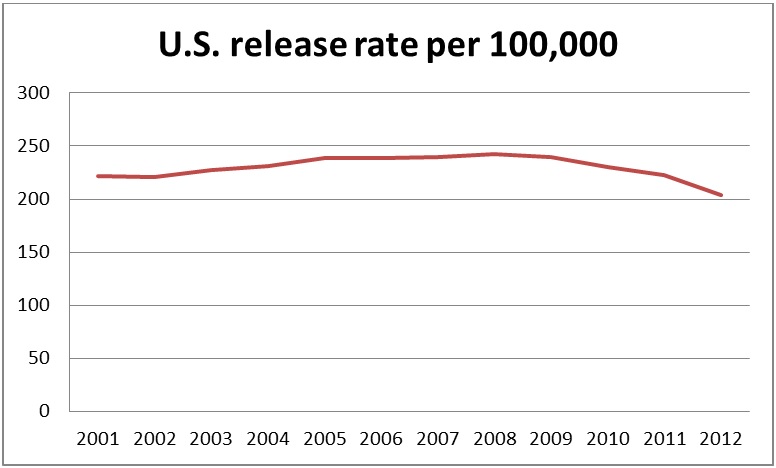 The incar­cer­a­tion rate, prob­ably what we care about most, is of course a func­tion of the admis­sion rate and the release rate. If the admis­sion rate and the release rate are drop­ping simul­tan­eously, the effect on the incar­cer­a­tion rate itself would be ambigu­ous. So, let's see what's actu­ally been going on with the incar­cer­a­tion rate. Of course, we've all seen this picture before: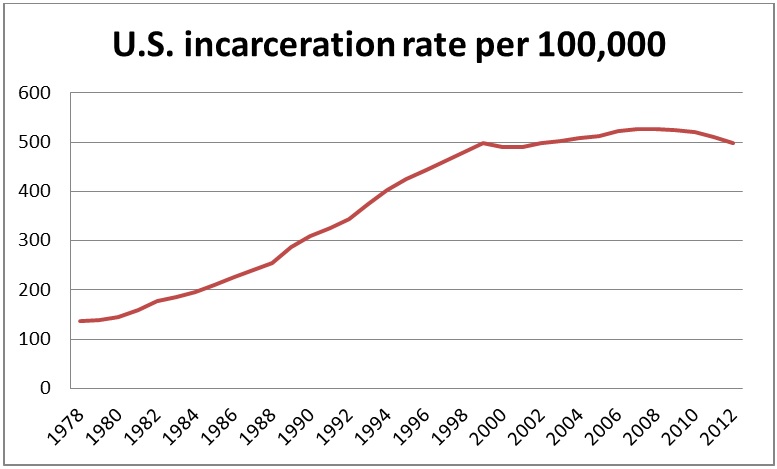 Or, zoom­ing in to show its recent history: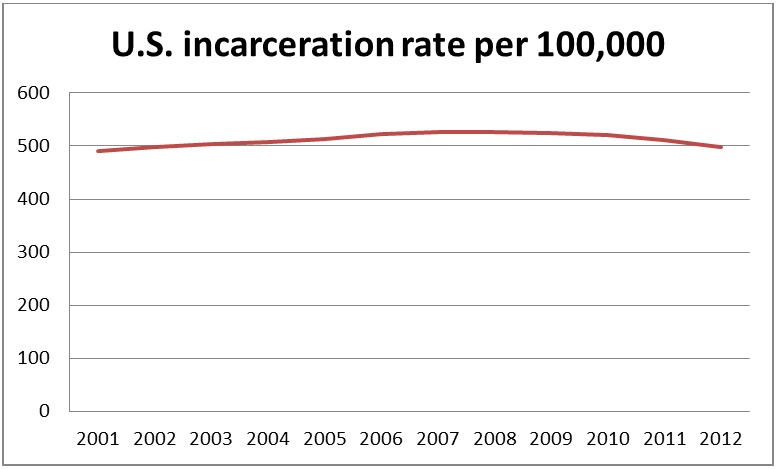 So yes, the incar­cer­a­tion rate is decreas­ing, but no, not by much. It's down 5.5 percent since its 2007 peak. Since 2001, it's up 1.6 percent. An unscientific word for this trend would be "flat."
As for indi­vidual states' incar­cer­a­tion rates, exper­i­ences over the past decade have varied greatly. Since 2001, West Virgini­a's incar­cer­a­tion rate has increased almost 63 percent , while Cali­for­ni­a's has dropped over 23 percent. (These are the biggest increases and decreases, respect­ively.) Here are a few notable state trends: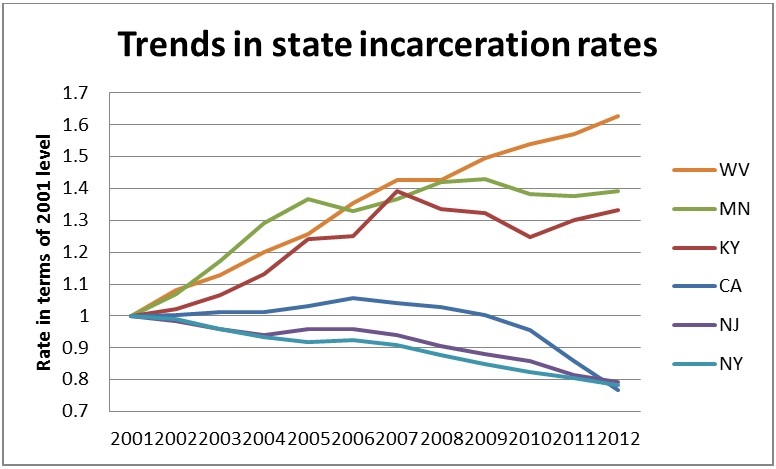 These are the states with the most extreme increas­ing and decreas­ing incar­cer­a­tion trends. So they can be compared easily, the graph is in terms of the states' 2001 incar­cer­a­tion level (i.e. the 2001 level = 1). Cali­for­nia, New Jersey, and New York have dipped over 20 percent from their 2001 levels, while West Virginia, Minnesota, and Kentucky have seen over 30 percent increases.
Incar­cer­a­tion is a state-specific issue in other senses as well. Clearly the trends can vary dramat­ic­ally, but so can the rates them­selves. In 2012, Louisi­ana's incar­cer­a­tion rate was 873, while Maine's was 159.
Eleven states decreased incar­cer­a­tion over the period 2000–2011. The rest increased it. Here are the ones that decreased it, and by how much: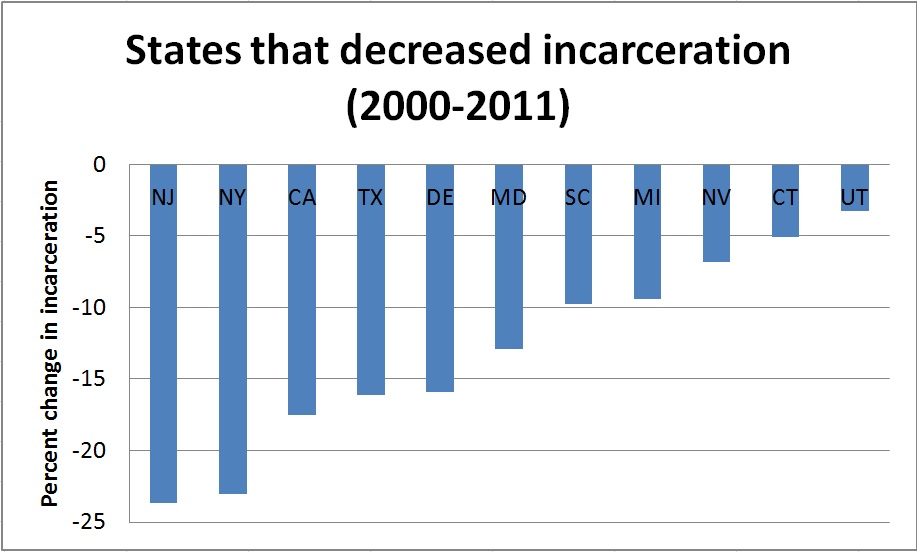 Here are the ones that increased it, and by how much:

Here are the states arranged by their changes in incar­cer­a­tion and in crime over the 2000s. The circles (the states) are sized by popu­la­tion: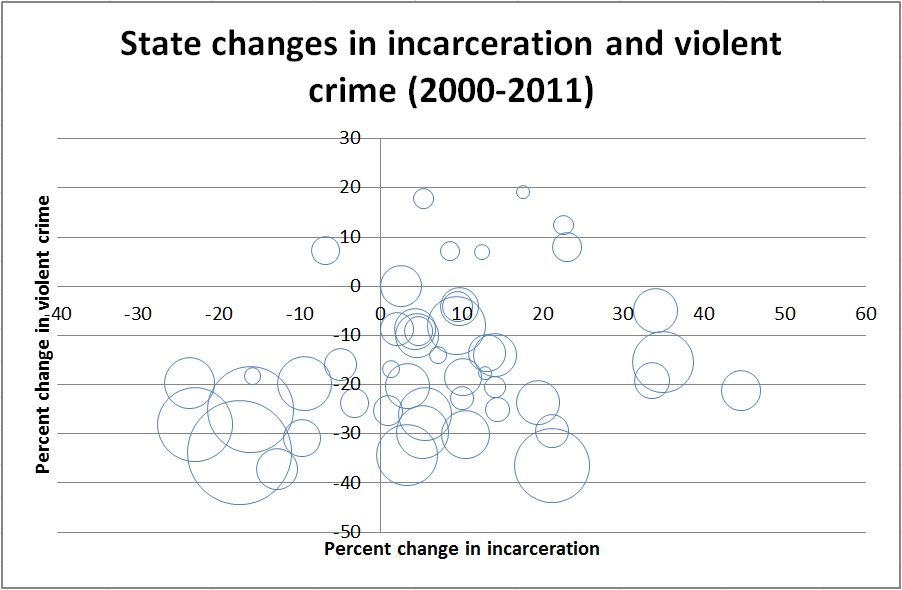 States on the left saw reduc­tions in incar­cer­a­tion, states on the right saw increases. States on the top saw increases in crime, states on the bottom saw decreases. Import­antly, states in the lower left quad­rant saw reduc­tions in both incar­cer­a­tion and crime in the 2000s. (And these are big states: CA, NY, MI, TX, NJ). This is also a bit of evid­ence for the "incar­cer­a­tion does not decrease crime" hypo­thesis.
So what's the story? Well one thing it isn't is crime. There is a body of evid­ence that indic­ates that crime does­n't really affect incar­cer­a­tion. Incar­cer­a­tion, rather, is a policy choice, largely inde­pend­ent of the actual level of crime in the world. (The incar­cer­a­tion rate is not a result of one single policy choice, of course, but rather is a func­tion of many policy choices which compose essen­tially our will­ing­ness or propensity to incar­cer­ate.) Admis­sions and thus incar­cer­a­tion were increas­ing because of increased will­ing­ness to incar­cer­ate, or reli­ance on incar­cer­a­tion. I don't have a good sense as to why admis­sions and incar­cer­a­tion have been dipping lately, but it does seem to be driven by a minor­ity of (typic­ally large) states.
(Image: Foto­lia)