The 2016 elec­tion season is already in full swing. As voters in a number of states face new restric­tions for the first time in a pres­id­en­tial elec­tion, we've already seen prob­lems in primar­ies across the coun­try. A new photo ID require­ment led to long lines in Wiscon­sin. A reduc­tion in polling places forced some to wait five hours to vote in Arizona. New rules created confu­sion in North Caro­lina. This could be an early glimpse of prob­lems in Novem­ber — as voters face the first pres­id­en­tial elec­tion in 50 years without the full protec­tions of the Voting Rights Act, which was designed to prevent discrim­in­a­tion in voting.
Against this back­drop, legis­lat­ors are consid­er­ing a vari­ety of changes to their states' voting laws. At the begin­ning of the 2016 legis­lat­ive session, and as of March 25, 2016, at least 422 bills to enhance voting access were intro­duced or carried over in 41 states plus the District of Columbia. Mean­while, at least 77 bills to restrict access to regis­tra­tion and voting have been intro­duced or carried over from the prior session in 28 states.
Thus far, two key trends have emerged in 2016:
Auto­matic voter regis­tra­tion has taken off across the coun­try. Legis­lat­ors in West Virginia and Vermont both passed ground­break­ing bills with strong bipar­tisan support — West Virgini­a's has already been enacted, and Vermont's awaits the governor's signa­ture. This progress comes as Oregon, which passed auto­matic voter regis­tra­tion in 2015, has repor­ted substan­tial early success with its new system. After just a few months, regis­tra­tion rates have increased nearly fourfold. Cali­for­nia also passed a bill in late 2015, and support­ers are look­ing forward to full imple­ment­a­tion next year.

States are passing fewer voting restric­tions, but nonethe­less, restric­tions in 14 states will be on the books for the first time in a pres­id­en­tial elec­tion in 2016. Over­all, states are passing fewer laws to restrict voting rights — and voter ID bills are once again the most common type of restric­tion — but this may be due to states already having restrict­ive voting laws in place. In 2016, 14 states will have restrict­ive voting laws in effect for the first time in a pres­id­en­tial elec­tion. Restric­tions in most of these 14 were passed before this year. (Note: This para­graph was updated Septem­ber 23, 2016 to change the number of states with new restric­tions, reflect­ing recent court victor­ies.)
For the fourth year in a row, bills that would expand voters' access to the ballot box have outpaced those that would restrict voting, in terms of both intro­duc­tion and passage. These bills, a number of which have bipar­tisan support, included efforts to modern­ize voter regis­tra­tion systems and restore voting rights to eligible citizens with past crim­inal convic­tions.
Auto­matic voter regis­tra­tion is pick­ing up speed and bipar­tisan support. The 2016 session saw more auto­matic voter regis­tra­tion bills intro­duced than any other kind of voting legis­la­tion. Under auto­matic regis­tra­tion, the govern­ment auto­mat­ic­ally and securely registers every eligible citizen who inter­acts with desig­nated govern­ment offices unless the person declines to register.
West Virginia passed an auto­matic voter regis­tra­tion bill, the first with signi­fic­ant bipar­tisan support, making it the third state after Oregon and Cali­for­nia to adopt this reform.
In Vermont, the final version of the bill passed nearly unan­im­ously, and observ­ers expect the meas­ure to be signed into law soon. It is the second state to pass auto­matic regis­tra­tion with strong bipar­tisan support.
Illinois may also still pass legis­la­tion in the current session. Illinois' bill is excit­ing because it provides for auto­matic regis­tra­tion not only at DMVs but also at other agen­cies, like social service and disab­il­ity offices, expand­ing the breadth of this reform to reach a wider array of eligible citizens.
Although Mary­land did not pass auto­matic voter regis­tra­tion, the state's legis­lature passed a broad voting reform bill, requir­ing all of the state's voter regis­tra­tion agen­cies to trans­fer voter inform­a­tion elec­tron­ic­ally to state elec­tion offi­cials. Doing so would add a key build­ing block for future auto­matic regis­tra­tion in the state. The governor is expec­ted to sign the bill, which enjoyed strong bipar­tisan support, into law.
All in all, 28 states and the District of Columbia have considered auto­matic regis­tra­tion this year (includ­ing legis­la­tion carried over from 2015 sessions). In addi­tion, groups in several states, like Alaska, are pursu­ing ballot initi­at­ives to adopt auto­matic regis­tra­tion.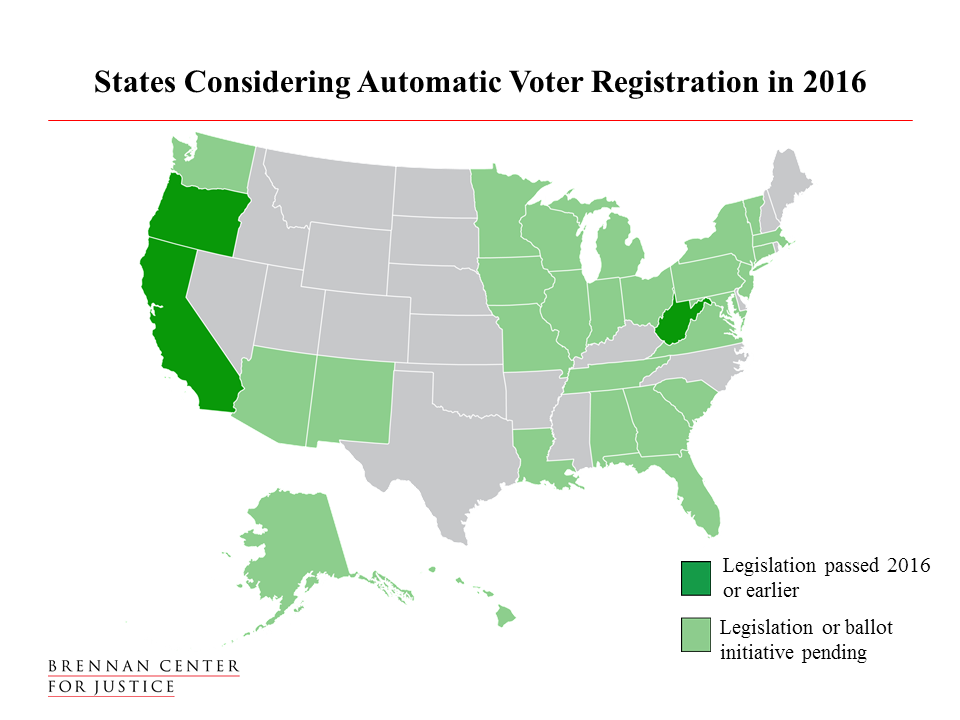 Online voter regis­tra­tion contin­ues to advance in the states. At least 15 states considered online regis­tra­tion legis­la­tion. Idaho, Rhode Island, and Wiscon­sin (which also included restrict­ive elements discussed below) adop­ted the reform, and Tennessee is also poised to pass it this session. Most states now offer some form of online voter regis­tra­tion.
Rights restor­a­tion remains a popu­lar reform. Restor­a­tion of voting rights to those with past crim­inal convic­tions was the second most popu­lar type of reform this session after efforts to modern­ize regis­tra­tion, with 27 bills intro­duced in 15 states. Maryland's legis­lature over­rode a gubernat­orial veto to restore the rights of 40,000 Marylanders. And in Kentucky, a dispute contin­ues over Gov. Matt Bevin's suspen­sion of an exec­ut­ive order restor­ing voting rights to those convicted of certain crimes. Legis­la­tion that would amend Kentuck­y's consti­tu­tion to auto­mat­ic­ally restore voting rights passed the state House by a wide margin and received substan­tial bipar­tisan support, but has stalled in the state Senate.
States are passing fewer laws that restrict voting rights over­all, but voter ID bills are still the most common type of restric­tion being intro­duced. The pace of states' adop­tion of restrict­ive voting legis­la­tion contin­ues to slow, perhaps because many states already have them on the books.
Although voter ID bills are the most common form of restrict­ive legis­la­tion that has been intro­duced, other types of restric­tions have gained trac­tion.
19 states saw 37 voter ID bills intro­duced or carried over into the 2016 session. Legis­lat­ors in Missouri intro­duced a photo ID require­ment, though it will require voter approval through a state consti­tu­tional amend­ment. The bill passed the state House and awaits a vote in the Senate. West Virginia passed a less restrict­ive voter ID require­ment, but as part of legis­la­tion that included auto­matic regis­tra­tion, described above.
On the brighter side, Flor­ida made its law less restrict­ive, adding veter­ans' health IDs, concealed-carry licenses, and govern­ment employee IDs to its list of photo ID forms accep­ted for voting, as long as those IDs were unex­pired and contained the voter's name and photo­graph.
Two states passed laws that may limit voter mobil­iz­a­tion. Arizona made it a felony for anyone other than a family/house­hold member or care­giver of the voter to collect and submit the voter's absentee ballot. In prior years, several states prescribed rules to limit third-party collec­tion and deliv­ery of absentee ballots. Arizon­a's would be among the strict­est, and may create signi­fic­ant barri­ers for minor­ity or elderly communit­ies, who histor­ic­ally have relied on absentee ballots and assist­ance from civic groups to cast their votes. In Wiscon­sin, the state elim­in­ated "special regis­tra­tion depu­ties" — volun­teers who were previ­ously permit­ted to verify voters' resid­ency when they collec­ted or submit­ted voter regis­tra­tion applic­a­tions. The law threatens the abil­ity to civic groups to conduct voter regis­tra­tion drives in the state.
New voting restric­tions in place in 2016. Aside from new restric­tions considered in 2016, there are 14 states with voting restric­tions in place for the first time in a pres­id­en­tial elec­tion this year. The new meas­ures range from strict photo ID require­ments to early voting cutbacks to regis­tra­tion restric­tions.
Those 14 states are: Alabama, Arizona, Indi­ana, Kansas, Missis­sippi, Nebraska, New Hamp­shire, Ohio, Rhode Island, South Caro­lina, Tennessee, Texas, Virginia, and Wiscon­sin. See the follow­ing map: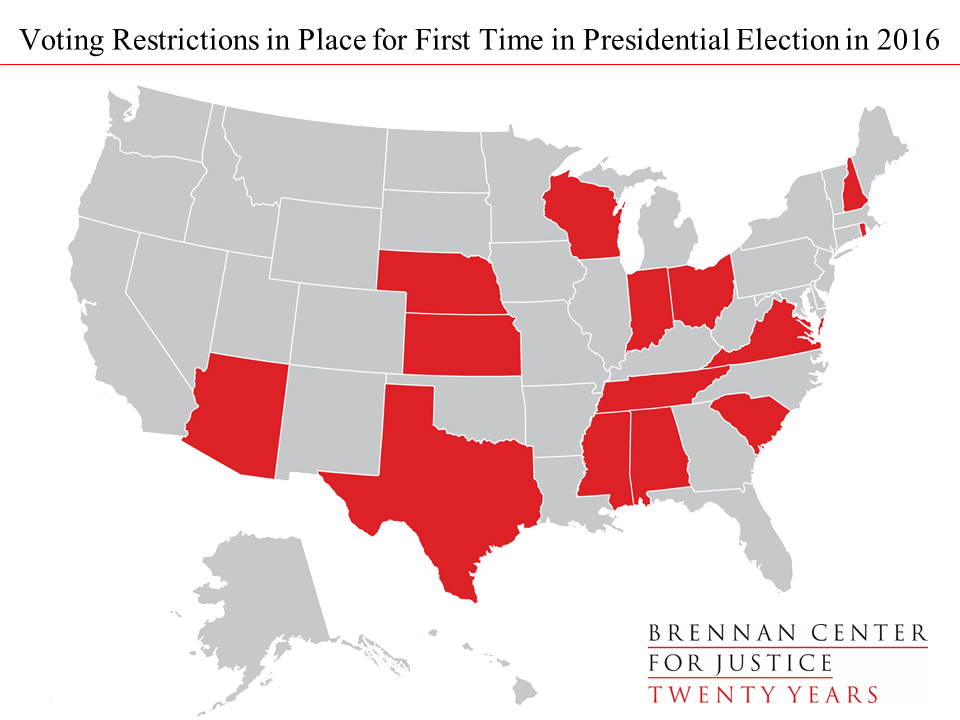 This is part of a broader move­ment to curtail voting rights, which began after the 2010 elec­tion, when state lawmakers nation­wide star­ted intro­du­cing hundreds of harsh meas­ures making it harder to vote. Over­all, 20 states have new restric­tions in effect since the 2010 midterm elec­tion.
(Note: The restrict­ive laws section was updated Septem­ber 23, 2016 to change the number of states with new restric­tions, reflect­ing recent court victor­ies.)