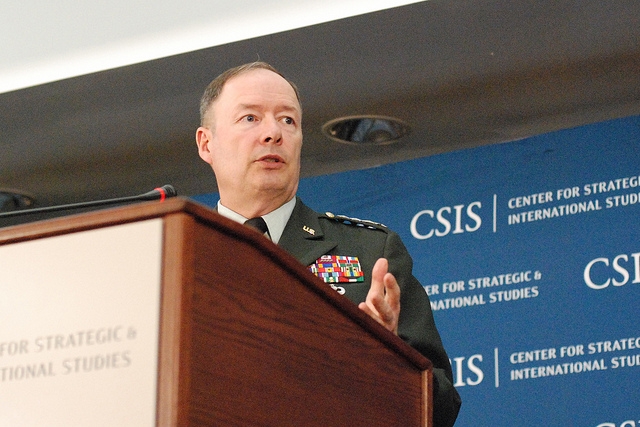 Richard J. Leon already had an impress­ive career in law and Repub­lican polit­ics when George W. Bush nomin­ated him to the federal D.C. District Court—on Monday, Septem­ber 10, 2001, no less. Since then, he has consist­ently demon­strated ideo­lo­gical inde­pend­ence, no matter which admin­is­tra­tion offi­cials offen­ded his consti­tu­tional prin­ciples. It was Leon, for example, who in Novem­ber 2008 ordered the release from Guantanamo Bay of five Algeri­ans who had been detained there by Amer­ican forces.
This is the context for the judge's 68-page ruling Monday in Klay­man v. Obama, which jeop­ard­izes at least part of the federal govern­ment's domestic-surveil­lance program. Leon is many things, but he's no radical. He craf­ted a cogent, reasoned analysis explain­ing why he believes that the NSA's "Bulk Tele­phony Metadata Program" may viol­ate the Fourth Amend­ment privacy rights of at least some Amer­ican citizens—and why the plaintiffs in the case before him have the right in the first place to come to court for a redress of their griev­ances against the federal govern­ment.
The land­mark order, the first in the Age of Snowden, comes after a request for an injunc­tion halt­ing the surveil­lance program pending trial. But though the judge says the program is likely uncon­sti­tu­tional, he has not blocked its oper­a­tion. Instead, he has given the Obama Admin­is­tra­tion time to appeal his ruling to the D.C. Circuit Court of Appeals and then, perhaps, to the Supreme Court. We are still much closer to the begin­ning of this story than we are to the end. Even if the govern­ment loses on appeal, it would just lead to a trial, which the losing side presum­ably would appeal as well.
Read the full article on The Atlantic's website.
(Flickr Photo: Director of the NSA General Keith Alex­an­der)