We know now from several years of test­ing ballots all over the U.S. that imple­ment­ing simple prin­ciples of design make it much more likely that voters are able to vote the way they intend.
In research conduc­ted by AIGA's Design for Demo­cracy Project for the U.S. Elec­tion Assist­ance Commis­sion (EAC), Mary Quandt and Drew Davies and their team learned the nitty­gritty of what makes design in elec­tion signage, posters, ballots, and other print mater­i­als effect­ive for all kinds of voters.
About ballot design
A ballot is a form that repres­ents perhaps the most import­ant inter­ac­tion between a govern­ment and its citizens. Thou­sands of votes are lost in elec­tions every year because of poorly designed ballots. And yet, avoid­ing these design issues is not diffi­cult or expens­ive.
What a ballot looks like is constrained by legis­la­tion, tech­no­logy, history, custom, cost, and other factors. But the anatomy of a ballot is fairly consist­ent through­out the more than 3,000 counties, parishes, and boroughs in the U.S. Design guidelines provide a tool for help­ing voters focus on their goal to cast votes for their preferred candid­ates.
---
No. 01: Use lower­case letters.
Lower­case letters are more legible than ALL CAPITAL LETTERS because they make shapes that are easier to recog­nize.
Before

After

---
No. 02: Avoid centered type.
Left-aligned type is more legible than centered type, which forces the eye to hunt for the start of the next line.
Before

After

---
No. 03: Use big enough type.
Small print is hard to read for many voters.
Use these minimum type sizes:
12-point for print
3.0 – 4.0mm for screen
Larger text may increase the number of pages but it is a worth­while invest­ment in elec­tion accur­acy.
Before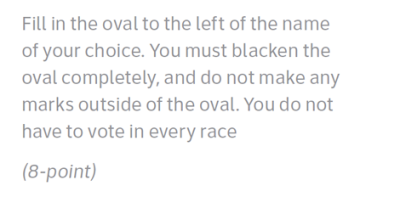 After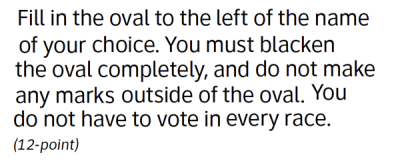 ---
No. 04: Pick one sans-serif font.
Use sans-serif fonts with clean strokes.
For dual-language mater­i­als, use bold text for the primary language, regu­lar text for the second­ary language.
Using just one font makes the ballot more unified. Differ­ent fonts make voters stop read­ing and adjust.
Avoid
Times New Roman
Geor­gia
Cambria
Use
Arial
Helvetica
Univers
Verd­ana
Clear­view ADA
---
No. 05: Support process and navig­a­tion.
Put instruc­tions where they are needed. Use page (or screen) number­ing to show progress.
For elec­tronic ballots, let voters change language or display options, with instruc­tions avail­able at any time.
Post easy-to-see instruc­tions for both voting and moving around the polling place.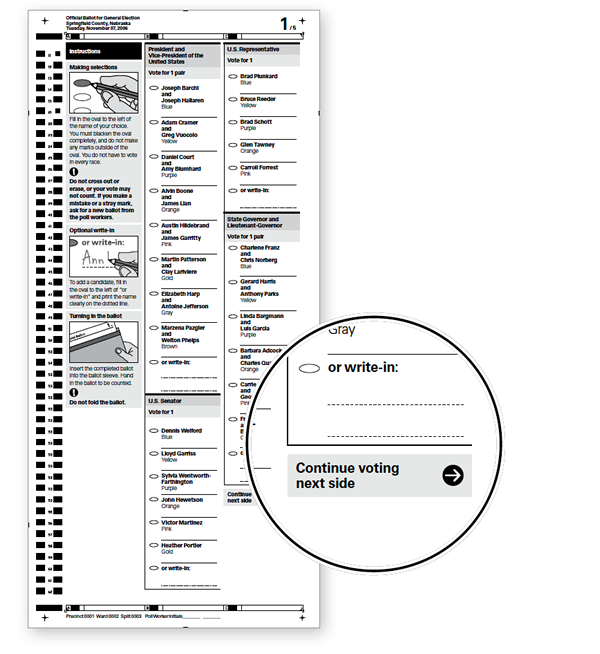 Continue voting next side instruc­tion is placed at the end of the last column on the page.
---
No. 06: Use clear, simple language.
Make instruc­tions and options as simple as possible.
Do not include more than two languages.
If possible, summar­ize refer­enda in simple language along­side required formats.
Simple language is often shorter, taking up less space.
Before

After

---
No. 07: Use accur­ate instruc­tional illus­tra­tions.
Visual instruc­tions help low-liter­acy and all voters.
Illus­tra­tions must be accur­ate in their details, high­light­ing the most import­ant instruc­tions.
Do not use photo­graphs.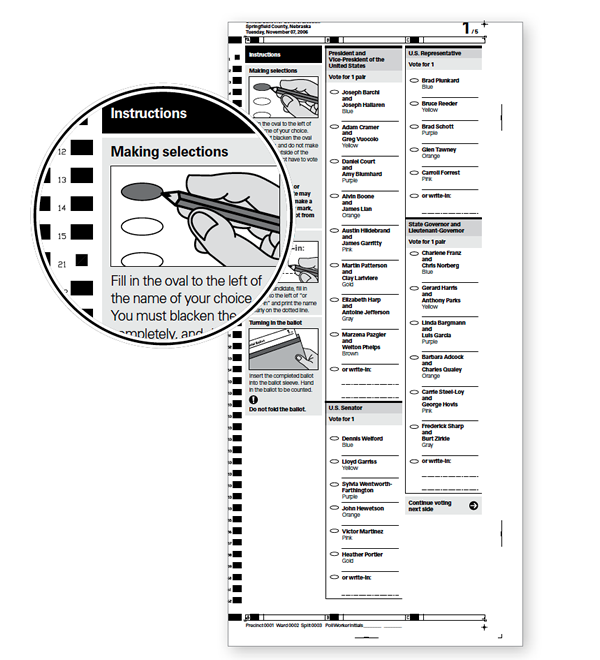 Illus­tra­tions at the begin­ning of the ballot show how to use the ballot.
---
No. 08: Use inform­a­tional icons (only).
Use icons that call atten­tion to key inform­a­tion and support navig­a­tion with care.
Don't use polit­ical party emblems.
Avoid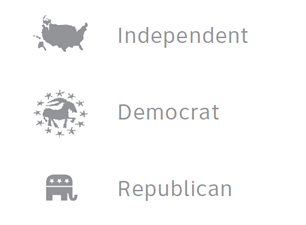 Use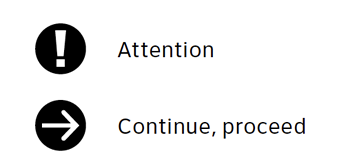 ---
No. 09: Use contrast and color to support mean­ing.
Use color and shad­ing consist­ently:
On paper ballots, to separ­ate instruc­tions from contests and contests from each other.
On elec­tronic ballots, to support navig­a­tion, call special atten­tion, and provide user feed­back.
Do not rely on color as the only way to commu­nic­ate import­ant inform­a­tion.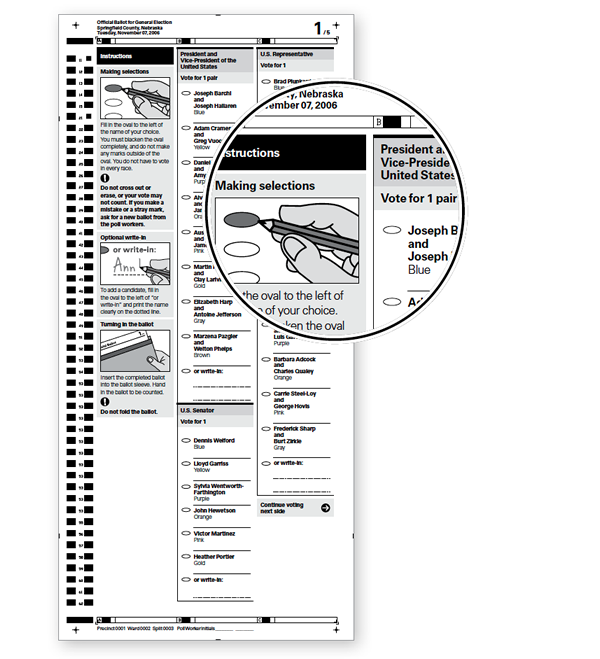 Shad­ing and color can help voters quickly see the struc­ture of the ballot.
---
No. 10: Show what's most import­ant.
Use layout and text size to help voters know what to pay atten­tion to.
The ballot title should be the most prom­in­ent.
A contest header should be more prom­in­ent than the candid­ates' names.
A candid­ate's name should be bolder than his/her party affil­i­ation.
Candid­ates' names and options should be presen­ted with equal import­ance.