A Closer Look at "Coun­ter­ing Viol­ent Extrem­ism" Programs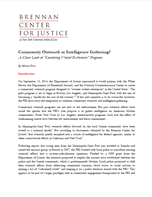 The U.S. has announced plans to roll out "Coun­ter­ing Viol­ent Extrem­ism" programs in select cities across the U.S. — includ­ing Boston, Los Angeles, and Minneapolis-Saint Paul. Although aimed at work­ing with communit­ies to deter U.S. resid­ents from join­ing "viol­ent extrem­ist" groups, these programs may in fact be covertly collect­ing intel­li­gence on community members.
New docu­ments uncovered under the Free­dom of Inform­a­tion Act show community outreach programs in Minnesota were used by the FBI and local law enforce­ment to secretly collect intel­li­gence on Amer­ican Somali communit­ies. The follow­ing analysis walks through these uncovered docu­ments and explains why mixing community outreach and intel­li­gence gath­er­ing erodes community trust and proves coun­ter­pro­duct­ive to national secur­ity efforts.
Read the FOIA docu­ments:
---