Update Febru­ary 12, 2018:
Wash­ing­ton has held its breath for the last few months, wait­ing to see if Pres­id­ent Trump will fire Special Coun­sel Robert Mueller. His recent decision to clear a memo by GOP staffers of Rep. Devin Nunes (D-CA) that allegedly show FBI bias against him was widely thought to be part of an effort to knee­cap the Mueller invest­ig­a­tion and paint a target on another person at the Depart­ment, Deputy Attor­ney General Rod Rosen­stein.
If the Pres­id­ent does try to move defin­it­ively against Mueller, he will have to find someone at the Justice Depart­ment to do the deed. The law is clear: Trump cannot person­ally fire Mueller.
But like char­ac­ters in an Agatha Christie novel, the top lawyers from the Justice Depart­ment keep disap­pear­ing. Were they victims of foul play or did they just decide to get off the train before the (meta­phor­ical) murders start?
Rachel Brand, the number three lawyer at Justice Depart­ment, and Dan Boente, who has worn many hats in this drama, were once in line to fire Mueller but have now taken their leave. Mean­while, Steven Engel, the head of the depart­ment's Office of Legal Coun­sel, has hopped on board.
Friday, Brand announced that she is headed south, after nine months on the job, to Benton­ville, Arkan­sas, to work for Walmart. Accord­ing to NBC News, she was motiv­ated in part by fear that she would be asked to take over super­vising the Russia invest­ig­a­tion. In late Janu­ary, Boente moved over to the FBI to be its general coun­sel.
The newest addi­tion to the cast is Assist­ant Attor­ney General Steven Engel. Like many a char­ac­ter in a Christie novel, Engel has a complic­ated past. Ethics at the Depart­ment of Justice in the time of Trump are never easy.
So, with this new cast of char­ac­ters in mind, let's see how a Trump move to fire Mueller could play out, just for fun. (A full legal view of the situ­ation is here.)
His first call would be to Attor­ney General Jeff Sessions. "Sorry, Mr. Pres­id­ent," Sessions might begin. "No can do. I recused myself from this invest­ig­a­tion, remem­ber? Surely you recall saying you never would have hired me as attor­ney general if you had known I would recuse myself. Why don't you try Rod Rosen­stein, the deputy attor­ney general? He's the one in charge of Mueller. Hold on while I find his number."
Trump would then call Deputy Attor­ney General Rosen­stein, a career Justice Depart­ment offi­cial, summa cum laude gradu­ate of Penn, and former Harvard Law Review editor.
"Mr. Pres­id­ent, as I explained in Senate testi­mony in June, 'I am not going to follow any orders unless I believe those are lawful and appro­pri­ate orders.' The special coun­sel can only be fired for good cause. And I haven't seen that good cause. With all due respect sir, you've put noth­ing in writ­ing that proves good cause exists to dismiss the special coun­sel.
"Moreover, as I'm sure your lawyer can tell you, I have been inter­viewed as part of the invest­ig­a­tion into the firing of former FBI Director James Comey. So, I feel like I need to decline your order. I'm sure you under­stand."
At this point, the call likely ends in one of two ways: either Rosen­stein is fired or he quits.
Next up on Trump's phone tree: the third highest-rank­ing offi­cial at Justice, Asso­ci­ate Attor­ney General Rachel Brand, a Harvard Law School gradu­ate and former clerk to Justice Anthony Kennedy.
"Mr. Pres­id­ent, as I'm sure you know, I'm head­ing down to Arkan­sas in a few weeks. Let's catch up when I'm settled in there."
At this point, Brand would prob­ably be call­ing the movers and asking them to hurry up with the pack­ing.
Trump, increas­ingly anxious because he might miss the open­ing of Sean Hannity, would then reach out to Soli­citor General Noel Fran­cisco, a former Justice Antonin Scalia clerk and Univer­sity of Chicago Law School gradu­ate.
"Well, you see Mr. Pres­id­ent, I've got a prob­lem here," Fran­cisco might say. "Before you brought me into the Soli­citor Gener­al's office, (thanks for that, by the way), I worked for Jones Day in D.C. where I was a part­ner with your White House Coun­sel, Don McGahn. And sir, you know how hard it is to unwind all these part­ner­ship things – I have money tied up in the firm. And your 2020 campaign paid Jones Day more than $800,000 in the fourth quarter of 2017 alone. I need to call the depart­ment's ethics director, Cynthia Shaw. Can I get back to you in a few days?"
At this point, Fran­cisco would prob­ably be fish­ing in his desk drawer for his office keys to hand to Justice Depart­ment secur­ity on his way out.
Next on the call sheet: Steven Engel. The Yale Law School gradu­ate who clerked for Supreme Court Justice Anthony Kennedy is now the chief of the Office of Legal Coun­sel, known as the Pres­id­ent's law firm.
"Oh hey Mr. Pres­id­ent. Nice to hear from you. Remem­ber when I worked as a lawyer for your trans­ition team? I'm not sure but maybe that could be a prob­lem because that's when so many things Mueller is inter­ested in happened. But you know, maybe I can take a look at this for you.
"As I'm sure you know, I can only fire Bob Mueller for 'mis­con­duct, derel­ic­tion of duty, inca­pa­city, conflict of interest, or for other good cause, includ­ing viol­a­tion of Depart­mental policies.' And the law also says that the Special Coun­sel must be informed 'in writ­ing of the specific reason for his or her removal.'
"Why don't you have your lawyers draw some­thing up, and I'll take a look at it, maybe? Can't be sure yet."
It is now 8:54 p.m. Only six minutes left before Hannity.
Now here is where things get even stranger. Accord­ing to a March 31 Exec­ut­ive Order on Justice Depart­ment succes­sion, the next three offi­cials in line are the U.S. Attor­neys for the East­ern District of Virginia, the East­ern District of North Caro­lina, and the North­ern District of Texas.
So the pres­id­ent's next call would have been to Boente, U.S. Attor­ney for the East­ern District of Virginia. But he has left his post for the FBI.
On to Robert "Bobby" Higdon, Jr., the Trump-appoin­ted U.S. Attor­ney for the East­ern District of North Caro­lina. Higdon spent nearly 25 years as a federal prosec­utor, work­ing in both North Caro­lin­a's East­ern and West­ern districts. Yet, his record is hardly unblem­ished. He led the campaign finance fraud prosec­u­tion of former North Caro­lina Senator and pres­id­en­tial candid­ate John Edwards, which resul­ted in an acquit­tal on one charge and the dismissal of the remain­ing five after a hung jury. (Full disclos­ure: I worked as Edwards' Senate legis­lat­ive director.)
In 2013, Higdon was removed as head of the East­ern District's crim­inal divi­sion after two federal appel­late judges delivered a blis­ter­ing critique of the section, saying that it had frequently with­held evid­ence and failed to correct false trial testi­mony.
Higdon was sworn-in as U.S. Attor­ney Octo­ber 10, 2017.
People behave unpre­dict­ably in unpre­ced­en­ted circum­stances. It's entirely possible Higdon may prove no more malle­able than the other recip­i­ents of the pres­id­ent's calls. As Trump himself likes to say: Stay tuned.
---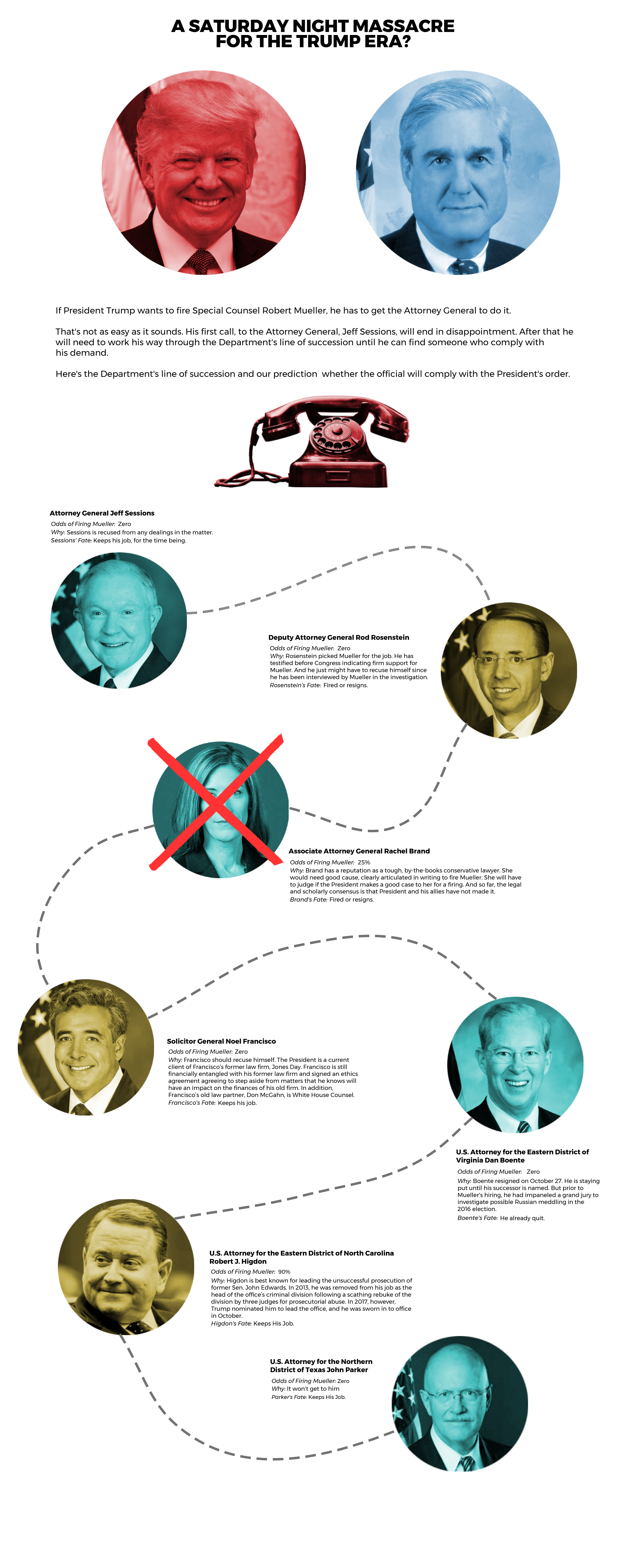 Click on the image for better view­ing)
(Photo: Getty)
The views expressed are the author's own and not neces­sar­ily those of the Bren­nan Center for Justice.