Update February 12, 2018:
Washington has held its breath for the last few months, waiting to see if President Trump will fire Special Counsel Robert Mueller. His recent decision to clear a memo by GOP staffers of Rep. Devin Nunes (D-CA) that allegedly show FBI bias against him was widely thought to be part of an effort to kneecap the Mueller investigation and paint a target on another person at the Department, Deputy Attorney General Rod Rosenstein.
If the President does try to move definitively against Mueller, he will have to find someone at the Justice Department to do the deed. The law is clear: Trump cannot personally fire Mueller.
But like characters in an Agatha Christie novel, the top lawyers from the Justice Department keep disappearing. Were they victims of foul play or did they just decide to get off the train before the (metaphorical) murders start?
Rachel Brand, the number three lawyer at Justice Department, and Dan Boente, who has worn many hats in this drama, were once in line to fire Mueller but have now taken their leave. Meanwhile, Steven Engel, the head of the department's Office of Legal Counsel, has hopped on board.
Friday, Brand announced that she is headed south, after nine months on the job, to Bentonville, Arkansas, to work for Walmart. According to NBC News, she was motivated in part by fear that she would be asked to take over supervising the Russia investigation. In late January, Boente moved over to the FBI to be its general counsel.
The newest addition to the cast is Assistant Attorney General Steven Engel. Like many a character in a Christie novel, Engel has a complicated past. Ethics at the Department of Justice in the time of Trump are never easy.
So, with this new cast of characters in mind, let's see how a Trump move to fire Mueller could play out, just for fun. (A full legal view of the situation is here.)
His first call would be to Attorney General Jeff Sessions. "Sorry, Mr. President," Sessions might begin. "No can do. I recused myself from this investigation, remember? Surely you recall saying you never would have hired me as attorney general if you had known I would recuse myself. Why don't you try Rod Rosenstein, the deputy attorney general? He's the one in charge of Mueller. Hold on while I find his number."
Trump would then call Deputy Attorney General Rosenstein, a career Justice Department official, summa cum laude graduate of Penn, and former Harvard Law Review editor.
"Mr. President, as I explained in Senate testimony in June, 'I am not going to follow any orders unless I believe those are lawful and appropriate orders.' The special counsel can only be fired for good cause. And I haven't seen that good cause. With all due respect sir, you've put nothing in writing that proves good cause exists to dismiss the special counsel.
"Moreover, as I'm sure your lawyer can tell you, I have been interviewed as part of the investigation into the firing of former FBI Director James Comey. So, I feel like I need to decline your order. I'm sure you understand."
At this point, the call likely ends in one of two ways: either Rosenstein is fired or he quits.
Next up on Trump's phone tree: the third highest-ranking official at Justice, Associate Attorney General Rachel Brand, a Harvard Law School graduate and former clerk to Justice Anthony Kennedy.
"Mr. President, as I'm sure you know, I'm heading down to Arkansas in a few weeks. Let's catch up when I'm settled in there."
At this point, Brand would probably be calling the movers and asking them to hurry up with the packing.
Trump, increasingly anxious because he might miss the opening of Sean Hannity, would then reach out to Solicitor General Noel Francisco, a former Justice Antonin Scalia clerk and University of Chicago Law School graduate.
"Well, you see Mr. President, I've got a problem here," Francisco might say. "Before you brought me into the Solicitor General's office, (thanks for that, by the way), I worked for Jones Day in D.C. where I was a partner with your White House Counsel, Don McGahn. And sir, you know how hard it is to unwind all these partnership things – I have money tied up in the firm. And your 2020 campaign paid Jones Day more than $800,000 in the fourth quarter of 2017 alone. I need to call the department's ethics director, Cynthia Shaw. Can I get back to you in a few days?"
At this point, Francisco would probably be fishing in his desk drawer for his office keys to hand to Justice Department security on his way out.
Next on the call sheet: Steven Engel. The Yale Law School graduate who clerked for Supreme Court Justice Anthony Kennedy is now the chief of the Office of Legal Counsel, known as the President's law firm.
"Oh hey Mr. President. Nice to hear from you. Remember when I worked as a lawyer for your transition team? I'm not sure but maybe that could be a problem because that's when so many things Mueller is interested in happened. But you know, maybe I can take a look at this for you.
"As I'm sure you know, I can only fire Bob Mueller for 'misconduct, dereliction of duty, incapacity, conflict of interest, or for other good cause, including violation of Departmental policies.' And the law also says that the Special Counsel must be informed 'in writing of the specific reason for his or her removal.'
"Why don't you have your lawyers draw something up, and I'll take a look at it, maybe? Can't be sure yet."
It is now 8:54 p.m. Only six minutes left before Hannity.
Now here is where things get even stranger. According to a March 31 Executive Order on Justice Department succession, the next three officials in line are the U.S. Attorneys for the Eastern District of Virginia, the Eastern District of North Carolina, and the Northern District of Texas.
So the president's next call would have been to Boente, U.S. Attorney for the Eastern District of Virginia. But he has left his post for the FBI.
On to Robert "Bobby" Higdon, Jr., the Trump-appointed U.S. Attorney for the Eastern District of North Carolina. Higdon spent nearly 25 years as a federal prosecutor, working in both North Carolina's Eastern and Western districts. Yet, his record is hardly unblemished. He led the campaign finance fraud prosecution of former North Carolina Senator and presidential candidate John Edwards, which resulted in an acquittal on one charge and the dismissal of the remaining five after a hung jury. (Full disclosure: I worked as Edwards' Senate legislative director.)
In 2013, Higdon was removed as head of the Eastern District's criminal division after two federal appellate judges delivered a blistering critique of the section, saying that it had frequently withheld evidence and failed to correct false trial testimony.
Higdon was sworn-in as U.S. Attorney October 10, 2017.
People behave unpredictably in unprecedented circumstances. It's entirely possible Higdon may prove no more malleable than the other recipients of the president's calls. As Trump himself likes to say: Stay tuned.
---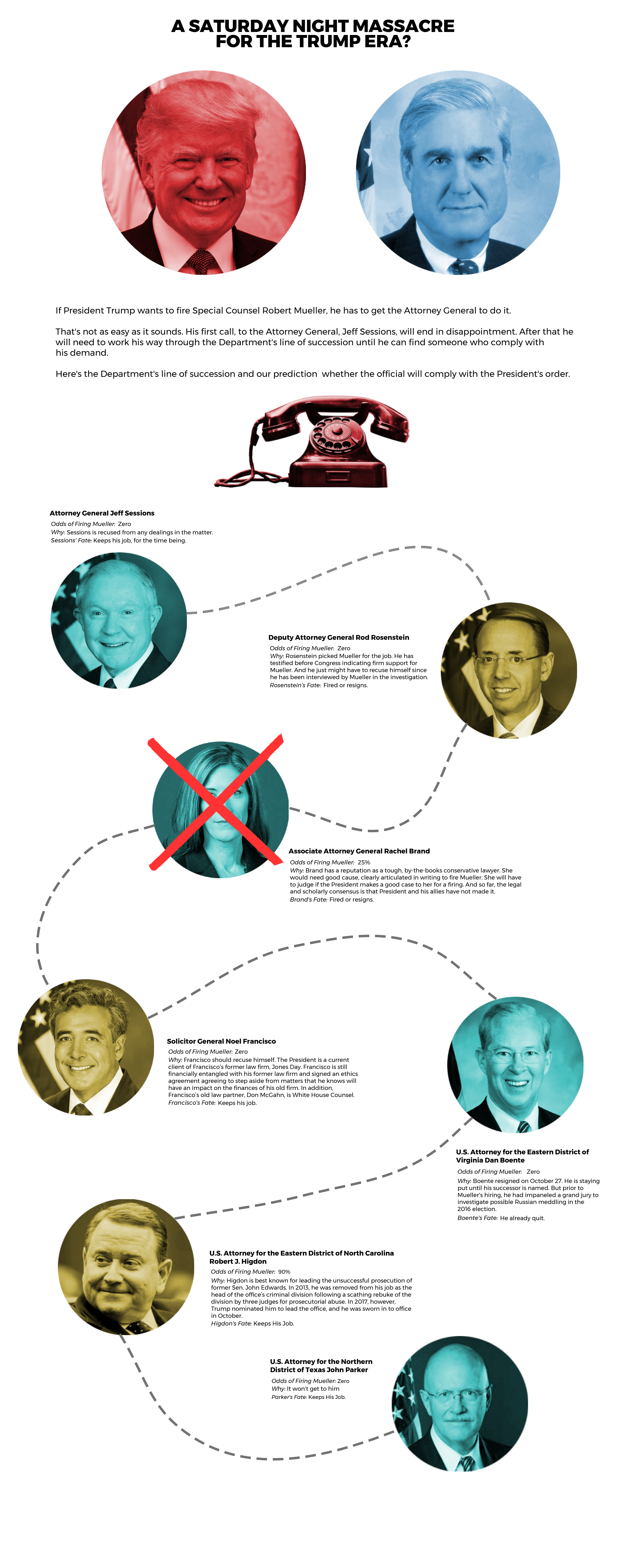 Click on the image for better viewing)
(Photo: Getty)
The views expressed are the author's own and not necessarily those of the Brennan Center for Justice.