It's no April Fool's joke: On Friday, West Virginia Gov. Earl Ray Tomblin signed a law making West Virginia the third state to enact auto­matic voter regis­tra­tion — and the first to do so with broad bipar­tisan support.
This break­through will trans­form voter regis­tra­tion in the Moun­tain State: Eligible citizens who obtain or renew a driver's license will be auto­mat­ic­ally and securely registered to vote (unless they opt out). The meas­ure, which takes effect in July 2017, will create a more conveni­ent, accur­ate, and seam­less process for voters, DMV staff, and elec­tion offi­cials.
Oregon and Cali­for­nia passed auto­matic voter regis­tra­tion in March and Septem­ber of last year, respect­ively. Over­all, 28 states plus the District of Columbia have considered meas­ures in 2016 to auto­mat­ic­ally register citizens who inter­act with motor vehicle offices and ensure that voter inform­a­tion is elec­tron­ic­ally and securely sent to the voter rolls.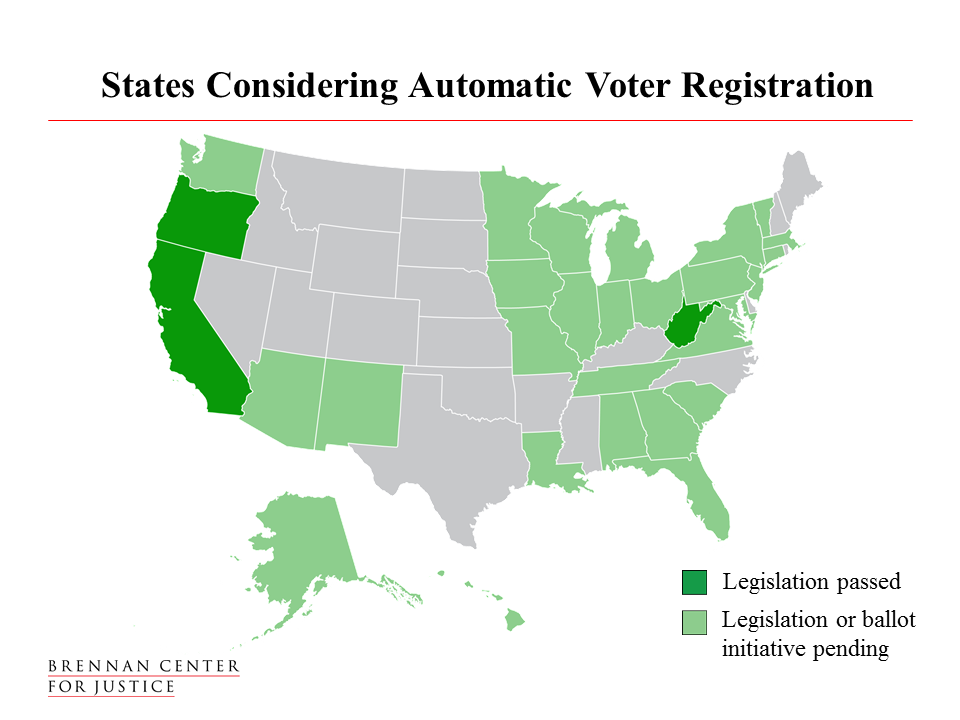 Recently, Pres­id­ent Obama called on legis­lat­ors to "mak[e] auto­matic voter regis­tra­tion the new norm across Amer­ica." Members of Congress intro­duced legis­la­tion as well, and pres­id­en­tial candid­ates Hillary Clin­ton and Bernie Sanders have both suppor­ted the reform.
Auto­matic voter regis­tra­tion is already show­ing clear bene­fits since its imple­ment­a­tion in Oregon this past Janu­ary. More than 15,500 Orego­ni­ans were registered in the first two months with the new system in place — a four-fold increase. Thirty percent of the records trans­ferred from the DMV to elec­tion offi­cials reflec­ted eligible but previ­ously unre­gistered citizens.
West Virgini­a's move to join Cali­for­nia and Oregon proves that this common-sense legis­la­tion has signi­fic­ant momentum through­out the nation and can yield bipar­tisan support. Now, the other 27 states currently consid­er­ing this reform should follow their lead and pass auto­matic regis­tra­tion this year.
(Photo: Think­stock)