Automatic Voter Registration
Twelve states and the District of Columbia have already approved automatic voter registration, and 20 states have introduced automatic registration proposals in 2018.
Automatic voter registration (AVR), a new reform that will modernize voter registration and dramatically increase registration rates, is gaining momentum around the country. Twelve states and the District of Columbia have already approved the policy. So far in 2018, 20 states have introduced legislation to implement or expand automatic registration, and an additional eight states had bills carry over from the 2017 legislative session for consideration in 2018. A full breakdown of these bills, as well as those introduced in 2015, 2016, and 2017, is available below.
AVR makes two transformative, yet simple, changes to voter registration: Eligible citizens who interact with government agencies are registered to vote or have their existing registration information updated unless they decline, and agencies transfer voter registration information electronically to election officials. These two changes create a seamless process that is more convenient and less error-prone for both voters and government officials. This policy boosts registration rates, cleans up the rolls, makes voting more convenient, and reduces the potential for voter fraud, all while lowering costs.
State

Approval Date

Implementation Date

Alaska

November 2016: Ballot Measure 1 approved by voters

March 2017

California

October 2015: AB 1461 signed into law

April 2018

Colorado

2017: AVR approved administratively

February 2017 (tested at only certain locations)

District of Columbia

December 2016: B21-0194 signed into law

June 2018

Georgia

2016: AVR approved administratively

September 2016

Illinois

August 2017: SB 1933 signed into law

July 2018 (statutory deadline)

Maryland

April 2018: SB 1048 enacted without governor's signature*

July 2019 (statutory deadline)

New Jersey

April 2018: AB 2014 signed into law

November 2018 (statutory deadline)

Oregon

March 2015: HB 2177 signed into law

January 2016

Preliminary Results: In the November 2016 general election, nearly 100,000 votes were cast out of the 230,000 ballots mailed to individuals who had registered automatically.

Rhode Island

July 2017: HB 5702 signed into law

June 2018

Vermont

April 2016: HB 458 signed into law

January 2017

Preliminary Results: In program's first sixth months, the state netted more than 12,000 new and updated registrations from the DMV.

Washington

March 2018: HB2595 signed into law

July 2019 (statutory deadline)

West Virginia

April 2016: HB 4013 signed into law

July 2019 (statutory deadline)
*The bill became law after the governor declined to either sign or veto it
In March 2015, Oregon became the first to pass a breakthrough law to automatically register eligible citizens who have driver's licenses (except those who decline). The state has already seen significant registration increases since implementing the policy in January 2016. California — with its estimated 6.6 million eligible but unregistered voters — was the next to pass automatic registration, adopting the policy in October 2015.
2016 was the biggest year yet for automatic registration. The West Virginia and Vermont legislatures passed automatic voter registration with strong bipartisan support, and both bills were promptly signed into law in April. Georgia began implementing an administratively-approved policy in the fall, and on November 1, the District of Columbia Council unanimously passed automatic registration legislation that the mayor signed the following month. The Illinois and New Jersey legislatures also approved automatic registration in 2016, but both bills were vetoed.
On November 8, 2016, Alaska voters directly approved the policy. Alaskans passed a ballot measure to institute automatic voter registration through the state's Permanent Fund Dividend (PFD), a sum paid by the state to all eligible residents. Eligible citizens are automatically registered to vote or have their existing registration information updated when they complete their annual PFD application, unless they decline.
Momentum for automatic registration carried into 2017. Colorado approved the policy administratively and began implementing it at DMV offices. The Nevada legislature passed an automatic voter registration bill in March, but Gov. Brian Sandoval vetoed it. Since the bill was originally introduced in the legislature through a citizen petition, it will now appear on the state's 2018 general election ballot.
In July 2017, Rhode Island Gov. Gina Raimondo signed an automatic registration bill that the legislature had passed with overwhelming support. The state's unique approach requires that the reform be implemented at the DMV, but will expand to other state agencies when they have met standards to ensure they can verify voter eligibility requirements.
Illinois approved AVR in August 2017, when Gov. Bruce Rauner — who vetoed a separate automatic registration bill the year prior — signed a bill that the legislature passed unanimously. Like Rhode Island's reform, Illinois' policy creates a framework for expanding automatic registration to state agencies beyond the DMV.
The list of automatic registration states has continued to grow in 2018. Washington approved AVR in March, and Maryland and New Jersey both followed suit in April. They all joined Illinois and Rhode Island in applying the reform to public assistance agencies as well as the DMV.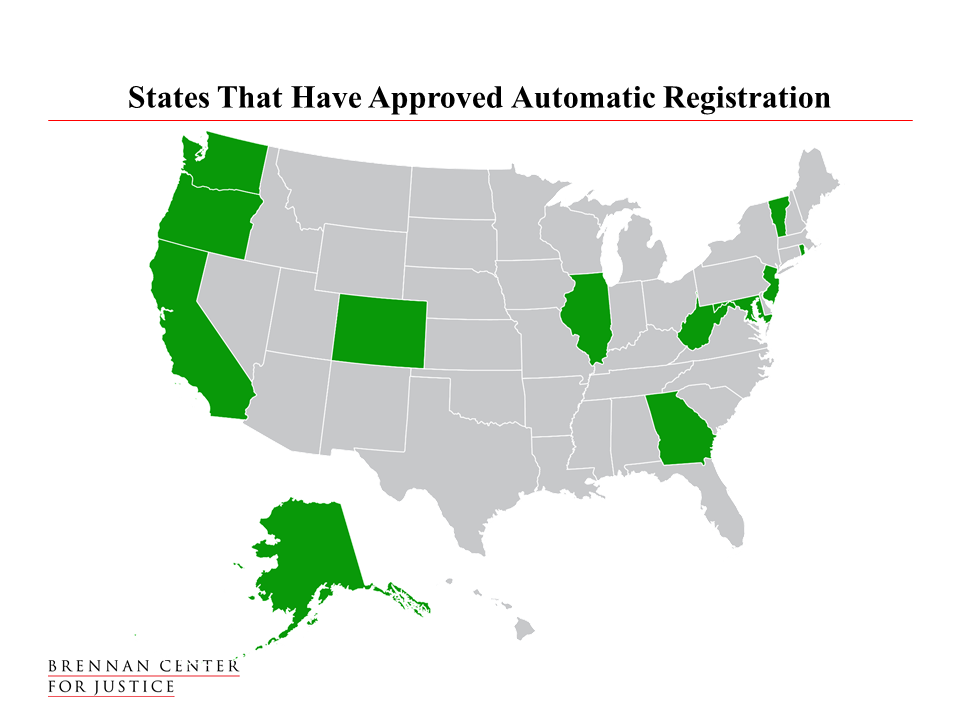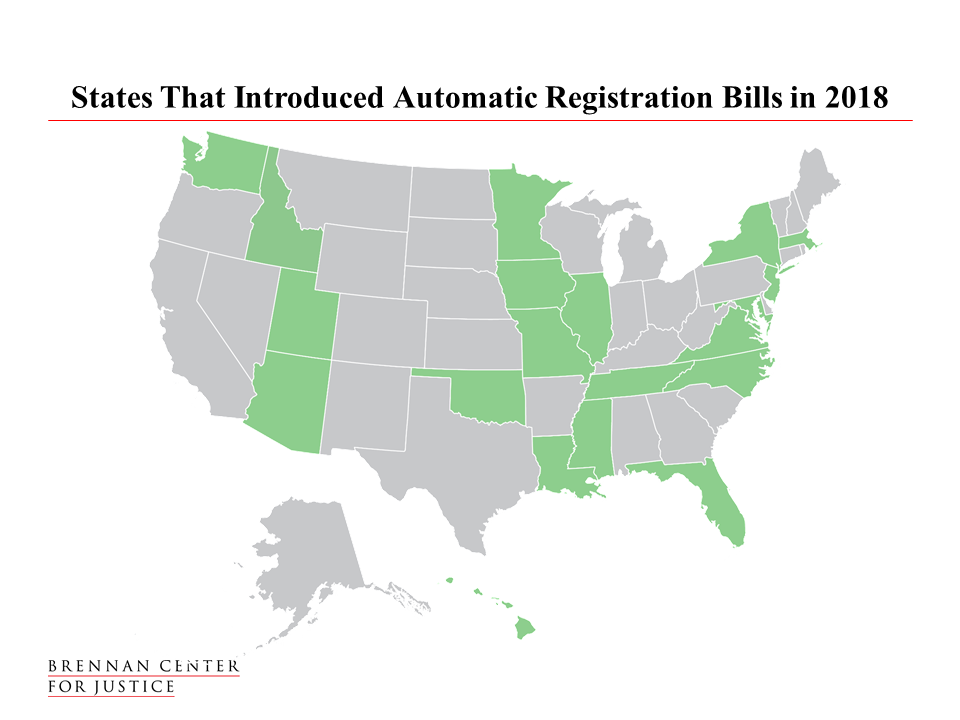 Automatic registration has also garnered attention at the national level. In February 2016, outgoing President Barack Obama called on legislators to "mak[e] automatic voter registration the new norm across America." In June 2017, Rep. Robert Brady introduced a bill to automatically register eligible citizens to vote in federal elections when they interact with numerous state and federal government agencies; Sens. Patrick Leahy, Amy Klobuchar, and Dick Durbin cosponsored identical legislation in the Senate. This group of lawmakers had also introduced an automatic registration bill during the previous legislative session.
For more information on why states should implement automatic voter registration, see The Case for Automatic Voter Registration. This report urges adoption of the four components of a permanent registration system, with automatic registration as its central plank. For in-depth answers describing how states can use existing technology to implement automatic registration, see Automatic and Permanent Voter Registration: How it Works.
2018 Automatic Voter Registration Bills Introduced
2017 Automatic Voter Registration Bills Introduced
*AVR bills introduced in 2017 carried over to the 2018 legislative session
2016 Automatic Voter Registration Bills Introduced
2015 Automatic Voter Registration Bills Introduced
*LA HR 132 would have created a House subcommittee to examine and study automatic registration in Louisiana.