Automatic Voter Registration
A new reform to modernize voter registration with the potential to dramatically increase registration rates is gaining momentum. Automatic voter registration has been approved in six states, and dozens more are considering following suit. Overall, 29 states plus the District of Columbia have considered measures in 2016 that would automatically register citizens who interact with government agencies and ensure that voter information is electronically and securely sent to election officials. (A full breakdown of bills that were introduced in both 2015 and 2016 is available below. Some measures introduced in 2015 were considered in 2016 under state legislative rules.)
Automatic voter registration makes two transformative changes to voter registration. Eligible citizens who interact with government agencies are registered to vote unless they decline, and agencies transfer voter-registration information electronically to election officials. These two changes would create a seamless process that will be more convenient and less error-prone for voters, agency staff, and election officials. This reform has the potential to boost registration rates, clean up the rolls, save money, make voting more convenient, and reduce the potential for voter fraud.
In March 2015, Oregon was the first to pass a breakthrough law to automatically register eligible citizens who have driver's licenses (except those who decline),and has already seen big registration increases. California's legislature passed a bill modeled on Oregon's law in September 2015, which was signed by the Governor in October. California estimates that the state has 6.6 million eligible but unregistered voters.
Vermont and West Virginia's legislatures both passed automatic voter registration with strong bipartisan support and signed them into law in April 2016. There have been many strong and bipartisan efforts across a majority of states to modernize voter registration. Connecticut approved automatic voter registration administratively in May.
In November 2016, Alaska became the latest state to approve automatic registration. Alaskans passed a ballot measure to institute automatic voter registration through the state's Permanent Fund Dividend (PFD), a sum paid by the state to all eligible residents. Once the new system is implemented, eligible voters will be automatically registered to vote or have their existing registration information updated when they complete their annual PFD application, unless they decline.
Illinois and New Jersey nearly joined these states. In Illinois, the General Assembly passed a bill — with many Democratic and Republican votes — but it was vetoed by Governor Rauner. In the Garden State, Governor Christie vetoed the Democracy Act and an additional measure that passed the legislature, again with bipartisan support.
Had Illinois and New Jersey joined Alaska, California, Connecticut, Oregon, Vermont, and West Virginia in implementing automatic registration, 22 percent of the nation's population would live in states with automatic registration. Learn more about Illinois' bill here and New Jersey's automatic voter registration efforts here.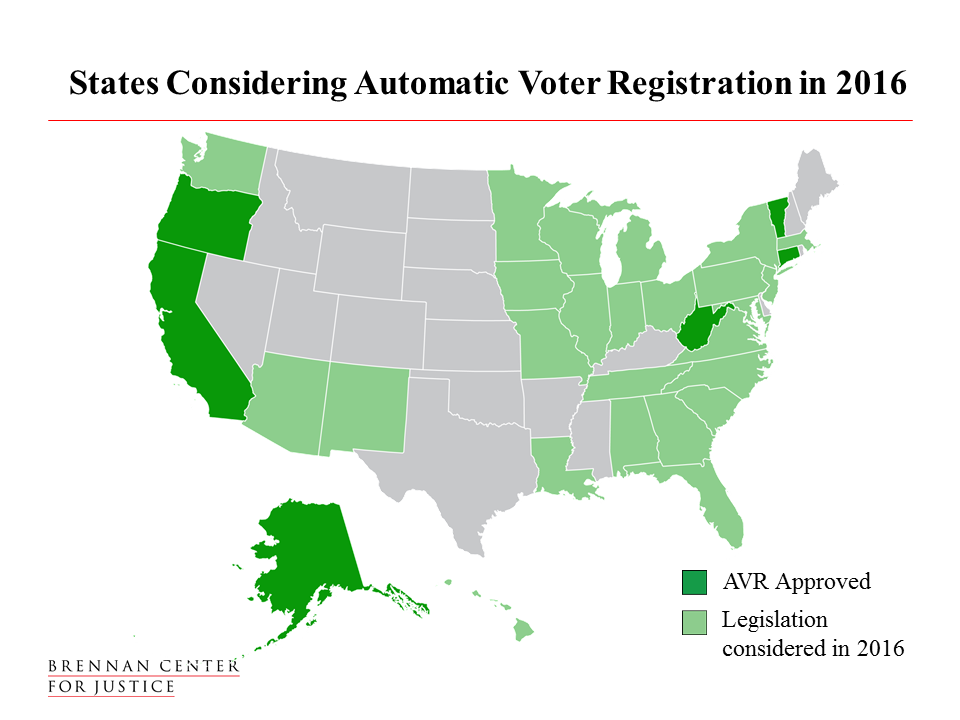 Automatic registration is gaining momentum at the national level, as well. In July 2016, Rep. Robert Brady introduced a bill to automatically register eligible citizens to vote in federal elections when they interact with numerous state and federal government agencies; Sens. Patrick Leahy, Amy Klobuchar, and Dick Durbin cosponsored identical legislation in the Senate. This February, President Barack Obama called on legislators to "mak[e] automatic voter registration the new norm across America." In a campaign speech in June 2015, Hillary Rodham Clinton embraced automatic, universal voter registration for eligible citizens once they turn 18, and Senator Bernie Sanders introduced an automatic registration bill in Congress in August. Senator Sanders' bill was the second automatic registration bill introduced in Congress this year; in June, Rep. David Cicilline and 45 cosponsors introduced legislation requiring automatic registration for federal elections at all DMVs.
For more information on why states should implement automatic voter registration, see the recently released report, The Case for Automatic, Permanent Voter Registration. This report urges adoption of the four components of a permanent registration system, with automatic registration as its central plank. The Brennan Center has also published a companion document, Automatic and Permanent Voter Registration: How it Works, which provides in-depth answers explaining how states can use existing technology to implement automatic registration.
As these reports explain, there are many ways in which states can implement automatic voter registration, and bills introduced this year vary in certain details - for instance, when and how an individual may opt out of registration. But all seek to reduce the burden on individual voters and instead require the government to ensure that eligible citizens are registered. Most bills are limited to the DMV, though several provide for automatic registration at social service agencies in addition to the DMV. Below is a list of bills providing for automatic registration.
2016 Automatic Voter Registration Bills Introduced
2015 Automatic Voter Registration Bills Introduced
*United States SB 1970, Georgia SB 31, Illinois HB 4208, Oregon HB 2059, Pennsylvania HB 1306, and Pennsylvania SB 806 all provide for automatic registration at social service agencies in addition to the DMV.
** LA HR 132 creates a House subcommittee to examine and study automatic registration in Louisiana. The committee is composed of members of the legislature and will solicit communication from election officials and motor vehicle officers, among others.