Despite all the talk about the threat of cyber­at­tacks against U.S. elec­tions, one area has largely been over­looked: elec­tronic poll­books. Before elec­tronic poll­books, a voter would show up at the polls and an elec­tion worker would search through a paper book that contained the names of all the voters in her precinct. Once located, the voter would sign in, receive a piece of paper from the poll worker, show that paper to another worker controlling access to a voting machine, and then cast a ballot.
Today, 34 states use elec­tronic poll­books in at least some polling places, and six states — Color­ado, Geor­gia, Mary­land, Michigan, Rhode Island, and Utah — use them statewide. As elec­tronic versions of voter regis­tra­tion lists — typic­ally on a laptop computer or tablet — elec­tronic poll­books allow poll work­ers to find voters' names more quickly and determ­ine if the voter is at the proper polling place or if the voter has already cast a ballot. This last func­tion is partic­u­larly useful in states with early voting and vote centers, which can permit people to vote at one of a number of polling places, regard­less of their resid­en­tial address.
To func­tion, many elec­tronic poll­books need to update inform­a­tion across numer­ous devices and loca­tions. In many systems, this requires the abil­ity to connect via wire­less commu­nic­a­tion. Yet, integ­rat­ing elec­tronic poll­books into wire­less networks can add secur­ity risks. In a worst-case scen­ario, hack­ers could access these networks and alter or delete voter regis­tra­tion data, even caus­ing voters to appear as if they have voted when they have not. Elec­tronic poll­books that require access to the Inter­net can also pose prob­lems in rural counties that lack reli­able connectiv­ity. All offi­cials using these devices must prepare for the possib­il­ity of system malfunc­tion.
The solu­tion to these chal­lenges is relat­ively simple. All polling places using elec­tronic poll­books should have paper poll­books ready in case of system malfunc­tion. In case backup paper poll­books are unavail­able or are found to contain errors, polling places should have an adequate number of "provi­sional ballots" (which can be coun­ted after a voter's regis­tra­tion inform­a­tion is confirmed). Unfor­tu­nately, the Bren­nan Center found that of the 34 states that use elec­tronic poll­books, only half require paper backups to be present in every polling place at the time voting begins.
For instance, during the 2015 muni­cipal primar­ies in Porter County, Indi­ana, a north­ern county east of Gary that borders Lake Michigan, elec­tronic poll­books in at least 30 of the county's 136 polling places weren't oper­at­ing when they opened at 7:00 a.m. Last year, there were prob­lems in a hand­ful of polling places in Minneapolis when poll work­ers used iPads for the first time to check in voters. During the 2016 pres­id­en­tial elec­tion, dozens of voters in Durham, North Caro­lina, were turned away in part because elec­tronic poll­books incor­rectly showed that they had voted. Voting was delayed in some precincts for up to an hour and a half, as poll work­ers waited for new supplies to replace the faulty elec­tronic poll­books.
None of these prob­lems are believed to have been the work of a mali­cious actor. But someone with malevol­ent intent could cause substan­tial delay, confu­sion, and damage in elec­tronic poll­book juris­dic­tions. It is crit­ical that elec­tion admin­is­trat­ors using elec­tronic poll­books adopt robust contin­gency plans.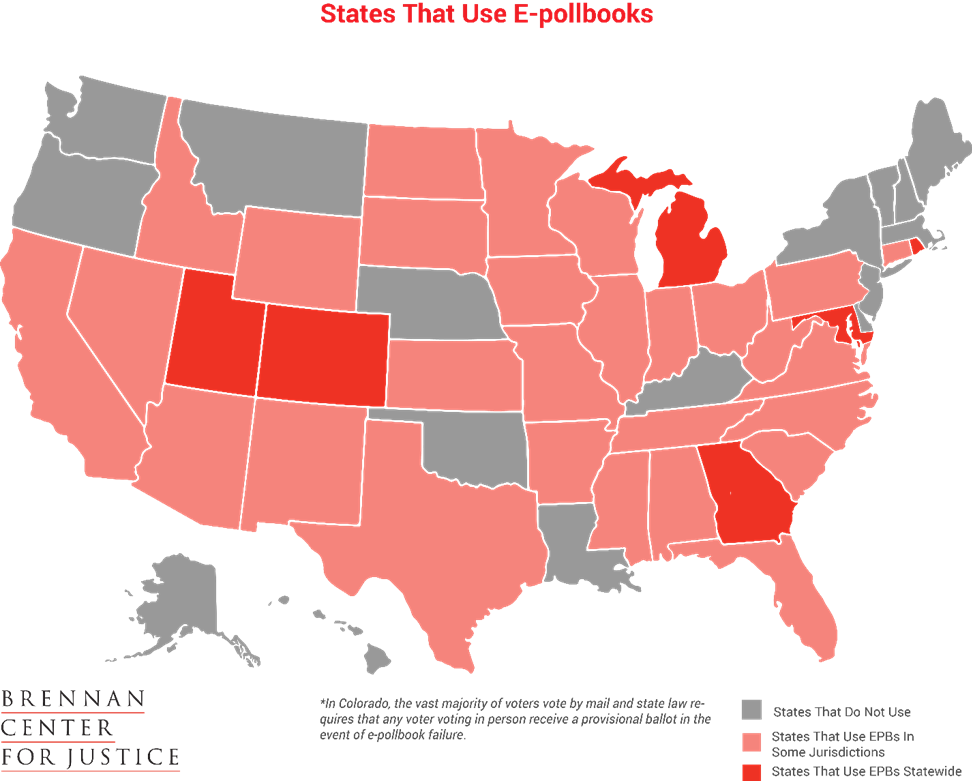 Any effect­ive contin­gency plan for elec­tronic poll­books should include both of the follow­ing elements:
All polling places using elec­tronic poll­books should have backup paper systems on hand to use in case of elec­tronic poll­book fail­ure.
All polling places, espe­cially those using elec­tronic poll­books, should have enough provi­sional ballots to cover three hours of peak voting activ­ity in case any poll­book prob­lems result in voting delays.
The Import­ance of Paper Backup of E-Poll­books
Although elec­tronic poll­books have become the norm, some­times there is no substi­tute for paper. In the August Arizona primary, govern­ment contract­ors were supposed to set up elec­tronic poll­books in Mari­copa County's (Phoenix) more than 500 polling places. By 6:00 a.m. on Elec­tion Day, word came that set-up had not been finished in 62 of them. Although everything was finished by 11:30 a.m., for some voters that was too late. In addi­tion, even in those precincts where the elec­tronic poll­books had been set up, there still were glitches, with some voters being redir­ec­ted to other loca­tions.
All this confu­sion could have been minim­ized if each polling loca­tion had backup paper poll­books to check in voters.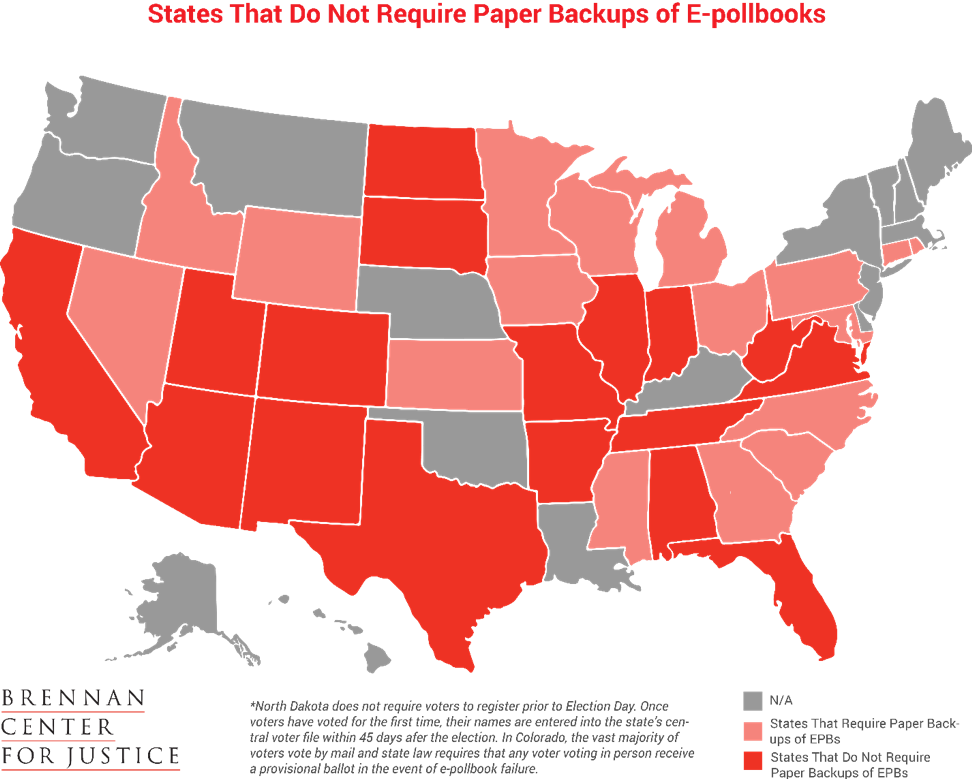 The Import­ance of Provi­sional Ballots
In June, South Dakota held a primary to determ­ine nomin­ees for one of the state's two U.S. Senate seats, its sole House seat, and the members of its state Legis­lature. Yet, in Penning­ton County (Rapid City), all 44 of its elec­tronic poll­books failed to connect to the Inter­net. In 16 precincts, voting was halted until backup paper poll­books could be delivered, lead­ing some voters to leave without cast­ing a ballot. Julie Pear­son, the auditor and top elec­tion offi­cial in Penning­ton County, said no direct­ive was issued to offer provi­sional ballots to incon­veni­enced voters. The vendor for the state's elec­tronic poll­books partly blamed the prob­lems on faulty Wi-Fi connectiv­ity in many counties aside from Penning­ton, includ­ing Hughes, Brown, Brook­ings, Yank­ton, Sully, Hyde, and Potter.
Most states that use elec­tronic poll­books do not set a mandat­ory minimum of provi­sional paper ballots that precincts should have on hand if elec­tronic poll­books fail. For federal elec­tions, Connecti­cut requires that each polling place have paper ballots equal­ing at least 1 percent of the eligible voters in the district or an amount set by local elec­tion offi­cials. In Ohio, the secret­ary of state requires that each precinct have at least 5 percent more provi­sional ballots than were cast at that loca­tion in a similar elec­tion.
In 32 of the 34 states using elec­tronic poll­books, the Bren­nan Center found no require­ments in state law or regu­la­tion mandat­ing a minimum number of provi­sional ballots (although several of these states — includ­ing Color­ado, Connecti­cut, Idaho, Illinois, Iowa, Minnesota, North Dakota, and Wyom­ing — may need fewer provi­sional ballots because they either do not register voters or have Elec­tion Day regis­tra­tion).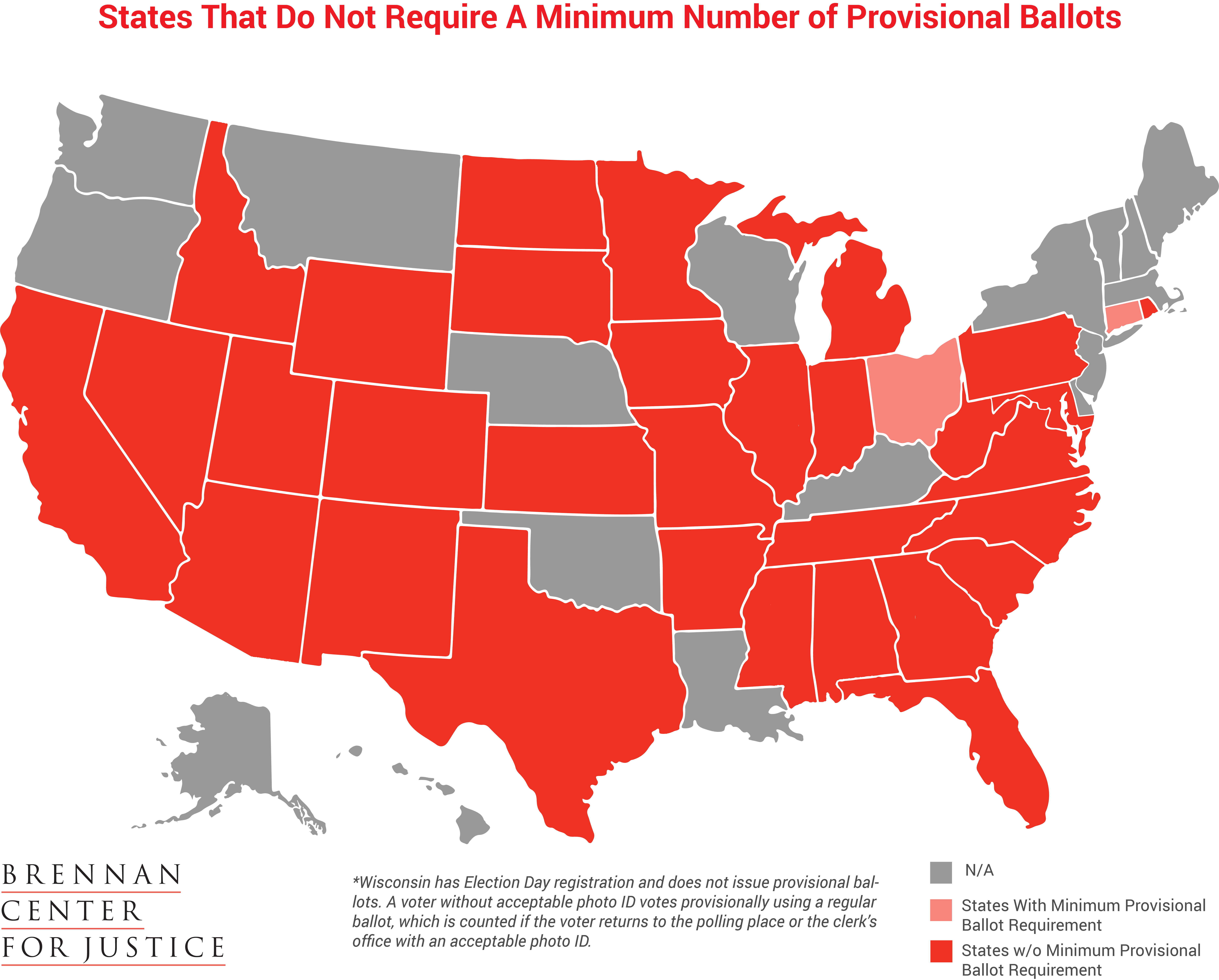 In the days lead­ing up to the elec­tion, it is crit­ical that elec­tion offi­cials are adequately prepared to effect­ively recover from system malfunc­tions and cyber­at­tacks. Elec­tronic poll­books are an over­looked, yet vulner­able, element in the elec­tion system. Low-tech, common-sense solu­tions like having paper backups and enough provi­sional ballots to cope with three hours of peak voting can greatly dimin­ish the risk that prob­lems with these systems will prevent people from voting.
(Photo: Shut­ter­stock.com; maps: BCJ)