Despite all the talk about the threat of cyberattacks against U.S. elections, one area has largely been overlooked: electronic pollbooks. Before electronic pollbooks, a voter would show up at the polls and an election worker would search through a paper book that contained the names of all the voters in her precinct. Once located, the voter would sign in, receive a piece of paper from the poll worker, show that paper to another worker controlling access to a voting machine, and then cast a ballot.
Today, 34 states use electronic pollbooks in at least some polling places, and six states — Colorado, Georgia, Maryland, Michigan, Rhode Island, and Utah — use them statewide. As electronic versions of voter registration lists — typically on a laptop computer or tablet — electronic pollbooks allow poll workers to find voters' names more quickly and determine if the voter is at the proper polling place or if the voter has already cast a ballot. This last function is particularly useful in states with early voting and vote centers, which can permit people to vote at one of a number of polling places, regardless of their residential address.
To function, many electronic pollbooks need to update information across numerous devices and locations. In many systems, this requires the ability to connect via wireless communication. Yet, integrating electronic pollbooks into wireless networks can add security risks. In a worst-case scenario, hackers could access these networks and alter or delete voter registration data, even causing voters to appear as if they have voted when they have not. Electronic pollbooks that require access to the Internet can also pose problems in rural counties that lack reliable connectivity. All officials using these devices must prepare for the possibility of system malfunction.
The solution to these challenges is relatively simple. All polling places using electronic pollbooks should have paper pollbooks ready in case of system malfunction. In case backup paper pollbooks are unavailable or are found to contain errors, polling places should have an adequate number of "provisional ballots" (which can be counted after a voter's registration information is confirmed). Unfortunately, the Brennan Center found that of the 34 states that use electronic pollbooks, only half require paper backups to be present in every polling place at the time voting begins.
For instance, during the 2015 municipal primaries in Porter County, Indiana, a northern county east of Gary that borders Lake Michigan, electronic pollbooks in at least 30 of the county's 136 polling places weren't operating when they opened at 7:00 a.m. Last year, there were problems in a handful of polling places in Minneapolis when poll workers used iPads for the first time to check in voters. During the 2016 presidential election, dozens of voters in Durham, North Carolina, were turned away in part because electronic pollbooks incorrectly showed that they had voted. Voting was delayed in some precincts for up to an hour and a half, as poll workers waited for new supplies to replace the faulty electronic pollbooks.
None of these problems are believed to have been the work of a malicious actor. But someone with malevolent intent could cause substantial delay, confusion, and damage in electronic pollbook jurisdictions. It is critical that election administrators using electronic pollbooks adopt robust contingency plans.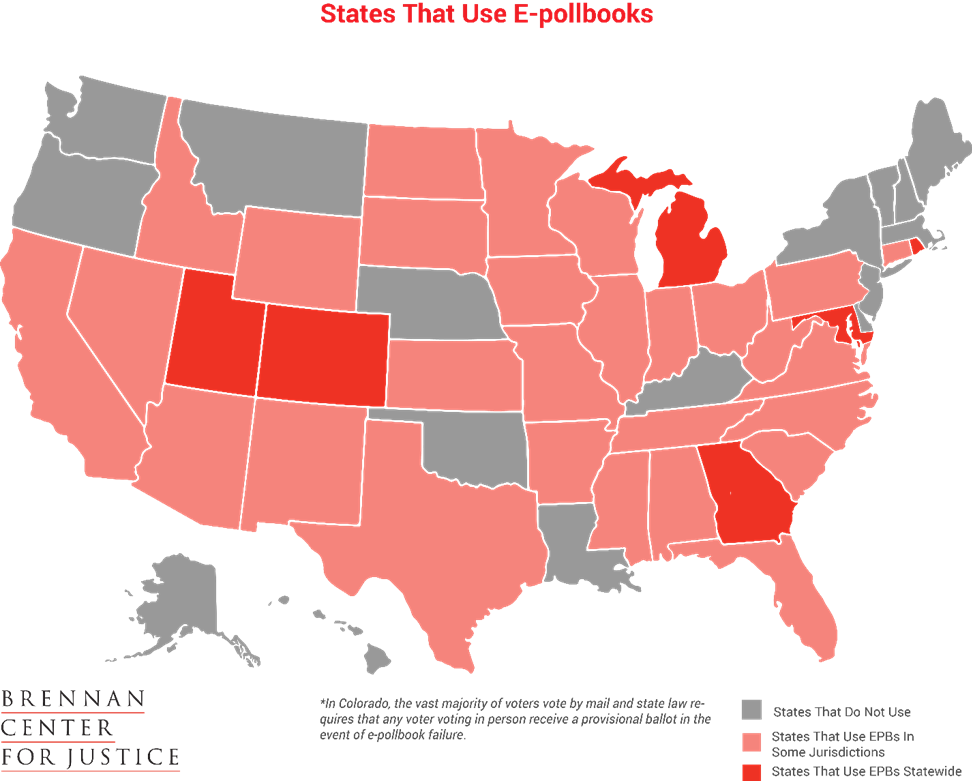 Any effective contingency plan for electronic pollbooks should include both of the following elements:
All polling places using electronic pollbooks should have backup paper systems on hand to use in case of electronic pollbook failure.
All polling places, especially those using electronic pollbooks, should have enough provisional ballots to cover three hours of peak voting activity in case any pollbook problems result in voting delays.
The Importance of Paper Backup of E-Pollbooks
Although electronic pollbooks have become the norm, sometimes there is no substitute for paper. In the August Arizona primary, government contractors were supposed to set up electronic pollbooks in Maricopa County's (Phoenix) more than 500 polling places. By 6:00 a.m. on Election Day, word came that set-up had not been finished in 62 of them. Although everything was finished by 11:30 a.m., for some voters that was too late. In addition, even in those precincts where the electronic pollbooks had been set up, there still were glitches, with some voters being redirected to other locations.
All this confusion could have been minimized if each polling location had backup paper pollbooks to check in voters.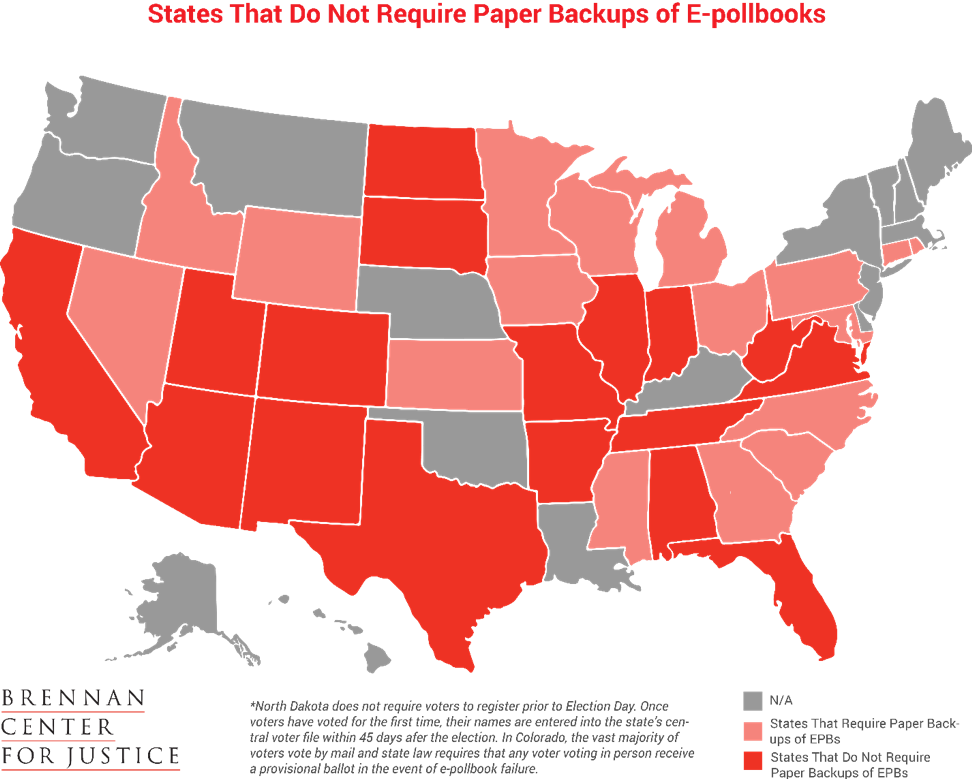 The Importance of Provisional Ballots
In June, South Dakota held a primary to determine nominees for one of the state's two U.S. Senate seats, its sole House seat, and the members of its state Legislature. Yet, in Pennington County (Rapid City), all 44 of its electronic pollbooks failed to connect to the Internet. In 16 precincts, voting was halted until backup paper pollbooks could be delivered, leading some voters to leave without casting a ballot. Julie Pearson, the auditor and top election official in Pennington County, said no directive was issued to offer provisional ballots to inconvenienced voters. The vendor for the state's electronic pollbooks partly blamed the problems on faulty Wi-Fi connectivity in many counties aside from Pennington, including Hughes, Brown, Brookings, Yankton, Sully, Hyde, and Potter.
Most states that use electronic pollbooks do not set a mandatory minimum of provisional paper ballots that precincts should have on hand if electronic pollbooks fail. For federal elections, Connecticut requires that each polling place have paper ballots equaling at least 1 percent of the eligible voters in the district or an amount set by local election officials. In Ohio, the secretary of state requires that each precinct have at least 5 percent more provisional ballots than were cast at that location in a similar election.
In 32 of the 34 states using electronic pollbooks, the Brennan Center found no requirements in state law or regulation mandating a minimum number of provisional ballots (although several of these states — including Colorado, Connecticut, Idaho, Illinois, Iowa, Minnesota, North Dakota, and Wyoming — may need fewer provisional ballots because they either do not register voters or have Election Day registration).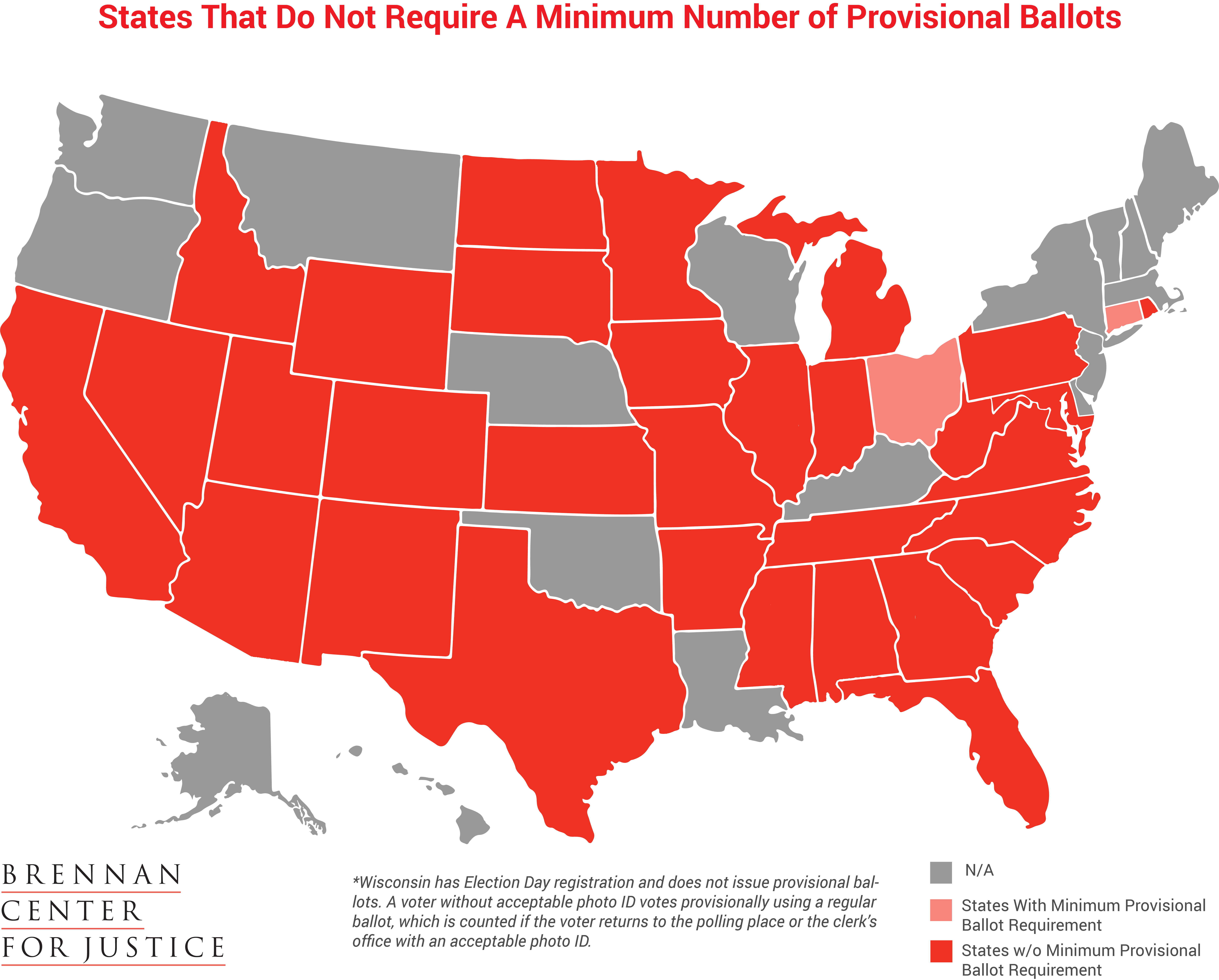 In the days leading up to the election, it is critical that election officials are adequately prepared to effectively recover from system malfunctions and cyberattacks. Electronic pollbooks are an overlooked, yet vulnerable, element in the election system. Low-tech, common-sense solutions like having paper backups and enough provisional ballots to cope with three hours of peak voting can greatly diminish the risk that problems with these systems will prevent people from voting.
(Photo: Shutterstock.com; maps: BCJ)