May is a busy month for primaries. There are 10 elections this month, and three of them have topped lists of midterms to watch: North Carolina last week, Nebraska today, and Kentucky next week. All three feature contests between establishment Republicans and Tea Party favorites.
In Nebraska's election today, Ben Sasse, who has endorsements from Tea Party leaders like Sen. Ted Cruz and the Senate Conservatives Fund, is winning the money race with $2.3 million raised in the first quarter. His establishment rival is not far behind: Shane Osborne raised $1.6 million. But Sasse's Tea Party allies appear to be concentrating their firepower on the race and gave him an almost 5-to-1 lead in independent expenditures through March 31.
Nebraska, however, is the outlier: In all the other highest-dollar Senate primaries with a clear Tea Party and establishment candidate, Tea Party favorites are being significantly outraised. In those contests, mainstream candidates' average fundraising advantage over Tea Partiers is 5-to-1.
Here are other trends worth watching as the midterm elections progress:
All but one of the highest-dollar Senate contests are Republican primaries.
Outside spending is increasing dramatically as the election season heats up.
Groups traditionally aligned with the Democratic Party are funding attack ads in a handful of Republican primaries.
Using data from the Center for Responsive Politics, the Brennan Center examined the 13 Senate races where fundraising by competitive candidates had topped $3 million by the end of the first quarter, counting as "competitive" all candidates who raised at least $300,000.
The highest-dollar contests are overwhelmingly Republican primaries, as was the case in our analysis of House primaries — only one of the 13 Senate contests is a Democratic primary. Seven of these races feature battles between Tea Party favorites and establishment Republicans, and all but one of the Tea Party candidates have been significantly outraised by their mainstream opponents. (We excluded Georgia from this tally, because Tea Party support is split, although the fundraising leader there is an establishment candidate backed by the U.S. Chamber of Commerce.)
On average, establishment candidates in the seven races in our analysis have a fundraising advantage of 5 to 1, lending support to the notion that the Tea Party movement is losing steam. On the other hand, in all of these contests except Tennessee, where there has been no outside spending, first-quarter independent expenditures favor the Tea Party favorite — by an average of $350,000.
Looking at total independent spending across the 13 highest-dollar races through April, every month this year has seen at least $1 million more in spending than the previous month, with $7.5 million in April alone. This trend is largely driven by high outside spending in North Carolina and Mississippi, with their early primaries on May 6 and June 3, respectively. Kentucky bucked the trend, however: Outside spending peaked there in February and has decreased in the following months as the May 20 primary approaches. Some have attributed this phenomenon to Kentucky Senator and Minority Leader Mitch McConnell's hardline stance against the Senate Conservatives Fund and other insurgent Republican groups.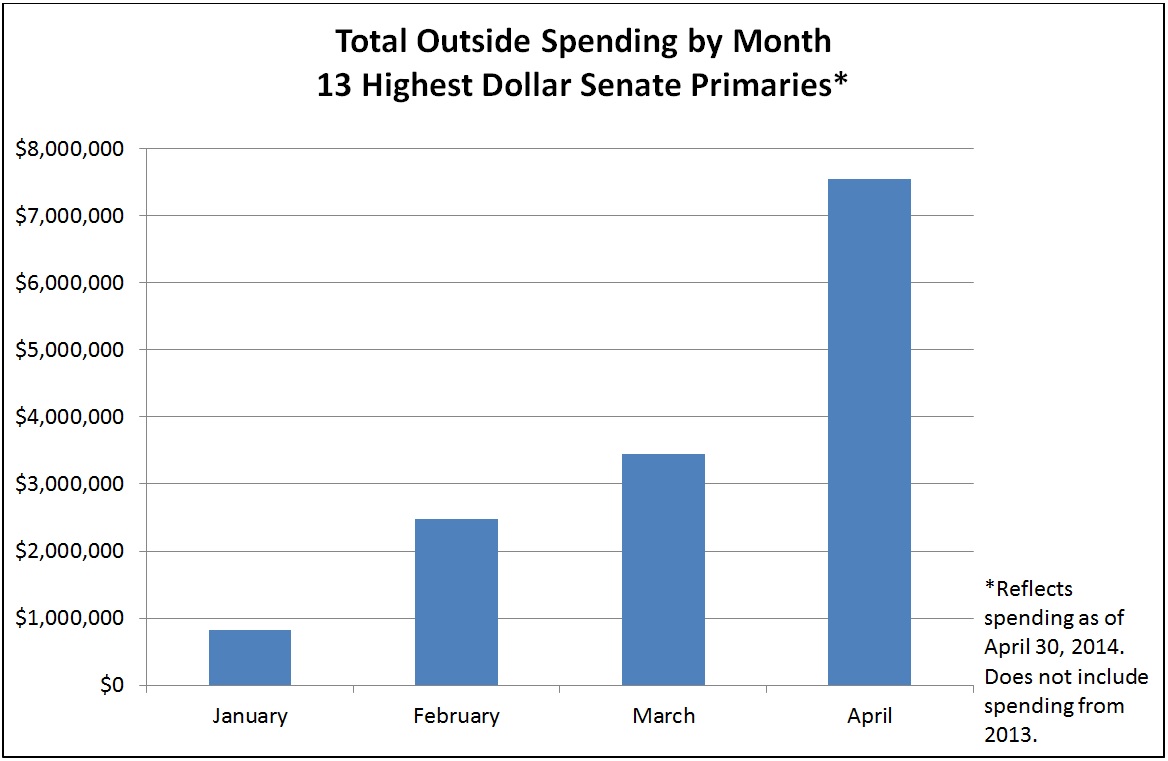 Three of the races in our analysis have seen outside spending by Democratically-aligned groups attacking Republican primary candidates. These expenditures were highest in North Carolina, at $3.2 million as of the beginning of May. The Senate Majority PAC, which is dedicated to "fighting to protect and expand the Democratic majority in the U.S. Senate," attacked Thom Tillis, who went on to win the Republican primary, as did the liberal dark money group Patriot Majority USA. The same two groups spent a combined $600,000 opposing Sen. McConnell as he faces a primary challenge. In Alaska, a single-candidate super PAC supporting incumbent Democratic Sen. Mark Begich has made independent expenditures opposing the frontrunner in the Republican primary, Daniel Sullivan. And in both Alaska and North Carolina, Planned Parenthood spent money attacking all the Republican primary contenders as well as in support of the Democratic incumbents who will face the Republican nominees.
Turning to the inside money totals, where data is available only through the end of the first quarter, total candidate fundraising across the 13 races was $94 million, and candidate spending amounted to $54 million. Kentucky Sen. McConnell is head and shoulders above the field, with $21 million raised and $10 million spent. His Tea Party challenger in next week's primary, Matt Bevin, raised a respectable $2.8 million and benefited from another $1.8 million in independent expenditures either favoring him or attacking McConnell, but he hasn't come close to matching McConnell's money. None of the other races tops $6 million, except Georgia, where a crowded field of five viable candidates has pushed the total fundraising higher than most contests.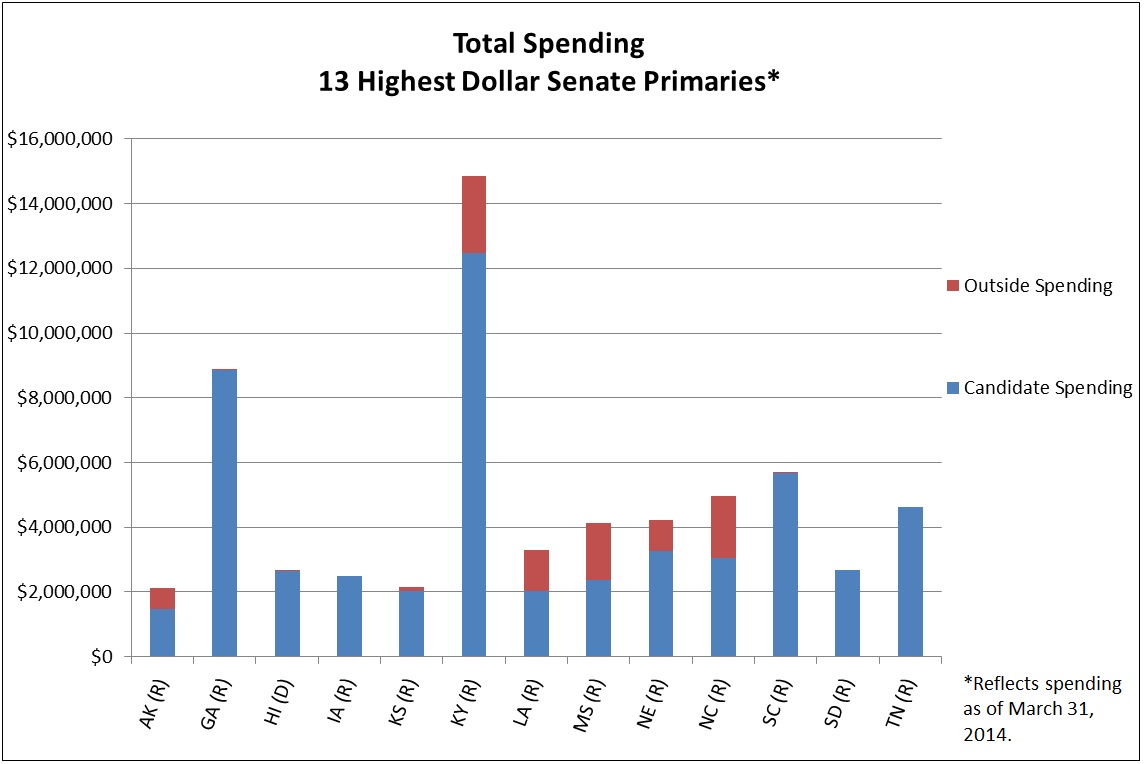 The Brennan Center will continue to monitor and analyze fundraising and spending in top races as the 2014 election season heats up.
(Photo: Flickr/Zach Mccarthy)