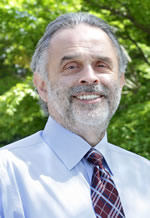 Last week, the country lost civil rights lawyer and leader Joaquin Avila. I lost a forebearer, an advocate, and an inspiration.
I knew of Joaquin well before I met him. As a college student, I was tablesitting outside for some effort that escapes me now, but I passed the time in between visits from friends and interested persons by reading Earl Shorris' book Latinos: A Biography of the People. I was instantly captivated by the pages on Joaquin — this heroic figure who grew up in Compton, was one of the first Latinos to attend Yale, became president of the Mexican American Legal Defense and Educational Fund (MALDEF), and litigated and won important civil rights cases. As a young Latina who imagined I'd one day work for MALDEF, and who myself was navigating Yale life and a far-away Mexican-American family, his work and accomplishments put all sorts of ideas in my head about the career and life I hoped I would have. Not too long after I read that book, he was awarded a MacArthur Genius grant, a fellowship program that encourages people of exceptional talent to continue their bold work.
But even if I hadn't read that book, there would have been no way for me to move along in my career and not know Joaquin's name and work. His cases and advocacy were an ever-present backdrop to my early career because it seemed like everyone who I tried to learn from had worked with or learned from Joaquin. His cases (like Lopez v. Monterrey County) and creativity (like the California Voting Rights Act) were taught about in law books, highlighted in articles, and come through in the Joaquin stories that generally started from a bleak place and ended triumphantly.
By the time my career had progressed enough to start directly working with him, it was a fast, easy, and natural relationship because he had been there the whole time. I was gobsmacked the day I learned that he, on his own accord, had thought of me and then recommended me for a high-level position. And, I remember how he brushed off my surprise and gushing thanks by telling me he was grateful to be able to recommend me. He was the kind of guy who others sought recommendations from, and he was also the kind of guy who thought he was the lucky one to have someone to recommend.
He was both formidable and gentle. He was both visionary and practical. He was both humble and audacious. He was a changemaker.
The contributions he made to the country will be deeply felt for years to come, as will the country's loss in his passing.
(Photo: Seattle University School of Law)