New York, N.Y. – The Bren­nan Center for Justice at NYU Law today welcomed news that Congress has set aside $380 million to shore up the nation's aging elec­tion infra­struc­ture. The Bren­nan Center has long advoc­ated for repla­cing outmoded machines and computers vulner­able to hack­ing or malfunc­tion as a way of secur­ing our demo­cracy.
"With so much infight­ing on Capitol Hill, this is a break­through for elec­tion secur­ity and the health of our coun­try's demo­cracy," said Lawrence Norden, deputy director of the Bren­nan Center's demo­cracy program. "Dozens of states are strug­gling to keep old equip­ment up to date, and this infu­sion of cash from Congress is an import­ant down payment on secur­ing our elec­tions, and instilling confid­ence among the public that their votes will be accur­ately, securely coun­ted."

The Bren­nan Center estim­ates that this fall some 41 states will use ballot­ing machines more than a decade old. The Center has repor­ted that state elec­tion offi­cials have resor­ted to buying spare parts on eBay, and some rely on computers running outdated soft­ware like Windows 2000 to manage elec­tions and voter regis­tra­tion.
The Bren­nan Center has previ­ously advoc­ated for roughly $400 million to replace the nation's most insec­ure voting machines, and has worked with lawmakers and voting tech­no­logy experts to press for these funds to be appro­pri­ated by Congress. But in a new analysis conduc­ted by the Bren­nan Center and Veri­fied Voting, the groups found that because of the way the omni­bus funds will be alloc­ated, they will still be insuf­fi­cient to replace all the coun­try's most insec­ure paper­less systems that are impossible to audit to ensure accur­acy.

"Thir­teen states use these types of non-audit­able systems – five statewide – and while some states will receive suffi­cient funds to replace them, most will only get only a frac­tion of the neces­sary funds," said the Bren­nan Center's Norden. "So while there is much to celeb­rate today, tomor­row the campaign to secure our elec­tions contin­ues."
The Bren­nan/Veri­fied Voting analysis looks at the replace­ment cost for what are known as paper­less DREs (or direct-record­ing elec­tronic voting machines). These machines produce no audit­able paper ballot, so they are nearly impossible to audit if a system breaks down or malfunc­tions. The Bren­nan/Veri­fied Voting analysis then takes the fund­ing alloc­a­tion formula in the omni­bus to estim­ate how much these new funds will allow states to replace these vulner­able machines.

Of the 13 states that use paper­less DREs, the new funds will not allow full replace­ment in at least 11 of those states.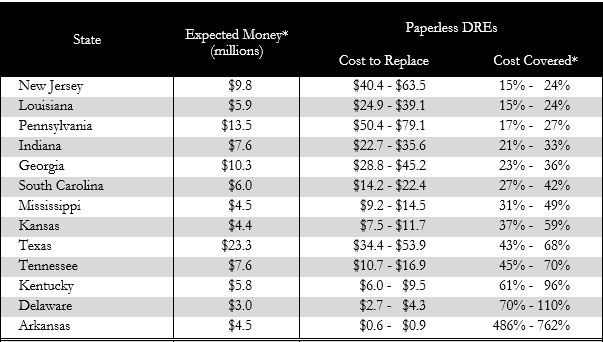 Note: our estim­ates are lower than some state-specific estim­ates. Replace­ment costs here are based on equip­ment, not on main­ten­ance or soft­ware licens­ing.
* These numbers have been updated since the morn­ing of March 23 after consulta­tion with the Elec­tion Assist­ance Commis­sion as to how they will apply the HAVA formula.
For more inform­a­tion, read our full analysis here.
Read about all our work on elec­tion secur­ity and infra­struc­ture here.

For more inform­a­tion or to connect with a Bren­nan Center expert, contact Rebecca Autrey at rebecca.autrey@nyu.edu or 646–292–8316.