Last night saw a landmark victory for voting rights: the Illinois legislature passed a bill that would bring automatic voter registration to the Land of Lincoln. Now Gov. Bruce Rauner's (R) signature would make Illinois the sixth state in the country to automatically register eligible voters.
Here's what's exciting: If Illinois joins the list, more than 60 million Americans — 19 percent of the population — will live in a state that currently or will soon automatically register voters.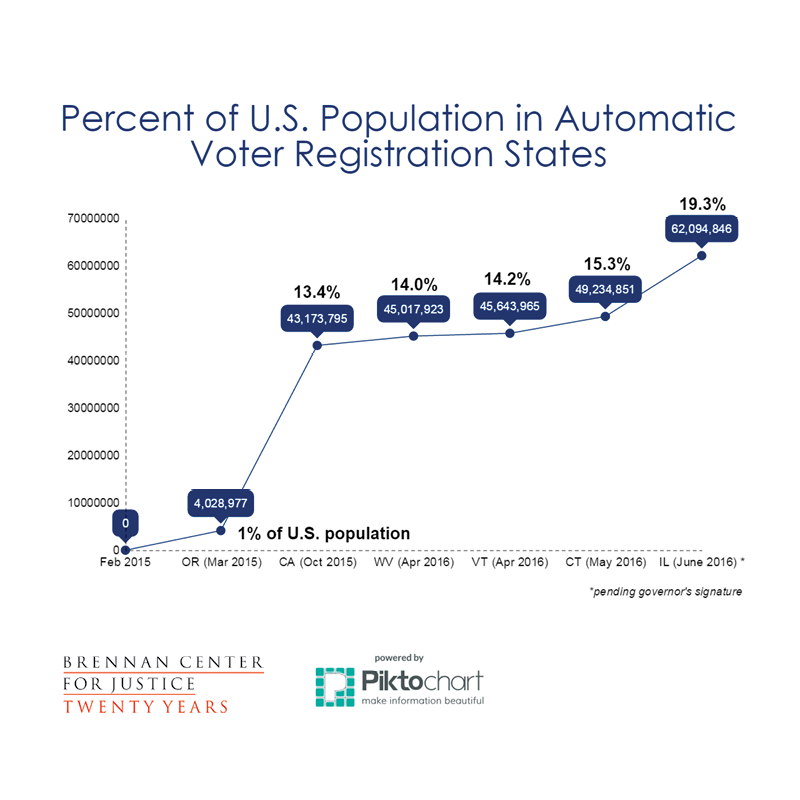 Automatic voter registration is a simple but transformative policy tweak: instead of opting in to being on the voter rolls, eligible citizens opt out. For example, when an eligible individual visits the DMV, the information she provides for her driver's license is automatically and electronically passed on to election officials. This increases registration rates, and cuts down on errors and other inefficiencies from old-fashioned, ink-and-paper registration.
Automatic registration in the nation's fifth most populous state is a big deal in a year when the media spotlight is focused on new burdens voters will face at the polls in 2016. In fact, in this key election year, many lawmakers are reaching across the aisle to improve voter access to the polls. Illinois's automatic registration bill, which builds on sweeping voting reforms passed in 2014, received substantial bipartisan support, passing the House (86–30) and the Senate 50–7. Similar measures received nearly unanimous backing in April in West Virginia and Vermont.
Across the nation, automatic registration is being adopted at breakneck pace: all in the span of just over a year. After Oregon enacted the reform last March, California followed suit later that in 2015. In May, Connecticut followed the Mountain and Green Mountain States in inviting more citizens to the "democracy party."
This shouldn't be surprising, as we've seen it happen before: online registration and electronic registration are two voting reforms that have spread far and wide in red states and blue states. Between 2010 and 2015, the number of states offering electronic registration increased from 17 to 27, and those providing online registration increased from 6 to 26.
The reform benefits voters and election officials alike — citizens enjoy expanded access to the rolls, and election officials get increased accuracy and efficiency. It makes sense, then, that as in other states, Illinois's bill has the support of local election officials. These benefits are not theoretical: promising early data rolling out of Oregon shows the state quadrupled its registration rate since automatic registration took effect.
Now, similar benefits could soon be in store for Illinois. All it will take now is Governor Rauner signing the bill.