Last night saw a land­mark victory for voting rights: the Illinois legis­lature passed a bill that would bring auto­matic voter regis­tra­tion to the Land of Lincoln. Now Gov. Bruce Rauner's (R) signa­ture would make Illinois the sixth state in the coun­try to auto­mat­ic­ally register eligible voters.
Here's what's excit­ing: If Illinois joins the list, more than 60 million Amer­ic­ans — 19 percent of the popu­la­tion — will live in a state that currently or will soon auto­mat­ic­ally register voters.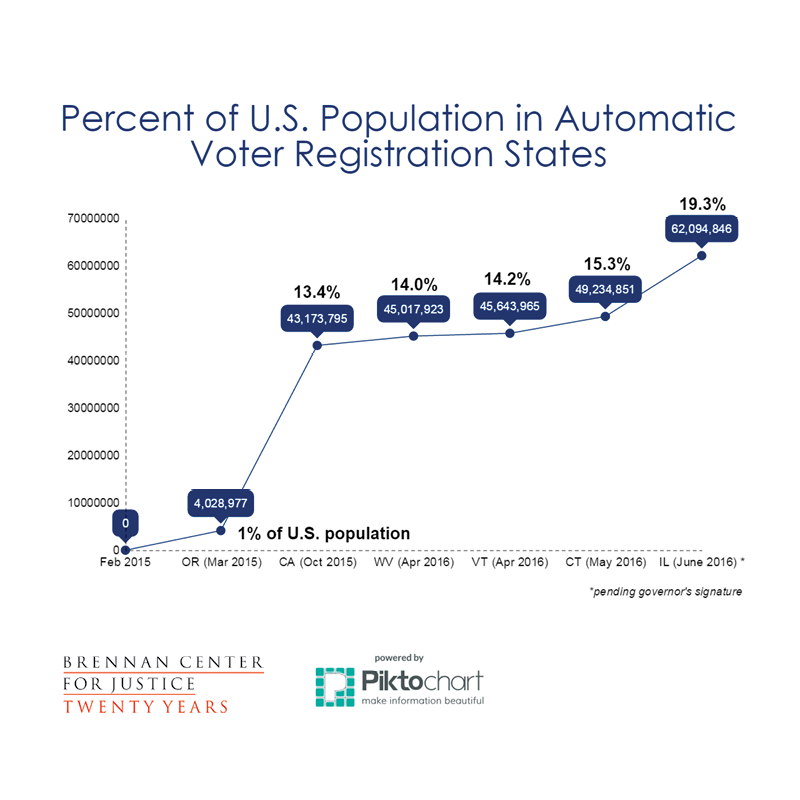 Auto­matic voter regis­tra­tion is a simple but trans­form­at­ive policy tweak: instead of opting in to being on the voter rolls, eligible citizens opt out. For example, when an eligible indi­vidual visits the DMV, the inform­a­tion she provides for her driver's license is auto­mat­ic­ally and elec­tron­ic­ally passed on to elec­tion offi­cials. This increases regis­tra­tion rates, and cuts down on errors and other inef­fi­cien­cies from old-fash­ioned, ink-and-paper regis­tra­tion.
Auto­matic regis­tra­tion in the nation's fifth most popu­lous state is a big deal in a year when the media spot­light is focused on new burdens voters will face at the polls in 2016. In fact, in this key elec­tion year, many lawmakers are reach­ing across the aisle to improve voter access to the polls. Illinois's auto­matic regis­tra­tion bill, which builds on sweep­ing voting reforms passed in 2014, received substan­tial bipar­tisan support, passing the House (86–30) and the Senate 50–7. Similar meas­ures received nearly unan­im­ous back­ing in April in West Virginia and Vermont.
Across the nation, auto­matic regis­tra­tion is being adop­ted at break­neck pace: all in the span of just over a year. After Oregon enacted the reform last March, Cali­for­nia followed suit later that in 2015. In May, Connecti­cut followed the Moun­tain and Green Moun­tain States in invit­ing more citizens to the "demo­cracy party."
This should­n't be surpris­ing, as we've seen it happen before: online regis­tra­tion and elec­tronic regis­tra­tion are two voting reforms that have spread far and wide in red states and blue states. Between 2010 and 2015, the number of states offer­ing elec­tronic regis­tra­tion increased from 17 to 27, and those provid­ing online regis­tra­tion increased from 6 to 26.
The reform bene­fits voters and elec­tion offi­cials alike — citizens enjoy expan­ded access to the rolls, and elec­tion offi­cials get increased accur­acy and effi­ciency. It makes sense, then, that as in other states, Illinois's bill has the support of local elec­tion offi­cials. These bene­fits are not theor­et­ical: prom­ising early data rolling out of Oregon shows the state quad­rupled its regis­tra­tion rate since auto­matic regis­tra­tion took effect.
Now, similar bene­fits could soon be in store for Illinois. All it will take now is Governor Rauner sign­ing the bill.