This fall, the Ohio Redistricting Commission disregarded voter-enacted reforms that intended to end partisan gerrymandering and ensure a fair redistricting process. The resulting maps carved up Ohio's communities to limit the ability of voters to meaningfully influence elections, resulting in a disproportionate Republican supermajority.
The Ohio Environmental Council joined a lawsuit challenging these maps because gerrymandering is not only about votes and elections. These egregious political map manipulations exacerbate the environmental injustices suffered most of all by low-income Black, Indigenous, and other communities of color. On Wednesday the Ohio Supreme Court will hear oral arguments to decide whether our state must endure skewed maps once again.
The stakes couldn't be higher.
The communities packed and cracked into districts that minimize their influence and create political inequality are often the same ones that deal with disproportionate exposure to toxic air, polluted waters, and systemic inequities. This is the product of decades of intentional economic disinvestment, redlining, and zoning decisions that have created "sacrifice zones" or "fenceline communities" that bear the brunt of these harms. Low-income people of color are far more likely to live in these sacrifice zones, communities immediately adjacent to polluting industries and infrastructure.
The U.S. Environmental Protection Agency (EPA) created a tool that combines demographic and economic information with data on exposure to environmental hazards to create interactive maps. It can be used to identify which communities endure the greatest exposure to cancer risk, toxic respiratory hazards, wastewater discharge, particulate matter, and other risks. In Ohio, these communities are overwhelmingly low-income communities of color.
District lines for the state legislature can be superimposed on these maps, illustrating the shared geography of environmental injustice and gerrymandering. It is a powerful reminder and grievous illustration of the ways a lack of meaningful political opportunity perpetuates the poisoning of certain communities.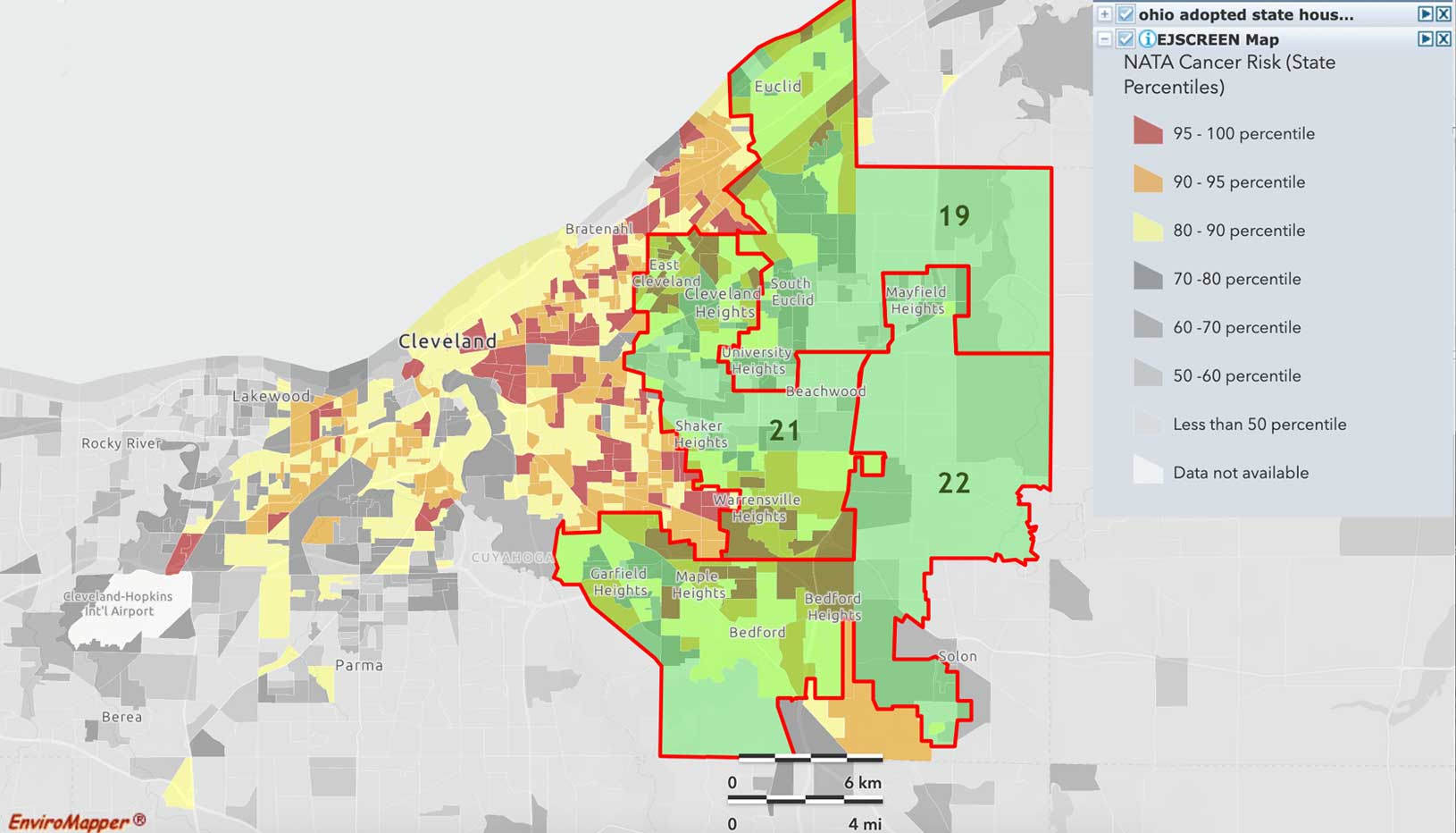 One clear example can be found in Cuyahoga County. The image above depicts the Cleveland metropolitan area alongside EPA data highlighting low-income communities of color that have the highest percentile scores for lifetime cancer risk from inhalation of air toxins compared to state averages. Districts 19, 21, and 22 of the Ohio House redistricting plan that we are challenging split apart these inner-city communities and dilute their political influence by combining them into districts with suburbs and rural areas to the east, areas which do not experience the same cancer risks.
Looking to Montgomery and Preble Counties in southwest Ohio (image below), a similar dynamic appears. District 39 of the new Ohio House map cracks the communities near Trotwood, Drexel, and New Chicago and forces them into a district that stretches out from Montgomery County to the Indiana border. Once again, low-income communities of color are forced into a district with rural communities. These communities face high environmental hazard exposure to respiratory hazards, lead paint, and superfund proximity — issues not experienced or prioritized by the overwhelming majority of rural voters in the district. The health impacts of pollutants are exacerbated by environmental hazards brought by natural disasters.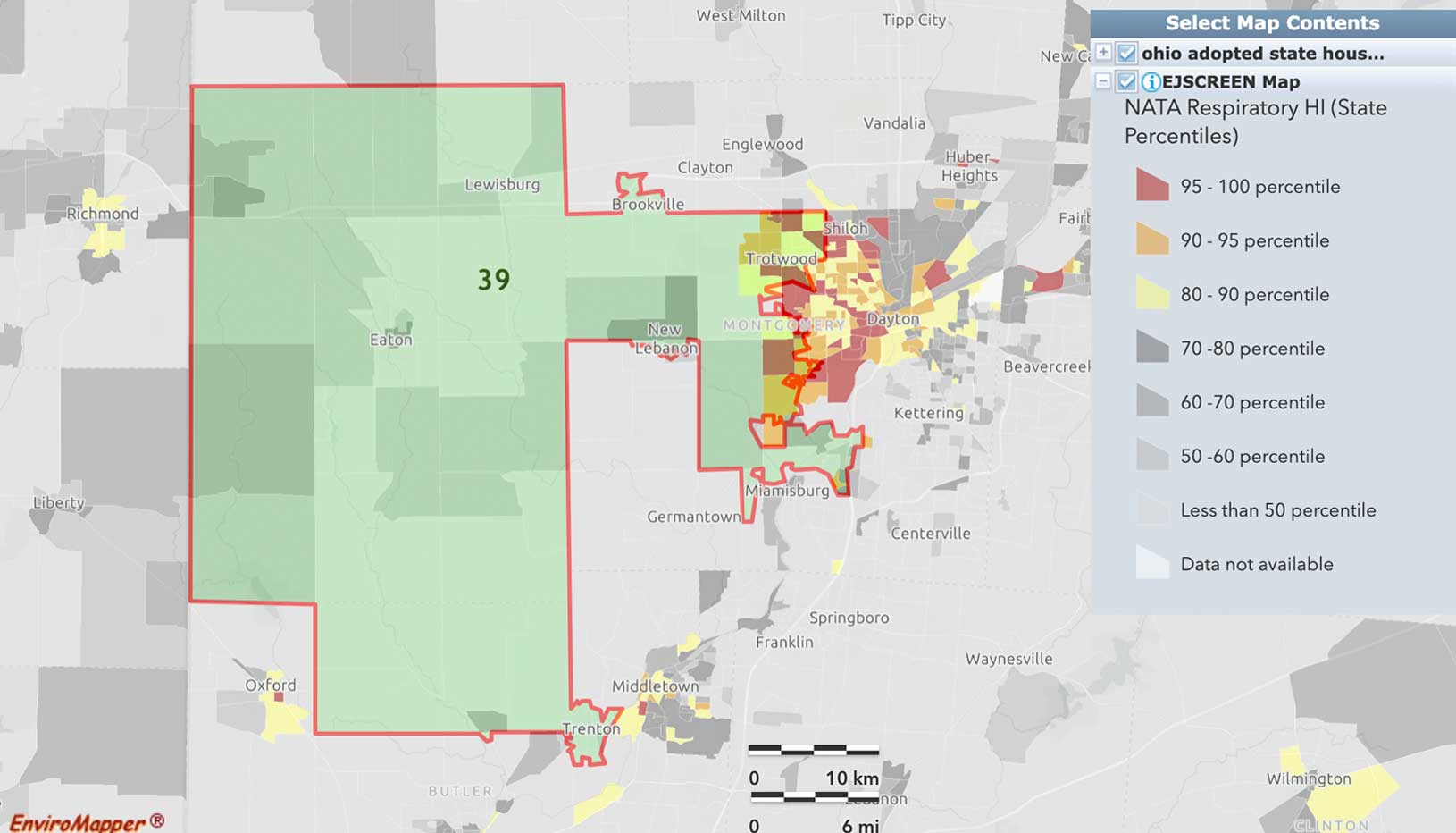 In May 2019, an EF3 tornado ripped through homes and businesses in Trotwood and Fort McKinley as the storm moved across Dayton. While many rural and urban Ohioans were deeply affected by the storm, one cannot ignore the impact of the loss of power, loss of clean water, and other long-term damages the tornado inflicted upon underrepresented communities. The state legislative maps adopted by the Ohio Redistricting Commission crack apart communities of color in Dayton, splitting them into separate districts and diluting their collective voting power.
Across the state, the cracking apart of communities and haphazard connection of wildly different communities severely diminishes the ability of Ohioans experiencing environmental injustice to advocate for their needs. These gerrymandered districts enable the recurring election of legislators unresponsive to the harms experienced by communities cracked apart in the map drawing process.
A healthy democracy requires fair representation where voters have a meaningful say in determining the outcomes of elections. It needs districts that keep communities that have pressing policy needs intact, so they can turn to lawmakers for solutions. The gerrymandered maps passed by the Ohio Redistricting Commission undermine these core values. Not only will our state government suffer, but so will the communities that are targeted by aggressive line drawing. Communities that have long lived with failing public infrastructure and a long legacy of environmental injustice.
Callia Téllez is the Environmental Policy Fellow at the Ohio Environmental Council. Callia received a Bachelor of Science degree in Environmental Policy and Decision Making from The Ohio State University.