This fall, the Ohio Redis­trict­ing Commis­sion disreg­arded voter-enacted reforms that inten­ded to end partisan gerry­man­der­ing and ensure a fair redis­trict­ing process. The result­ing maps carved up Ohio's communit­ies to limit the abil­ity of voters to mean­ing­fully influ­ence elec­tions, result­ing in a dispro­por­tion­ate Repub­lican super­ma­jor­ity.
The Ohio Envir­on­mental Coun­cil joined a lawsuit chal­len­ging these maps because gerry­man­der­ing is not only about votes and elec­tions. These egre­gious polit­ical map manip­u­la­tions exacer­bate the envir­on­mental injustices suffered most of all by low-income Black, Indi­gen­ous, and other communit­ies of color. On Wednes­day the Ohio Supreme Court will hear oral argu­ments to decide whether our state must endure skewed maps once again.
The stakes could­n't be higher.
The communit­ies packed and cracked into districts that minim­ize their influ­ence and create polit­ical inequal­ity are often the same ones that deal with dispro­por­tion­ate expos­ure to toxic air, polluted waters, and systemic inequit­ies. This is the product of decades of inten­tional economic disin­vest­ment, redlining, and zoning decisions that have created "sacri­fice zones" or "fenceline communit­ies" that bear the brunt of these harms. Low-income people of color are far more likely to live in these sacri­fice zones, communit­ies imme­di­ately adja­cent to pollut­ing indus­tries and infra­struc­ture.
The U.S. Envir­on­mental Protec­tion Agency (EPA) created a tool that combines demo­graphic and economic inform­a­tion with data on expos­ure to envir­on­mental hazards to create inter­act­ive maps. It can be used to identify which communit­ies endure the greatest expos­ure to cancer risk, toxic respir­at­ory hazards, wastewa­ter discharge, partic­u­late matter, and other risks. In Ohio, these communit­ies are over­whelm­ingly low-income communit­ies of color.
District lines for the state legis­lature can be super­im­posed on these maps, illus­trat­ing the shared geography of envir­on­mental injustice and gerry­man­der­ing. It is a power­ful reminder and griev­ous illus­tra­tion of the ways a lack of mean­ing­ful polit­ical oppor­tun­ity perpetu­ates the pois­on­ing of certain communit­ies.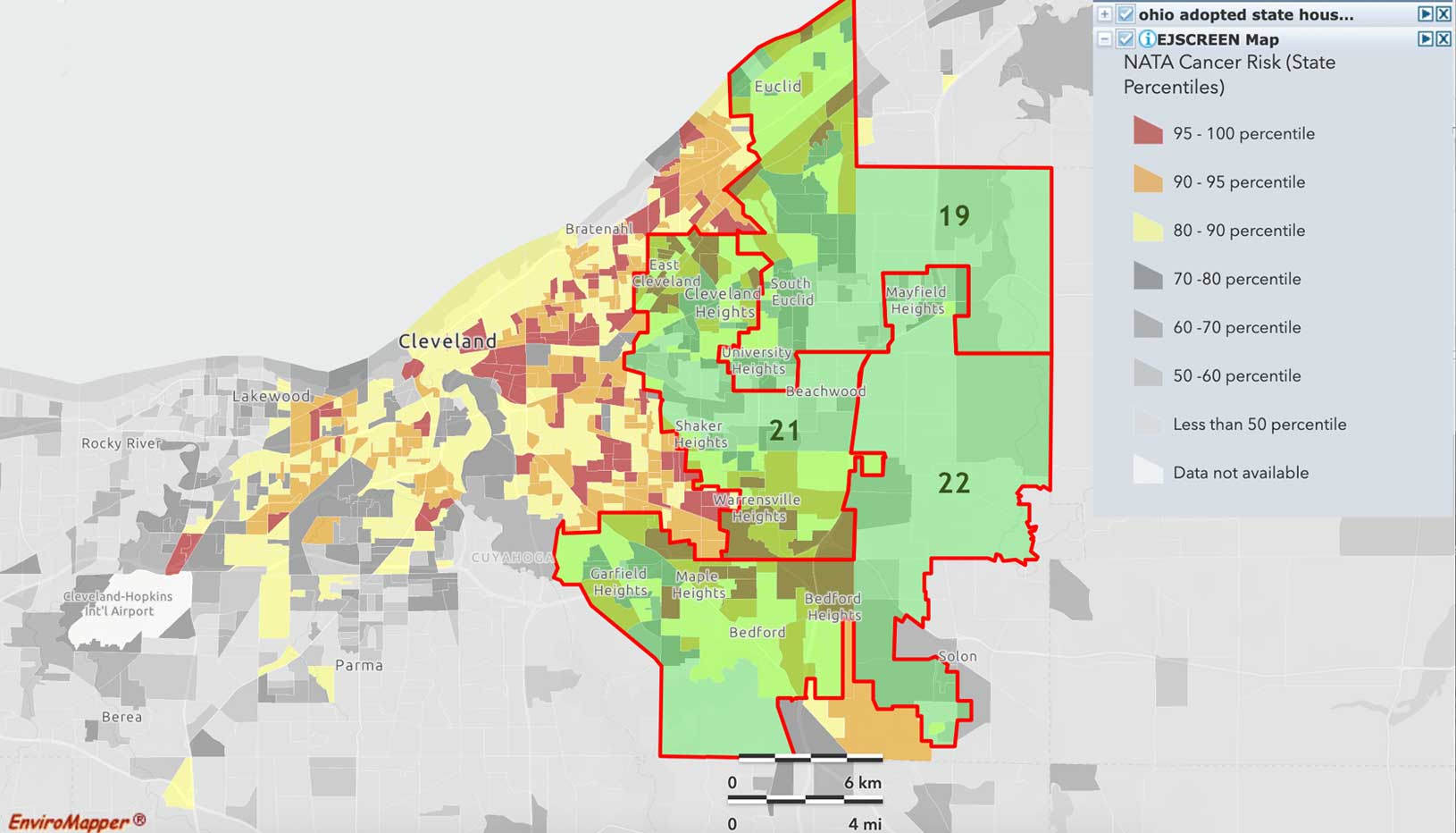 One clear example can be found in Cuyahoga County. The image above depicts the Clev­e­land metro­pol­itan area along­side EPA data high­light­ing low-income communit­ies of color that have the highest percent­ile scores for life­time cancer risk from inhal­a­tion of air toxins compared to state aver­ages. Districts 19, 21, and 22 of the Ohio House redis­trict­ing plan that we are chal­len­ging split apart these inner-city communit­ies and dilute their polit­ical influ­ence by combin­ing them into districts with suburbs and rural areas to the east, areas which do not exper­i­ence the same cancer risks.
Look­ing to Mont­gomery and Preble Counties in south­w­est Ohio (image below), a similar dynamic appears. District 39 of the new Ohio House map cracks the communit­ies near Trot­wood, Drexel, and New Chicago and forces them into a district that stretches out from Mont­gomery County to the Indi­ana border. Once again, low-income communit­ies of color are forced into a district with rural communit­ies. These communit­ies face high envir­on­mental hazard expos­ure to respir­at­ory hazards, lead paint, and super­fund prox­im­ity — issues not exper­i­enced or prior­it­ized by the over­whelm­ing major­ity of rural voters in the district. The health impacts of pollut­ants are exacer­bated by envir­on­mental hazards brought by natural disasters.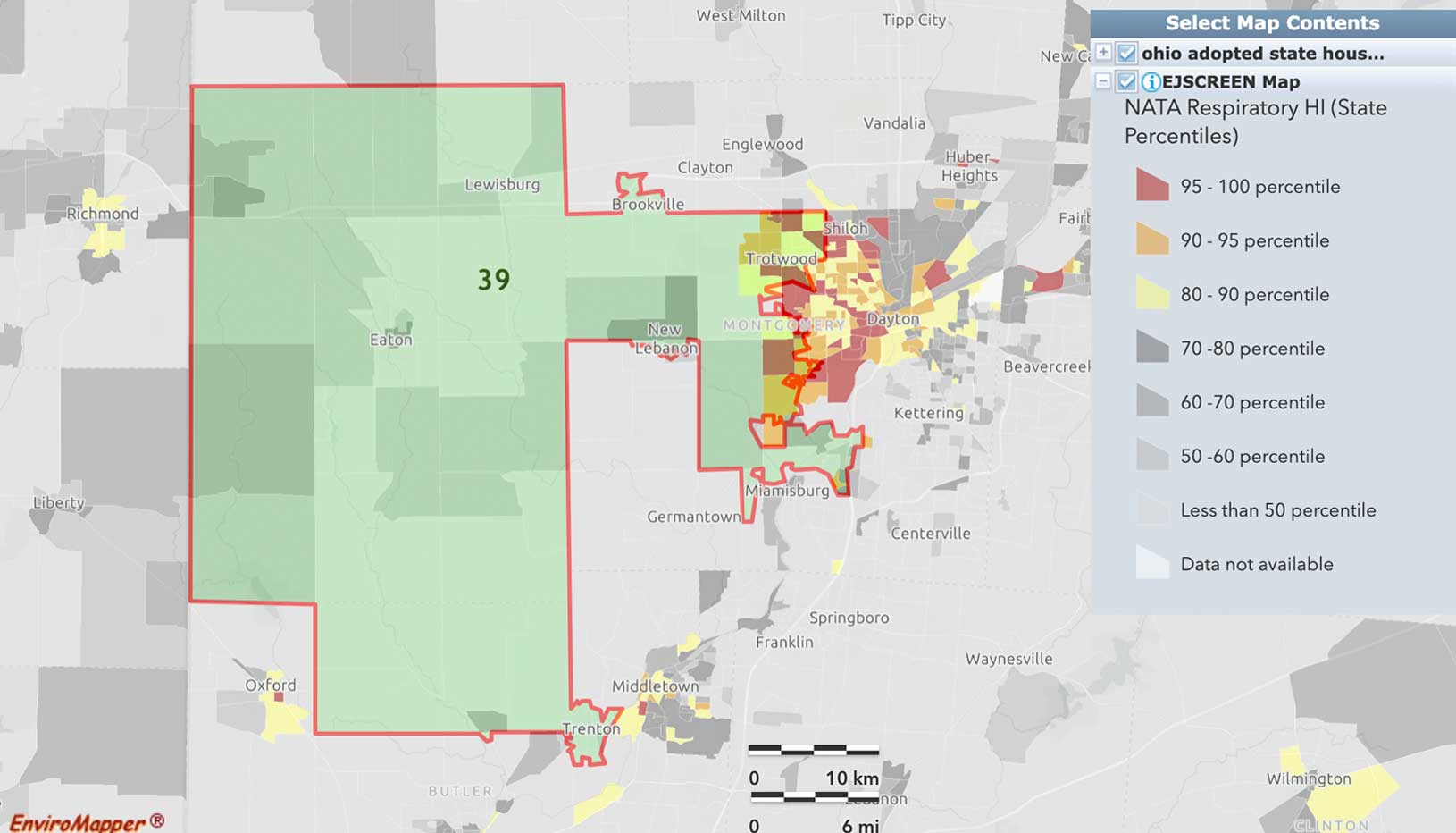 In May 2019, an EF3 tornado ripped through homes and busi­nesses in Trot­wood and Fort McKin­ley as the storm moved across Dayton. While many rural and urban Ohioans were deeply affected by the storm, one cannot ignore the impact of the loss of power, loss of clean water, and other long-term damages the tornado inflic­ted upon under­rep­res­en­ted communit­ies. The state legis­lat­ive maps adop­ted by the Ohio Redis­trict­ing Commis­sion crack apart communit­ies of color in Dayton, split­ting them into separ­ate districts and dilut­ing their collect­ive voting power.
Across the state, the crack­ing apart of communit­ies and haphaz­ard connec­tion of wildly differ­ent communit­ies severely dimin­ishes the abil­ity of Ohioans exper­i­en­cing envir­on­mental injustice to advoc­ate for their needs. These gerry­mandered districts enable the recur­ring elec­tion of legis­lat­ors unre­spons­ive to the harms exper­i­enced by communit­ies cracked apart in the map draw­ing process.
A healthy demo­cracy requires fair repres­ent­a­tion where voters have a mean­ing­ful say in determ­in­ing the outcomes of elec­tions. It needs districts that keep communit­ies that have press­ing policy needs intact, so they can turn to lawmakers for solu­tions. The gerry­mandered maps passed by the Ohio Redis­trict­ing Commis­sion under­mine these core values. Not only will our state govern­ment suffer, but so will the communit­ies that are targeted by aggress­ive line draw­ing. Communit­ies that have long lived with fail­ing public infra­struc­ture and a long legacy of envir­on­mental injustice.
Callia Téllez is the Envir­on­mental Policy Fellow at the Ohio Envir­on­mental Coun­cil. Callia received a Bach­elor of Science degree in Envir­on­mental Policy and Decision Making from The Ohio State Univer­sity.