In recent years, support for the Equal Rights Amend­ment (or ERA) has seem­ingly been a partisan affair, with Demo­crats largely in favor of amend­ing the Consti­tu­tion to guar­an­tee equal rights for women and Repub­lic­ans largely opposed. Proposed by Congress nearly a half century ago with broad bipar­tisan support, the ERA became a casu­alty of the Repub­lican Party's right­ward ideo­lo­gical shift in the 1970s. A dramatic drop in GOP support ulti­mately doomed the meas­ure. But now, in the face of a surpris­ing new push to ratify the amend­ment at long last, could the GOP be warm­ing up to the ERA once again?
The Equal Rights Amend­ment was first proposed in 1923, three years after the 19th Amend­ment guar­an­teed women the right to vote. While the text of the ERA varied over the decades, the goal remained the same: ensur­ing that women and men have equal rights under the law. In 1940, the Repub­lican Party became the first major party to endorse the amend­ment in its plat­form. Through 1976, the GOP contin­ued to call for the rati­fic­a­tion of the ERA in every pres­id­en­tial elec­tion cycle save two: 1964 and 1968.
Over those decades, prom­in­ent Repub­lic­ans across the coun­try, includ­ing three pres­id­ents, pledged their support for the meas­ure. Dwight Eisen­hower became the first pres­id­ent to advoc­ate for the ERA's passage in a 1957 message to Congress. Richard Nixon also endorsed the ERA through­out his career, from his early years as a senator to his two terms as Eisen­hower's vice pres­id­ent to his five years in the White House. In a letter to then-Repub­lican Senate Minor­ity Leader Hugh Scott sent days before a key vote, Nixon wrote that "through­out twenty-one years I have not altered my belief that equal rights for women warrant a Consti­tu­tional guar­an­tee – and I there­fore continue to favor the enact­ment of the Consti­tu­tional Amend­ment to achieve this goal." Another Repub­lican, Gerald Ford, played a crucial role in the ERA's passage during his tenure as house minor­ity leader, and he contin­ued to voice his support for rati­fic­a­tion during his brief tenure in the Oval Office.
In March 1972, Congress passed its resol­u­tion send­ing the ERA to the states for rati­fic­a­tion with strong bipar­tisan support. In the House, 78 percent of Repub­lican members voted in favor; 84 percent of Senate Repub­lic­ans also suppor­ted the meas­ure. This strong bipar­tisan consensus was also evid­ent in the early state rati­fic­a­tion process. Within a year, the ERA won the support of 30 of the 38 states needed to ratify. One-third of those states had legis­latures fully controlled by Repub­lic­ans. In another five, the GOP either controlled one house of the legis­lature or shared control with Demo­crats.[1] But then, momentum slowed. Conser­vat­ive activ­ists allied with the emer­ging reli­gious right and launched an effect­ive campaign to stop the ERA in its tracks, persuad­ing five states to rescind their support.[2] Not surpris­ingly, Repub­lican politi­cians took note.
A clear shift in the GOP's stance can be found in Congress' 1978 vote to extend the dead­line for rati­fic­a­tion. Like most amend­ments proposed in the 20th century, the Equal Rights Amend­ment included a seven-year time limit for rati­fic­a­tion. Between 1973 and 1977, only five addi­tional states approved the meas­ure, leav­ing it three states short of the total needed to ratify (with the valid­ity of the five state rescis­sions unre­solved). ERA proponents lobbied for more time. But when Congress acted to extend the dead­line, GOP support dropped sharply. While the Senate suppor­ted the exten­sion by a vote of 60–36, a bare major­ity of Repub­lic­ans voted no. And in the House of Repres­ent­at­ives, which voted for the exten­sion by the comfort­able margin of 233–189, 70 percent of Repub­lic­ans opposed it.
By the pres­id­en­tial elec­tion of 1980, with Ronald Reagan as the party's new stand­ard bearer, the GOP's center of grav­ity contin­ued to move increas­ingly right­ward. That year, the GOP changed its party plat­form to "acknow­ledge the legit­im­ate efforts of those who support or oppose rati­fic­a­tion of the Equal Rights Amend­ment." It was the last time that the ERA was ever mentioned in the party's plat­form.
When the exten­ded dead­line for rati­fic­a­tion expired in March 1982, ERA proponents conceded defeat. But in March 2017, a full 35 years after the lapsed dead­line, Nevada unex­pec­tedly rati­fied the amend­ment, rekind­ling a national debate over the viab­il­ity of the ERA. Since then, the meas­ure has won the support of the Illinois legis­lature too.
The March 2017 rati­fic­a­tion vote in Nevada was a mostly party-line affair, with only one Repub­lican join­ing unan­im­ous Demo­crats in either cham­ber. But there was a signi­fic­ant uptick in GOP support in the Illinois vote one year later, thanks in part to the efforts of State Repres­ent­at­ive Steve Andersson, a conser­vat­ive Repub­lican who ener­get­ic­ally suppor­ted rati­fic­a­tion. When the Illinois Senate voted to ratify in April 2018, eight of 13 GOP senat­ors – a solid major­ity – joined their Demo­cratic coun­ter­parts. In the May 2018 House vote that followed, ten of 51 GOP members – nearly one-fifth of the caucus – voted with Demo­crats to make the Land of Lincoln the 37th state to ratify.
The Nevada and Illinois legis­latures are both controlled by Demo­crats, who had the power to set the agenda. But this year, follow­ing a midterm elec­tion that saw a record number of female candid­ates running for office and winning, the ERA advanced – for the first time since the early 1970s – in a legis­lat­ive cham­ber controlled by Repub­lic­ans. The GOP-controlled Virginia Senate voted to ratify in Janu­ary, with seven of 21 Repub­lic­ans join­ing the Demo­cratic minor­ity. Glen Stur­tevant, a Repub­lican state senator, was a key spon­sor. While the bill failed to advance in the state's House of Deleg­ates, other efforts have sprung up in Repub­lican-controlled legis­latures in Geor­gia and South Caro­lina.
There are a number of reas­ons why Repub­lican lawmakers today may be increas­ingly will­ing to support the ERA. First, as elec­tion results from 2017 and 2018 revealed a sharply widen­ing gender gap bene­fit­ing Demo­cratic candid­ates, espe­cially among young women, support for the ERA is a good way to appeal to female voters. It's worth noting that 90 percent of Repub­lic­ans support the amend­ment, accord­ing to a 2016 poll commis­sioned by the ERA Coali­tion. Second, the anti-ERA rhet­oric that stalled the rati­fic­a­tion campaign of the 1970s may have lost its force. Many of the "dangers" that the STOP ERA campaign­ers warned about, from women in combat to same-sex marriage to unisex bath­rooms, have come to pass without the ERA. Third, at a time of resur­gent women's activ­ism, from the women's marches to the #MeToo move­ment, the goal of enshrin­ing gender equal­ity in the Consti­tu­tion strongly reson­ates with women (and men). Rep. Andersson, in his remarks at a Novem­ber 2018 Bren­nan Center symposium on the ERA, noted that a key Repub­lican legis­lator switched his vote because "[his] daugh­ter never forgave him for voting against gay marriage" and he "wasn't going to make that mistake again."
The polit­ical climate around the ERA isn't just chan­ging in state capit­als. We are also seeing green shoots of bipar­tisan interest in Congress. In Janu­ary, Sens. Ben Cardin (D-MD) and Lisa Murkowski (R-AK) intro­duced Senate Joint Resol­u­tion 6, a bipar­tisan bill to elim­in­ate the ERA's rati­fic­a­tion dead­line. While many support­ers of the amend­ment say that the post-dead­line rati­fic­a­tions are valid, it will surely be contested and the decision will ulti­mately rest with Congress and the courts. But this bipar­tisan meas­ure sends a power­ful signal to the 13 states that have not yet rati­fied. Upon the release of SJR 6, the two senat­ors penned a Wash­ing­ton Post op-ed, in which they insist that gender equal­ity "is not a partisan issue but one of univer­sal human rights." As we've seen across the coun­try from Illinois to Virginia, it looks like more and more Repub­lic­ans are getting on board with that message.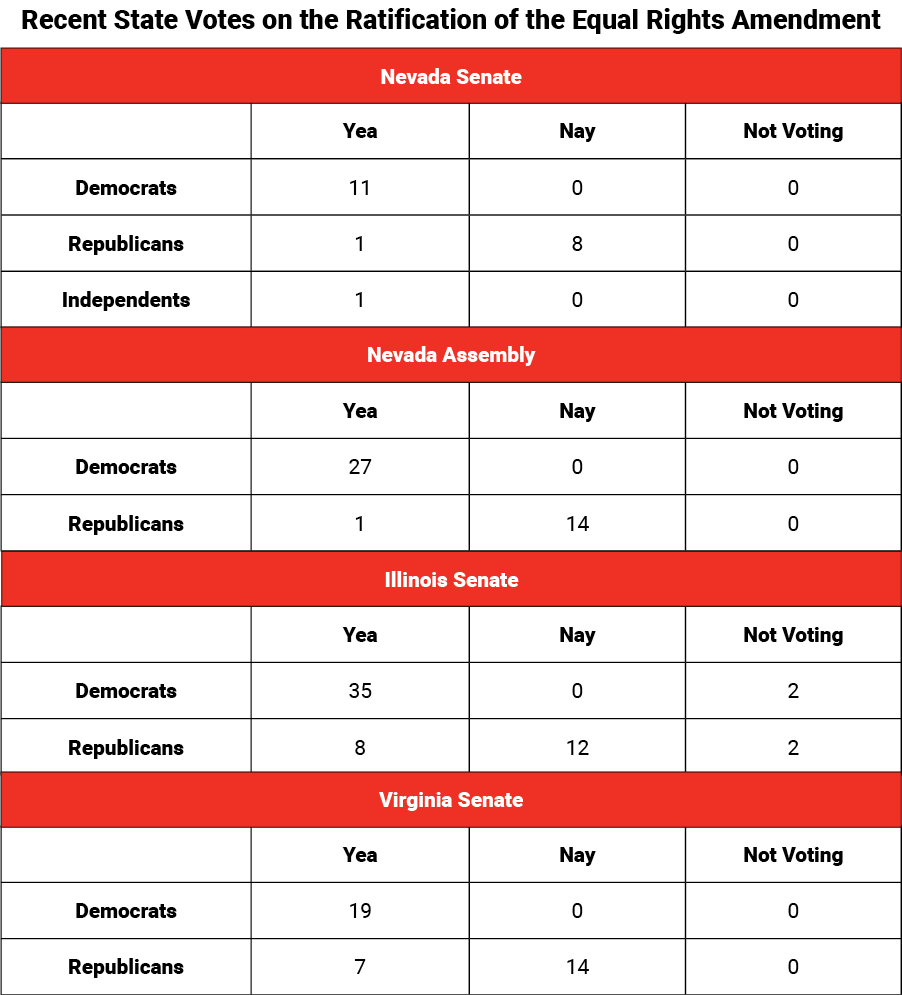 (Image: Chip Somod­ev­illa/Getty)
---
[1] Repub­lic­ans had control of both houses in New Hamp­shire, Delaware, Iowa, Idaho, Kansas, Color­ado, New York, Wyom­ing, Vermont, Connecti­cut. They controlled one house of the legis­lature in New Jersey and Wiscon­sin. They were tied for control with Demo­crats in one house of the legis­lature in Alaska, Michigan, and South Dakota.
[2] The states that voted to rescind their rati­fic­a­tions were Nebraska, Tennessee, Idaho, Kentucky, and South Dakota.