Earlier this summer, when the Bren­nan Center released a report examin­ing voter purge data through 2016, we found that four million more people were purged from the rolls between the federal elec­tions of 2014 and 2016 than between 2006 and 2008. Much of that increase came from states that were previ­ously required under the Voting Rights Act (VRA) to get elec­tion changes cleared in advance, before that part of the law was evis­cer­ated by the Supreme Court in 2013.
Although compar­able data for the two years ending in 2018 won't be avail­able until early next year, we were able to use differ­ent data sources to figure out how many voters have been purged over the past two years in three states we had stud­ied — Flor­ida, Geor­gia, and North Caro­lina. A prelim­in­ary analysis supports our initial alarm over the purge processes in these three states, show­ing that they contin­ued to have high purge rates.
Purges in and of them­selves aren't bad. They're commonly used to clean up voter lists when someone has moved, passed away, and more. But too often, names iden­ti­fied for removal are determ­ined by faulty criteria that wrongly suggests a voter be deleted from the rolls. When flawed, the process threatens to silence eligible voters on Elec­tion Day — espe­cially in states where purge rates are high.
Flor­ida
From Novem­ber 2008 to Novem­ber 2010, the median purge rate in the Sunshine State was 0.2 percent. That number jumped to 3.6 percent from 2012 to 2014. And new data show it's jumped again: Between Decem­ber 2016 and Septem­ber 2018, Flor­ida has purged more than 7 percent of its voters.
Not only can we tell that purges have increased — we also know where the biggest purges are happen­ing. Hardee, Hendry, Palm Beach, and Okaloosa counties have each purged more than 10 percent of their voters in the last two years.
Dade and Broward counties also have a number of zip codes that purged at higher rates. Some of those zip codes, however, include milit­ary bases or college campuses, which one would expect to have higher purge rates because of the tran­si­ent nature of the popu­la­tion and the estab­lished processes for remov­ing voters who have moved.
Purge Rates in Flor­ida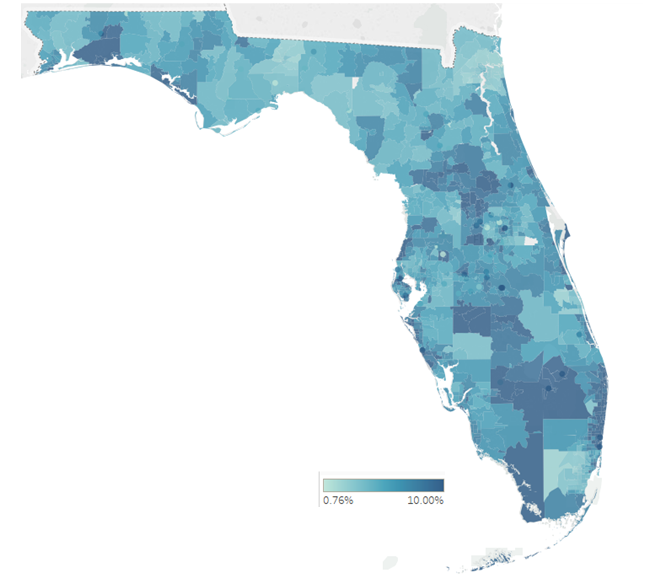 *Purge rates from Decem­ber 2016 through Septem­ber 2018. Source: Flor­ida Board of Elec­tions.
Geor­gia
Between 2010 and 2014 — a period of time that covers before and after the Supreme Court's decision on the Voting Rights Act — Geor­gi­a's median purge rate increased from 6.7 percent to 10.7 percent. Our analysis of the data shows that the state contin­ues to have a high purge rate: Over the past two years, the state has purged 10.6 percent of voters. Nonwhite voters were slightly overrep­res­en­ted among those purged when compared to the total popu­la­tion break­down.
Ninety-seven of the state's 159 counties purged more than 10 percent of their voters in the last two years. Four counties (Chat­ta­hoo­chee, Liberty, Dade, and Camden) are partic­u­lar outliers, each purging at least 15 percent of their voters. At a more gran­u­lar level, 430 of the 781 zip codes have purged more than 10 percent of their voters since 2016. This rebuts any spec­u­la­tion that the VRA's preclear­ance provi­sion may have blocked reas­on­able list main­ten­ance prac­tices. "Catch­ing up" might have seemed like an excus­able reason for increased rates in the first purge cycle without pre-clear­ance (2014–2016), but Geor­gi­a's purge rates have not returned to pre-2013 levels in the five years since the decision was handed down.
Purge Rates in Geor­gia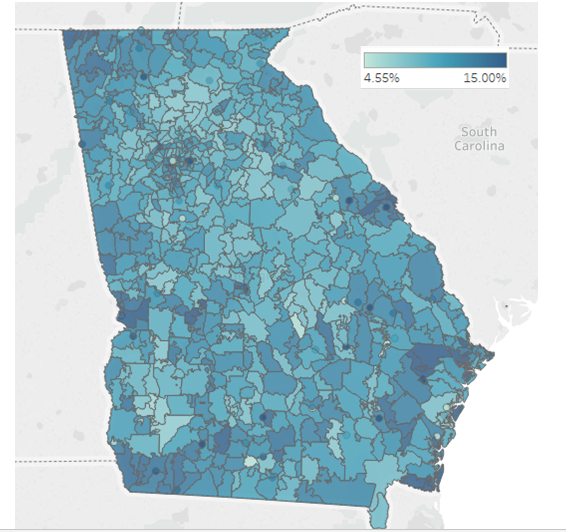 *Purge rates from Septem­ber 7, 2016 through Septem­ber 14, 2018. Source: Geor­gia Board of Elec­tions.
North Caro­lina
North Caro­lin­a's purge rates fall in between Flor­ida and Geor­gia. Forty of its one hundred counties were covered under Section V of the Voting Rights Act at the time of the Shelby County v. Holder decision in 2013. The aver­age purge rate in the state increased modestly between 2010 to 2014, from 8.0 to 8.8 percent. Like in Geor­gia and Flor­ida, however, this didn't repres­ent a tempor­ary increase, but rather has been sustained over the past few years. Between Septem­ber of 2016 and May of 2018 (the latest date data is avail­able), the state purged 11.7 percent of its voter rolls. Just 19 of its counties purged fewer than 10 percent of their voters, and no county purged fewer than 8 percent. These purges have been espe­cially troub­ling for voters of color – in 90 out of 100 counties, voters of color were over-repres­en­ted among the purged group.
Purge Rates in North Caro­lina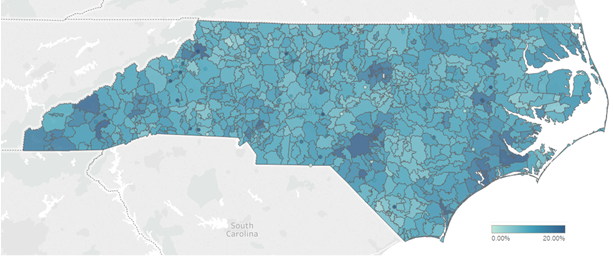 *Purge rates from Septem­ber 7, 2016 through Septem­ber 14, 2018. Source: Geor­gia Board of Elec­tions.
To voters living in these three states – and to voters around the coun­try: Check your regis­tra­tion status to make sure that you're still on the rolls. If you are not registered, and think you should be, call your local elec­tion offi­cial and find out why. There is still time to register in many states if you have a prob­lem.
*Cor­rec­tion: This post origin­ally said Harris County, Flor­ida was one of the counties that had purged more than ten percent of its voters. In fact, it was Hardee County. There is no Harris County in Flor­ida.
Photo: Joe Skip­per/Getty Images