Today, Vermont Secret­ary of State Jim Condos announced a massive increase in the number of voter regis­tra­tion trans­ac­tions since the state imple­men­ted auto­matic voter regis­tra­tion in Janu­ary. The good news paral­lels results from Oregon, which added scores to the rolls after it became the first state to imple­ment AVR last year.
How does AVR work? When eligible citizens visit the DMV or, in some cases, other govern­ment agen­cies, they are auto­mat­ic­ally registered to vote unless they opt out. For Vermonters that are already registered, AVR keeps their voter records accur­ate by updat­ing regis­tra­tion inform­a­tion each time they inter­act with the DMV.
Based on a first look at the numbers, the reform was a strik­ing success in the Green Moun­tain State. In the first sixth months, Vermont netted more than 12,000 new and updated regis­tra­tions from the DMV. This is a huge, 62 percent jump from the first half of 2016, when the DMV processed just 7,600 regis­tra­tions.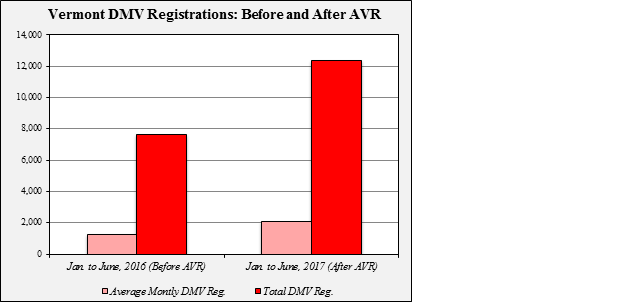 In Oregon, just shy of 100,000 AVR regis­trants voted in the 2016 elec­tion, account­ing for about 5 percent of the state's voters. While we will have to wait, until 2018 and 2020, to under­stand how AVR affects turnout in Vermont, we are encour­aged by the number of new registered voters.
At a time of heightened polit­ical polar­iz­a­tion, AVR has garnered support from both parties. Last year, Vermont's bill passed with broad back­ing in the legis­lature. This should not surprise us. AVR is a common-sense reform that not only promotes parti­cip­a­tion in our Demo­cracy, but also improves the accur­acy of voter rolls while bring­ing elec­tions into the 21st century.
Three more states — Alaska, Cali­for­nia and West Virginia — have passed AVR laws. And three others — Connecti­cut, Color­ado and Geor­gia — approved AVR admin­is­trat­ively. The Governor of Rhode Island just signed AVR into law and, in Illinois, an AVR bill is wait­ing for the governor's signa­ture. All in all, nine states and the District of Columbia have approved the reform in recent months. It's not hard to under­stand why more than 30 states are consid­er­ing similar laws. The momentum is likely to continue.
Read more about how auto­matic voter regis­tra­tion works, and see the 32 states that considered similar meas­ures in 2017.