Today, Vermont Secretary of State Jim Condos announced a massive increase in the number of voter registration transactions since the state implemented automatic voter registration in January. The good news parallels results from Oregon, which added scores to the rolls after it became the first state to implement AVR last year.
How does AVR work? When eligible citizens visit the DMV or, in some cases, other government agencies, they are automatically registered to vote unless they opt out. For Vermonters that are already registered, AVR keeps their voter records accurate by updating registration information each time they interact with the DMV.
Based on a first look at the numbers, the reform was a striking success in the Green Mountain State. In the first sixth months, Vermont netted more than 12,000 new and updated registrations from the DMV. This is a huge, 62 percent jump from the first half of 2016, when the DMV processed just 7,600 registrations.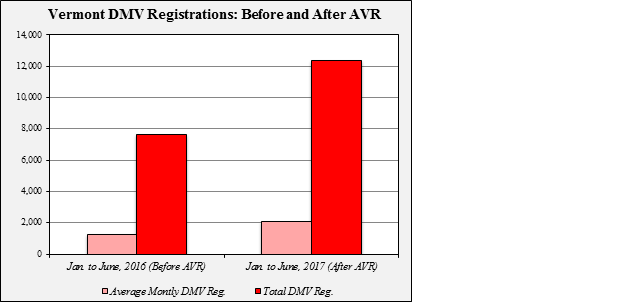 In Oregon, just shy of 100,000 AVR registrants voted in the 2016 election, accounting for about 5 percent of the state's voters. While we will have to wait, until 2018 and 2020, to understand how AVR affects turnout in Vermont, we are encouraged by the number of new registered voters.
At a time of heightened political polarization, AVR has garnered support from both parties. Last year, Vermont's bill passed with broad backing in the legislature. This should not surprise us. AVR is a common-sense reform that not only promotes participation in our Democracy, but also improves the accuracy of voter rolls while bringing elections into the 21st century.
Three more states — Alaska, California and West Virginia — have passed AVR laws. And three others — Connecticut, Colorado and Georgia — approved AVR administratively. The Governor of Rhode Island just signed AVR into law and, in Illinois, an AVR bill is waiting for the governor's signature. All in all, nine states and the District of Columbia have approved the reform in recent months. It's not hard to understand why more than 30 states are considering similar laws. The momentum is likely to continue.
Read more about how automatic voter registration works, and see the 32 states that considered similar measures in 2017.