Early voting in Texas started yesterday, and with a bang. Counties across the Lone Star State are reporting record-breaking turnout on the first day of early voting, a reflection of reports from the Secretary of State earlier this fall that a record number of Texans had registered to vote this year. This is despite the fact that Texas is one of the 14 states where citizens are facing new voting restrictions for the first time in a presidential election this November.
Unfortunately, however, at least some of these early voters received incorrect information about the state of Texas's photo ID law when they showed up to cast their ballots yesterday. Thanks to a litigation agreement reached this summer, this November marks the first statewide election in three years in which Texans who lack one of the limited number of government-issued photo IDs accepted under the state's strict law have options to cast a ballot that counts. Under the agreement, voters without an accepted photo ID who face a difficulty to obtaining such ID can present one of a large range of other identifying documents, such as a paycheck or utility bill, and sign an affidavit explaining their obstacle to getting ID.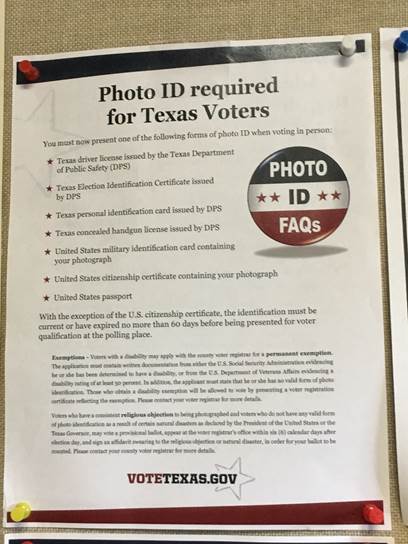 Despite the changes to the law, voters in Bexar, McLennan, Hays, Denton, Travis, and Galveston Counties reported that early voting sites are displaying inaccurate information about the photo ID law. Posters incorrectly told voters that the only way to vote a regular ballot is to present one of seven government-issued photo IDs, and that those without such an ID would have no choice but to vote a provisional ballot. Posters also inaccurately said that photo IDs had to be expired 60 days or fewer to be used, when qualifying IDs that are up to 4 years expired may be used to vote.
The photographs below were taken by voters in Bexar and McLennan. Bexar County is the fourth-largest county in Texas, home to the city of San Antonio and to nearly 2 million people.
These posters are not in compliance with the agreement reached by parties in the lawsuit and ordered by the trial court in August. What makes this even more troublesome is that it's far from the first misstep in Texas's education efforts. The state already found itself back before the trial court in September, after repeatedly ignoring plaintiffs' concerns over inaccuracies in the educational and training materials being circulated to local election officials and distributed to voters. The judge called the state's education efforts "a mess" and issued another order, directing Texas to correct its materials.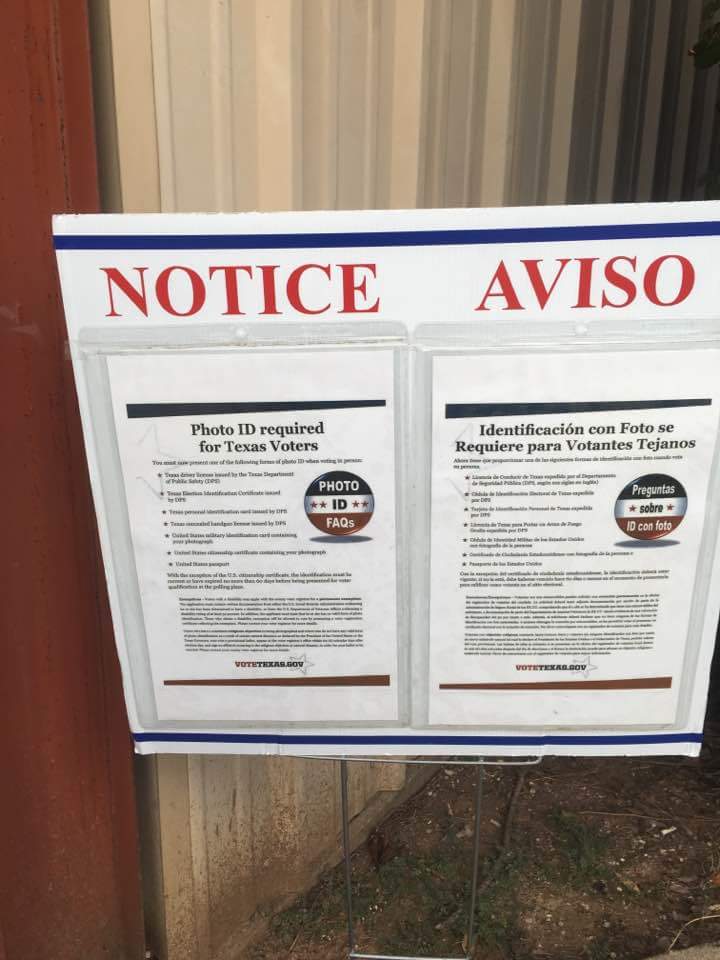 Reports from early voters are a clear indication that Texas is still having trouble properly educating voters and election officials on the state of the law. But, the state seems to be more focused on continuing the legal fight to enforce its discriminatory law than providing accurate information that'll help citizens have their voice heard at the polls Texas has spent $3.5 million so far fighting the ID law, and only $2.5 million on voter education. And its legal tab will only grow, as Texas has recently asked the Supreme Court to weigh in. This is despite the fact that four courts have already found the law to be discriminatory, with the full Fifth Circuit Court of Appeals ruling in July that Texas's law discriminates against African American and Latinos voters, and requires ID that 600,000 registered voters lack.
The surging registration in the state is a sure sign that Texans are eager to exercise their fundamental right to vote, and the additional ID options available to many voters this November will, if implemented correctly, ensure that this is possible for even more of them.