Despite being the world's leading democracy, much of America's voting system remains in the dark ages. Many states still use paper-based voter registration. Online registration just started gaining ground a few years ago. And when voters move, they almost always have to re-register every time.
Now, things are about to change.
Last year, Oregon and California enacted new laws to automatically and securely register eligible voters when they apply for or renew a driver's license at the DMV. Oregon's law went into effect in January of this year. And after just a few months, it's already yielding huge results.
Today, the secretary of state announced Oregon has registered 34,410 new voters through the DMV since the law was implemented earlier this year. These numbers, based on 47 business days' worth of transactions, translate to a monthly rate of 15,375 (a typical month has 21 business days).
How does this compare to past years? As the chart below shows, it's a huge increase.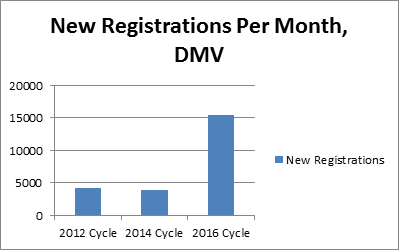 Here's a look at the raw numbers: According to information submitted to the Election Assistance Commission, Oregon registered a total of 99,913 voters at the DMV in the 24-month 2012 election cycle and 94,913 in the 2014 cycle. That translates to 4,163 and 3,955 per month, respectively.
The new monthly registration rate of 15,375 dwarfs previous rates: So far, Oregon's 2016 registration rate is 3.7 times higher than it was in 2012, and 3.9 times higher than in 2014. Plus, we could see an even larger boost later this year, when the state implements the "lookback" provision of the law, which will add eligible citizens who visited the DMV in recent years.
Oregon's system is truly groundbreaking — and it offers a clear path forward for states looking to make their elections more accessible and convenient for voters. It costs less, increases the accuracy and security of our voter rolls, and curbs the potential for fraud.
Automatic voter registration is the wave of the future, and Oregon's large uptick in registrations is an exciting start. West Virginia, with strong bipartisan support, just joined Oregon and California in passing automatic voter registration. The other 27 states that have considered automatic voter registration this year should jump on board, too.