Today, Gov. Bruce Rauner made it offi­cial: Auto­matic Voter Regis­tra­tion is coming to Illinois. His signa­ture was the final seal of approval for a ground­break­ing bill with support that was not only bipar­tisan, but unan­im­ous.
Auto­matic Voter Regis­tra­tion (AVR) modern­izes the voter regis­tra­tion process by chan­ging it from an "opt in" to an "opt out" system. In other words, when eligible citizens inter­act with certain govern­ment offices, they are added to the voter rolls unless they say no. Offi­cials then trans­fer regis­tra­tion inform­a­tion to the appro­pri­ate elec­tions office elec­tron­ic­ally, instead of on paper. AVR helps get more people registered to vote, cleans the voter rolls, and saves states money.
Follow­ing its first passage in Oregon in 2015, AVR is becom­ing the new normal at a dramatic pace: 10 states plus Wash­ing­ton, D.C., have now approved AVR. This year, Nevada's legis­lature passed an AVR bill that will become law if the voters approve it on the 2018 ballot. An effort to pass a bill in Massachu­setts is gain­ing momentum. And, legis­la­tion has been rein­tro­duced at the federal level as well. Amongst all this national momentum, Illinois is worth high­light­ing for several reas­ons.
First, Demo­crats and Repub­lic­ans came together to enact AVR in Illinois. This is the latest example of lawmakers cooper­at­ing to make voter regis­tra­tion work better. In a state with a divided govern­ment, this sends an unmis­tak­able signal: poli­cy­makers under­stand that AVR helps every­one. It helps voters by getting them on the rolls, increases elec­tion secur­ity by lead­ing to more up-to-date regis­tra­tion records based on reli­able, vetted inform­a­tion, and saves money because voter regis­tra­tion becomes more effi­cient.
These bene­fits mean AVR is gain­ing consensus support, partic­u­larly recently. Already this year, Congress allowed AVR legis­la­tion in Wash­ing­ton, D.C., to go into effect after it was passed unan­im­ously in 2016 (by a City Coun­cil composed of 13 Demo­crats and 2 Inde­pend­ents). In June, Rhode Island became the ninth to pass AVR legis­la­tion with substan­tial bipar­tisan support. Gov. Gina Raimondo signed the bill in July.
This year's advances followed a 2016 session that also saw wide­spread support for AVR legis­la­tion. In 2016, Vermont and West Virgini­a's legis­latures passed AVR bills with broad bipar­tisan support. In Novem­ber of that year, Alaska approved a ballot initi­at­ive with over­whelm­ing support after it was endorsed by high profile Demo­crats and Repub­lic­ans in the state.
Oregon was the first to enact AVR in 2015. The reform had strong support from a Demo­cratic Secret­ary of State. After a Repub­lican took over in 2016, he embraced AVR and took steps to expand its reach. Cali­for­nia also passed a bill in 2015, with primar­ily Demo­cratic votes.
In states where AVR has been adop­ted without legis­la­tion, the bipar­tisan trend also holds. Connecti­c­ut's Secret­ary of State announced imple­ment­a­tion in 2016. Shortly after­ward, Color­ado and Geor­gia began imple­ment­ing an auto­matic process between their driver's license offices and state elec­tion offi­cials.
By making AVR law, Illinois stands in stark contrast to states whose legis­latures are acting in a partisan manner to suppress voting. Gov. Rauner's signa­ture — espe­cially against the back­drop of the immense momentum for AVR nation­wide — removes all doubt that common-sense change is possible. AVR is a bipar­tisan, pro-voter change with broad back­ing, and other states across the coun­try should follow suit.
Auto­matic Voter Regis­tra­tion Timeline Since 2015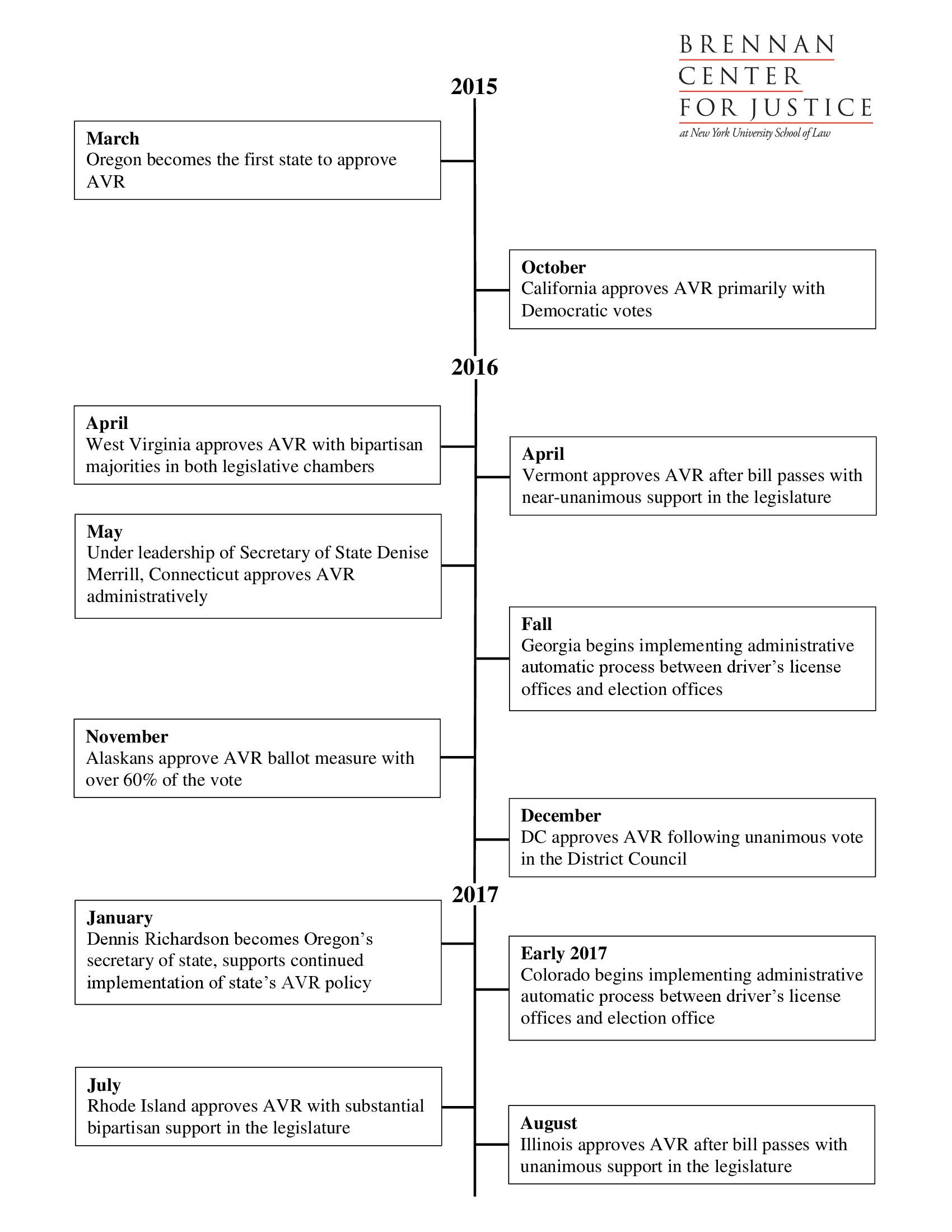 Second, this reform now covers a huge swath of the coun­try. Two years ago, no states had AVR. Now, 1 in 4 Amer­ic­ans live in a state that approved auto­matic voter regis­tra­tion. That could go a long way toward sign­ing up 50 million eligible but unre­gistered Amer­ic­ans across the coun­try. The number could increase even more if Massachu­setts passes a bill and Nevada's voters approve the legis­la­tion in their state.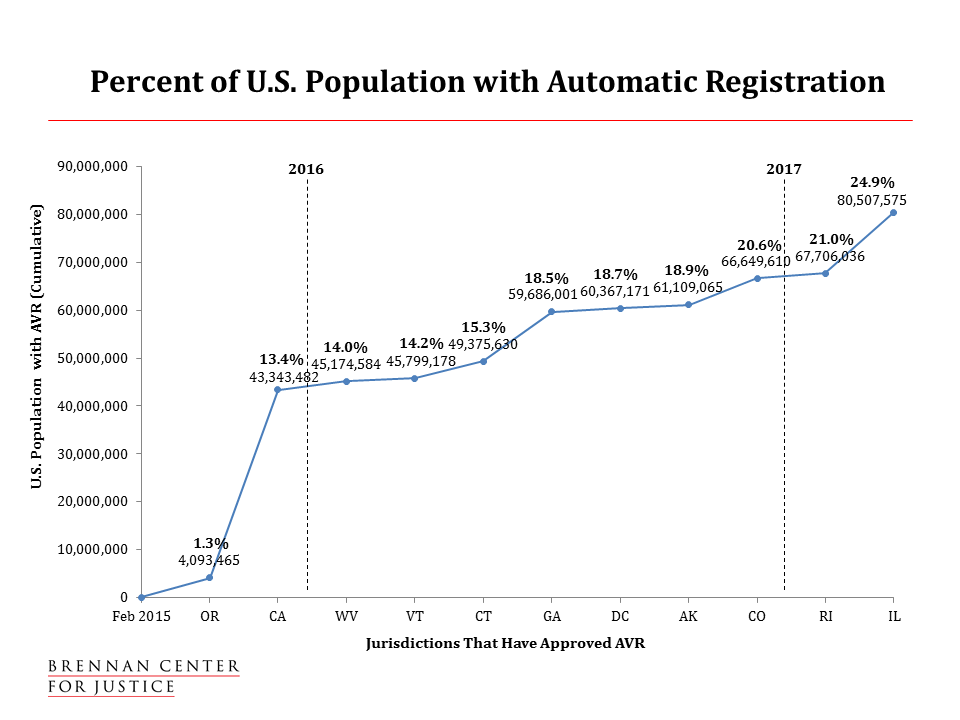 Although this improve­ment is dramatic, it's not without preced­ent when it comes to modern­iz­ing reforms. Some­thing similar happened with two preced­ing reforms that helped pave the way for AVR: online regis­tra­tion and elec­tronic trans­fer of regis­tra­tion inform­a­tion across agen­cies. When the Bren­nan Center first put out a report on these reforms in 2010, only 9 states had online regis­tra­tion and 22 had elec­tronic regis­tra­tion. Now, 38 have online regis­tra­tion and 35 have elec­tronic regis­tra­tion—44 states have at least one of the reforms. When states start seeing these reforms work else­where, they spread fast, and the same is now happen­ing with AVR.
Third, Illinois' bill is excit­ing because it could expand AVR beyond driver's license agen­cies. Thus far, AVR has primar­ily been limited to DMVs, in part because those offices tend to have better data trans­fer capab­il­it­ies (a notable excep­tion is Alaska, which imple­men­ted AVR through the state's perman­ent fund dividend). Illinois creates a frame­work to include offices that provide social services, such as health care. This expands the bene­fits to every­one: those popu­la­tions that aren't served by the motor vehicle offices get better oppor­tun­it­ies to register. This is a major step forward in AVR that should be developed in other states.
This legis­la­tion repres­ents a huge accom­plish­ment for both poli­cy­makers and civic groups—the culmin­a­tion of a multi-year effort to improve the regis­tra­tion process. As recently as 2013, Illinois had an anti­quated, paper-based system of voter regis­tra­tion. That year, Illinois enacted online voter regis­tra­tion, and in 2014 the state passed a sweep­ing set of reforms, includ­ing same-day voter regis­tra­tion and expan­ded elec­tronic regis­tra­tion at state agen­cies. An auto­matic voter regis­tra­tion bill passed the legis­lature in 2016, but Governor Rauner vetoed it, while indic­at­ing a will­ing­ness to consider a differ­ent version of the proposal. This year, reform advoc­ates—in­clud­ing Just Demo­cracy Illinois, a coali­tion of civic groups—­worked with poli­cy­makers to find a version of the legis­la­tion on which every­one could agree. Accord­ing to Andy Kang, Legal Director of Asian Amer­ic­ans Advan­cing Justice, Chicago and Co-Coordin­ator of Just Demo­cracy Illinois, the AVR success story in Illinois is an encour­aging model for other states. "Auto­matic voter regis­tra­tion became a real­ity in Illinois because a broad coali­tion of stake­hold­ers were involved and engaged through­out the process," said Kang. "Instead of being framed as polit­ical, auto­matic voter regis­tra­tion was under­stood—rightly—as a solu­tion from nonpar­tisan reformers who want to make demo­cracy work better."
Now, Illinois is on its way to system of voter regis­tra­tion with bene­fits for voters and elec­tion admin­is­trat­ors alike. Cook County Clerk David Orr has long cham­pioned this set of reforms, what he calls an "all in" approach to serving voters. Mr. Orr, who will not seek reelec­tion in 2018 after four decades of distin­guished service, explained his support for AVR: "It is a win-win. For voters, it takes the burden of regis­tra­tion off their backs and shifts it to the govern­ment, where it should be. For elec­tion offi­cials, it creates a tremend­ous tool to clean up the voter rolls, and saves money as well." Auto­matic voter regis­tra­tion received the support of many other local elec­tion offi­cials as well.
The unan­im­ous support for the bill is a test­a­ment to the hard work of the bill's legis­lat­ive cham­pi­ons, includ­ing lead spon­sors Andy Manar and Robyn Gabel and lead­ing Repub­lican spon­sor Mike Fort­ner. It all adds up to a huge step forward in the Land of Lincoln and for the entire coun­try. Although many are seek­ing to advance partisan ends through efforts to restrict the fran­chise, there is plenty of good news for voting rights as well.