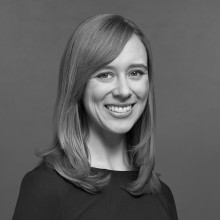 Joanna Zdanys
Senior Counsel, Elections and Government
Joanna Zdanys serves as Senior Counsel in the Brennan Center's Elections and Government Program. Her work focuses on advancing reforms in the area of money in politics. Zdanys provides policy advice to lawmakers across the country and has testified before state and local legislators.
Before joining the Brennan Center, Zdanys clerked for Hon. LaShann DeArcy Hall in the United States District Court for the Eastern District of New York. Before her clerkship, Zdanys was a litigation associate in the New York office of Morrison & Foerster LLP.
Zdanys earned her JD from Fordham University School of Law, where she was the editor in chief of the Fordham Urban Law Journal and a Stein Scholar for the Public Interest. She holds a master's degree in English and comparative literature from Columbia University and a bachelor's degree in English from Yale College.
Informed citizens are democracy's best defense