Voter Registration Modernization
The nation's broken voter registration system is a chief cause of long lines and Election Day chaos. Many states rely on a blizzard of paper records that are rife with error while leaving out eligible voters. The Brennan Center's signature proposal to modernize voting harnesses proven technology to ensure that every eligible voter is permanently registered. The core element of the plan is automatic registration, which would securely add millions to the rolls, save money, and curb the potential for fraud. Ten states and the District of Columbia have approved automatic registration. And almost every state — without fanfare or partisan wrangling — has implemented reforms to modernize voting. Read our fact sheet explaining how a 21st century voting system would work.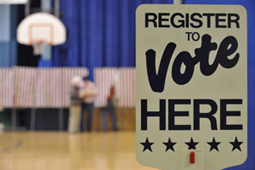 Many states across the country are successfully using components of voter registration modernization. Here is a complete rundown.
The Brennan Center supports safeguards for voters and standards for election administration at the federal level — including a national effort to modernize voter registration.