(Note: This updates the Roundup previously published on March 27, 2017.)
At this point in the year, every state's legislature is either in session or has completed its 2017 calendar. As has been the case all decade, legislators across the country are trying to reshape state voting laws. In several places, this means it will soon be harder to vote: Five states have already enacted bills to cut back on voting access, and one more is on the verge of doing so. By comparison, three states enacted voting restrictions in 2015 and 2016 combined. Overall, however, more bills to expand access to voting were introduced this year than bills that would restrict voting access. Still, of the legislation making the most substantial impact on voting access, more legislation to limit participation is advancing toward passage. Moreover, governors in Nebraska and Nevada have vetoed the bills that would expand access to the franchise.
Overview of Legislation to Restrict Voting Access
Overall, at least 99 bills to restrict access to registration and voting have been introduced in 31 states. Thirty-five such bills saw significant legislative action (meaning they have at least been approved at the committee level or beyond) in 17 states.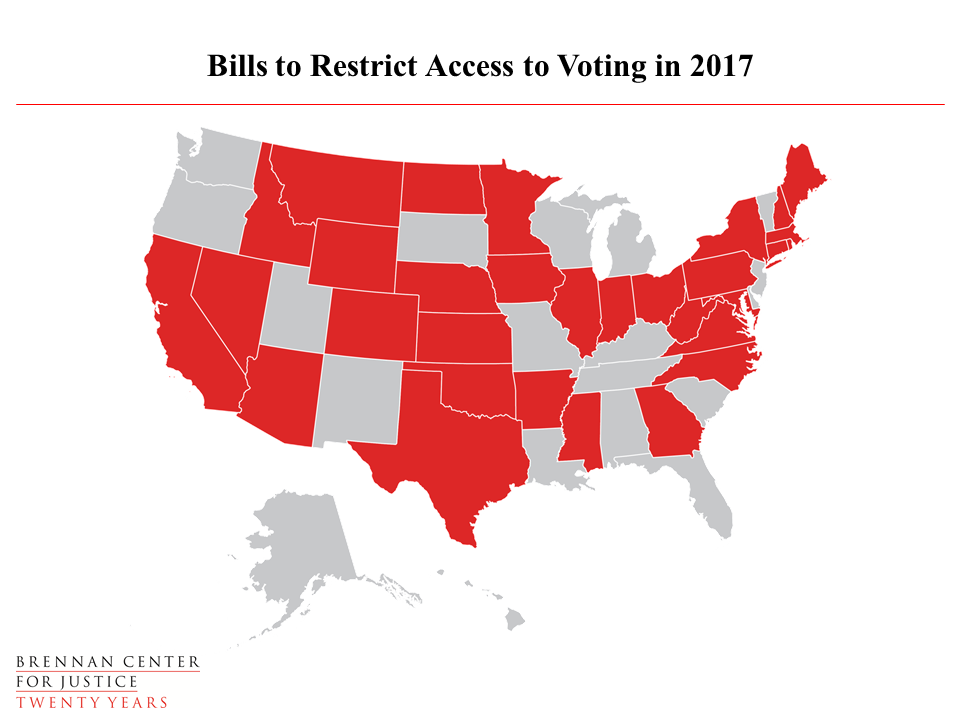 Several states will soon implement major new voting restrictions
Five states have already enacted laws making it harder to register or vote, one more is on the verge of doing so, and more states could act later this year:
Iowa's governor signed a broad-based law that will require voter ID, restrict voter registration efforts, and impose new burdens on Election Day registration and early and absentee voting. Although not as restrictive as a North Carolina law that passed in 2013 (and was blocked by a federal court), Iowa's law similarly restricts voting in a number of different ways.  
Arkansas passed two bills to bring back voter ID to the state after a court struck down an earlier law.
North Dakota also enacted legislation to re-impose an identification requirement after a court blocked a strict ID law in 2016.
Indiana enacted a law that will implement a purge of registered voters from the rolls. The program will remove voters in a manner similar to purges in other states that have been criticized for being error-prone and inadequately protective of eligible voters.  
Montana's house and senate passed a bill that will prevent civic groups and individuals from helping others vote absentee by collecting and delivering their voted ballots. The bill now goes to voters as a November 2018 ballot measure.
Georgia's legislature sent bill that would make voter registration more difficult to the Governor, and he signed it on May 9.
Voter ID bills are still the most common form of voting restriction moving in state legislatures
Since 2010, ten states have passed more burdensome voter ID requirements. As in previous years, voter ID is the most common type of legislation to restrict voting access this year. Overall, 39 bills imposing harsher voter ID requirements were introduced in 22 states. As noted above, three states — Arkansas, Iowa, and North Dakota have already enacted voter ID laws.
Legislation pending in other states poses risks to voting access. For example, Oklahoma's Senate passed a bill that would add a voter ID requirement to the state constitution. The bill passed with a wide margin in the Senate, setting up a likely house vote. Meanwhile, Texas's senate has passed a voter ID bill, discussed in further detail below, that would put in place a voter ID provision less voter-friendly than the current, court-ordered provision.
Restrictions on voter registration are a close second
After voter ID, making the voter registration process more burdensome is the most popular subject of bills to cut back on voting access. Overall, 33 bills to make the voter registration process more burdensome have been introduced in 22 states. Bills have at least been considered and approved by a legislative committee in Connecticut, Iowa, Kansas, Maryland, New Hampshire, Rhode Island, Texas, Virginia. Of these, New Hampshire's has the most momentum: a bill to make registration more difficult for students, supported by the Secretary of State, has passed the Senate.
The majority of states acting to restrict voting are legislating on topics where courts previously acted to protect voters
Most of the states that have already enacted or on the verge of enacting new voting restrictions are passing legislation of the same subject on which courts have recently acted to protect voters from past voting restrictions.
Arkansas has passed two harmful voter ID bills. One, which restores a statutory requirement that voters show one of a limited set of ID, has been enacted. The other, which would amend the state constitution to require voter ID, must be approved by the voters in the form of a ballot initiative before taking effect. A state court blocked a previous ID law in 2014.
Georgia enacted a law imposing a requirement that information on voter registration forms match exactly with other state records — a burdensome process known as "no match, no vote." Only months earlier, the secretary of state agreed in a court settlement to stop a similar procedure that had prevented tens of thousands from registering.
Iowa enacted an omnibus voting bill, described in further detail above, on May 5. The bill includes a requirement that suspected non-citizens be deleted from the voter rolls. Such removals programs, if conducted without safeguards to adequately ensure those being removed are actually ineligible, can sweep in thousands of eligible voters, as has happened in Colorado and Florida. In 2014, a state court blocked former Secretary of State Matt Schultz from purging suspected noncitizens because he lacked authority to carry out the program in the manner he intended.
North Dakota's Governor signed a bill on April 25 that would restore a strict voter ID requirement in the state. In 2016, a federal court partially blocked a previous ID law that accepted a narrow range of identification documents and did not provide any meaningful voting opportunities for voters without the accepted ID. The new bill slightly expands options to use for ID, but eliminates the process the court imposed, which allows voters without IDs to cast a ballot that counts on Election Day, and instead included a more burdensome process.  One legislator argued that that the bill does not pass constitutional muster.
Texas's legislature is considering a voter ID bill that that is on the verge of being passed a house committee has already approved the legislation and it has already passed the senate. The state attorney general has described the bill as a response to a court's blocking of the state's previous strict voter ID law. Critics observe that the bill, if enacted, would put in place a voter id requirement that is more stringent than the existing court-ordered process.
Bills to restrict voter access approved by state legislatures in 2017
Arkansas

Voter ID  (HB 1047) (passed and signed)

Voter ID (HJR 1016) (passed house and senate; signed by governor; must be approved as ballot measure to become law)

Georgia

Voter registration (HB 268)  (passed and signed)

Indiana

Voter purge (SB 442) (passed and signed)

Iowa

Voter ID, restrictions on voter registration drives, Election Day registration, absentee voting (HF 516) (passed house and senate). Also contains voter list maintenance provisions that, if implemented improperly, could lead to voter purges.

Montana

Absentee ballot collection (SB 352) (passed house and senate; must be approved as ballot measure to become law)

North Dakota

Voter ID (HB 1369) (passed and signed)
Overview of Legislation to Expand Voting Access
Overall, at least 531 bills to enhance voting access have been introduced in 45 states. One hundred fifty-six bills have at least been considered and approved by a legislative committee in 30 states.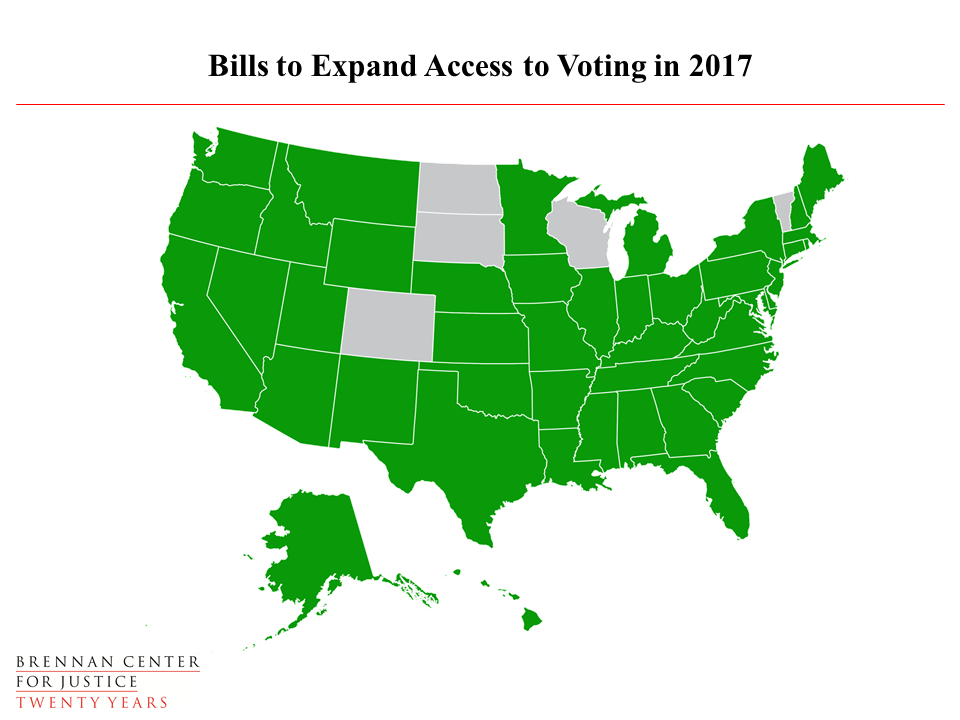 Fifteen state legislatures have passed bills to expand access to voting, but Governors have vetoed the most impactful legislation
Eight states have enacted bills that will make voting and registration easier, seven states have not yet enacted legislation but have passed it through their state legislatures, and more than a hundred bills to improve voting access have at least advanced through a committee. The two bills that would make the biggest impact on voting access, however, have been vetoed.
Florida, Kansas, New Jersey, Tennessee, Utah, Virginia enacted legislation that would make it easier to vote without showing up to the polls on Election Day.

New Jersey improved voting for military voters.
Utah expanded early and absentee voting opportunities.
The other states upgraded their absentee voting procedures.  

Indiana improved its process for registering voters who visit the state drivers' license offices.
Wyoming eased the process for restoring the right to vote for people with criminal convictions.
Idaho made its voter ID law slightly less burdensome.
The most significant reforms to pass, however, have been vetoed by Republican governors.

Nevada's assembly and senate passed legislation to establish automatic voter registration, but Republican Governor Brian Sandoval vetoed it. The legislation, an initiative petition, now goes to the voters, who could approve it by directly voting on it in the November 2018 general election.
Nebraska Governor Pete Ricketts, also a Republican, vetoed a bill that would have restored the right to vote to citizens with criminal convictions upon their release from incarceration. The veto came after Nebraska's unicameral legislature (which is technically nonpartisan, but controlled by legislators generally identified as politically conservative), passed the bill by a 27-13 margin. An attempted veto override failed, with the chamber splitting 23-23 for override.
Automatic registration and other reforms to modernize voter rolls are common forms of legislation to expand voting access
Automatic voter registration (AVR) remains a popular pro-voter reform that is being introduced in legislatures across the country, building on momentum from the last two years.  AVR is a new reform that leverages existing technology to help get voters registered. It also changes our system from one in which voters must affirmatively register to vote to one in which they are registered unless they "opt out." In 2015 and 2016, six states passed or implemented AVR.
This year, AVR became law in the District of Columbia.
A bill in Illinois, which nearly enacted the reform last year, just passed the Senate by a 48-0 vote. The bill is similar to legislation introduced and supported by both Democrats and Republicans in the last legislative session, and there is a strong possibility the bill will pass.
Nevada passed an automatic voter registration bill through both legislative chambers, but it was vetoed by the governor. It will be on the ballot in 2018 for the voters to decide.
Utah's House also passed an automatic voter registration bill, but it died in the Senate.
Colorado, Connecticut, and Georgia are moving forward to implement automatic voter registration administratively.
Overall, at least 86 bills to implement or expand AVR have been introduced in at least 32 states.
Legislation has at least been approved by a legislative committee  in Arkansas, Connecticut, Hawaii, Illinois, Maryland, Nebraska, Rhode Island, Virginia, and Washington, and efforts to introduce and pass legislation have also received media attention in Maine and Maryland.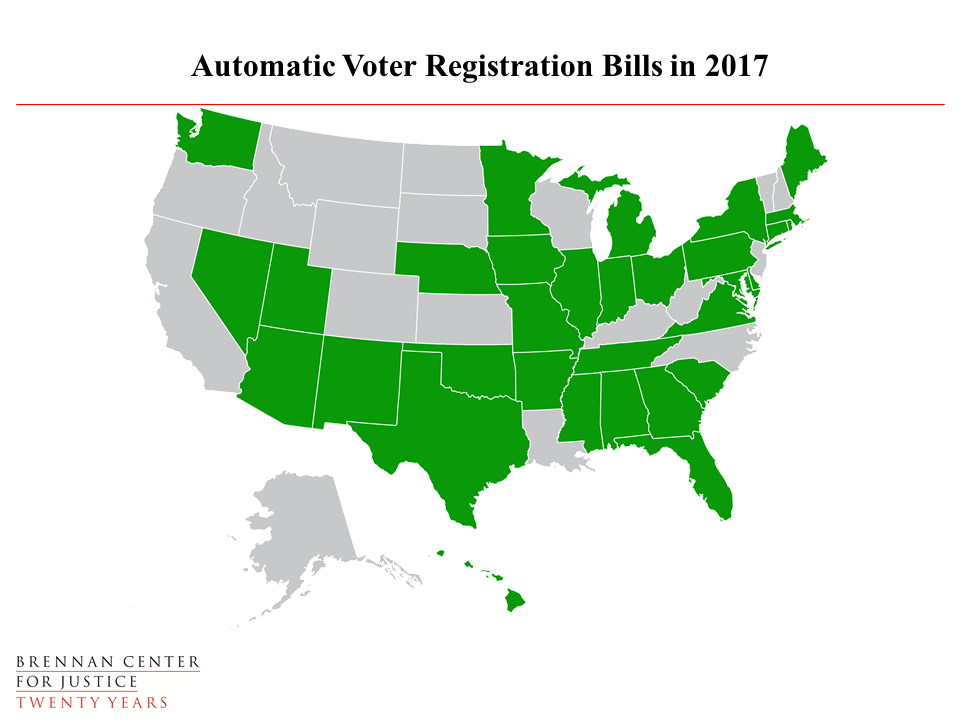 Legislation to expand early and absentee voting is popular
In addition to the six states that have already enacted legislation to make early, absentee, and military voting easier, seven states have at least moved early voting legislation through a committee, and nineteen states have done the same with absentee voting legislation. Overall, 166 bills to improve early voting or absentee voting access have been introduced in 35 states.
Legislation restoring the right to vote to people with past convictions is also common
As described above, Nebraska and Wyoming's legislatures approved bills to help restore the right to vote to people with past criminal convictions. Nebraska's bill was vetoed.
Nevada's Senate passed a bill that would improve the rights restoration process in the state, and a bill is also moving in the House. Nevada's Governor has opposed past efforts to restore the right to vote.
In Virginia, different versions of a bill that would improve voting access for certain persons with criminal convictions passed in the house and senate, but neither was enacted.
Overall, 55 bills to help restore the right to vote to persons with past criminal convictions have been introduced in 18 states, and bills have at least been approved by a committee in 17 states. 
Bills to enhance voter access approved by state legislatures 2017:
Florida

Absentee voting (H 105) (passed and signed)

Idaho

Voter ID (HB 149) (passed and signed ) 

Indiana

Electronic voter registration (HB 1178) (passed and signed)

Kansas

Absentee voting (HB 2158) (passed and signed)

Maryland

Voter registration (HB 1626) (passed house and senate)

Montana

Absentee voting (HB 287) (passed house and senate)

Nebraska

Voting rights restoration (LB 75) (passed unicameral legislature; vetoed by governor)

Nevada

Automatic voter registration (IP 1) (passed house and senate; vetoed by governor)

New Jersey

Military voting (SB 92) (passed and signed)

New Mexico

Disability access (HB 98) (passed house and senate)

Oklahoma

Early voting (SB 347) (passed house and senate)

Tennessee

Absentee (SB 286) (passed and signed)

Utah

Voter list maintenance (HB 86) (passed and signed)

Early voting (HB 105) (passed and signed)

Absentee voting (HB 230) (passed house and senate)

Minimum standards for polling places (SB 116) (passed house and senate)

Virginia

Absentee voting (HB 1912) (passed house and senate)

Wyoming

Voting rights restoration (HB 75) (passed and signed)