Below, please find links to research and publications on Voter Registration Modernization, also called Universal Voter Registration. Please check this webpage periodically for updates.
---
Brennan Center Publications & Research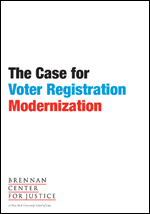 The Case for Voter Registration Modernization – In the wake of Election 2012, we need basic national standards to minimize long lines at the polls and ensure that every eligible American who takes responsibility to vote is properly registered and can cast a ballot that counts. Voter Registration Modernization is a key reform to achieve these goals. Click here to learn more.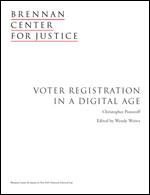 Voter Registration in a Digital Age – This report is the first in-depth survey of state-based paperless registration innovations—"automated" voter registration, in which government offices like DMVs collect and transfer voter registrations electronically, and online voter registration, in which citizens submit voter registration applications over the Internet. Based on documentary research and interviews with election officials in fifteen states, this report explains how paperless voter registration works, reviews its development, and assesses its impact. Click here to learn more.
Modernizing Voter Registration: Momentum in the States – The past year has seen gathering momentum in the states to modernize the voter registration system. This brief summarizes those developments. In various ways, states have begun to move toward a system in which voters are automatically and permanently added to the rolls, with fail-safes in case of government mistakes. Such changes have typically garnered bipartisan support, and been implemented without controversy. Moreover, reforms have increased voter registration rates, improving the accuracy of the voter rolls, curbed opportunities for fraud, and saved millions of dollars. Click here to learn more.
Voter Registration Modernization – The Brennan Center's policy proposal calls for federal action to move the country towards the goal of modernizing our voter registration system. A system of universal registration would build on existing policies and innovations undertaken by state and local officials. Under this proposal, all eligible Americans would be automatically and permanently registered to vote through government initiative, with the failsafe opportunity to correct errors on Election Day. Click here to learn more.
Expanding Democracy: Voter Registration Around the World – This report is a multi-nation examination of voter registration systems in sixteen countries and four Canadian provinces. Their experiences show that modernizing voter registration is feasible and readily achievable, with clear benefits to voters, taxpayers, and election officials. Detailed appendices describing the voter registration systems in most of the countries studied are also available on the Brennan Center's website. Click here to learn more.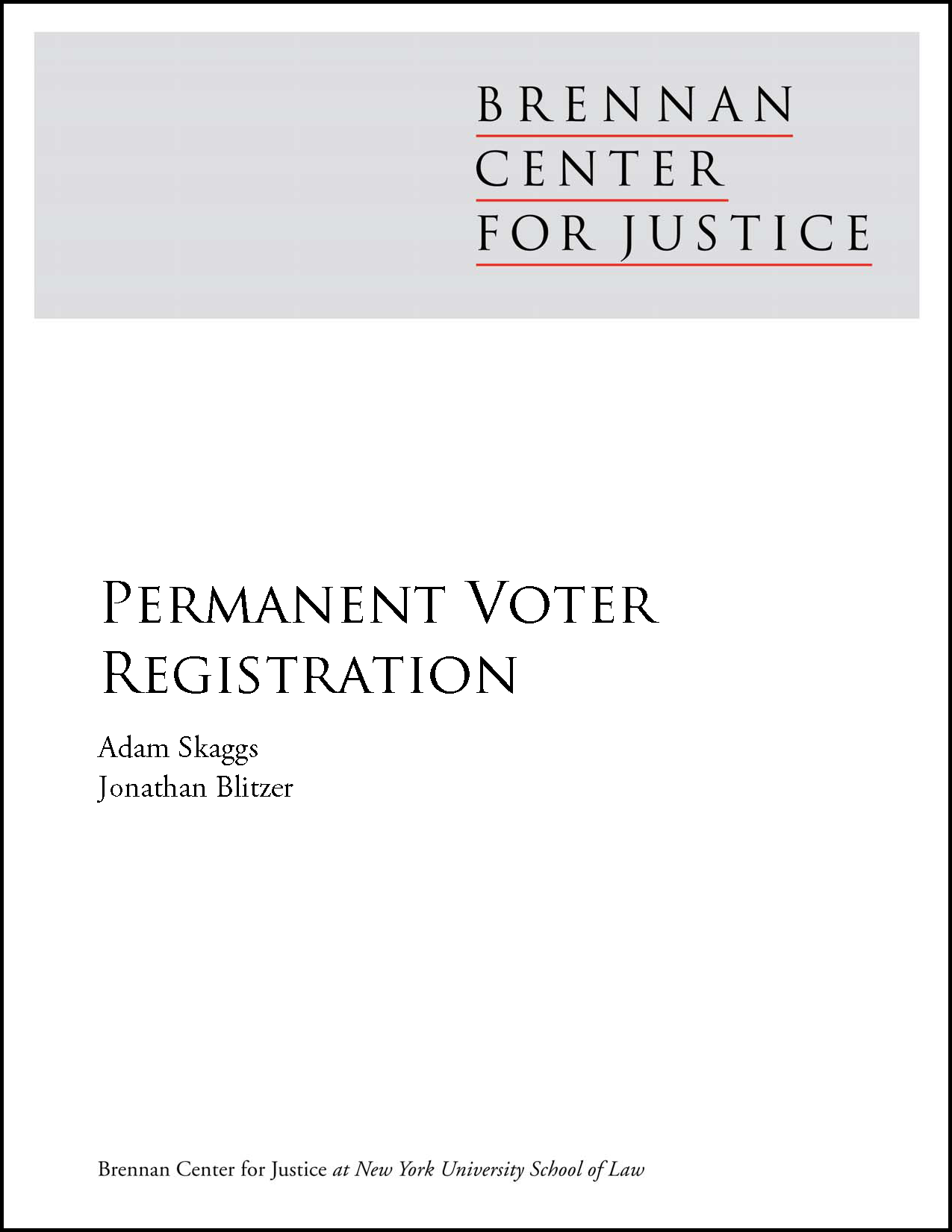 Permanent Voter Registration – Under a statewide permanent registration system, once a voter registers in a state, she can move within the state without having to re-register each time she moves. Some system of permanent registration currently exists in sixteen states. This report examines permanent registration systems and the associated tools already in place across the country and provides recommendations for developing effective systems of permanent registration. Click here to learn more.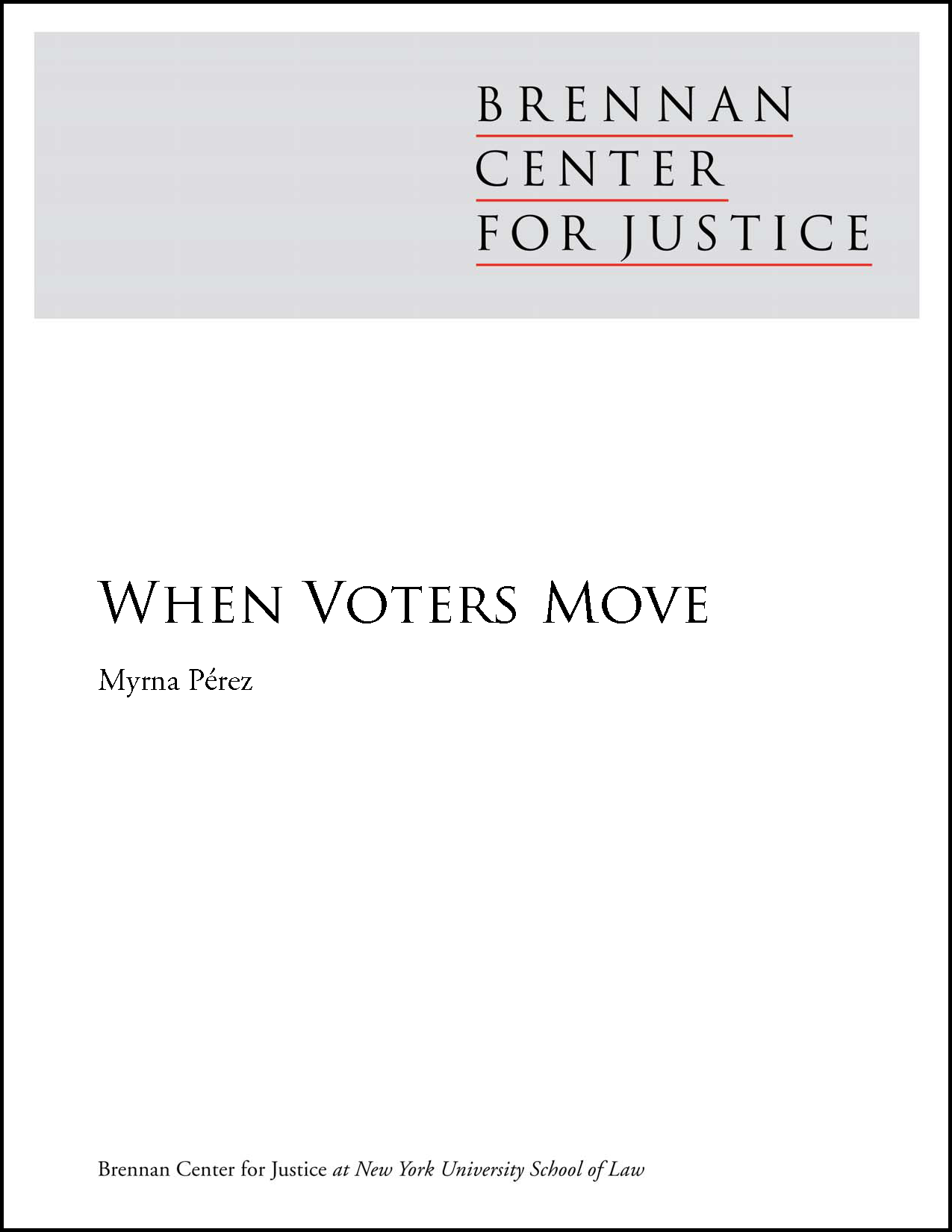 When Voters Move – Voter mobility poses new complexities to ensuring that eligible citizens are properly registered to vote. This report catalogues state rules and practices for dealing with voters who move and describes several ways in which otherwise registered, eligible voters can be disenfranchised because they moved without updating their registration records. Appended to the report is a guide to voters explaining the procedures for voting upon moving within each of the fifty states. Click here to learn more.
Government Lists: How Ready Are They for Automatic Registration? – This analysis provides information on five categories of government lists that may be used for the purpose of automatically registering eligible citizens to vote: (1) state department of motor vehicles databases; (2) state social service databases; (3) other state lists covering low-income citizens; (4) lists of recipients of state and federal disability benefits; and (5) federal government lists. The lists discussed in this document have some or all of the data elements necessary to register voters; the capacity to share data with other government entities; and, when taken together, the demographic coverage necessary to capture a large proportion of voting-eligible citizens. Click here to learn more.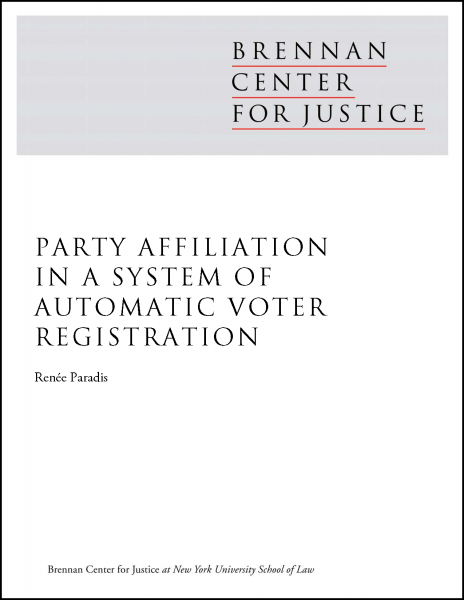 Party Affiliation in a System of Automatic Registration – The analysis here sets out the different ways states currently track party affiliation, and then discusses the different ways states could adapt their party affiliation systems to function in an automatic system. Two appendices discuss the constitutional constraints on states' choices about party affiliation and political primaries and detail how the states track party affiliation and what primary systems they use. Click here to read analysis.
Automatic Registration in the United States: The Selective Service Example – This report describes the Selective Service System's practice of automatically registering young men using information contained in existing government agency lists. The report shows that the technology, resources, and institutional knowledge already exist to support a system of automatic registration, and argues that the government should use the same tools to strengthen our democracy. Click here to learn more.
Registering Military and Overseas Citizens to Vote – This report catalogs the unique challenges to voter registration faced by Americans who are serving in the military or living overseas. Modernizing the voter registration system would significantly decrease the problems these voters face and would make it much easier for them to participate in our democracy. Click here to learn more.
---
Selected Publications
---
Online Voter Registration In The States (Project Vote, 07/2012)
Study of the Feasibility of Implementing Automatic Voter Registration in the District of Columbia (DC Board of Elections and Ethics, 04/30/2010)
Modernizing the Democratic Process (National Broadband Plan, Federal Communications Commission, 03/2010)
Voters Win with Same-Day Registration (Demos, 01/2010)
Report on the Evaluations of the 40th General Election of October, 14, 2008 (Elections Canada, 06/2009)
Saving Dollars, Saving Democracy: Cost Savings for Local Election Officials Through Voter Registration Modernization (U.S. PIRG, 05/06/2009)
Leave No Voter Behind: Seeking 100 Percent Voter Registration and Effective Civic Education (Robert Ritchie, National Civic Review, Fall 2007)
Empowering California's Youth: A Proposal Allowing Voters to Pre-Register at Age 16 (New America Foundation, 2/21/2007)
Automatic Voter Registration: Using Drivers Licenses and Tax Databases for Automatic Registration (New America Foundation, 11/10/2006)
Universal Voter Registration: A Way to Empower and Engage All Californians (New America Foundation, 10/30/2006)
---
Selected Articles
---
Topping the list is voter registration, which turned out to be the election administration issue of 2008, just as were voting machines in 2000 and provisional ballots in 2004. Across the country, battles emerged over the conduct of registration drives and the maintenance of registration lists, with those on the right mostly concerned that lax practices would lead to fraudulent voting and those on the left worried that eligible voters would be left off the lists. This article attempts to contextualize and disentangle the current debate over voter registration, suggesting a framework for federal reform. The time has come to consider seriously a greater federal role in maintaining voter registration lists, perhaps moving to a universal registration system for federal elections.