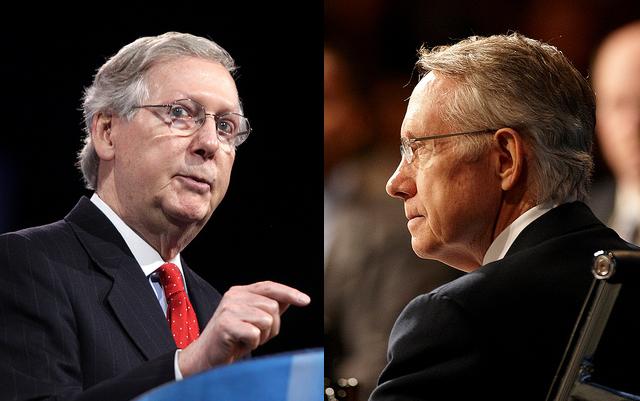 Crossposted from Reuters.
All eyes were on the Senate last week as Democrats and Republicans reached an agreement to move forward on confirming certain stalled executive branch nominees. This new spirit of compromise was heralded, but before we begin celebrating, it is worth noting that judges were not part of the deal.
Federal trial and appellate courts have alarmingly high vacancy rates, each hovering at 10 percent. In the D.C. Circuit, which is often the final word on everything from environmental regulations to consumer protection rules, three of 11 seats remain vacant. In the trial courts, which resolve the vast majority of federal cases, the average number of vacancies has stayed above 60 for five straight years — the only time that this has happened in more than two decades. Nationwide, there are currently 85 federal judgeships that need to be filled.
One key reason vacancy levels are so high is obstruction in the Senate. Senators have used the filibuster and other procedural mechanisms to slow down the confirmation of even noncontroversial nominees, who were usually confirmed, eventually, with overwhelming approval.
This obstruction is particularly striking in connection with the federal trial courts, which have historically avoided the partisan wrangling that has long characterized the confirmation of appellate judges. For example, during President Barack Obama's first term, trial court nominees had longer average and median wait times from nomination to confirmation than nominees from any other recent administration, according to a study by the Congressional Research Service. Senators have also delayed in submitting trial judge recommendations to the White House, slowing down the entire nomination process.
The filibuster was used on trial court nominees to an unprecedented extent during Obama's first term, according to research by Alliance for Justice, with Senate Majority Leader Harry Reid (D-Nev.) forced to file cloture 20 times. In contrast, Presidents Bill Clinton and George W. Bush each had cloture filed on a district court nominee only once during their entire presidencies.
The result is that obstruction has led to unusually high levels of trial court vacancies, with courts and litigants paying the price.
Trial court dockets are reaching unsustainable levels, according to Brennan Center research. The average number of pending cases per sitting judge has jumped 20 percent since 1992, and was higher in 2012 than at any point from 1992–2007. Judicial emergencies, a measure of vacancies in districts with the greatest need for judges, have been higher in 2010–2013 than at any other point since 2002.
These vacancies directly affect ordinary citizens and businesses around the country, who rely on the courts to resolve their disputes and protect their rights. For a small company in a contract dispute or a family targeted by consumer fraud, judicial delays often mean financial uncertainty and unfilled plans, putting lives on hold as cases wind through the court system.
The Constitution orders the Senate to provide "advice and consent" on judicial nominees. When would-be judges are just another bargaining chip, however, senators are not doing their job to provide oversight of the nomination process. Instead, they are creating obstruction for its own sake, and in the process are failing to meet their obligations to the president, the courts — and the American people.