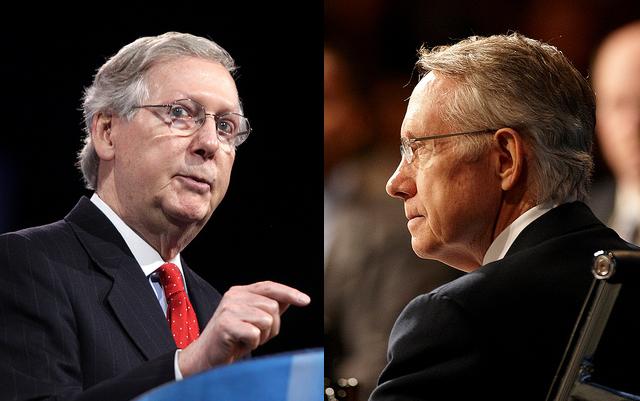 Cross­pos­ted from Reuters.
All eyes were on the Senate last week as Demo­crats and Repub­lic­ans reached an agree­ment to move forward on confirm­ing certain stalled exec­ut­ive branch nomin­ees. This new spirit of comprom­ise was heral­ded, but before we begin celeb­rat­ing, it is worth noting that judges were not part of the deal.
Federal trial and appel­late courts have alarm­ingly high vacancy rates, each hover­ing at 10 percent. In the D.C. Circuit, which is often the final word on everything from envir­on­mental regu­la­tions to consumer protec­tion rules, three of 11 seats remain vacant. In the trial courts, which resolve the vast major­ity of federal cases, the aver­age number of vacan­cies has stayed above 60 for five straight years — the only time that this has happened in more than two decades. Nation­wide, there are currently 85 federal judge­ships that need to be filled.
One key reason vacancy levels are so high is obstruc­tion in the Senate. Senat­ors have used the fili­buster and other proced­ural mech­an­isms to slow down the confirm­a­tion of even noncon­tro­ver­sial nomin­ees, who were usually confirmed, even­tu­ally, with over­whelm­ing approval.
This obstruc­tion is partic­u­larly strik­ing in connec­tion with the federal trial courts, which have histor­ic­ally avoided the partisan wrangling that has long char­ac­ter­ized the confirm­a­tion of appel­late judges. For example, during Pres­id­ent Barack Obama's first term, trial court nomin­ees had longer aver­age and median wait times from nomin­a­tion to confirm­a­tion than nomin­ees from any other recent admin­is­tra­tion, accord­ing to a study by the Congres­sional Research Service. Senat­ors have also delayed in submit­ting trial judge recom­mend­a­tions to the White House, slow­ing down the entire nomin­a­tion process.
The fili­buster was used on trial court nomin­ees to an unpre­ced­en­ted extent during Obama's first term, accord­ing to research by Alli­ance for Justice, with Senate Major­ity Leader Harry Reid (D-Nev.) forced to file cloture 20 times. In contrast, Pres­id­ents Bill Clin­ton and George W. Bush each had cloture filed on a district court nominee only once during their entire pres­id­en­cies.
The result is that obstruc­tion has led to unusu­ally high levels of trial court vacan­cies, with courts and litig­ants paying the price.
Trial court dock­ets are reach­ing unsus­tain­able levels, accord­ing to Bren­nan Center research. The aver­age number of pending cases per sitting judge has jumped 20 percent since 1992, and was higher in 2012 than at any point from 1992–2007. Judi­cial emer­gen­cies, a meas­ure of vacan­cies in districts with the greatest need for judges, have been higher in 2010–2013 than at any other point since 2002.
These vacan­cies directly affect ordin­ary citizens and busi­nesses around the coun­try, who rely on the courts to resolve their disputes and protect their rights. For a small company in a contract dispute or a family targeted by consumer fraud, judi­cial delays often mean finan­cial uncer­tainty and unfilled plans, putting lives on hold as cases wind through the court system.
The Consti­tu­tion orders the Senate to provide "advice and consent" on judi­cial nomin­ees. When would-be judges are just another bargain­ing chip, however, senat­ors are not doing their job to provide over­sight of the nomin­a­tion process. Instead, they are creat­ing obstruc­tion for its own sake, and in the process are fail­ing to meet their oblig­a­tions to the pres­id­ent, the courts — and the Amer­ican people.