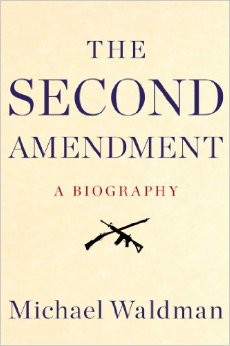 "Wald­man relates this tale in clear, unvar­nished prose and it should now be considered the best narrat­ive of its subject." — Publish­ers Weekly
"Rigor­ous, schol­arly, but access­ible." — Joe Nocera, The New York Times
"This thought­ful, access­ible survey of Second Amend­ment law will be useful to anyone arguing either side of this endlessly contro­ver­sial issue." — Kirkus Reviews
"Wald­man offers histor­ical perspect­ive on the fierce debate… A lively and enga­ging explor­a­tion."— Book­list
"The ongo­ing debate about the Second Amend­ment and the right to bear arms contin­ues to set off multiple explo­sions in the blogo­sphere. Wald­man's new book will not make the most zeal­ous NRA advoc­ates happy, but for anyone who wants his or her history of the Second Amend­ment straight-up, this is the most compre­hens­ive, access­ible, and compel­ling version of the story in print." — Joseph J. Ellis, author of Found­ing Broth­ers
"From the found­ing of the Repub­lic to the Newtown massacre and beyond, Michael Wald­man vividly portrays the evol­u­tion of a nation's passion­ate debate over the right to keep and bear arms. Activ­ist, conser­vat­ive justices on the U.S. Supreme Court may have thought they ended that debate in 2008, but with rich detail and crisp narrat­ive, Wald­man shows how the it contin­ues to rever­ber­ate across the land­scape with import­ant lessons for all Amer­ic­ans." — Marcia Coyle, author of The Roberts Court
"Through most of Amer­ican history, the Second Amend­ment guar­an­teed the right to be a citizen-soldier, not an indi­vidual vigil­ante. With wit and erudi­tion, Michael Wald­man tells the story of how the Amend­ment's mean­ing was turned upside-down and inside-out." — David Frum, author of The Right Man: An Inside Account of the Bush White House
"Michael Wald­man gives us the turbu­lent life story of the Second Amend­ment. If one clause of the Consti­tu­tion better deserved a quiet retire­ment, it is our right to keep and bear arms, a vestige of the Found­ing Fath­ers' concern with the role of the mili­tia in a repub­lican soci­ety. Yet today the Second Amend­ment has become one of the feisti­est, most disputed clauses of the Consti­tu­tion, and Wald­man vividly explains why this obscure, minor provi­sion has become so contro­ver­sial."— Jack Rakove, author of Original Mean­ings
"Partisan pseudo-histor­ies of gun regu­la­tion and the Second Amend­ment abound. Michael Wald­man's excel­lent book slices through the propa­ganda with candor as well as schol­ar­ship. It advances an authen­tic and clari­fy­ing history that will surprise and enlighten citizens on all sides of the issue. Here is a smart and cogent history that performs a large public service." — Sean Wilentz, author of The Rise of Amer­ican Demo­cracy
---
In recent years, the U.S. Supreme Court has handed gun rights advoc­ates a string of stun­ning victor­ies, ruling for the first time in Amer­ican history that the Second Amend­ment of the Consti­tu­tion guar­an­tees an indi­vidu­al's right to own a gun. Yet the Second Amend­ment remains the most misun­der­stood and explos­ive part of the Bill of Rights, which has grown only more conten­tious after a series of horrific mass shoot­ings. Now, Michael Wald­man, pres­id­ent of the pres­ti­gi­ous Bren­nan Center for Justice at NYU School of Law, presents a provoc­at­ive, often surpris­ing, and much-needed history of this brief, but moment­ous, consti­tu­tional provi­sion – from Bunker Hill and James Madison to Newtown and Justice Scalia – in THE SECOND AMEND­MENT: A Biography (Simon & Schuster; May 20, 2014; $24.00). The Second Amend­ment is not what either conser­vat­ives or liber­als gener­ally believe it to be, Wald­man argues, and the impact of the land­mark Supreme Court rulings on gun rights and gun regu­la­tion in the future is far from obvi­ous.
For the first two centur­ies of Amer­ican history, Wald­man observes, the Second Amend­ment received scant notice. Few people under­stood its provi­sions; schol­ars paid it little atten­tion; and lawyers rarely raised it in court. But over the past four decades, it has been thrust to the center of public contro­versy. Politi­cians declare them­selves its "strong support­ers." The news media bristle with reports of proposed new gun laws, or new legal chal­lenges to them. The Second Amend­ment has become a synonym, in power­ful unspoken ways, for Amer­ica's gun culture, and a symbol of many of the deep divi­sions that cleave the nation.
The Second Amend­ment is one awkward sentence. It reads in its entirety:
A well regu­lated mili­tia, being neces­sary to the secur­ity of a free state, the right of the people to keep and bear arms, shall not be infringed.
For 218 years, judges over­whelm­ingly concluded that the amend­ment simply author­ized states to form mili­tias, which we now call the National Guard. Its foggy word­ing and odd syntax caused lawyers and schol­ars to debate its puzz­ling commas and clauses. Then, in 2008, in the case of District of Columbia vs. Heller, an opin­ion of the U.S. Supreme Court writ­ten by Justice Antonin Scalia declared that the Consti­tu­tion confers a right to own a gun for self-defense in the home. From that point forward, the red-hot debate over gun control and its consti­tu­tion­al­ity had to take place in this new and not at all clear legal context, as it will into the fore­see­able future.
---
Los Angeles Times: "A smart history of guns and the U.S. …[Wald­man's] calm tone and habit of taking the long view offers a refresh­ing tonic in this most loaded of debates." (5/23/14)
The Daily Beast: "The true mean­ing of the Second Amend­ment…tart, concise…This typic­ally shrewd obser­va­tion stamps Wald­man as not just a pree­m­in­ent legal scholar but a sens­ible person, someone worth read­ing, in other words, even if you don't agree with him." (5/31/14)
The New York Times: "Wald­man's read­able, often chatty, thor­oughly docu­mented recount­ing of the Second Amend­ment's history shows it chan­ging in char­ac­ter as Amer­ican soci­ety changed." (Sunday Book Review, 6/22/14)
Chicago Tribune: "An insight­ful look at both the histor­ical found­a­tion of the Second Amend­ment and the success­ful campaign by the National Rifle Asso­ci­ation and consti­tu­tional 'ori­gin­al­ists' to restore it — or rein­vent it, depend­ing on which real­ity you subscribe to — as a lode­star for gun rights. …The Second Amend­ment: A Biography is a welcome re-injec­tion of histor­ical context into the present debate over the right­ful role of guns in Amer­ican culture." (6/13/14)
The Wash­ing­ton Post, Katrina vanden Heuvel: "Compel­ling…Pub­lished three days before the rampage in Isla Vista, Calif., that killed six and wounded 13, the book shows how we got to this moment of routine gun viol­ence — and offers a way out." (6/3/14)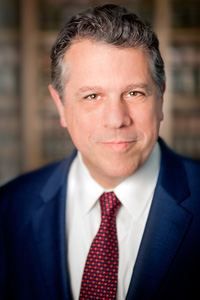 Michael Wald­man is pres­id­ent of the Bren­nan Center for Justice at NYU School of Law, a nonpar­tisan law and policy insti­tute that focuses on improv­ing the systems of demo­cracy and justice. He was director of speech­writ­ing for Pres­id­ent Bill Clin­ton from 1995 to 1999 and is the author of My Fellow Amer­ic­ans, POTUS Speaks, and three other books. Wald­man is a gradu­ate of Columbia College and NYU School of Law. He comments widely in the media on law and policy.
(Photo: Adrian Kinloch)