On June 28, Kris Kobach — the vice chair of Trump's "Voter Fraud" Commis­sion — sent letters to chief state elec­tion offi­cials request­ing they submit "publicly-avail­able data from state voter rolls and feed­back on how to improve elec­tion integ­rity" by July 14. The Bren­nan Center filed lawsuits in Indi­ana, Texas, and Utah to prevent offi­cials from submit­ting data in a manner that did not comply with state law. The ACLU of New Hamp­shire, Common Cause, the Elec­tronic Privacy Inform­a­tion Center (EPIC), the Idaho State Demo­cratic Party, and Public Citizen also filed lawsuits in state and federal court to block the Commis­sion's request.
Former national secur­ity offi­cials writ­ing in The Wash­ing­ton Post and The Hill have warned that a cent­ral repos­it­ory of voter data would be a target for hack­ers. Privacy concerns promp­ted thou­sands of voters in Color­ado to cancel their regis­tra­tions, and elec­tion offi­cials in Arizona, Michigan, North Caro­lina, and Vermont also repor­ted cancel­la­tions.
On July 10, the Commis­sion instruc­ted states to hold off submit­ting data pending a ruling in EPIC's lawsuit. By that time, 21 states and the District of Columbia had declined to provide any data, and others had expressed concern about releas­ing voters' sens­it­ive inform­a­tion. Missis­sippi Secret­ary of State Delbert Hose­mann stated his "reply [to the request] would be: They can go jump in the Gulf of Mexico and Missis­sippi is a great state to launch from."
Follow­ing the court's denial to halt the request, Kobach issued a new letter on July 26 again asking states to submit voter data — ​but, emblem­atic of the Commis­sion's general lack of trans­par­ency, Kobach's fellow panel members were left out of this decision-making process. Maine Secret­ary of State Matthew Dunlap, who serves on the Commis­sion, said they never discussed renew­ing the request. So far, eight states have declined to provide any data in response to the July 26 request.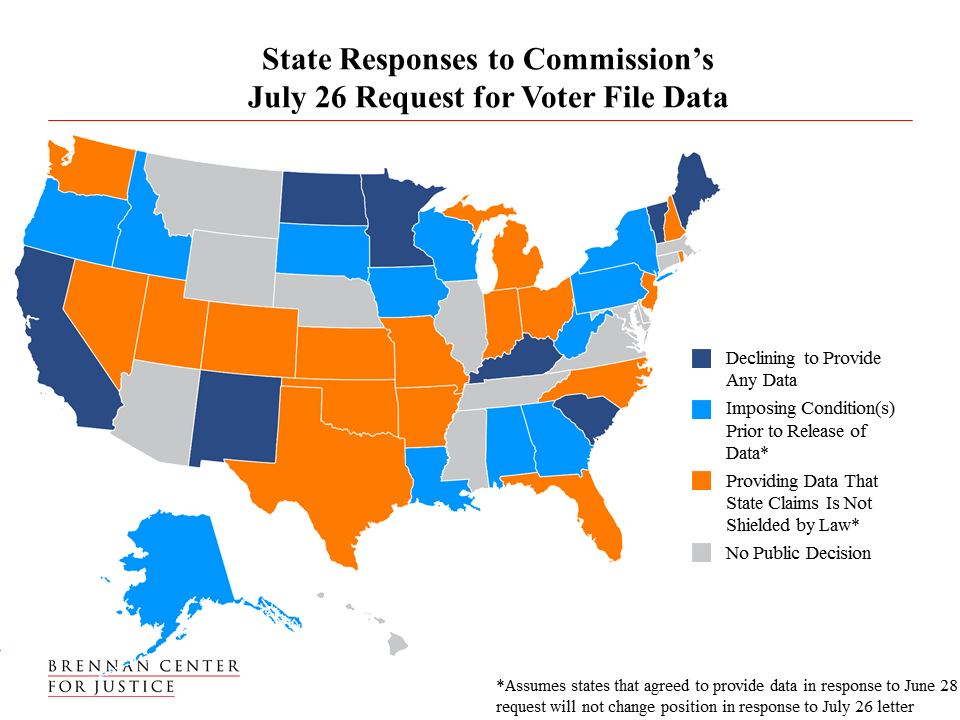 States Declin­ing to Provide Any Data
States Impos­ing Condi­tion(s) Prior to Release of Data*
States Provid­ing Data That They Claim Is Not Shiel­ded Under State Law*
States That Have Not Publicly Issued a Decision
Reac­tions from Civic Groups
*Assumes states that agreed to provide data in response to June 28 request will not change posi­tion in response to July 26 letter