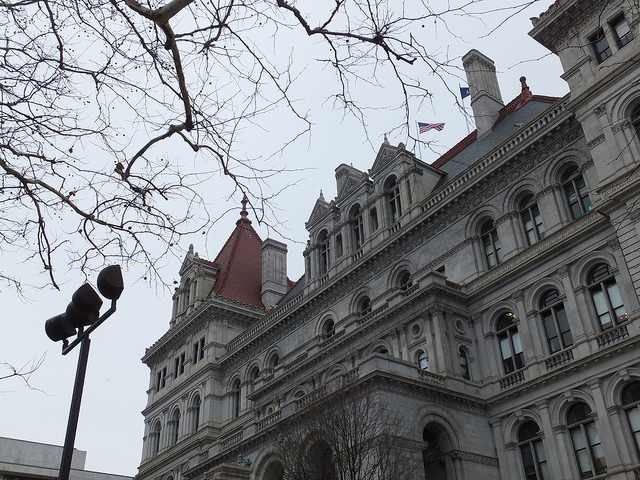 This piece is co-authored by Hazel Dukes, Pres­id­ent of the New York State Confer­ence of the NAACP.
Cross­pos­ted from the Amster­dam News.
At the NAACP and the Bren­nan Center, we have been saying for years that Albany's elec­ted offi­cials have to be more account­able to the communit­ies—that means us—that they are elec­ted to repres­ent. If we want our elec­ted offi­cials to refo­cus on the needs of their district, we need to reduce big money's power in our polit­ical system.
Now, in a few short weeks, after count­less calls for reform and resist­ance from legis­lat­ors who bene­fit from the status quo, we will find out whether Gov. Andrew Cuomo and legis­lat­ors are seri­ous about enact­ing needed reforms to elev­ate the voices of aver­age New York­ers. Under the current system, candid­ates for state office don't have a real­istic chance of winning unless they are inde­pend­ently wealthy or spend their time cultiv­at­ing rela­tion­ships with wealthy donors who can finance their campaigns.
Once they get into office, they become entrenched in a self-perpetu­at­ing system: The only way to ensure reelec­tion is to make policy decisions based on those donors' interests, to the detri­ment of constitu­ents who can't afford to pay for polit­ical access. Aver­age New York­er­s—­par­tic­u­larly minor­ity and low-income voter­s—are often shut out or ignored.
This next month provides the best oppor­tun­ity for reform in recent memory. Cuomo, the Assembly and the state Senate are engaged in nego­ti­ations ahead of the April 1 dead­line for a final state budget. The governor and Assembly have already included compre­hens­ive reforms, includ­ing public finan­cing of elec­tions, in their budget propos­als. There is resist­ance from Senate Repub­lic­ans to include this common sense proposal in the final budget, but Cuomo and other Demo­crats are guilty too for not having pushed hard enough in the past to make change a real­ity. Whether they do so over the next few weeks will be an import­ant sign of how seri­ously they take the need to make the diverse voices of aver­age New York­ers heard in Albany.
The current fundrais­ing system has high contri­bu­tion limits, too many loop­holes and lax over­sight. We need a system that signi­fic­antly lowers contri­bu­tion limits in order to slow the polit­ical spend­ing arms race. We need robust and inde­pend­ent over­sight of campaign finance spend­ing. Most import­antly, reform has to include a public finan­cing system that encour­ages smal­ler contri­bu­tions from donors like you and me.
In New York City, we've had a success­ful public finan­cing system in place for 15 years. Estab­lished follow­ing a massive corrup­tion scan­dal in the 1980s, we've seen noth­ing of that scale since. The system magni­fies the voice of every­day citizens at a minimal cost. At the state level, it would cost less than a penny a day per New Yorker. Public fund­ing has a proven track record of increas­ing the diversity of candid­ates who seek public office.
A 2012 Bren­nan Center report found that low-income and minor­ity donors parti­cip­ated at far higher rates under the city's public finan­cing system than they did in state races, even in the same neigh­bor­hoods. As a result, candid­ates without connec­tions to big donors can still raise money and compete. This means a far more diverse pool of candid­ates for office.
In fact, numer­ous candid­ates for city office have used small dona­tions from aver­age constitu­ents to defeat oppon­ents funded by big donors. A statewide public finan­cing could have the same effect on Albany.
New York City's public finan­cing system helped David Dinkins become the first African-Amer­ican mayor of our great city. The system also contrib­uted to the elec­tions of the first Domin­ican-Amer­ican, the first Asian-Amer­ican, the first Asian-Amer­ican woman and the first African-Amer­ican from Staten Island to be elec­ted to the New York City Coun­cil. Our City Coun­cil now more accur­ately reflects the diversity of our city by being "major­ity minor­ity." We deserve a state govern­ment that simil­arly reflects New York­ers' diversity.
As we continue the debate on how best to alloc­ate limited public resources, our communit­ies need repres­ent­at­ives who share our values and for them to be at the table fight­ing for our interests. We need candid­ates from diverse back­ground­s—eth­nic, socioeco­nomic and profes­sion­al—who are will­ing to take a risk and accept the chal­lenges asso­ci­ated with running for public office. What we do not need is a system that contin­ues to favor the candid­a­cies of the inde­pend­ently wealthy and those with an elite network of deep-pock­eted donors or special interest friends.
A public finan­cing system elim­in­ates this tension and gives legis­lat­ors the option of fund­ing their campaigns by using small dona­tions from aver­age constitu­ents. This encour­ages legis­lat­ors to advoc­ate for constitu­ents' concerns, instead of big donors'. In addi­tion, it can reduce the influ­ence of corpor­ate and special interest money in state legis­lat­ive and policy debates that impact all New York­ers.
Decades after the push to clean up Albany began, we're closer than ever to passing compre­hens­ive reforms. It's ironic that the power to elev­ate the diverse voices of thou­sands of New York­ers rests largely in the hands of just four men—Cuomo, State Assembly Speaker Shel­don Silver and Senate Co-Lead­ers Jeffrey Klein and Dean Skelos. We need to let them know how much New York needs change, and to hold them account­able if they squander this oppor­tun­ity.
(Photo: Flickr)