The results of the 2020 Census will determ­ine the appor­tion­ment of seats in the U.S. House of Repres­ent­at­ives for the upcom­ing decade. If current popu­la­tion trends hold up for the remainder of this decade, there likely will be substan­tial changes in congres­sional repres­ent­a­tion come reap­por­tion­ment time.
Since 2010, the coun­try's popu­la­tion has grown and shif­ted consid­er­ably. Popu­la­tion growth in west­ern and south­ern states has outpaced the Midw­est and the North­east. The ten fast­est grow­ing states between 2017 and 2018 all were in the South and West, includ­ing Nevada, Utah, and Texas. Mean­while, states in the North­east and Midw­est regions have grown more slowly than the 5.3 percent U.S. aver­age popu­la­tion growth rate. In the North­east partic­u­larly, popu­la­tion growth has lagged behind every other region in the coun­try this decade.
As a result of these trends, 16 states will see a shift in congres­sional reap­por­tion­ment in 2020, accord­ing to a new report by Elec­tion Data Services. The biggest seat gains will likely be seen in Flor­ida and Texas. Texas is likely to gain three congres­sional seats, which would give the state 39 seats in Congress. Flor­ida is expec­ted to gain up to two addi­tional congres­sional seats, bring­ing its total deleg­a­tion to 29 start­ing in 2022. Many states that are taking in large numbers of Amer­ic­ans from other parts of the coun­try – Arizona, Color­ado, North Caro­lina, Montana, and Oregon –will also gain at least one seat.
The estim­ates also signal likely seat losses for the Midw­est and the North­east. As a result of popu­la­tion decline and slower rate of growth, Elec­tion Data Services projects that Alabama, Illinois, Michigan, New York, Ohio, Pennsylvania, Rhode Island, and West Virginia will lose at least one congres­sional seat, with New York poten­tially losing a second, as well. Cali­for­nia and Minnesota are border­line cases, with each facing the possib­il­ity of losing up to one seat.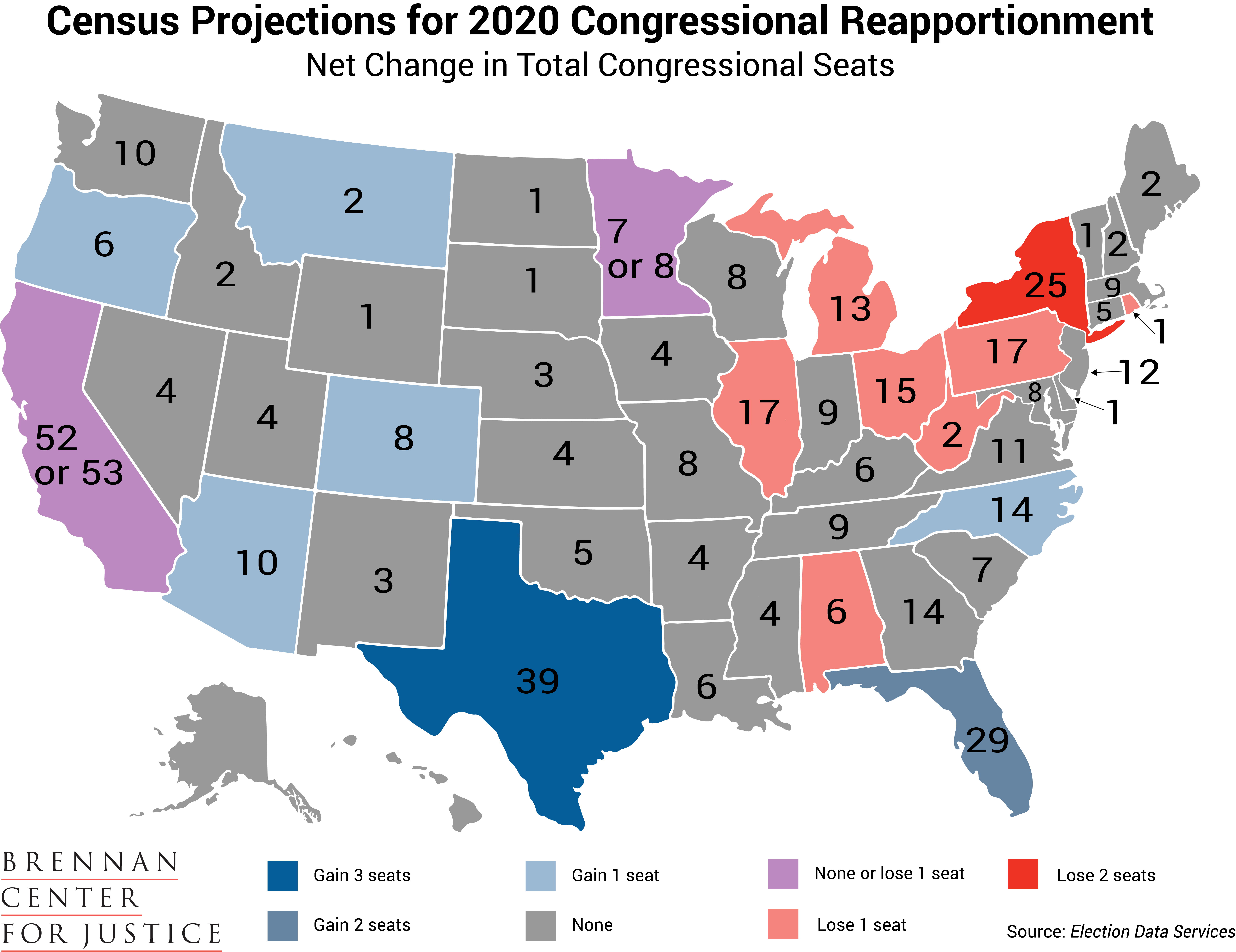 Figure 1: "Census Projec­tions for 2020 Congres­sional Reap­por­tion­ment: Net Change in Total Congres­sional Seats." Elec­tion Data Services. Decem­ber 19, 2018. Source.
Notably, these estim­ates do not account for poten­tial under­counts during the 2020 Census. Yet, as the Bren­nan Center and many others have warned, the Commerce Depart­ment's decision to add a citizen­ship ques­tion to the census could produce severe under­counts in many places through­out the coun­try. The citizen­ship ques­tion partic­u­larly threatens an accur­ate count in states whose growth this past decade is dispro­por­tion­ately attrib­ut­able to a growth in immig­rant house­holds and communit­ies of color. The on-going litig­a­tion to remove the citizen­ship ques­tion, if it succeeds, could play a signi­fic­ant role in ensur­ing that the 2020 Census, and, in turn, congres­sional appor­tion­ment, accur­ately reflect the coun­try's demo­graphic tends.