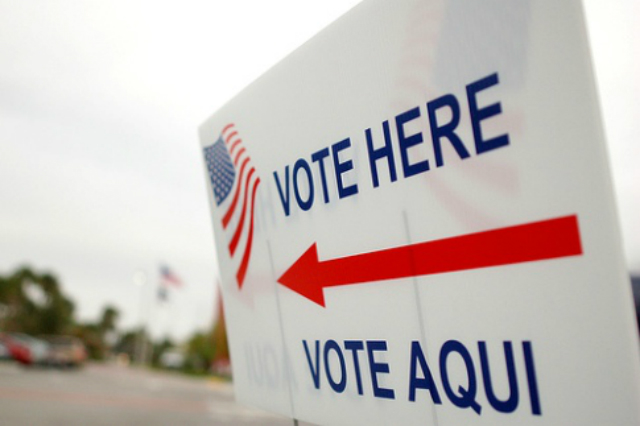 Crossposted from The Atlantic
Everyone knows that Washington is mired in gridlock. But on what has been one of our most partisan, divisive issues, something strange is happening in our nation's capital.
After three years of pitched battles in the states over who can vote and how much trouble they should have to go through to do so, two bipartisan initiatives out of Washington, D.C., are providing real hope that reform may be around the corner.
On Wednesday, the bipartisan Presidential Commission on Election Administration, co-chaired by the lawyers for Barack Obama and Mitt Romney's presidential campaigns, issued a report recommending critical reforms to tackle long lines and other election challenges. And last week, a bipartisan group in Congress introduced a bill to fill the hole created by the Supreme Court's 2013 decision gutting the heart of the Voting Rights Act.
These are two serious bipartisan efforts to fix our voting system's biggest problems. These proposals aren't perfect; there is much more we need to do. But, if enacted, they would represent a dramatic step forward.
The problems these efforts target are widespread. According to a survey by the presidential voting commission, nearly 50 percent of Americans live in precincts that had long lines in 2012. And long lines are just the most visible manifestation of an aging voting system in need of reform. There are also the 3 million Americans who were not able to vote because of voter registration problems, and the millions more whose votes did not count because of issues with voting machines, poll sites, or misguided state requirements. All this points to the need to bring our system into the 21st century.
To make matters worse, over the past few years, half the states passed laws making it harder to vote. Discrimination was a significant factor: Researchers from the University of Massachusetts found that the states most likely to introduce and pass voting restrictions were those where minority and low-income turnout had increased most since the last presidential election. Those states previously singled out for special oversight under the Voting Rights Act were among the worst offenders. The provision the Supreme Court neutered had been a significant weapon against discriminatory laws: In 2012 alone, it stopped more than 15 discriminatory voting changes from going into effect, and deterred many more. Now it's gone.
As President Obama said regarding the chaos and long lines on election night 2012, "We need to fix that." And despite the past few years' partisan bickering, the presidential commission assures us that our voting problems are both "identifiable and solvable."
One of the commission's significant findings is that the worst voting problems are common nationwide, and there are common solutions "that should fit all." It calls on states to modernize a few areas most in need of reform: voter registration, early voting, polling-place management, and voting machines and ballots. The voter-registration proposals are especially critical — though only a starting point — since the current registration system is by far our biggest source of election-administration problems. Based largely on paper records, the system is rife with errors and leads to confusion, disenfranchisement, and long lines. If states harness existing technology to modernize the voter-registration system, we can get more eligible voters registered, save money, and improve accuracy and efficiency.
There is reason to believe that states will be receptive to the commission's recommendations. Although the lead up to the 2012 election saw widespread efforts to restrict voting rights, 2013 ushered in a countertrend of improving voter access. It's true that the movement to cut back on voting rights did not end. But many states pushed forward with positive voting reforms as well, with 10 states passing laws making it easier to vote, many along the lines recommended by the Commission. Voter-registration reform has been especially popular. Interestingly, while voting restrictions passed almost exclusively in Republican-controlled states, voting improvements passed in Republican, Democratic, and mixed-control states. The appetite to improve the voting system can transcend partisanship.
Of course, it's not enough for the voting system to run well for most voters if it still allows discrimination against some. Traditionally, the Voting Rights Act has risen above partisan politics. The act has been reauthorized four times on a bipartisan basis — in 2006, by votes of 98–0 in the Senate and 390–33 in the House. Hopefully, last week's bipartisan bill to restore it will similarly succeed.
Voting rights should not be a partisan issue. America needs an election system that works well for everyone, and doesn't tolerate discrimination against anyone. The voting commission's report and the Voting Rights Amendment Act are an important start. It is heartening to see two of the most important initiatives to fix our voting problems so soon after 2012, in bipartisan form. Now it's up to Congress and the states to seize this opportunity and move us forward. There is a bipartisan path out of this mess. Now is the time to take it.