Since 2009, federal trial courts have exper­i­enced unusu­ally high and sustained levels of judi­cial vacan­cies. Follow­ing years of obstruc­tion, the pace of Senate confirm­a­tion of judi­cial nomin­ees has dramat­ic­ally accel­er­ated since April 2014. Yet a vacancy back­log contin­ues, includ­ing high levels of judi­cial vacan­cies without nomin­ees.
The Bren­nan Center first examined the grow­ing number of federal district court vacan­cies in a July 2013 report, find­ing that these vacan­cies have burdened federal judges with unwork­able case­loads. Addi­tional stud­ies were completed in Novem­ber 2013 and Febru­ary 2014.
Our most recent analysis, published in July 2014, featured inter­views with trial court judges, court admin­is­trat­ors, and prac­ti­tion­ers who docu­mented the harm­ful impact of high vacancy levels on the admin­is­tra­tion of justice, includ­ing case delays and reduced time for judges to spend on indi­vidual cases.
Without contin­ued atten­tion by the Pres­id­ent and Senate, many federal judge­ships are likely to remain unfilled for the fore­see­able future. The White House and Senate should prior­it­ize identi­fy­ing nomin­ees for unfilled judge­ships and continue their recent progress in confirm­ing qual­i­fied nomin­ees.
Below is a chart of all federal judi­cial court vacan­cies followed by a break­down of district court vacan­cies.
---
All Federal Judi­cial Vacan­cies
*As repor­ted by the Admin­is­trat­ive Office of the U.S. Courts
---
Federal District Court Vacan­cies
While most atten­tion to federal judi­cial vacan­cies has focused on the appel­late courts, our district courts have also exper­i­enced high levels of vacant judge­ships. District courts are the work­horses of the federal judi­cial system, resolv­ing legal disputes, conduct­ing civil and crim­inal trials, and over­see­ing cases from filing to termin­a­tion.
In our most recent analysis, the Bren­nan Center examined 10 districts that currently have judi­cial vacan­cies or that recently had vacan­cies filled. Inter­views with 20 chief judges, court admin­is­trat­ors, and prac­ti­tion­ers suggest that vacan­cies affect the abil­ity of many courts to effect­ively and timely admin­is­ter justice.
The inter­viewees repor­ted four major impacts:
Case delays: Delay in resolv­ing motions and hear­ing trials was the most common impact cited in inter­views with judges and court admin­is­trat­ors, with eight districts report­ing delays caused by vacan­cies. Our analysis of court data found that having a single judi­cial vacancy for 12 months was asso­ci­ated, at a stat­ist­ic­ally signi­fic­ant level, with a two percent­age point increase in the percent­age of cases pending for three years or more.
"We don't neglect the seventh amend­ment, the right to a civil trial. But we tell people, if this is what you want to do, it will take time to get there."
— Chief Judge William Skretny, West­ern District of New York
Less time spent on indi­vidual cases: Judges in four districts observed that heav­ier case­loads due to vacan­cies meant they spent less time consid­er­ing indi­vidual cases, rais­ing troub­ling concerns about the qual­ity of justice dispensed.
"Some­times you'd like to be able to spend more time think­ing and writ­ing, or having more hear­ings. We just don't have time to do that."
— Chief Judge Anne Conway, Middle District of Flor­ida
Admin­is­trat­ive burdens: Vacan­cies mean more than the loss of a judge. Judges and court admin­is­trat­ors in five districts emphas­ized the "trickle-down" effect on judi­cial admin­is­tra­tion, includ­ing the loss of law clerks and other admin­is­trat­ive resources and reduced capa­city for the work of judi­cial commit­tees.
"It's a trickle-down effect. When you have a vacancy it affects all parts of your court system."
— Chief Judge Leonard Davis, East­ern District of Texas
Risk of judi­cial burn-out: Vacan­cies mean more work for a district's remain­ing judges. In eight districts, chief judges and court admin­is­trat­ors raised concerns about judges taking on heavy work­loads in an effort to compensate for vacan­cies, with four specific­ally citing judi­cial burn-out as a cause for concern.
"It's like an emer­gency room in a hospital. The judges are used to it and people come in and out and get good treat­ment. But the ques­tion is, can you sustain it? Even­tu­ally you burn out."
— Chief Judge Federico Moreno, South­ern District of Flor­ida
---
The Need for New Judge­ships
Congress has not passed a compre­hens­ive judge­ship act since 1990, and the last time that any district court judge­ships were created by Congress was in 2002. Nation­wide, 32 out of 94 districts have been recom­men­ded for addi­tional judge­ships by the Judi­cial Confer­ence of the United States, based on the districts' work­load and self-assess­ment of need. When these recom­men­ded addi­tional judge­ships are added to the number of exist­ing vacan­cies, districts' "effect­ive vacancy rates" are strik­ing, with 20 districts in 14 states left with vacancy rates of 25 percent or higher, as of July 14, 2014.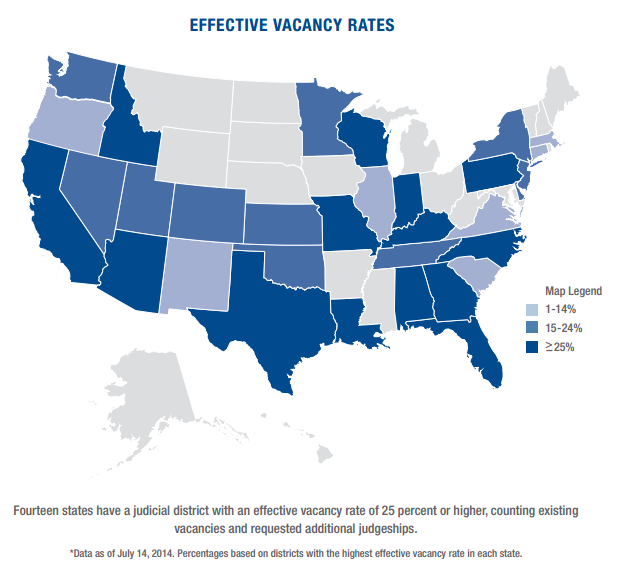 ---
Addi­tional Resources
Russell Wheeler of the Brook­ings Insti­tu­tion published a report in 2013 compar­ing the nomin­a­tions processes of the Obama, Bush, and Clin­ton admin­is­tra­tions.
Judging the Envir­on­ment approaches the federal judi­cial nomin­a­tions process from an envir­on­mental protec­tion perspect­ive.