In his Inaug­ural Address on Jan. 20, 2017, Pres­id­ent Donald Trump pledged to stem the tide of what he called "Amer­ican carnage." The admin­is­tra­tion carried out that plan with sweep­ing changes to long-stand­ing Justice Depart­ment policies, cover­ing everything from marijuana to private pris­ons. Some of those changes were explored in a previ­ous Bren­nan Center report, Crim­inal Justice in Pres­id­ent Trump's First 100 Days.
Now, at the end of the pres­id­ent's first year in office, this analysis exam­ines the admin­is­tra­tion's actions to date and their consequences. It first docu­ments signi­fic­ant changes in federal crim­inal justice policy imple­men­ted over the last year. It then describes what impact can be seen to date. Finally, it indic­ates what to expect moving forward.
All told, Pres­id­ent Trump and Attor­ney General Jeff Sessions have already left a signi­fic­ant mark on the Justice Depart­ment. They have used short memor­anda or subtle changes in enforce­ment strategy to quietly undo much of Pres­id­ent Barack Obama's crim­inal justice reform legacy. In its place, they have built a more draconian vision of law enforce­ment, centered around immig­ra­tion. While many of these changes occurred without draw­ing public scru­tiny, consequences have already begun to mater­i­al­ize in areas such as immig­ra­tion enforce­ment.
Over the next three years these shifts could cause the federal prison popu­la­tion to begin increas­ing again, revers­ing what small progress had been made to reduce federal over-incar­cer­a­tion. Further, the admin­is­tra­tion's words and deeds on crim­inal justice could disrupt bipar­tisan efforts to build a fairer, more effect­ive justice system at the state and local levels.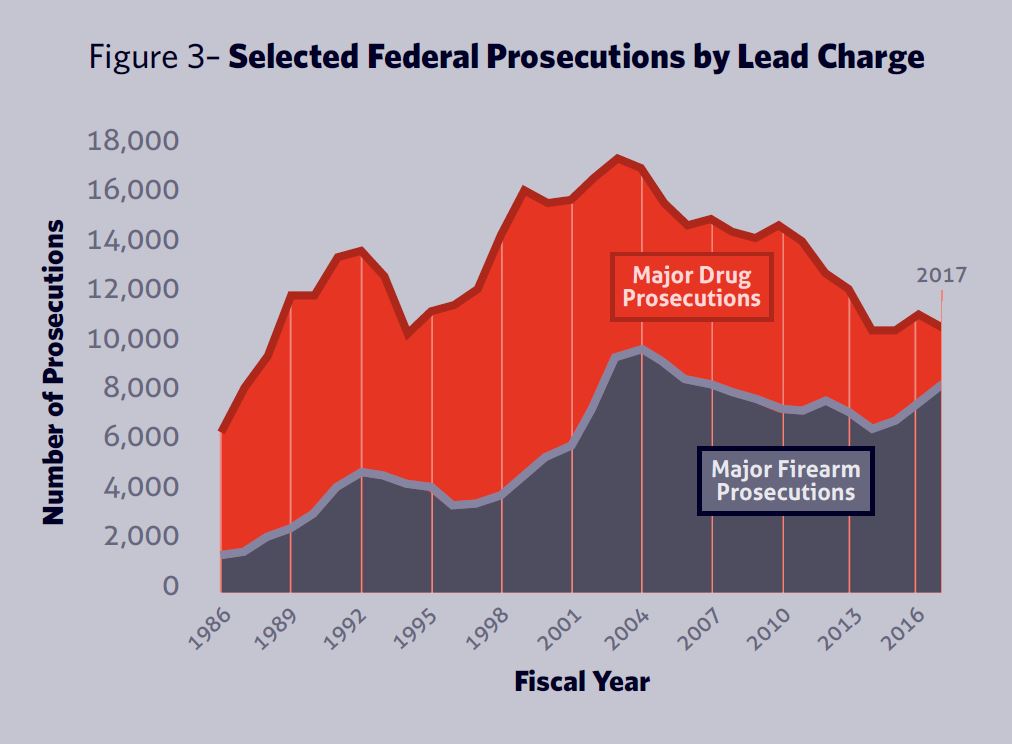 As to the number of prosec­u­tions, Sessions has touted a 23 percent increase in fire­arm cases in the second quarter of 2017, lead­ing him to close the fiscal year with 'the most federal fire­arm prosec­u­tions in a decade.' Fire­arm prosec­u­tions under two fire­arm stat­utes did rise 10.6 percent in FY 2017. But this increase contin­ues a trend begun under the Obama Admin­is­tra­tion in FY 2014."
– Page 7, Crim­inal Justice One Year Under Into the Trump Admin­is­tra­tion
Crim­inal Justice One Year Into the Trump Admin­is­tra­tion by The Bren­nan Center for Justice on Scribd