In his Inaugural Address on Jan. 20, 2017, President Donald Trump pledged to stem the tide of what he called "American carnage." The administration carried out that plan with sweeping changes to long-standing Justice Department policies, covering everything from marijuana to private prisons. Some of those changes were explored in a previous Brennan Center report, Criminal Justice in President Trump's First 100 Days.
Now, at the end of the president's first year in office, this analysis examines the administration's actions to date and their consequences. It first documents significant changes in federal criminal justice policy implemented over the last year. It then describes what impact can be seen to date. Finally, it indicates what to expect moving forward.
All told, President Trump and Attorney General Jeff Sessions have already left a significant mark on the Justice Department. They have used short memoranda or subtle changes in enforcement strategy to quietly undo much of President Barack Obama's criminal justice reform legacy. In its place, they have built a more draconian vision of law enforcement, centered around immigration. While many of these changes occurred without drawing public scrutiny, consequences have already begun to materialize in areas such as immigration enforcement.
Over the next three years these shifts could cause the federal prison population to begin increasing again, reversing what small progress had been made to reduce federal over-incarceration. Further, the administration's words and deeds on criminal justice could disrupt bipartisan efforts to build a fairer, more effective justice system at the state and local levels.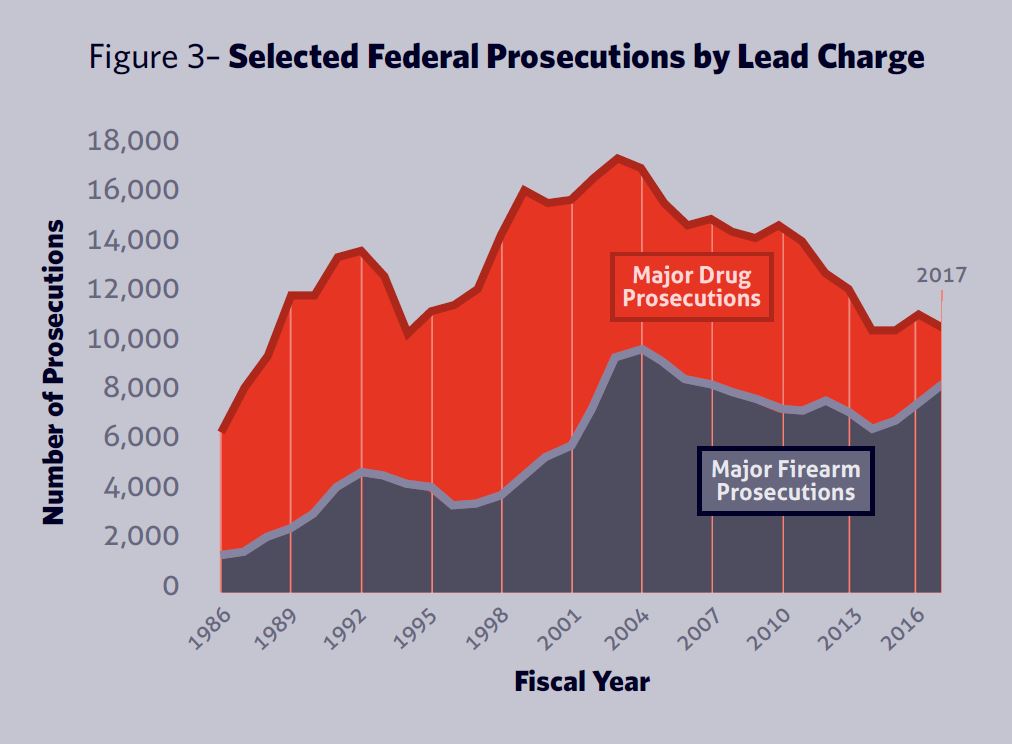 As to the number of prosecutions, Sessions has touted a 23 percent increase in firearm cases in the second quarter of 2017, leading him to close the fiscal year with 'the most federal firearm prosecutions in a decade.' Firearm prosecutions under two firearm statutes did rise 10.6 percent in FY 2017. But this increase continues a trend begun under the Obama Administration in FY 2014."
– Page 7, Criminal Justice One Year Under Into the Trump Administration
Criminal Justice One Year Into the Trump Administration by The Brennan Center for Justice on Scribd