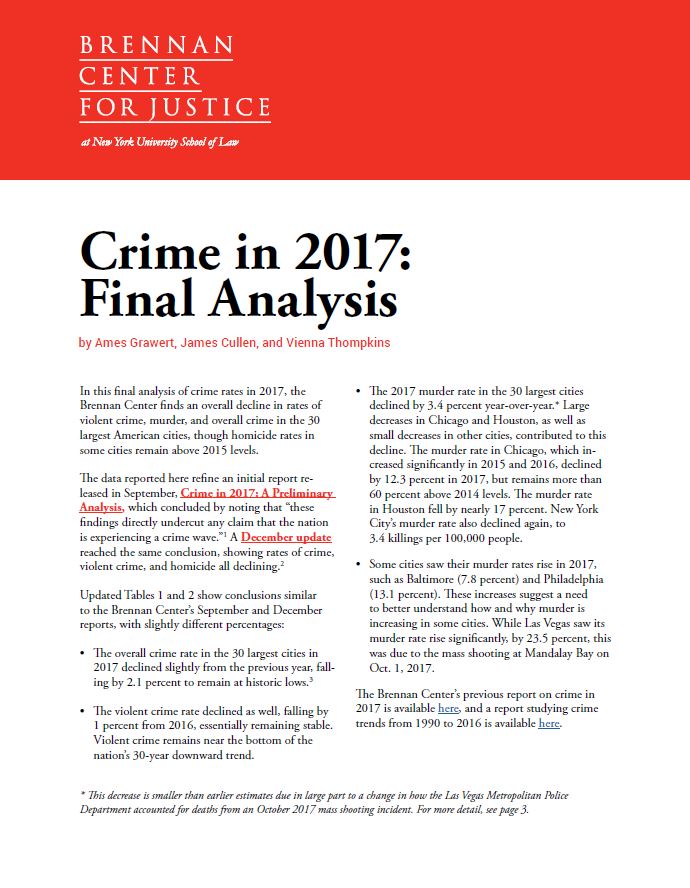 In this final analysis of crime rates in 2017, the Bren­nan Center finds an over­all decline in rates of viol­ent crime, murder, and over­all crime in the 30 largest Amer­ican cities, though homicide rates in some cities remain above 2015 levels. Down­load the report here.
The data repor­ted here refine an initial report released in Septem­ber, Crime in 2017: A Prelim­in­ary Analysis, which concluded by noting that "these find­ings directly under­cut any claim that the nation is exper­i­en­cing a crime wave." A Decem­ber update reached the same conclu­sion, show­ing rates of crime, viol­ent crime, and homicide all declin­ing.
Updated Tables 1 and 2 show conclu­sions similar to the Bren­nan Center's Septem­ber and Decem­ber reports, with slightly differ­ent percent­ages:
– The over­all crime rate in the 30 largest cities in 2017 declined slightly from the previ­ous year, fall­ing by 2.1 percent to remain at historic lows.
– The viol­ent crime rate declined as well, fall­ing by 1 percent from 2016, essen­tially remain­ing stable. Viol­ent crime remains near the bottom of the nation's 30-year down­ward trend.
– The 2017 murder rate in the 30 largest cities declined by 3.4 percent year-over-year. Large decreases in Chicago and Hous­ton, as well as small decreases in other cities, contrib­uted to this decline. The murder rate in Chicago, which increased signi­fic­antly in 2015 and 2016, declined by 12.3 percent in 2017, but remains more than 60 percent above 2014 levels. The murder rate in Hous­ton fell by nearly 17 percent. New York City's murder rate also declined again, to 3.4 killings per 100,000 people.
– Some cities saw their murder rates rise in 2017, such as Baltimore (7.8 percent) and Phil­adelphia (13.1 percent). These increases suggest a need to better under­stand how and why murder is increas­ing in some cities. While Las Vegas saw its murder rate rise signi­fic­antly, by 23.5 percent, this was due to the mass shoot­ing at Mandalay Bay on Oct. 1, 2017.
The Bren­nan Center's previ­ous report on crime in 2017 is avail­able here, and a report study­ing crime trends from 1990 to 2016 is avail­able here.