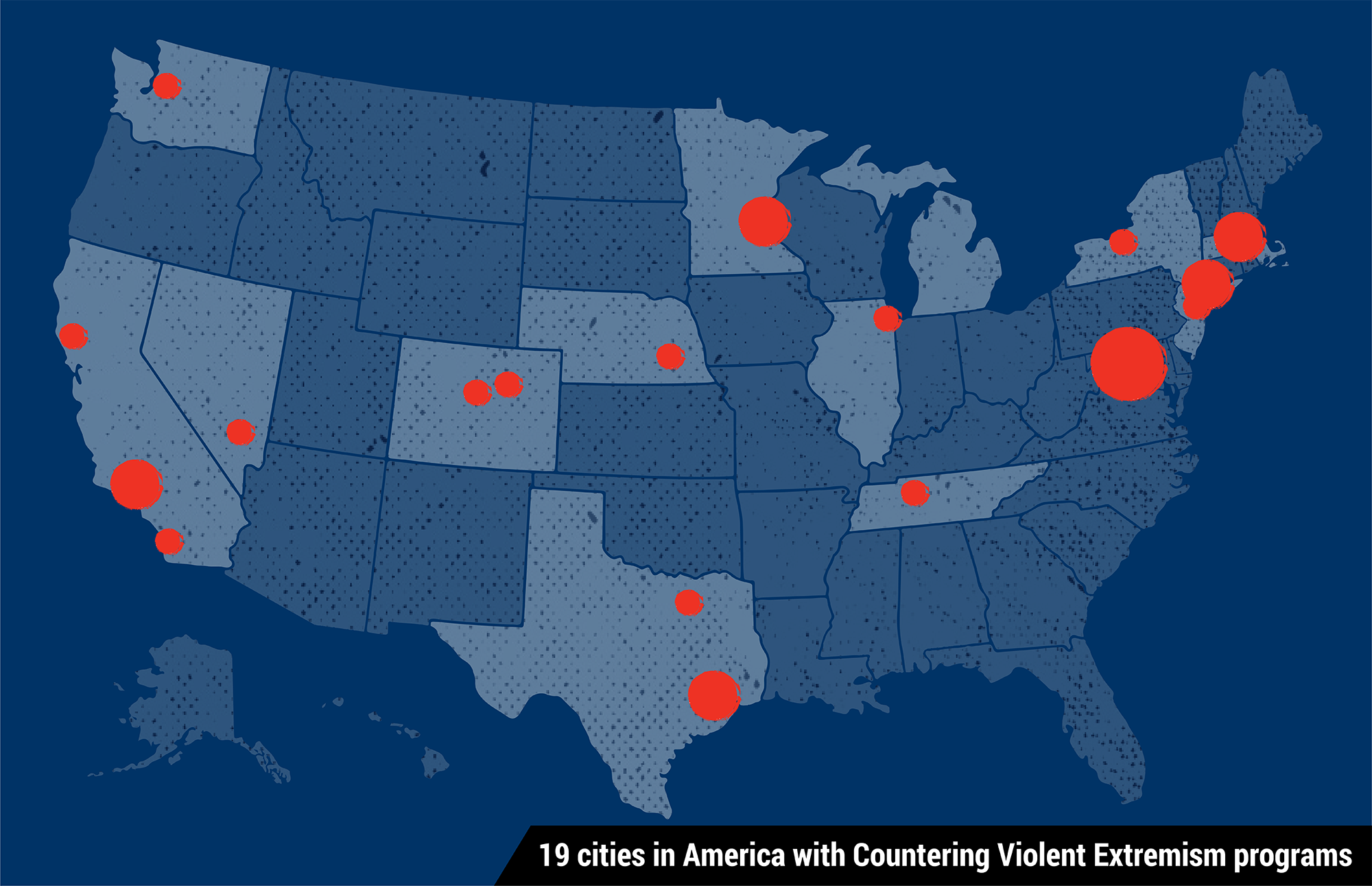 Countering Violent Extremism (CVE) programs have a long and troubled history, from before and including the Obama White House. These programs unfairly target Muslim and minority communities as inherently susceptible to terrorism. They conflate community services and intelligence gathering, often under false pretenses, undermining trust between law enforcement and communities. And there is no evidence that they provide any national security benefit, which is unsurprising since they rely on theories and assumptions about terrorism that have been empirically disproven.
The ascension of the openly Islamophobic Trump administration has only deepened concerns about how CVE programs could be used to target vulnerable communities. Our analysis of CVE grants awarded by Trump's Department of Homeland Security found that those fears are warranted. CVE programs now explicitly operate on the bizarre and unsupported assumption that diversity and the experience of discrimination in America are suggestive of a national security threat – and that Muslim, immigrant, black, or LGBTQ Americans, from kindergarten on, must be surveilled to keep our country safe.
---
Key Findings
Read our key findings on the Trump administration's changes to the CVE Grant program. Those include:
At least 85% of CVE grants, and over half of CVE programs, now explicitly target minority groups, including Muslims, LGBTQ Americans, Black Lives Matter Activists, immigrants, and refugees.
The amount of CVE funding going to law enforcement has tripled, from $764,000 to $2,340,000.
14 of the 26 programs funded by the Department of Homeland Security target schools and students, some as young as 5 years old – often encouraging them to report suspicious behavior by parents or fellow students.
---
 Countering Violent Extremism Grants by City
California

Colorado

District of Columbia

Illinois

Massachusetts

Michigan

Minnesota

Minneapolis, MN (Heartland Democracy)

Minneapolis, MN (Hennepin County Sheriff's Office)
 

Nebraska

Lincoln, NE (Nebraska Emergency Management Agency)
 

Nevada

Las Vegas, NV (Las Vegas Metropolitan Police Department)
 

New Jersey

Jersey City, NJ (Global Peace Foundation)
 

New York

New York, NY (Tuesday's Children)

New York, NY (Counter Extremism Project)

Rochester, NY (Rochester Institute of Technology)
 

Tennessee

Nashville, TN (Nashville International Center for Empowerment)
 

Texas

Arlington, TX (Arlington Police Department)

Houston, TX (Houston Mayor's Office)

Houston, TX (Crisis Intervention of Houston)
 

Washington

Seattle, WA (Seattle Police Department)

 
---
Use
All documents associated with this project may be reproduced in whole or in part as long as the Brennan Center is credited, a link to the Center's web page is provided, and no charge is imposed. Please let the Brennan Center know if you reproduce any piece of the project.
This is a living document—we anticipate adding more information as it becomes available. Know of publicly available DHS CVE grant information we are missing? Email andrew.lindsay@nyu.edu and sophia.denuyl@nyu.edu.
Additional Resources
CVE Lexicon: This chart includes definitions of the key terms used by CVE proponents in the United States. The definitions in the lexicon were derived from a variety of open source materials and unclassified documents.
Terrorism Indicators Chart: A compendium of the various markers of vulnerability to terrorism identified by CVE programs.
CVE Funding Chart: This chart compares the funding allocated to groups receiving DHS CVE funding in the Obama and Trump administrations. The chart is divided into police departments, non-profit organizations, academic or research institutions, Muslim grassroots organizations, and public safety organizations. Organizations that publicly declined funding after the 2016 Presidential Election are highlighted.
---
Note on Methodology
We have categorized the programs funded by DHS based on the types of activities they perform, and a single grant may encompass more than one activity. The five categories used are:
Intervention: Identifying individuals as potential terrorists mostly based on vague and unproven indicators, such as feelings of alienation, experience of racism or discrimination, difficulties in school or career, searching for sense of meaning or community, bullying, and economic hardship. These programs generally involve training people who are likely to come into contact with young people, including schoolteachers, to spot these signs. Once such individuals are identified, these programs often provide or refer them to counseling or mental health care, a process that almost always involves law enforcement. Some intervention programs do not include a referral element, but rather focus on a "train the trainer" model.
Social Services: Programs to fund or facilitate the provision of health, education, and social services to American Muslim and other communities, based on the theory that adverse economic and social conditions facilitate terrorism. Social services may also be part of an intervention program as described above.
CVE Online: Efforts to create or promote messages that are thought to counter the appeal of groups like ISIS and encourage reporting of so-called "extremist content" so that it can be removed from the Internet.
Community Outreach: Traditional approaches to building relationships between law enforcement and communities, such as visits by police to community events and houses of worship.
Deradicalization: Measures aimed at currently or formerly incarcerated individuals identified as at risk of violent extremism, such as support services and counseling upon release. 
Although DHS did not request recommendations as part of grant applications, some grantees incorporated letters of support as part of their CVE proposals. For completeness we have identified these supporters in our analysis.
The organizations and individuals listed as partners, pass-through organizations, consultants, and supporters are consistent with those listed in the grant proposals as submitted to DHS. We recognize that some of the listed entities may have since declined funding or stopped participation.
A number of grantees also received grant awards that differed from the funds requested in their grant proposals. We resolved this discrepancy by reporting funds awarded to each program by then-DHS secretary John Kelly in June 2017.
Finally, several DHS CVE programs are nationwide or statewide in their reach; they are nonetheless listed according to the city in which the headquarters of the grantee is located. For example, the Global Peace Foundation's program has a statewide focus, but in the accompanying grant proposal the organization listed Jersey City as the site of their headquarters, so we have listed it as such.
Stay up to date
Informed citizens are our democracy's best defense