Cross-posted at The Huffington Post.
Even in Washington, few have embraced the Supreme Court's Citizens United decision more vociferously than long-time campaign finance reform foe Senator Mitch McConnell. In a brief to the Supreme Court in 2012, he argued that critics of the decision got it exactly wrong: despite the warnings, unlimited spending from corporate treasuries had not skyrocketed, and the decision should stand.
Senator McConnell may have a point—or half of one. While it's impossible to know exactly how much corporate spending Citizens United has unleashed (because so much spending is no longer disclosed), four years on, it has become apparent that the biggest impact of the decision may have little to do with the spending of "corporate wealth."
Rather, as our colleague Ian Vandewalker points out in his recent analysis of spending in the most competitive Senate races of 2014, it is now apparent that the decision's biggest impact may be that it opened the door to two types of political spending entities that could completely undermine the integrity of what's left of our campaign finance system: candidate-specific super PACs and dark money groups. Candidate-specific super PACs undercut federal contribution limits to candidates by allowing individuals to direct unlimited sums of money in support of someone running for office, while dark money groups evade the disclosure requirements for political contributions that currently exist under federal law.
It may be that no single race better exemplifies these developments, and foreshadows the shape of future federal elections, than Senator McConnell's competitive re-election contest against Alison Lundergan Grimes. Perhaps unsurprisingly, considering McConnell's current position and the potential for him to become Senate Majority Leader, the Kentucky race has attracted massive spending on both sides, including significant activity by new outside spending entities.
A. How Candidate-Specific super PACs Allow Donors to "Supplement" Their Giving
Federal law prohibits candidates from taking contributions above $5,200 ($2,600 in the primary; $2,600 in the general) because large contributions might corrupt. But under the logic of Citizens United, super PACs operate independently of candidates, and can take in unlimited funds. In Kentucky, both Alison Lundergan Grimes and Mitch McConnell have benefited from super PACs devoted exclusively to supporting them, but many more of McConnell's donors have "double dipped" by maxing out in direct contributions while also contributing heavily to the candidate-specific super PAC supporting him.
Kentuckians for Strong Leadership (KSL) was created "to ensure that Kentucky's own Senator Mitch McConnell is reelected." To that end, it has already spent over $6 million in the race.
The existence of this group has allowed many maxed-out McConnell donors to supplement their campaign giving with unlimited donations. According to recently available FEC data, about 68% of KSL's individual contributors have also maxed out to McConnell's primary or general election campaign. More than 50% maxed out to both. While KSL is supported by just 40 of these "double dipping donors," their contributions have had a serious impact, adding up to about $2.25 million and comprising roughly 74% of KSL's funds from individual donors. The average maxed-out donor contributed about $56,000, more than ten times what can be given directly to McConnell. These figures cover contributions through the second quarter of 2014, and the number of double dipping donors may have increased.
In the nine most competitive Senate races, no candidate-specific super PAC took in more money from donors who also maxed out to the candidate in question. One other group—the pro-Mark Begich Put Alaska First—spent significantly more than KSL, but received the bulk of its money from another super PAC, the Democrat-aligned Senate Majority PAC.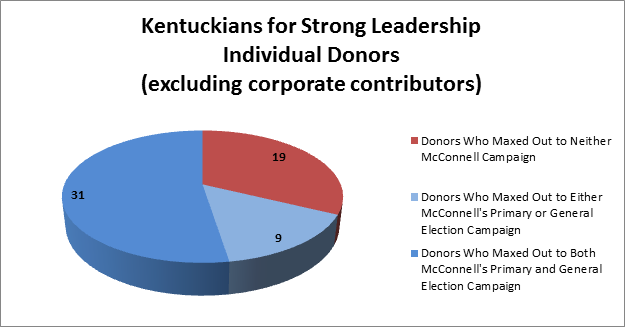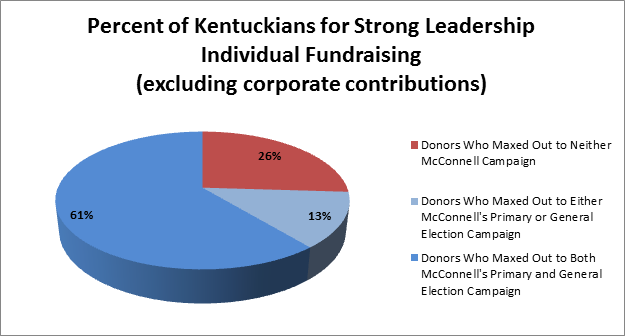 Large contributions to candidate-specific super PACs could raise the same corruption concerns that existing limits were created to prevent. KSL is considered independent of McConnell, but it was founded by a senior adviser to his 2008 campaign and was set up exclusively to support his reelection. One of its three board members is McConnell's former chief of staff.
Alison Lundergan Grimes also enjoys the support of a candidate-specific super PAC, We Are Kentucky, which has spent about $100,000 attacking McConnell. The group received 75% of its individual contributions—about $85,000 total—from five double dipping donors. Senate Majority PAC has also spent $4 million attacking McConnell while receiving significant funding from donors who have maxed out to the Democratic Party committees, potentially raising corruption concerns at the party level. The PAC's second-largest individual donor has maxed out to Grimes' primary and general election campaigns.
B. The New Kid on the Block: Dark Money Candidate-Specific Groups
We were already seeing candidate-specific super PACs back in 2012. But super PACs need to reveal their donors under federal law. Dark money groups do not. Like super PACs, they are largely a creation of Citizens United, which expanded nonprofit corporations' ability to spend in elections while also initiating a cultural shift toward more outside spending. In 2014, the benefits of unlimited spending have been combined with the anonymity of dark money to form candidate-specific dark money groups.
The Kentucky Opportunity Coalition is an example of a dark money organization that does not have to reveal its donors. It has spent $7 million attacking Grimes, contributing to the over $100 million spent by dark money groups this election cycle.
The Brennan Center analysis of the most competitive Senate races found that Kentucky Opportunity Coalition was among the top five dark money spenders overall, and was far and away the top candidate-specific dark money spender.
An adviser to Kentucky Opportunity Coalition is a former McConnell staffer, and earlier this year the group stretched the limits of its independence by using b-roll footage of the candidate produced by McConnell's campaign. These types of shared advisers and campaign materials may increase the chances of coordination between candidates and outside groups.
But even absent outright coordination, politicians may be more likely to notice a six figure check to an independent group than a $5,200 direct contribution. As former Representative Dan Boren put it, "If you're a massive donor to the DNC … and now you're giving to the Majority PAC unlimited amounts of money…. You can't tell me if you sit down with the leadership of any party that that legislative agenda is not going to reflect a lot of the wants and needs of those interest groups." That is true of candidates as well. The parade of presidential contenders who wooed super PAC mega-donor Sheldon Adelson this March suggests that giving generously to super PACs is an effective way to reach candidates, and possibly to affect the actions they take as elected officials, perhaps more so than joining the scores of donors who give to them directly.
**
The Supreme Court's Citizens United decision removed limits on what outside groups could take in, with the understanding that those groups were independent of candidates and unable to corrupt them. It has taken a few years for the full impact of that decision to sink in, but the reality in Kentucky shows the world the Court envisioned and the reality it created aren't even close.
Without new laws to curb these practices, or a new Supreme Court to reconsider its very flawed jurisprudence, the kind of spending we are seeing in Senator McConnell's race against Alison Lundergan Grimes will likely represent the future of campaigns across the country.