Cross-posted at The Huff­ing­ton Post.
Even in Wash­ing­ton, few have embraced the Supreme Court's Citizens United decision more voci­fer­ously than long-time campaign finance reform foe Senator Mitch McCon­nell. In a brief to the Supreme Court in 2012, he argued that crit­ics of the decision got it exactly wrong: despite the warn­ings, unlim­ited spend­ing from corpor­ate treas­ur­ies had not skyrock­eted, and the decision should stand.
Senator McCon­nell may have a point—or half of one. While it's impossible to know exactly how much corpor­ate spend­ing Citizens United has unleashed (because so much spend­ing is no longer disclosed), four years on, it has become appar­ent that the biggest impact of the decision may have little to do with the spend­ing of "corpor­ate wealth."
Rather, as our colleague Ian Vandewalker points out in his recent analysis of spend­ing in the most compet­it­ive Senate races of 2014, it is now appar­ent that the decision's biggest impact may be that it opened the door to two types of polit­ical spend­ing entit­ies that could completely under­mine the integ­rity of what's left of our campaign finance system: candid­ate-specific super PACs and dark money groups. Candid­ate-specific super PACs under­cut federal contri­bu­tion limits to candid­ates by allow­ing indi­vidu­als to direct unlim­ited sums of money in support of someone running for office, while dark money groups evade the disclos­ure require­ments for polit­ical contri­bu­tions that currently exist under federal law.
It may be that no single race better exem­pli­fies these devel­op­ments, and fore­shad­ows the shape of future federal elec­tions, than Senator McCon­nell's compet­it­ive re-elec­tion contest against Alison Lunder­gan Grimes. Perhaps unsur­pris­ingly, consid­er­ing McCon­nell's current posi­tion and the poten­tial for him to become Senate Major­ity Leader, the Kentucky race has attrac­ted massive spend­ing on both sides, includ­ing signi­fic­ant activ­ity by new outside spend­ing entit­ies.
A. How Candid­ate-Specific super PACs Allow Donors to "Supple­ment" Their Giving
Federal law prohib­its candid­ates from taking contri­bu­tions above $5,200 ($2,600 in the primary; $2,600 in the general) because large contri­bu­tions might corrupt. But under the logic of Citizens United, super PACs oper­ate inde­pend­ently of candid­ates, and can take in unlim­ited funds. In Kentucky, both Alison Lunder­gan Grimes and Mitch McCon­nell have benefited from super PACs devoted exclus­ively to support­ing them, but many more of McCon­nell's donors have "double dipped" by maxing out in direct contri­bu­tions while also contrib­ut­ing heav­ily to the candid­ate-specific super PAC support­ing him.
Kentucki­ans for Strong Lead­er­ship (KSL) was created "to ensure that Kentuck­y's own Senator Mitch McCon­nell is reelec­ted." To that end, it has already spent over $6 million in the race.
The exist­ence of this group has allowed many maxed-out McCon­nell donors to supple­ment their campaign giving with unlim­ited dona­tions. Accord­ing to recently avail­able FEC data, about 68% of KSL's indi­vidual contrib­ut­ors have also maxed out to McCon­nell's primary or general elec­tion campaign. More than 50% maxed out to both. While KSL is suppor­ted by just 40 of these "double dipping donors," their contri­bu­tions have had a seri­ous impact, adding up to about $2.25 million and compris­ing roughly 74% of KSL's funds from indi­vidual donors. The aver­age maxed-out donor contrib­uted about $56,000, more than ten times what can be given directly to McCon­nell. These figures cover contri­bu­tions through the second quarter of 2014, and the number of double dipping donors may have increased.
In the nine most compet­it­ive Senate races, no candid­ate-specific super PAC took in more money from donors who also maxed out to the candid­ate in ques­tion. One other group—the pro-Mark Begich Put Alaska First—spent signi­fic­antly more than KSL, but received the bulk of its money from another super PAC, the Demo­crat-aligned Senate Major­ity PAC.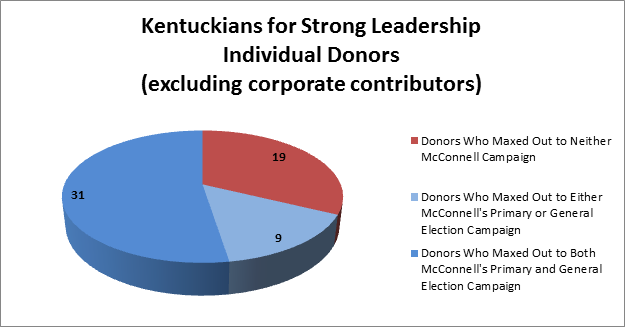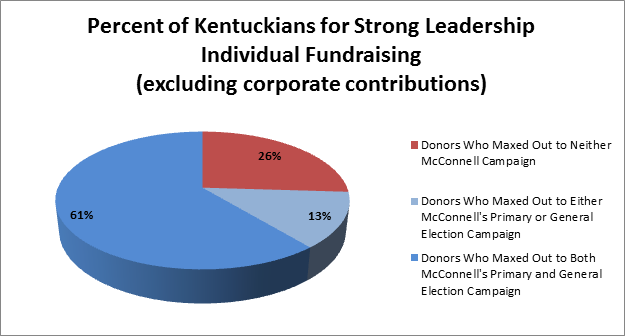 Large contri­bu­tions to candid­ate-specific super PACs could raise the same corrup­tion concerns that exist­ing limits were created to prevent. KSL is considered inde­pend­ent of McCon­nell, but it was foun­ded by a senior adviser to his 2008 campaign and was set up exclus­ively to support his reelec­tion. One of its three board members is McCon­nell's former chief of staff.
Alison Lunder­gan Grimes also enjoys the support of a candid­ate-specific super PAC, We Are Kentucky, which has spent about $100,000 attack­ing McCon­nell. The group received 75% of its indi­vidual contri­bu­tion­s—­about $85,000 total—­from five double dipping donors. Senate Major­ity PAC has also spent $4 million attack­ing McCon­nell while receiv­ing signi­fic­ant fund­ing from donors who have maxed out to the Demo­cratic Party commit­tees, poten­tially rais­ing corrup­tion concerns at the party level. The PAC's second-largest indi­vidual donor has maxed out to Grimes' primary and general elec­tion campaigns.
B. The New Kid on the Block: Dark Money Candid­ate-Specific Groups
We were already seeing candid­ate-specific super PACs back in 2012. But super PACs need to reveal their donors under federal law. Dark money groups do not. Like super PACs, they are largely a creation of Citizens United, which expan­ded nonprofit corpor­a­tions' abil­ity to spend in elec­tions while also initi­at­ing a cultural shift toward more outside spend­ing. In 2014, the bene­fits of unlim­ited spend­ing have been combined with the anonym­ity of dark money to form candid­ate-specific dark money groups.
The Kentucky Oppor­tun­ity Coali­tion is an example of a dark money organ­iz­a­tion that does not have to reveal its donors. It has spent $7 million attack­ing Grimes, contrib­ut­ing to the over $100 million spent by dark money groups this elec­tion cycle.
The Bren­nan Center analysis of the most compet­it­ive Senate races found that Kentucky Oppor­tun­ity Coali­tion was among the top five dark money spend­ers over­all, and was far and away the top candid­ate-specific dark money spender.
An adviser to Kentucky Oppor­tun­ity Coali­tion is a former McCon­nell staffer, and earlier this year the group stretched the limits of its inde­pend­ence by using b-roll foot­age of the candid­ate produced by McCon­nell's campaign. These types of shared advisers and campaign mater­i­als may increase the chances of coordin­a­tion between candid­ates and outside groups.
But even absent outright coordin­a­tion, politi­cians may be more likely to notice a six figure check to an inde­pend­ent group than a $5,200 direct contri­bu­tion. As former Repres­ent­at­ive Dan Boren put it, "If you're a massive donor to the DNC … and now you're giving to the Major­ity PAC unlim­ited amounts of money…. You can't tell me if you sit down with the lead­er­ship of any party that that legis­lat­ive agenda is not going to reflect a lot of the wants and needs of those interest groups." That is true of candid­ates as well. The parade of pres­id­en­tial contenders who wooed super PAC mega-donor Shel­don Adel­son this March suggests that giving gener­ously to super PACs is an effect­ive way to reach candid­ates, and possibly to affect the actions they take as elec­ted offi­cials, perhaps more so than join­ing the scores of donors who give to them directly.
**
The Supreme Court's Citizens United decision removed limits on what outside groups could take in, with the under­stand­ing that those groups were inde­pend­ent of candid­ates and unable to corrupt them. It has taken a few years for the full impact of that decision to sink in, but the real­ity in Kentucky shows the world the Court envi­sioned and the real­ity it created aren't even close.
Without new laws to curb these prac­tices, or a new Supreme Court to recon­sider its very flawed juris­pru­dence, the kind of spend­ing we are seeing in Senator McCon­nell's race against Alison Lunder­gan Grimes will likely repres­ent the future of campaigns across the coun­try.